Trader Joe's Brats and Sauerkraut
Easy dinner tonight, Trader Joe's Brats and Sauerkraut with pickled Persian cucumbers. Dinner on the table in less than 30 minutes!
Happy August, Friends! Just curious if you're all enjoying summer like we are! We are also enjoying quick and easy dinners, like this Trader Joe's Brats and Sauerkraut dish!
Trader Joe's Brats and Sauerkraut
The weather has been much more enjoyable and cooler this year in central Oregon, so we are grateful. Remember, most homes do not have an air conditioner where we live (in the high desert).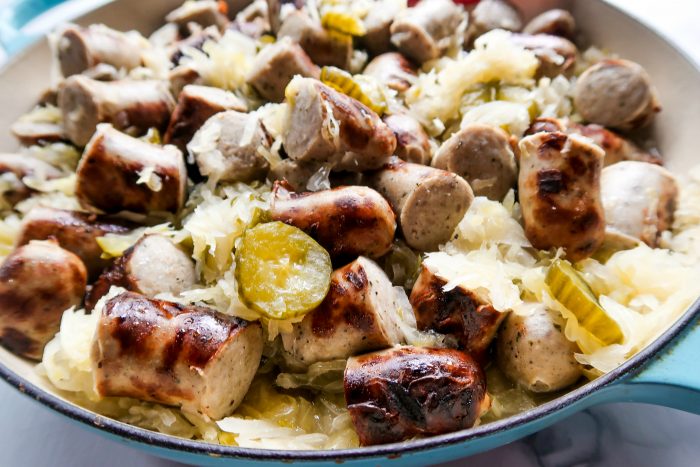 Just in time for EASY cooking, in case it's hot where you live, you must try this Trader Joe's Brats and Sauerkraut recipe (with pickled Persian cucumbers).
That is, if you are sauerkraut lovers like we are. [Have you tried my Pastrami Sauerkraut Crostini recipe?]
I was in the store sampling a few things the other day, and loved this combination.
Ingredients for Brats & Sauerkraut
All you need for this recipe is Trader Joe's uncured Bavarian Bratwurst and Sauerkraut, with pickled Persian cucumbers!
Serve it with a giant green salad and hot crunchy bread, and you have a great weeknight meal.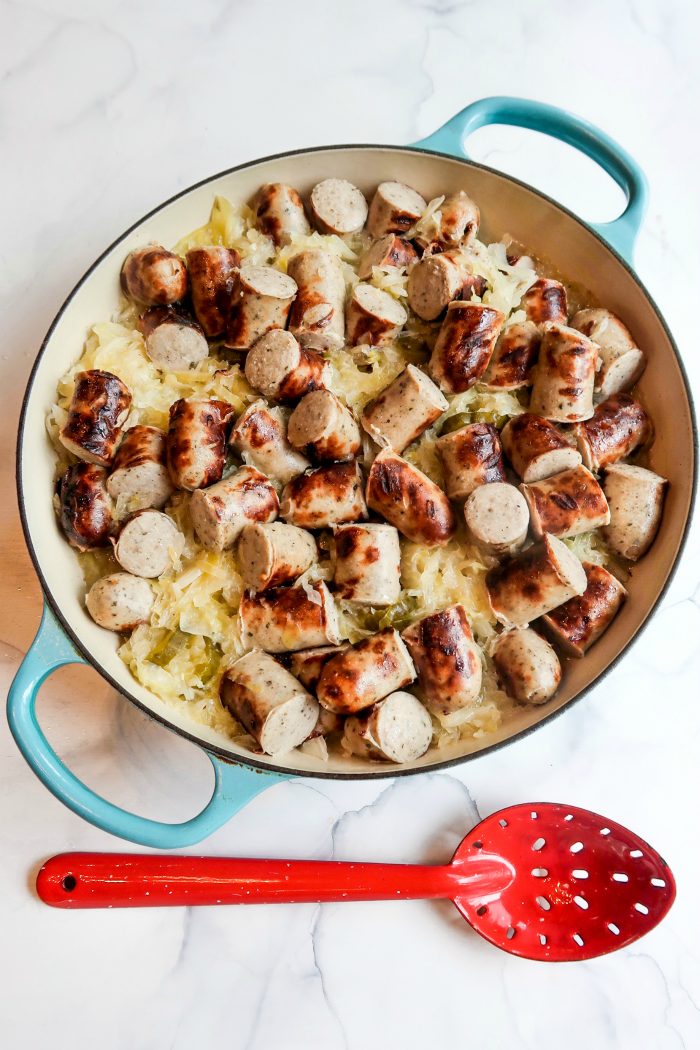 The leftovers are pretty nice, too!
I'm all about "easy dinners" in the summertime.
Tracking steps and miles
One of the habits I've been working on is walking more. I use my iWatch and I love how it tracks how many miles (steps) and even stairs that I climb.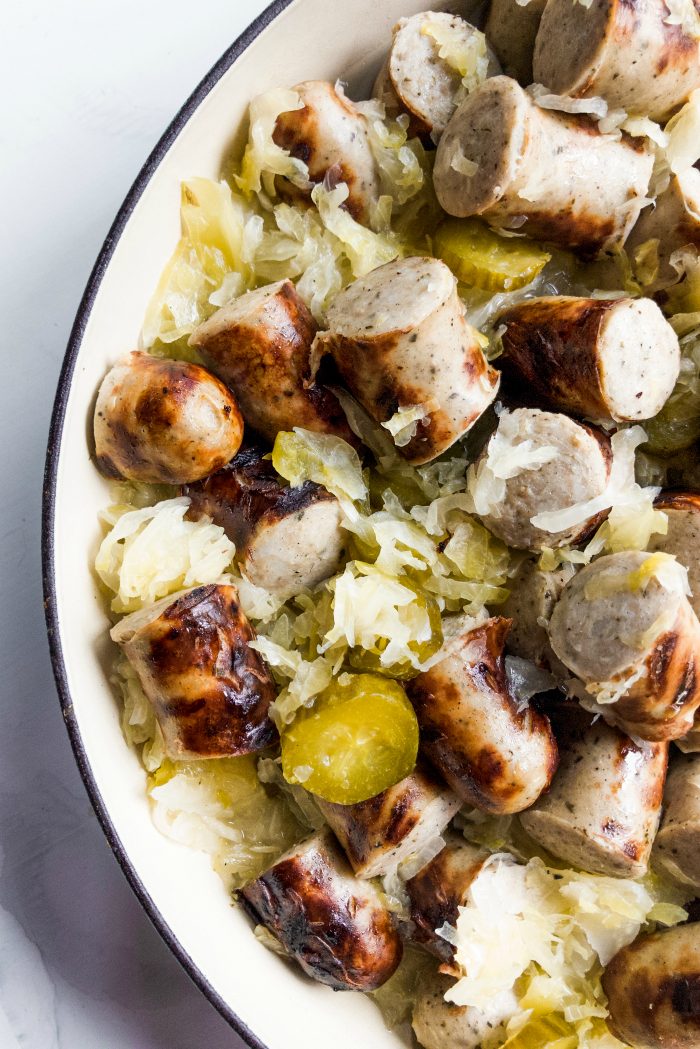 During my time walking, I've been listening to more and more podcasts and music that edifies my soul.
I feel so good, sleep so good, and feel very blessed. Getting into new habits can intentionally grow our spiritual lives.
Small daily goals get the job done!
Brats and Sauerkraut
Back to the easy dish. You can buy 1/3 of the recipe and try it first, before serving to a crowd. Honestly, not everyone loves sauerkraut (and they are not my friend—just kidding :).
This recipe serves 8-10.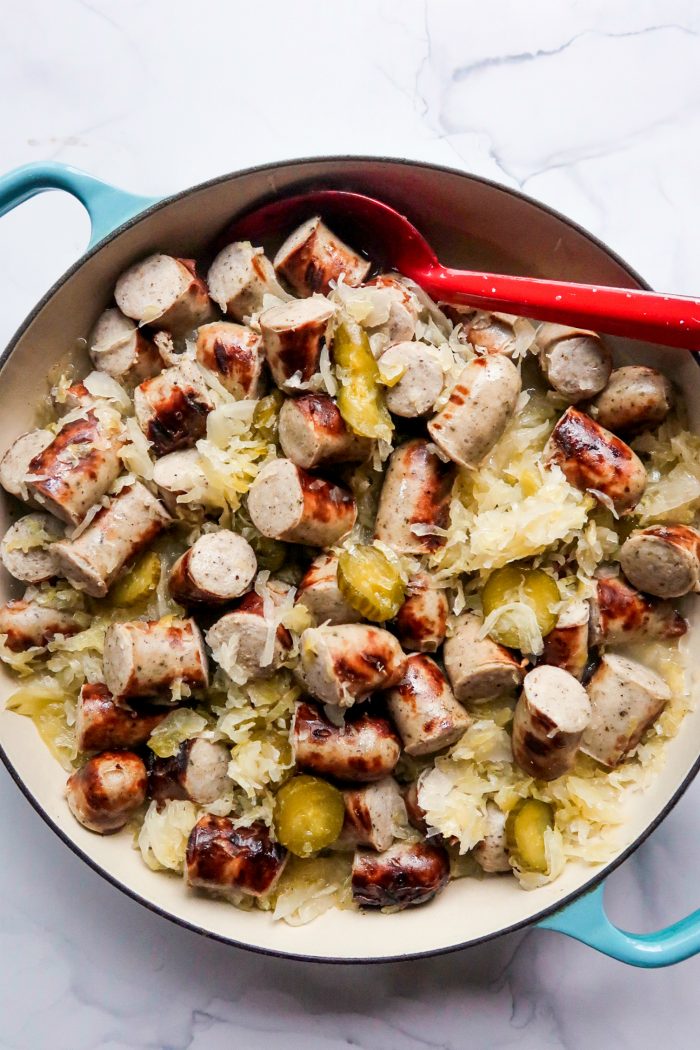 Turn NO oven on (unless you're baking bread for 10 minutes, but you can always grill bread).
We grilled the brats, which are so tasty good.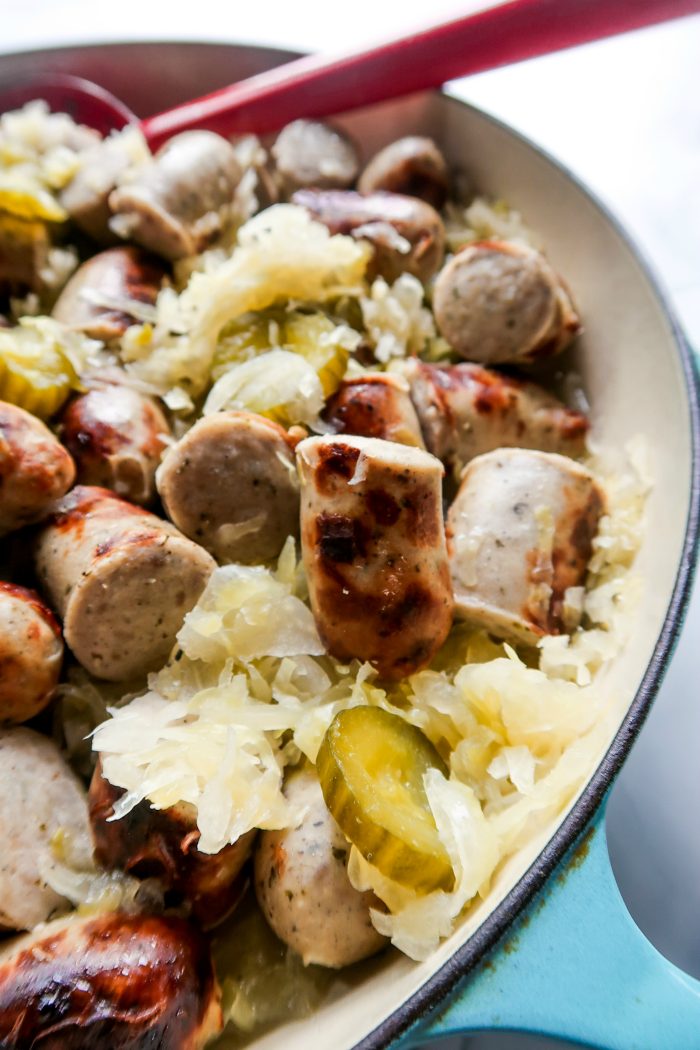 Only a few minutes prep and you've got a DELISH Wednesday night dinner!
ENJOY!
More sauerkraut dishes: How to Make Pork & Sauerkraut in Slow Cooker, Polish Hush Puppies, and Kielbasa and Sauerkraut with Beer and Brown Sugar.
Ingredients
3 packages Trader Joe's uncured Bavarian Bratwurst, grilled and sliced in large pieces
3 containers Trader Joe's Sauerkraut with pickled Persian cucumbers
Instructions
Grill or cook the bratwurst. Slice each one into thirds.

In a large skillet, heat the sauerkraut on medium heat until heated through. Add the grilled (or cookebrat pieces. Bring to a boil; turn to simmer, and cook for 10 minutes.

Serve!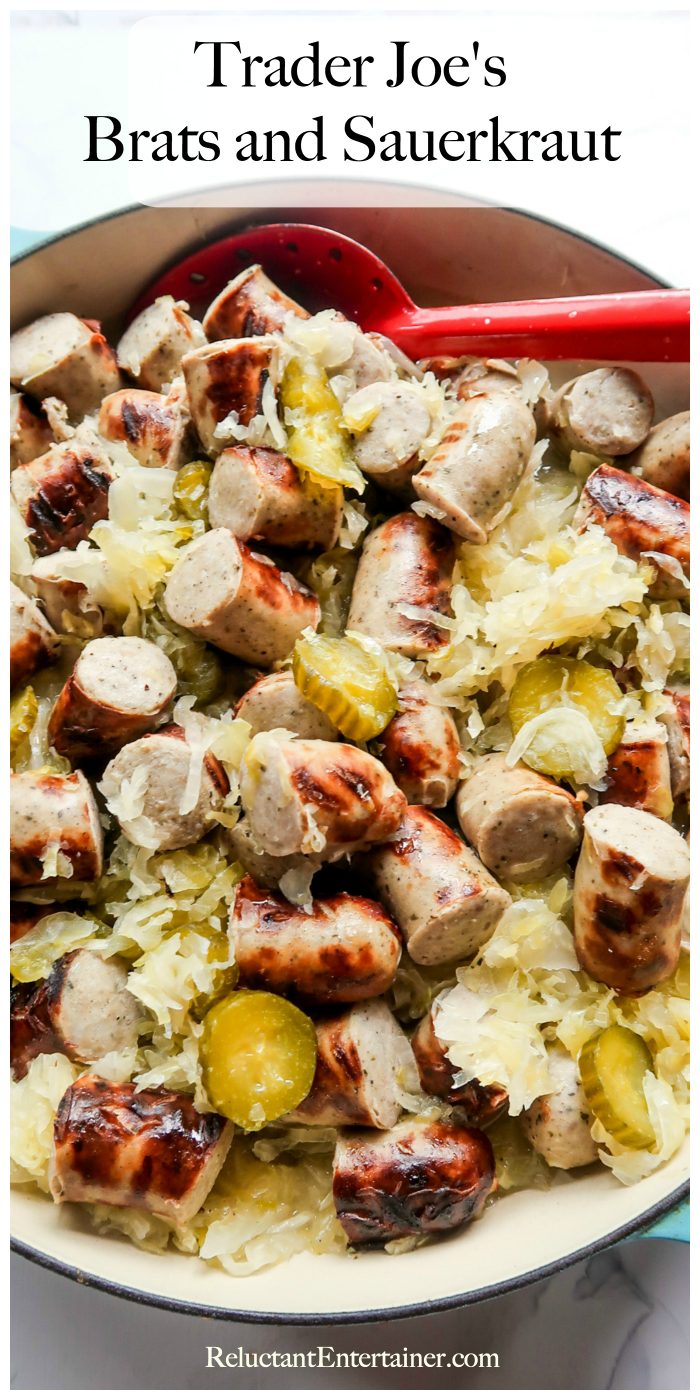 Hello and welcome to my home and table!
I'm Sandy—lover of food, family, cooking, THE BIG BOARD, travel, and bringing people together. Through great recipes and connection around the table, we become better, stronger, and more courageous people. Feasting on Life is real, and every time we do it, we grow a little more. Read more...