Salted Caramel Apple Cake (VIDEO)
A moist upside down Salted Caramel Apple Cake recipe is delicious dessert served warm, with fresh whipped cream and a hint of maple syrup! WATCH THE VIDEO!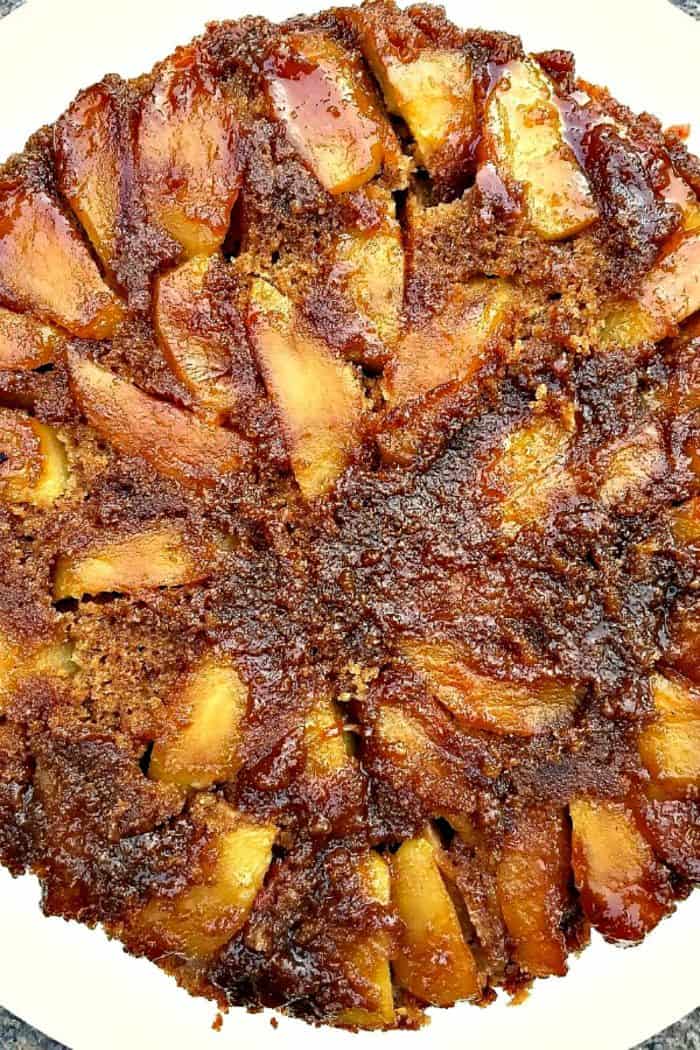 Lately, with the change of seasons, the nights getting dark earlier, the cooler weather, feasting on one-pot dinners, hanging around as a family at dinner time, it's been nice to linger.
Salted Caramel Apple Cake
Just letting the moments take on their own flavor, so to speak, and enjoying them and ordinary things, like baking an upside down Salted Caramel Apple Cake! And friends, have you bought my new cookbook? Buy Big Boards for Families today! It's "editor's pick" on Amazon this month!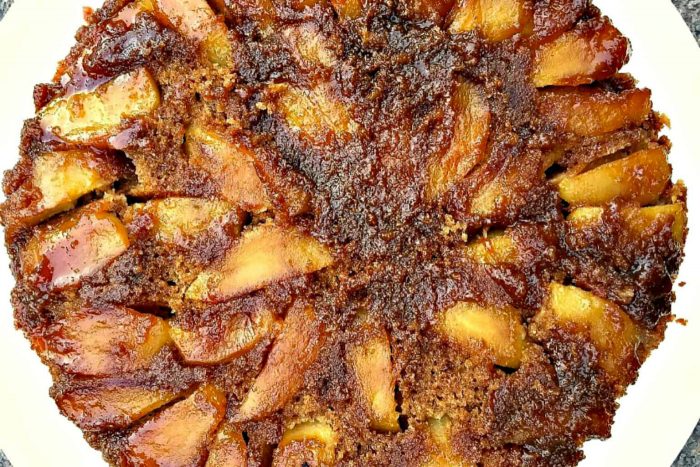 Ingredients for Apple Upside Down Cake
Butter
Dark brown sugar
Sea salt
Golden Delicious apples (or mix in Granny Smith for a bit more tartness)
Whole wheat flour ( you can also use all-purpose flour)
Apple pie spice (or make your own using nutmeg, cinnamon, and allspice)
Baking powder + salt
Eggs + vanilla
Whipping cream
Maple syrup (optional, to add to whipping cream)
How to make Upside Down Salted Caramel Apple Cake
Sauté the apples for 13 minutes, until tender or soft.
Mix together the batter until it's fluffy.
Fan the sliced apples over bottom of prepared pan. Spread batter on top of apples, then bake!
After cooling, run a small knife around pan edge, and invert the cake onto a plate.
My favorite … serve warm with whipped cream. YUM!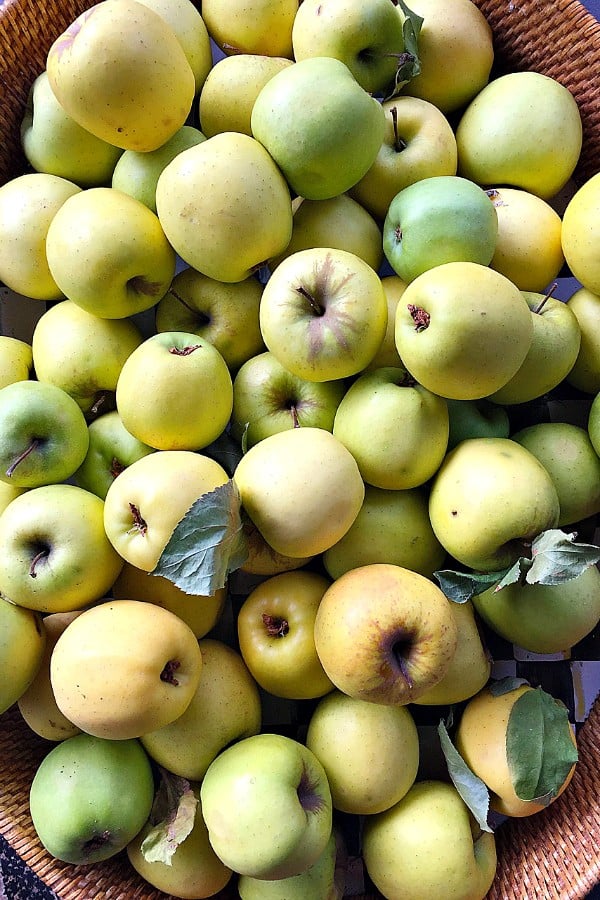 Ordinary is fine.
Ordinary moments are good. They remind us of the mundane things in life, that still have meaning
—work, relationships, dining together, solving problems, learning, growing spiritually and mentally and physically. Noticing colors, nature, scents and smiles. I really do like ordinary.
We owe it to ourselves and to our families and friends to shift our thinking to ordinary being just fine.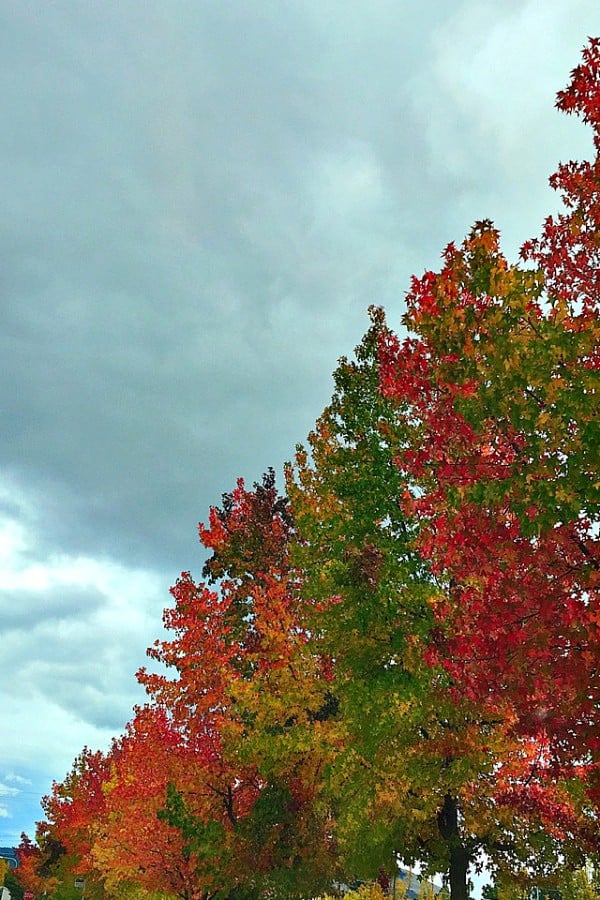 Little ways I've embraced "ordinary."
Get up 1/2 hour earlier every morning so I have time to read, think, pray, have coffee.
Exercise daily if I can, an ordinary routine we should never stop doing.
Make my bed first think in the morning.
Keep my cell phone in the kitchen at night (no phone by my bed).
Not complain to myself when I have to do the orinary things like pay bills, do dishes, clean house. Just stop complaining.
Try to be done with my work in time for dinner at night.
Enjoy cooking and exploring more with flavors, ingredients, and recipes.
Occasionally pop a note in the mail to a friend, or a little gift.
Take an ordinary apple …. and bake a cake!
Salted Caramel Apple Cake
It's an ordinary thing to make a cake, but as I was assemblying the ingredients for this recipe, I thought of my dear friends back home. For almost 40 years they've supplied me with apples from their small orchard.
This time, as I pulled the cake out of the oven, I thought of Roger and Faye (now in the mid 80's).
Loved the smell of butter and apples cooking.
And then pulling the cake out of the oven. Mm-m-m-m- …
The house smelled good, dinner was great, and this cake for dessert was a perfect way to end the day!
That first bite … oh, so good!
Apple cake substitutions:
Use Granny Smith apples or a mix of your favorite fall apple varieties.
You can use all purpose flour in place of whole wheat flour.
Make you own pumpkin pie spice: 1 tsp cinnamon, 1/2 tsp nutmeg, 1/2 tsp allspice.
How to serve apple cake:
Vanilla ice cream
Maple syrup whipped cream (sweeten the whipped cream with 2 Tablespoons of maple syrup)
Fresh whipped cream (regular)
ENJOY!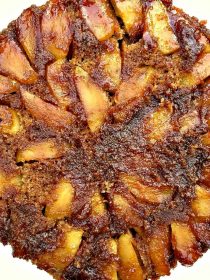 Get the Recipe: Salted Caramel Apple Cake
Adapted from Family Circle, October 2014
Ingredients
6 Tbsp. cold butter
1 ½ cups packed dark brown sugar
1 tsp. sea salt
5 Golden Delicious apples, cored, peeled, each cut into 8 wedges (or a tarter flavor if you prefer)
1 ½ cups whole wheat flour, you can also use all-purpose flour
1 Tbsp. apple pie spice, from McCormick's but you can use nutmeg, cinnamon, and allspice
2 tsp. baking powder
¼ tsp. salt
½ cup 1 stick butter, softened
2 eggs
1 tsp. vanilla
½ cup whipping cream
1 cup whipping cream and 2-3 Tbsp. maple syrup for topping , optional
Instructions
Heat oven to 350 degrees. Generously butter the bottom of a 10-inch round cake pan with 4 tbsp. butter; sprinkle with 1/2 cup of dark brown sugar and the sea salt. (Optional to use parchment paper.)

Heat remaining 2 tbsp. cold butter in a large skillet over medium heat. Add apples and sauté for 13 minutes, until soft.

In a large bowl, mix together the flour, spices, baking powder, and salt. Add in the butter, 1 cup of dark brown sugar, eggs, whipping cream and vanilla. Beat until smooth for about 2 minutes.

Fan apples over bottom of prepared pan. Spread batter on top of apples. Bake at 350 degrees for 40-45 minutes. Cool for 15 minutes.

Run a small knife around pan edge. Place a serving plate on top of the pan and turn plate and pan over together. Carefully remove pan. If any apples remain in the pan, place them on the cake.

Serve warm or at room temperature.

Optional to whip 1 cup of whipping cream (add 2-3 Tbsp. maple syrup after whipped); serve on top, or serve with vanilla ice cream.
I am a huge fan of my Le Creuset skillet, and I always use my KitchenAid hand mixer for that yummy whipped cream!
Hello and welcome to my home and table!
I'm Sandy—lover of food, family, cooking, THE BIG BOARD, travel, and bringing people together. Through great recipes and connection around the table, we become better, stronger, and more courageous people. Feasting on Life is real, and every time we do it, we grow a little more. Read more...