Pumpkin Waffle Board Dinner
Enjoy this Pumpkin Waffle Board Dinner for fall or holiday entertaining. Assembly the waffles, bacon, jelly, fruit and syrup on a round platter and serve!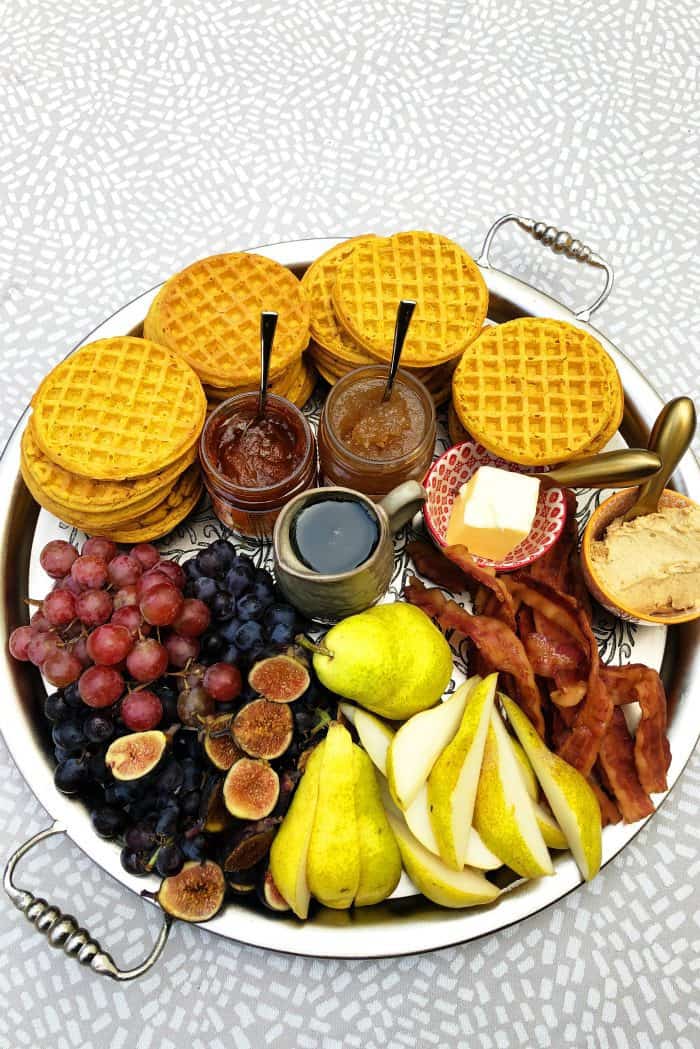 Friends, it's easy to tap into the magic of hosting when you try something new. I promise, this Pumpkin Waffle Board Dinner is so easy to make, and to throw together quickly for company!
Swap out the pumpkin waffles for plain or whatever is in season! You can see all of The Big Board posts and different sizes! Stay tuned for NEW info coming on my own line of boards!
Whether for breakfast, brunch, lunch, or dinner–everyone loves waffles!
Easy entertaining idea
The most important thing when having people into your home is to visit with them. So this is food that anyone can make (just grab the shopping list below) freeing you for undistracted conversation when your guests arrive.
And it's fun! On a larger scale, you may want to try my Trader Joe's Epic Pumpkin Pancakes Board!
Because it's pumpkin season, I bought most of the food on this tray at Trader Joe's. And because everyone always asks, the tray is from World Market (but I bought it a couple years ago).
Creating a cozy place to sit and enjoy food is where it's at! (We're still enjoying the great outdoors this week, with our weather in Oregon in the 70s!) Pitcher, napkins, and glasses are from Target; white plates are from the Dollar Store.
I love a plan, a ready-to-go attitude that makes hosting fun, and food that's really good for your people!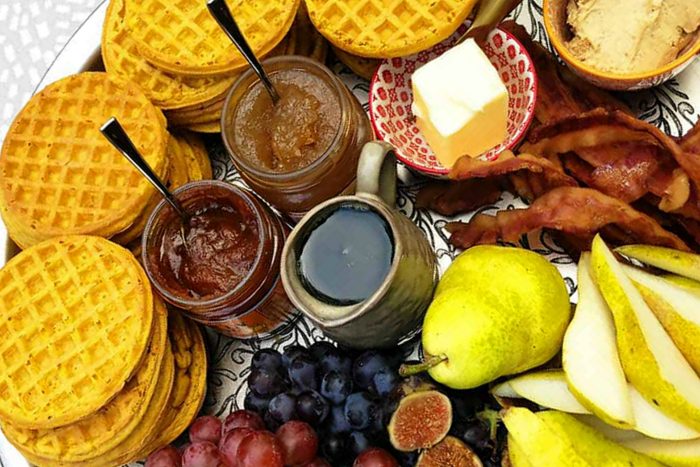 Pumpkin Waffle Board Dinner
This time I created a Pumpkin Waffle Board Dinner.
While the waffles are baking in the oven, get the bacon cooking.
Open up a few jars of jellies and pumpkin butter.
Lay out the fruit.
Don't forget you can make your own Pumpkin Cream Cheese Dip (or spread).
Old Dutch 18-inch "Cairo" Gold Etched Tray
Or, grab the tray I used in this post (except in GOLD, because silver is out of stock) >> HERE.
It's 18 inches in diameter, so a nice size for a luncheon or breakfast tray because it has a slight lip!
Relax and go with the flow!
Relax and go with the flow! Because let's face it, some of our best celebrations happen to be last-minute. For us, this past week, it was outdoors!
This Pumpkin Waffle Board is also easy for a Sunday morning or Sunday brunch.
Friends, take the time to eat together, to enjoy the days left of our beautiful season, and make something special for your family or friends or neighbors!
ENJOY!
More dinner boards: Spaghetti and Meatballs Dinner Board [RE], The Ultimate Build Your Own Sandwich Board [Baker Mama], and EPIC Summer Waffle Brunch Board.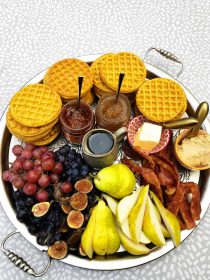 Get the Recipe: Pumpkin Waffle Board Dinner
Ingredients
2-3 boxes, box of 12 Trader Joe's Pumpkin Waffles (frozen)
Maple syrup
Variety of grapes
Fresh figs, cut in half
Barlett pears, sliced
Pumpkin butter
Apple cider jelly
Bacon
Butter
Instructions
Preheat oven and bake the waffles according to package directions.

Cook the bacon.

Assemble the rest of the ingredients on a round tray. Add the waffles and bacon and serve!
This post has affiliate links. Every purchase from these links supports RE at no extra cost to you. Thank you!
Hello and welcome to my home and table!
I'm Sandy—lover of food, family, cooking, THE BIG BOARD, travel, and bringing people together. Through great recipes and connection around the table, we become better, stronger, and more courageous people. Feasting on Life is real, and every time we do it, we grow a little more. Read more...