Pumpkin Cream Cheese Dip
Delicious Pumpkin Cream Cheese Dip for the holidays, served with apple or pear slices, pretzels, cookies, crackers, or biscotti.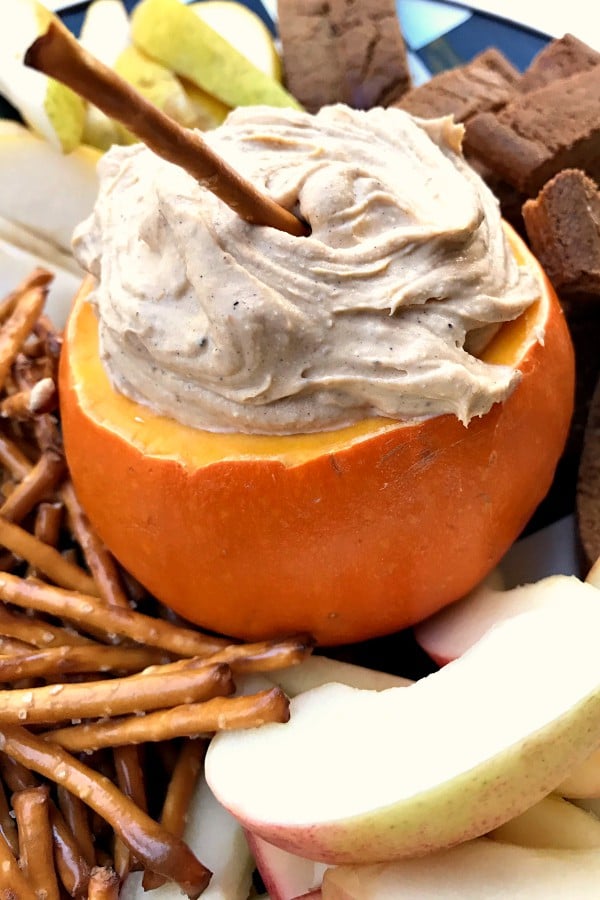 Friends, my husband and I are back from a week in Mexico. I can't wait to share more, but we had a lot of time to talk about relationships, goals in life, our purpose for living, our marriage, our family, and the next 25 years! Yes, we celebrated our 25th wedding anniversary in Puerto Vallarta, the same place we honeymooned 25 years ago.
One of the things we reminisced about was the last 25 years, all the people we've had into our home. So many are divorced now, it's very sad. Terribly sad, in fact. We've come to believe that the greatest gift we can give people around our dinner table is empathy.
Empathy, together with gratitude (which is right before us this time of year, isn't it?), is the foundation of a fulfilling life.
Empathy, compassion, and loving others are what cause us to act. Make the invite, get a date on the calendar, and bring people together in our home, around the table, to enjoy hours together getting to know each other. It's love in action!
Setting our agenda aside is very important. Otherwise we'd never make room for others.
When you listen to people's stories, it reminds you of your own, and you automatically feel love and concern toward the person sitting across from you. Or you can relate, you've been through that stage in life, you remember it well. And that causes a greater empathy, and it makes you feel for the other person. Maybe even offer advice (if asked).
When it comes to gratitude, my goodness, do we have so much to be thankful for!
I like to think that people are grateful when they are invited into our home (I know that we are, when we get a dinner invite), because it shows love in action, a spirit of kindness, that we would extend ourselves and cook a meal, share our space, and want to know people who we chit-chat with at church, or in our neighborhood, in a deeper way.
The spirit of kindness is real, it's action.
My goal is that people would be inspired by my blog, my message, and want to set their reluctance aside, and start a circle of where they will make their own dinner invites, care about people more, relate to others and their stories, and keep that flame of gratitude burning inside of them.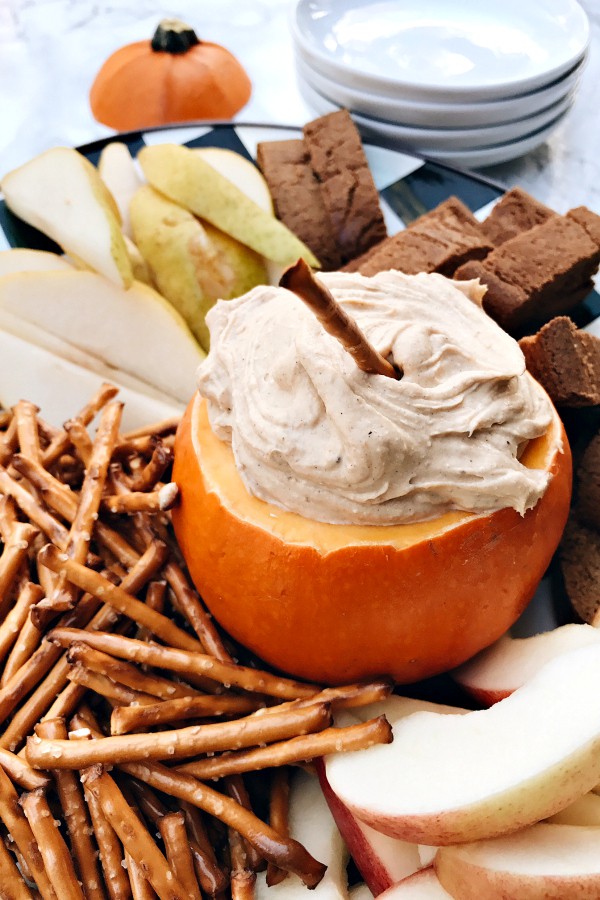 Pumpkin Cream Cheese Dip
Since it's October, and pumpkin season, I've created a very simple dip that is easy to bring to a party, potluck, or to serve in your own home.
How about making some delicious drinks, serving this dip with fruits and snacks, make a big pot of chili, having your guests bring the bread, and then pulling out of the oven these caramel rolls or THIS festive cake.
This would be the perfect October menu, don't you think?
This Pumpkin Cream Cheese Dip only minutes to make, and captures the flavors of fall.
It makes the perfect appetizer or dessert, and tastes just like pumpkin cheesecake!
Print Recipe
Pumpkin Cream Cheese Dip
Ingredients
1

8 oz. package cream cheese, softened

3/4

cup

powdered sugar

3/4

cup

pumpkin

1

Tbsp.

pumpkin pie spice

1

cup

heavy whipping cream

1

tsp.

vanilla

1/8

cup

caramel sauce
Instructions
In a large bowl, beat the cream cheese and powdered sugar with an electric mixer, or stand mixer, until smooth and creamy. Mix in the pumpkin and pumpkin pie spice and set aside.

In a small bowl, whip the heavy whipping cream. Add the vanilla and caramel sauce. Gently stir together.

Gently fold the whipped topping into the cream cheese mixture. Mix together and refrigerate until ready to serve.

Serve with apples, pretzels, cookies, biscotti, or fresh fruit.

Enjoy!
I am a huge fan of my KitchenAid mixer (or hand-mixer) for these types of recipes!
More recipes:

This post has affiliate links. Every purchase from these links supports RE at no extra cost to you. Thank you!