Winter Dinner Party Menu with Seafood Medley Red Pepper Tapenade Pasta
This Seafood Medley Red Pepper Tapenade Pasta recipe takes only minutes to prepare for holiday or winter guests!
Dinner parties are great, and even greater when you serve fresh fish! Usually the main course is an investment–what to pick that everyone will love? How to serve it so it's "perfect"?—because meat and fish are not cheap! This is why I love to cook an outstanding main dish, and then delegate other dishes to my guests. It's totally fine to ask guests to bring a dish to dinner. When people ask us how we entertain so much (because it does get expensive) I always say — delegation! It's the secret to having a lot of people in your life, because you're not afraid to entertain, host parties, invite a lot of people, but also share the load!
When hosting a dinner party there is quite a bit of work involved, so this is where my friends at Anderson Seafoods do the work for you!
Serving seafood.
For a personal hostess tip, I never ask my guests if they love seafood. Most guests will tell me ahead of time if they have an allergy (i.e., shrimp) so I go with my gut and make a delicious dish! I've personally not entertained many picky eaters, and some guests who have not eaten much seafood, come back and thank me, and rave over the main dish. I'm not being arrogant, but I think guests who are not familiar with fish, or who do not like it, usually have not had it prepared the right way.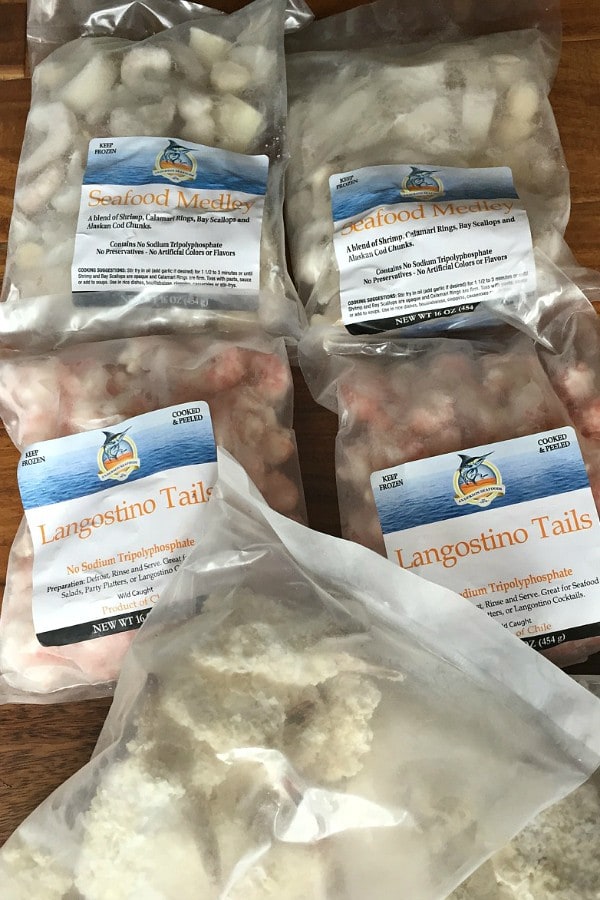 Ship it to your home.
For New Year's Eve week coming up, or any winter dinner party ahead, you can order all kinds of seafood from Anderson Seafoods and they will ship it right out to you.
Seafood Medley Red Pepper Tapenade Pasta.
I recently had the pleasure of cooking a scrumptious Seafood Medley Red Pepper Tapenade Pasta dish that included shrimp, wild caught bay scallops, squid rings and wild Alaskan cod! My mind went crazy with all the dishes that I could make with this wonderful medley.
Versatility of seafood medley.
One thing I love about the seafood medley is its versatility of how quickly you can put a great meal together using it as the main ingredient. I've made pastas, stews, fried appetizers, a pot pie, and even a salad with the mix, but you could also make tacos or fajitas, throw it onto a pizza, and of course grill it up in a grill basket to accompany just about anything. Pull it out of the freezer and Wah-Lah!
Secondly, it's such a quick fix! In no more than two minutes of cooking time, everything is prepared and ready to be served. It's great when you need to put dinner together quickly and the end result is delicious and special – not your everyday quick fix!
Oh, and another cool thing about Anderson Seafoods, it not only offers the medley in one-pound bags (four different types of seafood in 1 bag), but having a pound or two of this in the freezer is a cook's best friend – easy to defrost quickly, cook in less than 5 minutes, and pull out the stops for your guests with a simple, yet impressive, last minute meal!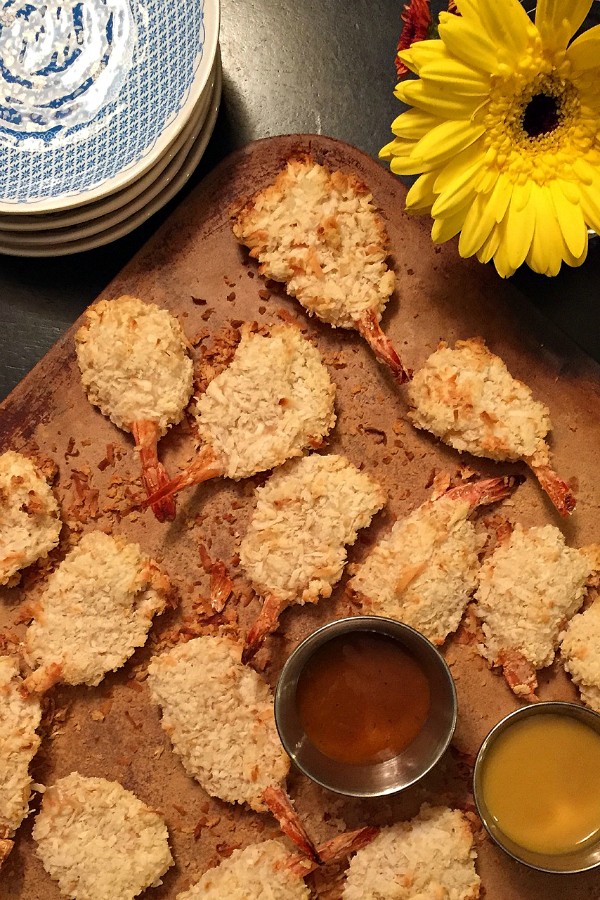 Winter dinner party menu.
If you're planning the menu now, this lovely Anderson Seafoods' seafood medley is perfect served with crunchy bread, a winter green salad, and a light dessert. When planning a menu, you want to be sure that everything from the appetizer to the dessert compliments one another harmoniously.
Cranberry Orange Pinwheels Appetizer
Anderson's Coconut Shrimp
Winter Green Salad
Seafood Medley Red Pepper Tapenade Pasta (recipe below)
Crunchy bread
4-Ingredient Chocolate Cherry Cake with Peppermint ice cream
I hope you enjoy the recipe below for Seafood Medley Red Pepper Tapenade Pasta. Enjoy!
Do you enjoy cooking seafood for holiday entertaining?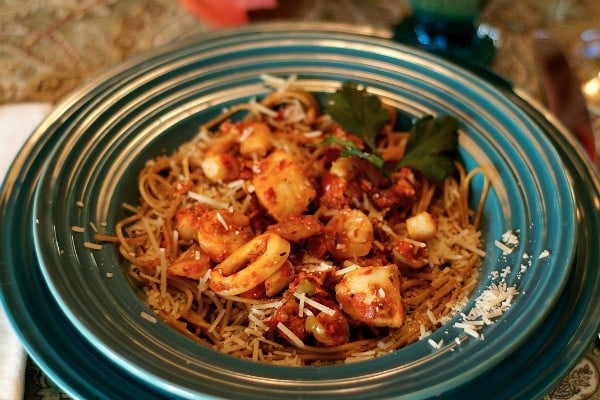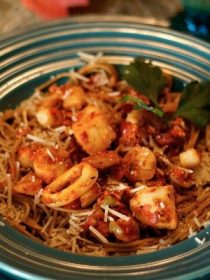 Get the Recipe: Seafood Medley Red Pepper Tapenade Pasta
Ingredients
1 pound dried spaghetti, I use DeLallo
1 TBSP. olive oil
2 pounds Anderson Seafoods' seafood medley, thawed, well drained and patted dry
1/4 cup salt, plus salt and freshly ground black pepper
1 10 oz. jar green olive tapenade
6 oz. red pepper spread, I used Trader Joe's, but you can use any roasted red peppers
1 lemon, zest and juice
¼ cup chopped fresh parsley
Parmesan cheese
Olive oil
Instructions
Bring a large stockpot of water to a boil. Add 1/4 cup salt and the pasta; cook according to the package directions.

While the pasta is cooking, pre-heat a large sauté pan or skillet over medium-high heat. When the pasta has only 2 minutes of cooking time left, add the olive oil to the skillet and toss in the seafood medley. Cook, tossing regularly, for 1 minute, and then remove the skillet from the heat.

Add in the green olive tapenade and red peppers; gently mix and heat for 1 more minute.

Drain the pasta, reserving ½ cup of the pasta liquid. Transfer the drained pasta to the skillet of olive and pepper mixture, and add the lemon zest, herbs, salt and lots of freshly ground black pepper.

Toss well and add lemon juice and more olive oil to taste. Add a little pasta water if necessary, if the pasta seems dry.

Sprinkle with Parmesan cheese and serve.
Thank you to Anderson Seafoods for providing a box of fresh fish, including the Seafood Medley and Coconut Shrimp.
Hello and welcome to my home and table!
I'm Sandy—lover of food, family, cooking, THE BIG BOARD, travel, and bringing people together. Through great recipes and connection around the table, we become better, stronger, and more courageous people. Feasting on Life is real, and every time we do it, we grow a little more. Read more...