Holiday Loneliness and White Bean Chili
This White Bean Chili recipe is one of the easiest dishes to make for company–a real crowd pleaser, for any age, any season–and perfect for the reluctant entertainer!
Yesterday we hosted 40 people in our home for a chili party. It was casual, fun, our kids invited their high school friends' families. We all felt loved, accepted, warm, the vibe of the holiday season as Christmas music was playing, and we were getting involved in each other's lives.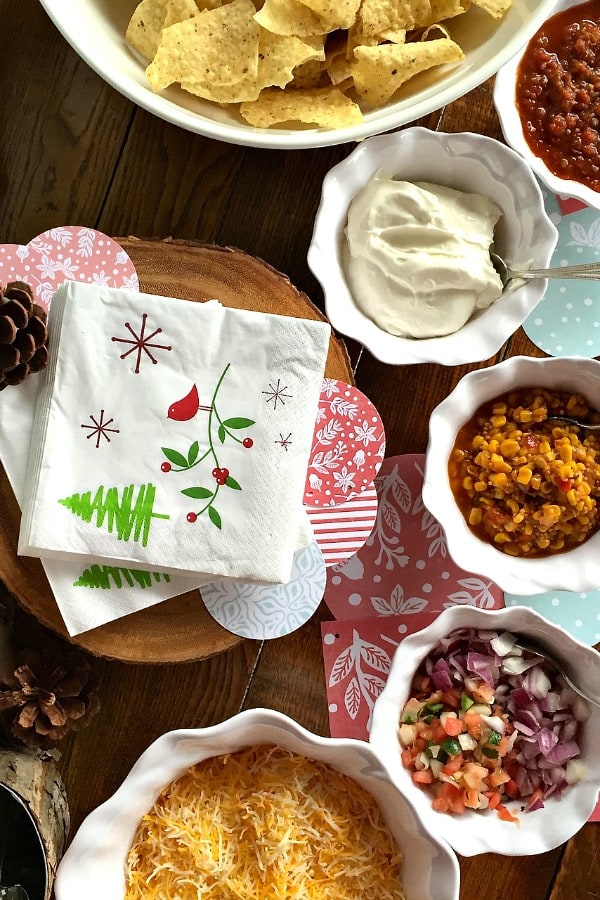 The holidays are a great time to connect, but for the lonely person, they can be so painful. I think about their pain, missing family, not feeling like they can reach out, possibly feeling like they have nothing to offer. It is an inward pain that most of us do not experience every day. It's also so lonely, even when you're surrounded by those who love you, when you're missing a loved one who has passed away. I've been there … nothing fills that void.
I wrote about loneliness years ago, and want to share these simple tips again. Think of someone you know who is lonely this week, and invite them in to your home, or go and visit them. Even if you're serving a pot of chili, people just want to be loved. It's really not about the food, but the connection and the fact that we care about each other.
Open you doors.
Learn to open the doors of your home, in whatever season of life you are in. Introduce yourself to others and invite them in. If you're reluctant to entertain, keep it simple and make a big pot of chili the night before! Ask guests to each bring a side (corn bread or crunchy hot bread, salad, dessert), and you're set! We have new neighbors in our neighborhood–we've already invited them in.
Become a friend.
Don't sit back and mourn because you think no one cares about you, or your family! Start getting involved in other people's lives. Ask a lot of questions – show interest in their lives and when the time is right, invite them over for a meal! You cannot feel sorry for yourself. I think this is a step that lonely people are missing. It starts with YOU.
Friendship offers benefits to our emotional and physical health. Loneliness can cause high blood pressure and problems with sleep. Lonely people are even at higher risk for Alzheimer's later in life! Being open and authentic with others will actually help combat loneliness.
Lose your FEAR.
We've learned ourselves, and taught our kids, how fear robs and steals. Fear is False Evidence Appearing Real and we see it all the time–snatching lives right and left. People do not want to be vulnerable, because they've either been burned or rejected, so they hide. If we want to grow in life, we have to get beyond those feelings. Learn from bad experiences – read, pray, find healthy friends, exercise. We can't let bad experiences squelch future relationships that may have great potential.
Be Yourself.
Entertaining in our home has become easy for my husband and me. Early on we decided: We are who we are. When we invite people over, they get the real us. We are willing to open up, share, be vulnerable, and not pretend. You have to be yourself, because that is what people are attracited to–authenticity.
Paul and I know that we need this accountability and closeness with others. We know that we find value in friendships (new and old). We've learned to offer friendship– and we've learned to ask for friendship! It's called investing in lives, and it goes both ways.
The lesson for myself, as we entertained about 40 guests yesterday, is to be aware of others.
If you find yourself at a holiday party this week, look around the room for a lonely person and go talk to them.
Inquire about others.
If you're the lonely person at a party, step outside of yourself and start talking to someone else. Be purposeful and have 3 questions in mind that you can ask others about their lives. I'm always amazed when I visit with certain people how much they can talk about themselves, and not ask one question about me or my family. I'm a big girl, I don't need to talk about myself at all (I'd rather not!), but I do take note that some people just are not good conversationalists!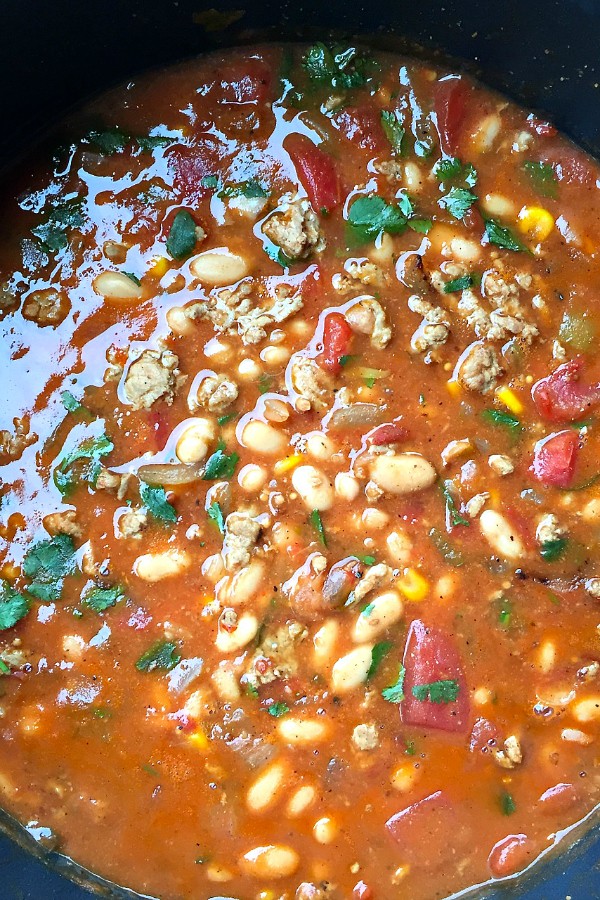 White Bean Chili.
I'm also headed to some retirement homes to visit some friends this week. It's important to think of our isolated older friends as well, and spread holiday cheer with them.
In fact, I think I will take a bowl White Bean Chili wrapped up with a big red bow, and make sure I sit down and visit and ask them about their lives.
A lovely holiday gift – good food and connection.
It's what we all crave.
What will you be doing this week to combat loneliness in your life, or the lives of others?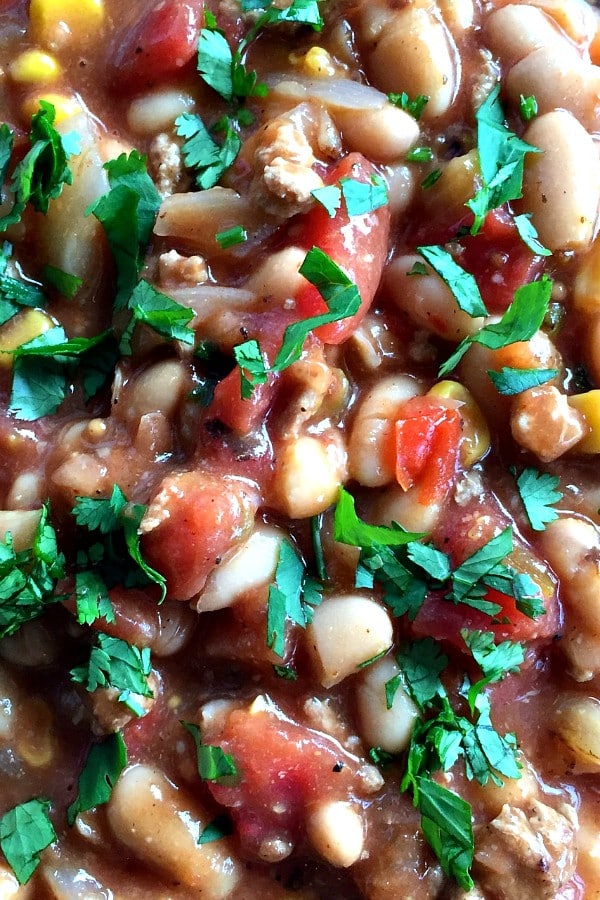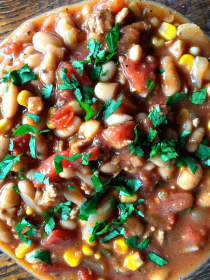 Get the Recipe: White Bean Chili
Quick and easy–ready for company–recipe! Substitute ground turkey with ground beef, or make it vegetarian. If you don't have Trader Joe's corn chili, use plain corn and double the salsa.
Ingredients
1 large sweet onion, diced
1 Tbsp. olive oil
1 lb. ground turkey
2 15 oz. cans diced tomatoes, undrained
2 15 oz. cans Bush's cannelini beans, drained
2 15 oz. cans Bush's great northern beans, drained
2 cups salsa
1 cup corn chili, I buy at Trader Joe's
1 tsp. ground cumin
1 tsp. chili powder
Salt and pepper
1 cup cilantro, chopped
Instructions
In a medium pan, heat the olive oil and add the onion. Cook for about 5 minutes.

Add the ground turkey to the onions and cook until done for 5 minutes; strain. Season to taste with salt and pepper.

In a large chili pot add the tomatoes, beans, salsa, corn chili, spices, and the meat mixture. Heat on medium high for 10 minutes, stirring constantly. Turn down to low and simmer for 20 minutes.

Add the fresh cilantro, stir and serve with chili toppings such as green onions, red onions, sour cream, cheese, salsa, and chips.

Season to taste!
Hello and welcome to my home and table!
I'm Sandy—lover of food, family, cooking, THE BIG BOARD, travel, and bringing people together. Through great recipes and connection around the table, we become better, stronger, and more courageous people. Feasting on Life is real, and every time we do it, we grow a little more. Read more...