Shrimp Bacon Sliders
Enjoy these delicious Shrimp Bacon Sliders for easy entertaining and holiday fun! Serve them hot, or wrap in foil and bring them to the party! Watch the VIDEO below to see how easy they are to make!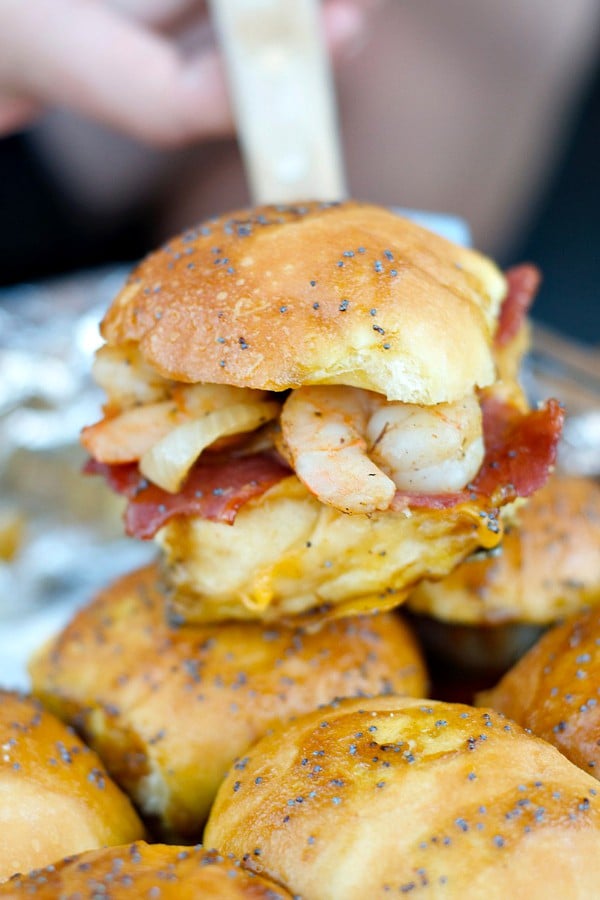 Friends, I hope you enjoy this delicious Shrimp Bacon Sliders recipe! I'm republishing this post today, bringing back a family-favorite recipe that is perfect for tailgating, holiday parties, Super Bowl, and more! You may have seen my video, here, and as long as you're over on the RE Facebook page, check out my easy Best Clam Chowder, and Paprika Chicken Thighs videos!
As summer winds down and beautiful autumn is before us, our family looks forward to cooler nights, bright sunny days with vibrant colors, the sight of falling leaves, and popping up the top of our VW Westfalia and opening the back for some good ol' tailgating fun. We had so much fun setting up our VW Camper Van, which everyone is intrigued by. I mean, what truck or SUV has a kitchen inside, with beds to lie down on?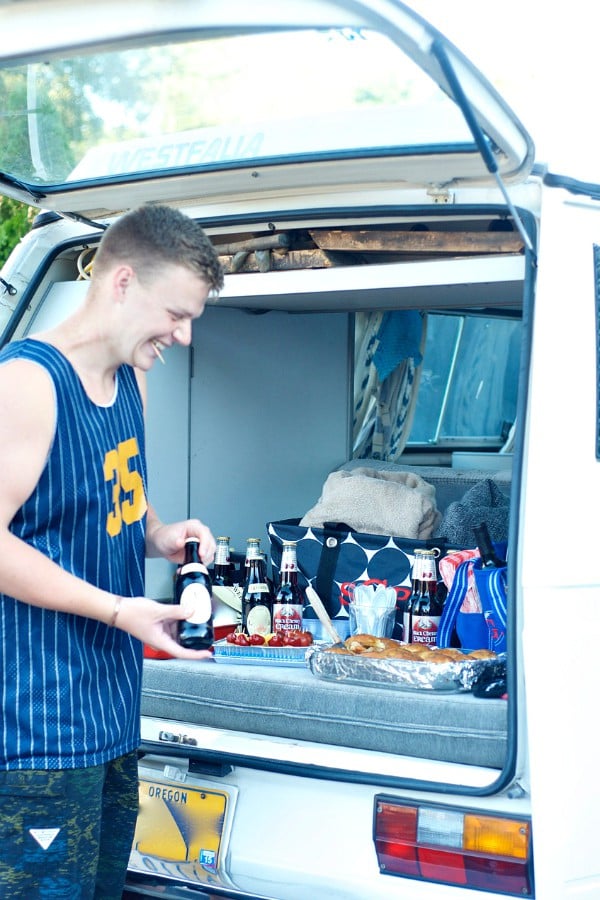 Easy to prepare.
Whether football or soccer, tailgating looks different for everyone, but there's one thing that everyone loves: Delicious, easy-to-prepare dishes, whether hearty entrees or finger foods.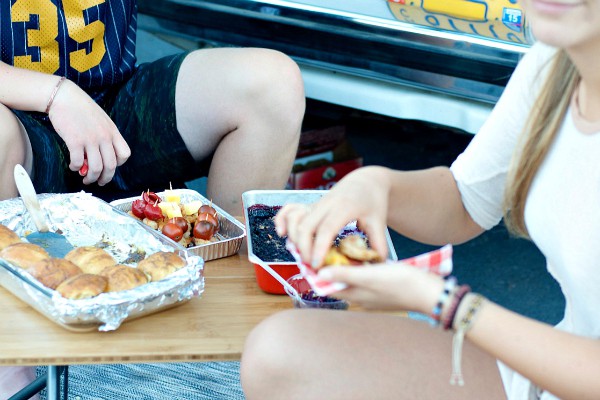 Tailgating is similar to inviting everyone to your house for dinner, except you use the back of your car or truck. The food is always the "hit" of the party, so I like to plan ahead, and make sure there's something very yummy on the menu, just like I'd do in my own home.
Rockstar shrimp.
You can choose to grill, or not to grill. I say make something easy at home and skip the grill.
Enter "rockstar" shrimp …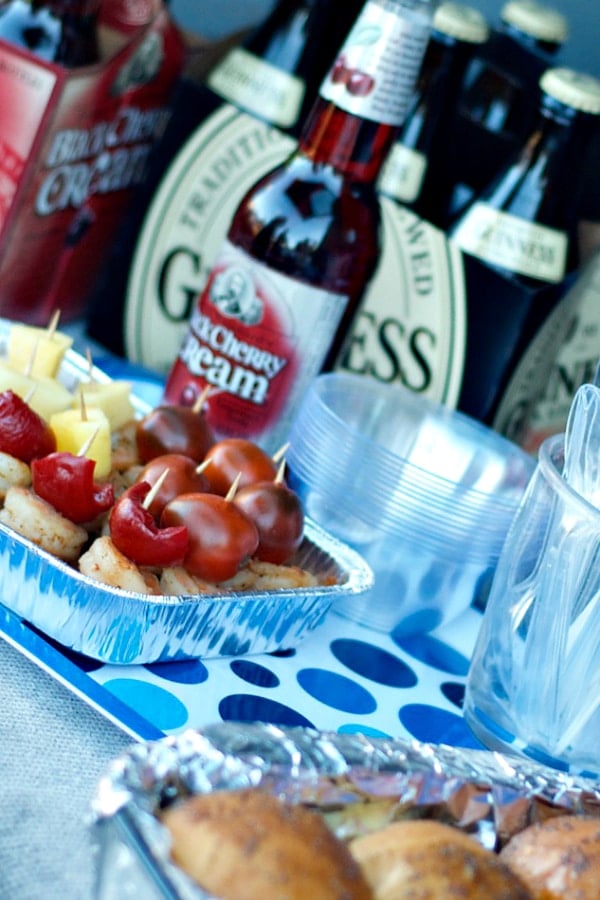 The menu.
For our mini party, I made 2 easy shrimp recipes that everyone loves. One, a 9×13 pan of Shrimp Sliders, and the other, a side dish of Shrimp Sausage Mango Kebabs for an appetizer.
It's berry season, so I made a yummy dessert, our friend brought a miscellaneous bag full of things like drinks, napkins, a few towels, plates, silverware, a bottle opener. Oh, and did I mention chips and salsa? We were set!
Thirty-one Gifts.
We also teamed up with our friends at Thrity-One Gifts to provide the best product to make tailgating easier. Just look at these beautiful bags that made our tailgating much more organized! I love the embossment on the outside.
Our friends, Bill and Jenny G, brought their monogrammed bag packed with drinks, etc. And we had our monogrammed bags, Paul and Sandy C, for our gear and food.
Thirty-One has all kinds of bags from thermal totes (that keep your dips, sliders, kebabs, or warm cobbler warm), to utility bags, that hold table settings and paper products.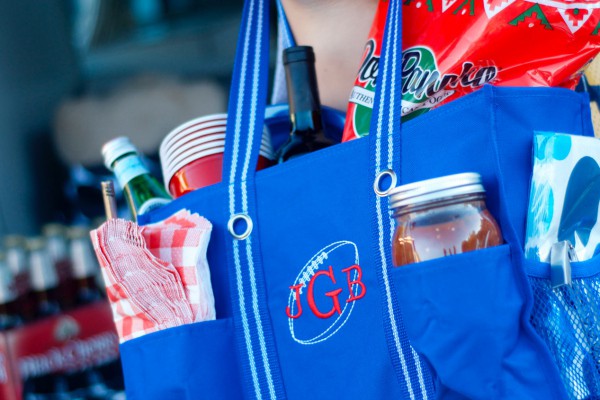 This bag.
Zip-top Organizing Utility Tote. Drinks, napkins, plates, bottle opener, towel, lighter and silverware, which all fit perfectly in this bag. Oh, and the salsa and bag of chips!
This bag.
Delux Utility Tote. I stuffed this cute bag with blankets and a couple umbrellas at the bottom, and extra jackets.
This bag.
Fresh Market Thermal. I was thrilled to fit two 9×13 pans in this bag – one with the sliders, one with the crisp.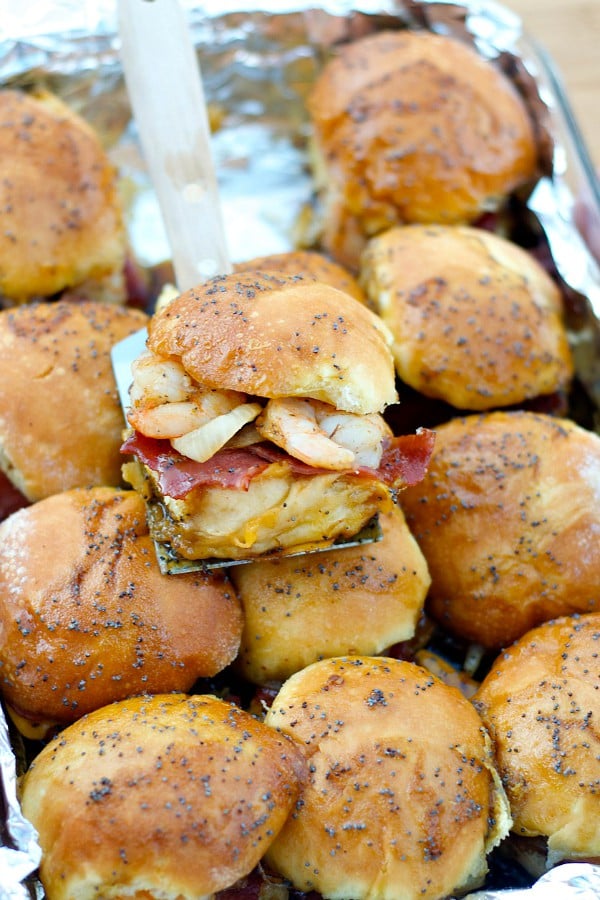 Perfect protein.
Shrimp is the perfect protein to add to a dish, and so easy to cook with. It makes entertaining a breeze! I used extra large frozen shrimp for this recipe, and it was very easy to peel.
I love keeping shrimp on hand for appetizers, salads, pasta dishes, and easy snacks, like sliders!
How to cook shrimp.

1. Thaw the shrimp (I thawed quickly by running under cold water for about 7 minutes, then draining well and patting dry.)

2. The shrimp is so easy to peel. It only took about 2 minutes to peel the entire bag.

3. I cooked the shrimp on medium-high in about 2 tablespoons of butter, lightly sautéing it for about 5 minutes.

4. The shrimp is done when the color becomes opaque. It's really that easy!
Shrimp bacon sliders.
If you're planning on hosting a tailgate extravaganza, you'll need only the simplest ingredients to make Shrimp Bacon Sliders today!
Potato rolls, cooked shrimp, onions, cheese, turey bacon (with brown sugar), and the sweet poppyseed sauce to top them off with.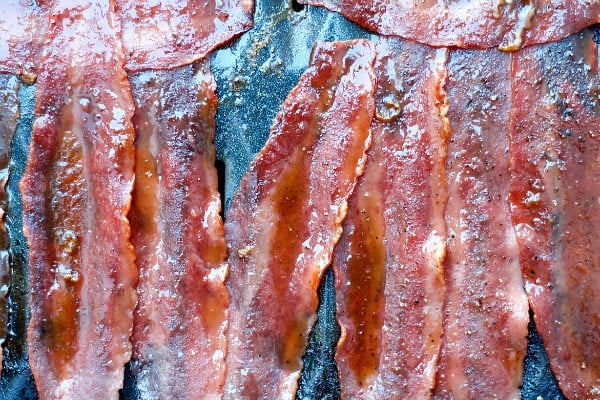 Add brown sugar and salt and pepper to the bacon and broil until lightly crisp.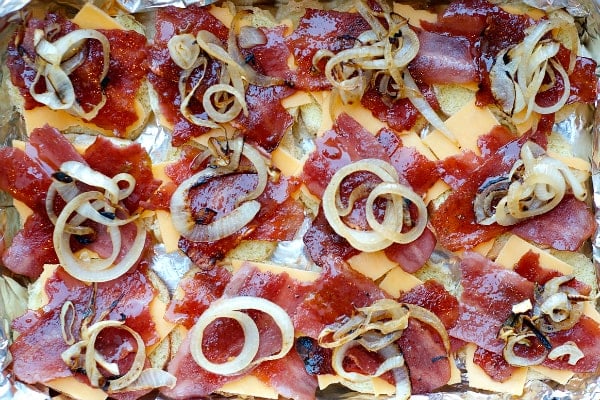 Cut the rolls in half, laying the bottoms on a foil-lined 9×13 pan. Layer cheese, bacon, and onions on top.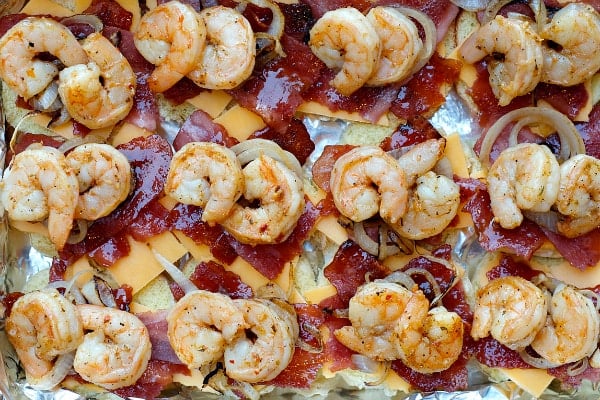 Add 2 pieces of shrimp.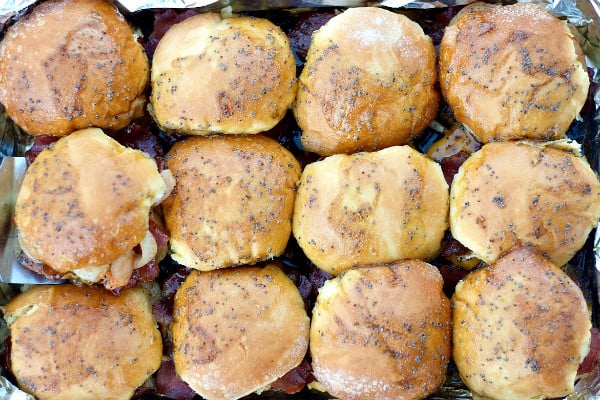 Place the tops of rolls on top of shrimp. Cook the delicious sweet mustard poppyseed sauce and then pour over the top of rolls.
Bake covered with foil.
Bring to the party!
Bring in a thermal bag to keep the sliders hot for the party!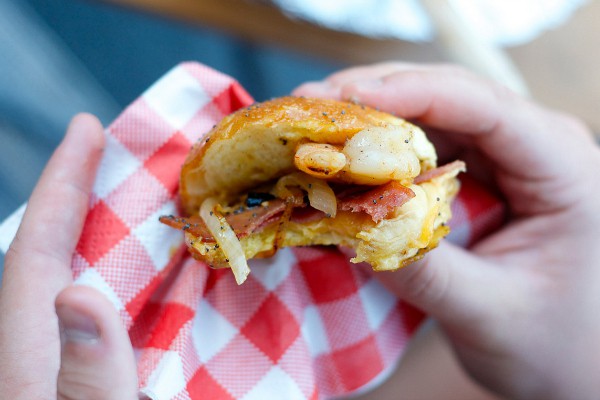 We've made these recipes to take to tailgate parties, but also for game day parties in our home! I hope you enjoy today and have a happy #gloriousautumn time tailgating with your friends!
WATCH THE VIDEO!

What's your favorite tailgating recipe?
Print Recipe
Shrimp Bacon Sliders
Delicious sliders with soft potato rolls, shrimp, sweet bacon (you can use regular or turkey bacon), onions, and sweet mustard sauce. Make ahead of time and pour the sauce on right before baking.
Prep Time2 hrs 20 mins
Cook Time35 mins
Total Time55 mins
Servings: 6
Ingredients
1 24 ounce bag extra large shrimp thawed
4 Tbsp. butter divided
1 small onion sliced and sautéed
8 ounces sharp cheddar cheese
12 slices turkey bacon
1/4 cup brown sugar
Salt and pepper
12 large potato rolls
½ cup butter
2 Tbsp. prepared mustard
1 Tbsp. Worcestershire sauce
1 Tbsp. poppy seeds
⅓ cup brown sugar
Instructions
Preheat 2 tablespoons butter in medium pan. Thinly slice the onion; sauté in the butter for about 5 minutes, or until clear and cooked.

Preheat 2 tablespoons butter in large pan. Add the prepared shrimp, swirl to coat. Gently cook the shrimp for about 5 minutes until the color is opaque. Do not overcook.

Line a broiling pan with bacon, sprinkling with brown sugar. Add salt and pepper. Broil until crispy, but not burnt, about 5 minutes.

Pepare a 9×13 pan by lining with foil. Cut the rolls in half, placing the 12 bottom rolls on the bottom of the pan.

Layer the cheese, bacon, onions, and 2-3 shrimp on the bottom portion of the rolls. Add the top to the rolls.

In a medium saucepan, bring the 1/2 cup butter to a soft boil. Add mustard, Worcestershire, poppy seeds, and brown sugar.

Pour sauce over the 9×13 sandwiches right before baking.

Cover with foil and bake at 350 for 25 minutes. Remove foil and bake another 10 minutes, Serve hot or cold.
This Fall "Tailgate Takeover" campaign and giveaway is sponsored by The Shrimp Council (Eat Shrimp), but as always, all opinions are my own.