MÅURICE: A Pastry Luncheonette with Shrimp Cucumber Salad Toasts
After a visit to MÅURICE, a Pastry Luncheonette in downtown Portland, Oregon, I made my own Shrimp Cucumber Salad Toasts recipe, to serve in my home!
Here's what I love about MÅURICE, a pastry luncheonette in downtown Portland: It's open to everyone who enjoys the sweeter things in life, with no reservations.
How sweet is that? My husband and I recently visited for lunch. I couldn't wait to bring him to Portland to try this amazing food, having visited with my friends a few months prior. (I'll post later about my "new" favorite dish that was served last week.)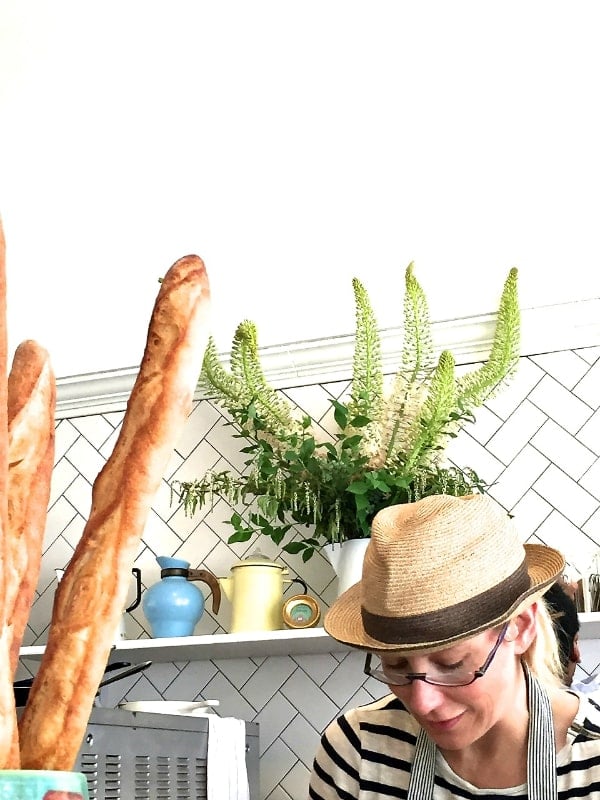 Kristen Murray opened her luncheonette, named after Maurice, Kristen's French lop rabbit & constant for over a decade, after being inspired by her great aunt's vegetable garden: sweet peas, peppers, lettuces, herbs, raspberry bushes, and persimmon, fig and kumquat trees, and baking with her grandmother. This story makes me smile :) I had a favorite bunny growing up as well.
The surroundings–so sparkling clean and white as can be.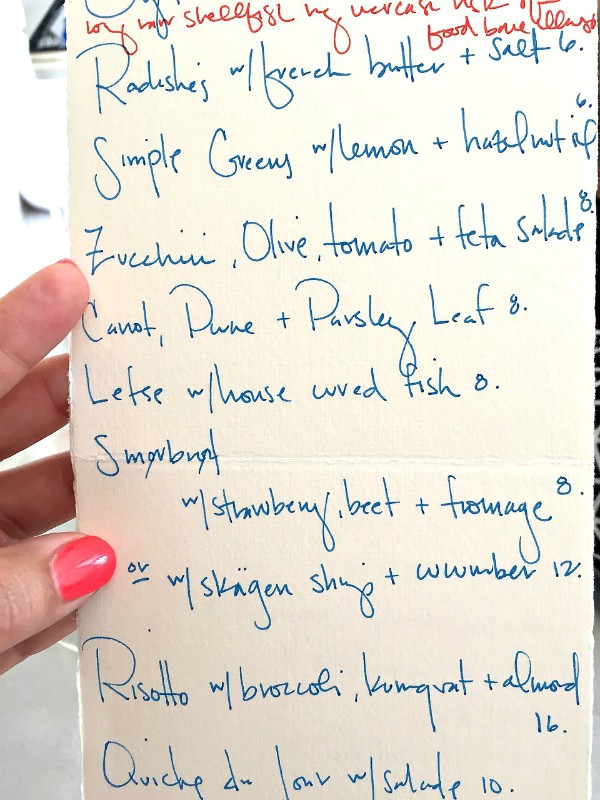 Who wouldn't love a menu like this?
We started off with radishes and butter.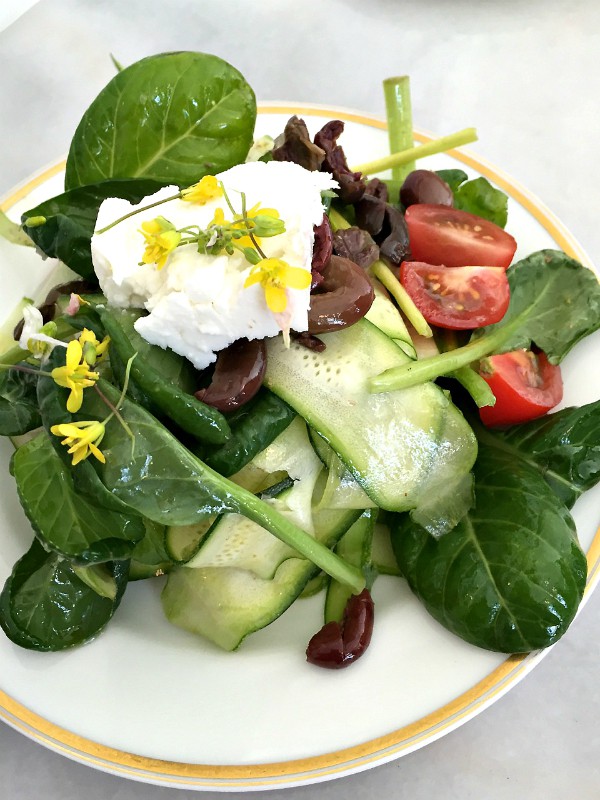 A delightful salad with edible flowers (I love edible flowers, they make me feel so special).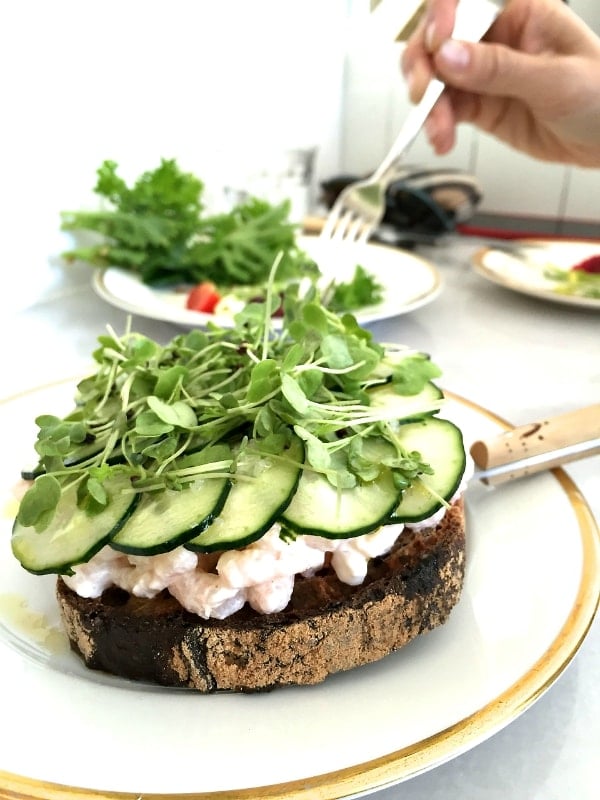 Shrimp Cucumber Salad Toasts.
I wanted to copy all of the dishes, but the one I settled on at home was a simple Shrimp Cucumber Salad Toasts, called Smørrebrød. Smørrebrød usually consists of a piece of buttered rye bread, a dense, dark brown bread. Pålæg, the topping, is usually meat or fish, or cheese or spreads.
I love an open-faced sandwich for lunch. Less bread, more meat and veggies!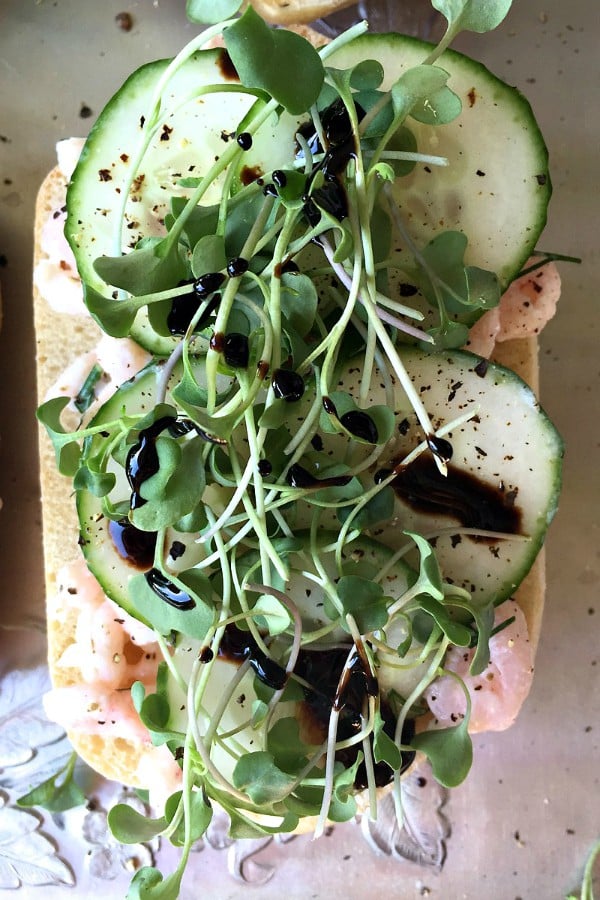 With fresh garden cucumbers, and radish micro greens.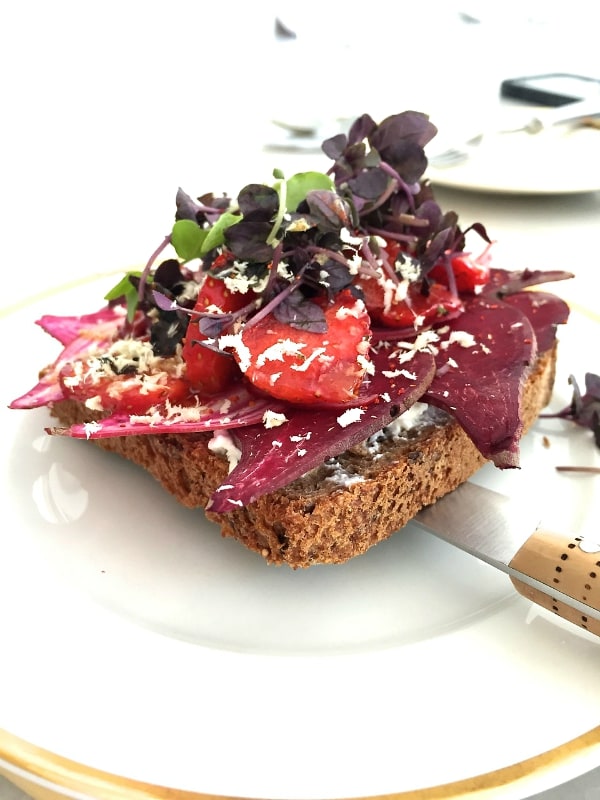 They also had a dish with beets and strawberries.
I love visiting little restaurants in big cities. There's always something very special about them. Small in builidng size, but very big in flavor, personality, and stature!
If you could have any kind of "toast" for lunch, what would it be?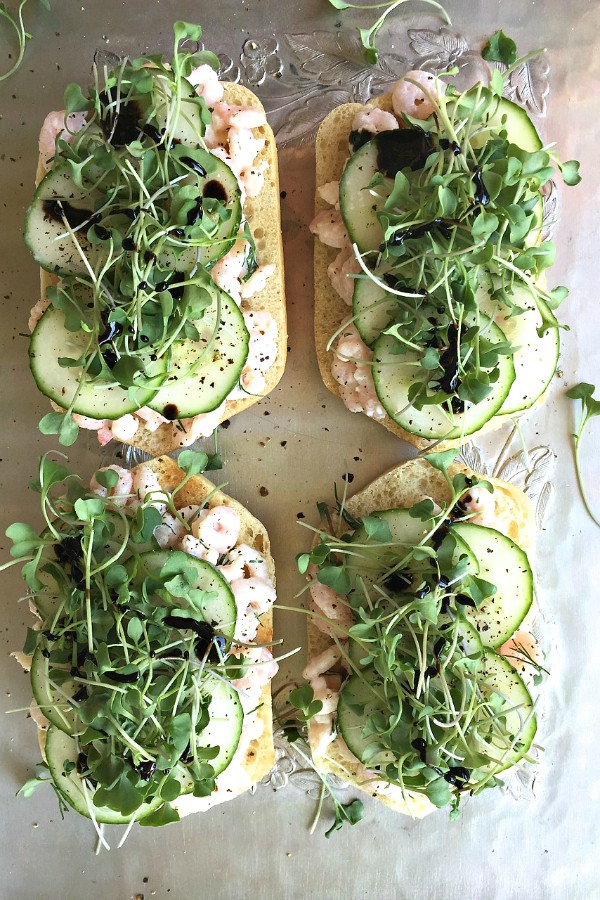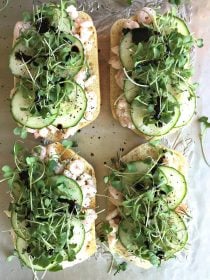 Get the Recipe: Shrimp Cucumber Salad Toasts
Ingredients
1 pound fresh cooked bay shrimp
4 Tbsp sour cream
1 tsp. lemon juice
2 Tbsp. fresh dill, finely chopped
Pinch salt
Freshly ground white pepper
2 to rta sandwich rolls, cut in half (or Rye bread)
2 cups broccoli or radish microgreens
Balsamic glaze, I use DeLallo brand
Instructions
Gently mix together the shrimp, sour cream, lemon juice, dill, and salt and pepper to taste.

Lightly toast the torta rolls (or whatever kind of bread you want to use).

Layer the shrimp mixture on the toast; add cucumbers and micro greens. Drizzle a balsamic glaze on top; serve.
Are you following me on Instagram, Twitter, Facebook and Pinterest? If you'd like to subscribe to Reluctant Entertainer, to have each post delivered straight to your e-mail box, then please add your email, here. It's really easy! Thanks for being here today!
Hello and welcome to my home and table!
I'm Sandy—lover of food, family, cooking, THE BIG BOARD, travel, and bringing people together. Through great recipes and connection around the table, we become better, stronger, and more courageous people. Feasting on Life is real, and every time we do it, we grow a little more. Read more...