Simple Chicken Parmigiana
Simple Chicken Parmigiana Recipe is a classic, mouth-watering chicken recipe that everyone loves. Use breaded chicken, homemade red sauce, and cheese!
Friends, sometimes the easiest recipes are the best for entertaining. If you're like me, I like to either make a recipe I'm very familiar with, or one that is super easy to make and comes together quickly.
Simple Chicken Parmigiana
This Simple Chicken Parmesan recipe is just that!
What is chicken parmigiana?
A hearty, Italian cuisine, Chicken Parmigiana (or Chicken Parmesan) is a dish that consists of a breaded chicken breast covered in tomato sauce.
It's baked in the oven with melted mozzarella, Parmesan, or provolone cheese.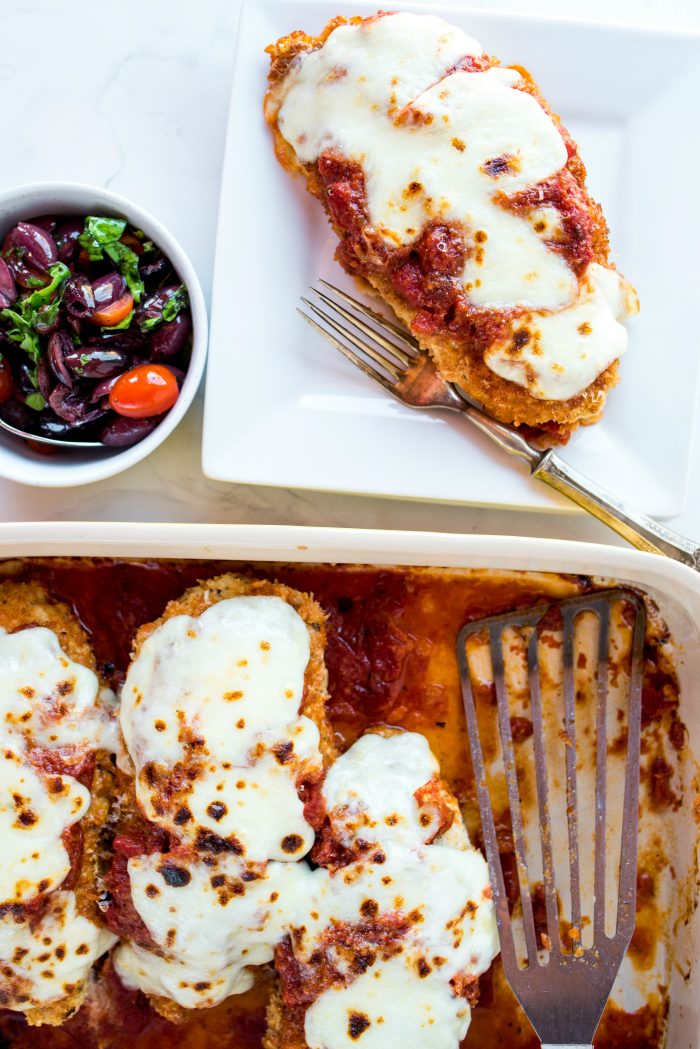 It's known in the United States as chicken Parm, but since we were just visiting Australia, we learned it's also called a Parma, Parmi, or Parmy.
What's your favorite topping?
We had several meals of chicken Parmi in Australia. My favorite meal was with a school headmaster and his wife and four lovely daughters. Oh, the toppings that Aussie's put on their Parmi (basically, anything you'd put on a pizza you can have on chicken Parmi). They also serve it with a brown gravy (sauce).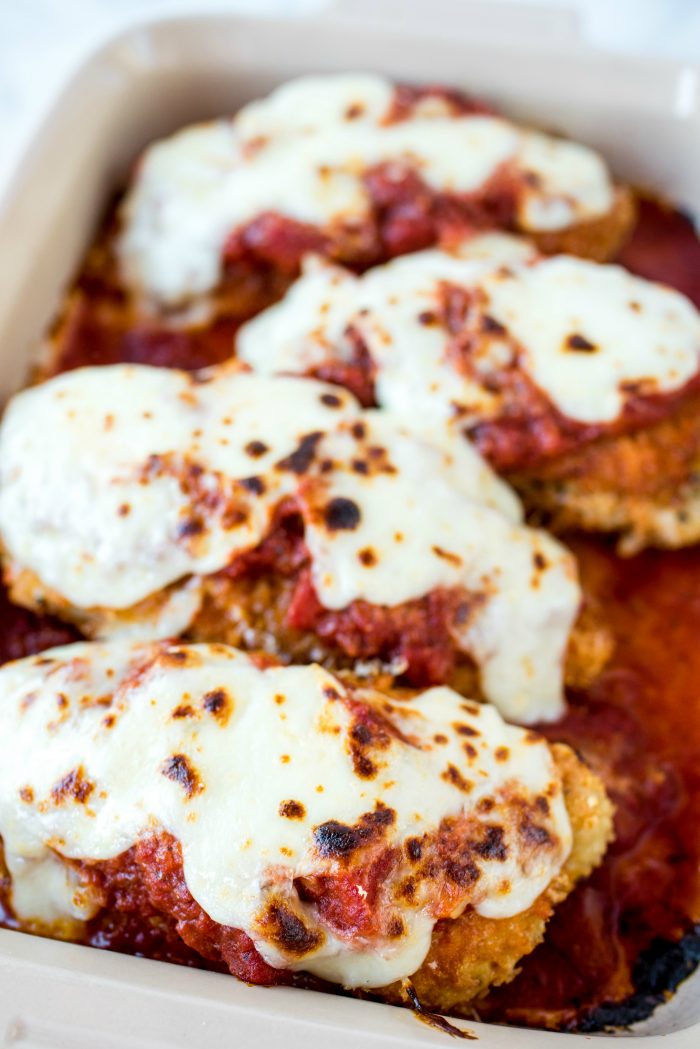 Simple Chicken Parmesan Recipe
Simple Chicken Parmigiana is a breaded chicken breast topped with spaghetti sauce with melted cheese.
For this recipe, we made our own red sauce, but it's optional to buy marinara sauce at the store. Of course I think homemade is not only healthier for you, but tastier (my humble opinion).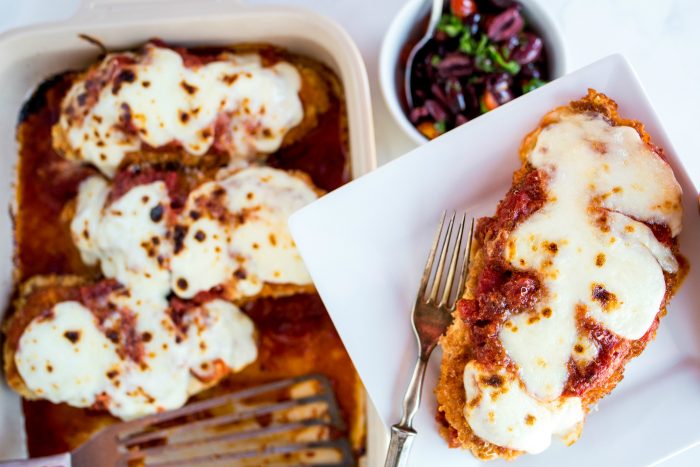 This dish is super easy for hosting! Bring it to the table in less than an hour!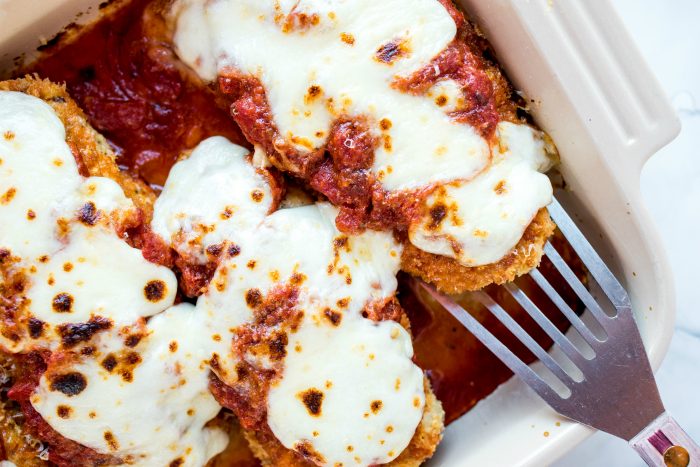 When we are hosting dinner, every scenario is so different. Sometimes it's a dinner date that has been on the calendar for weeks, but often it's a last-minute invite.
So for last-minute, chicken is great to serve!
What would you serve with Chicken Parmesan?
Your favorite pasta
French bread or hot crunchy bread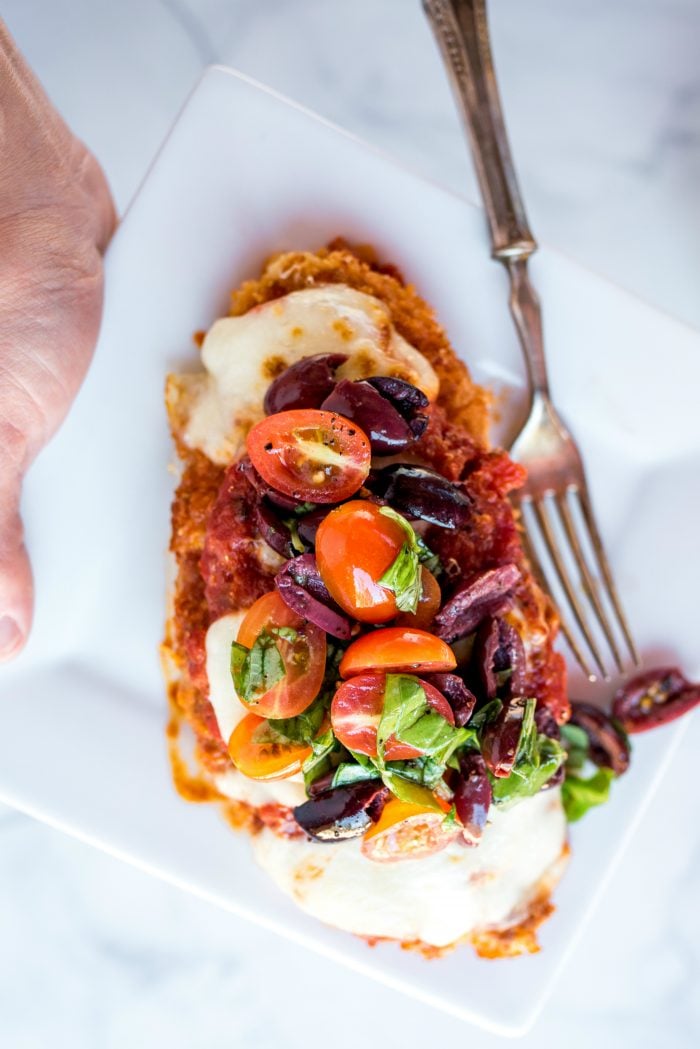 What other toppings go with Chicken Parmesan?
Well, anything fresh, like basil, cherry tomatoes, lemon, and olives – takes a dish to the next level.
Completely optional, you can serve this Chicken Parmesan the classic way with no toppings. It's up to you.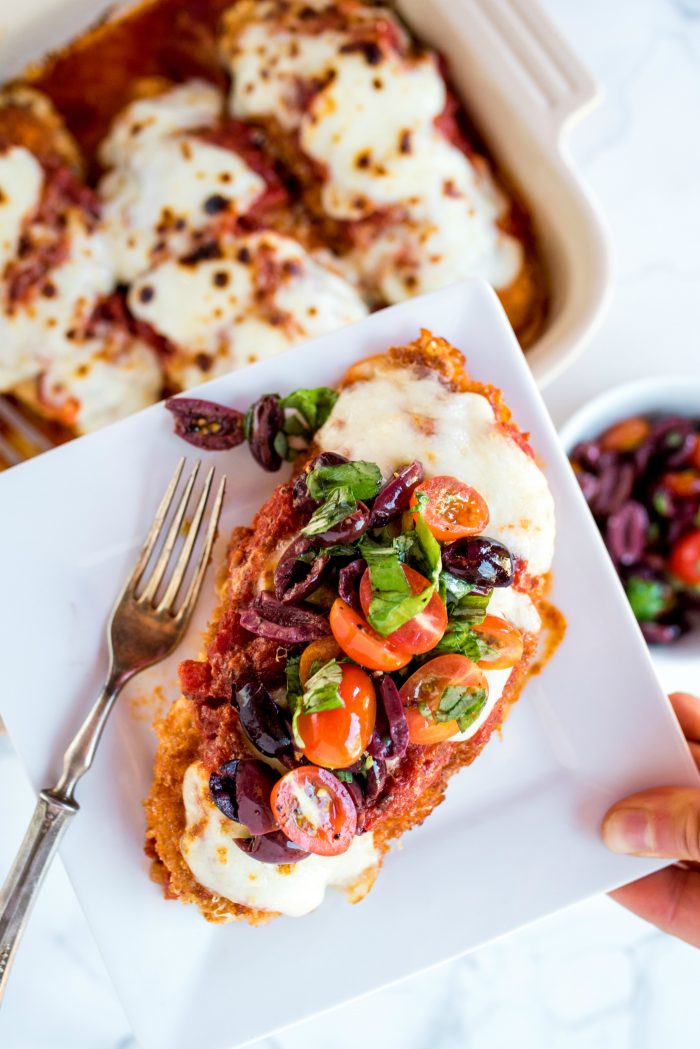 Oh, and IF you have any leftovers, you can store them in the fridge for up to 4 days!
ENJOY!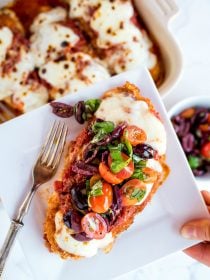 Get the Recipe: Simple Chicken Parmigiana
Ingredients
Tomato Sauce
1 small yellow onion, roughly chopped
2 garlic clove, roughly chopped
1 28-oz. can whole peeled, crushed plum tomatoes
1 6 oz can tomato paste
1/2 tsp dried oregano
1/2 tsp dried thyme
1 Tbsp brown or coconut sugar
Kosher salt and freshly ground black pepper
2 Tbsp olive oil, plus 1/4 cup
2 Tbsp unsalted butter
Breading and Chicken
1/2 cup flour
3 eggs, lightly beaten
1/2 cup Italian breadcrumbs
1/4 cup heaping, grated Parmesan cheese, plus some to grate on top
4 chicken breasts, about 1 1/2 lbs.
8-10 oz. mozzarella cheese, thinly sliced
Optional Topping
A handful of fresh basil
1/2 cup Kalamata olives, halved
1/2 cup cherry or other small tomatoes, halved
2 Tbsp olive oil
Splash of lemon juice
Salt and pepper to taste
Instructions
Preheat oven to 375 degrees fahrenheit.

In a small bowl, combine basil, olives, cherry tomatoes, oil, salt, pepper, and lemon. Mix gently and refrigerate until chicken is ready to serve.

Heat 2 tablespoons oil in a large saucepan over medium-low heat. Add the onions and garlic and cook for about 8 minutes, stirring frequently. Add the plum tomatoes, tomato paste, sugar, salt, oregano, thyme, and pepper and mix thoroughly. Cook over medium-low heat until the sauce thickens and reduces in volume—18-20 minutes. Add in the butter and stir until it melts. Reduce heat to keep warm and set aside.

Place flour and eggs in separate, shallow dishes. Toss the breadcrumbs and Parmesan together in a shallow dish. Set aside.

Using a Ziplock bag, place chicken inside and tenderize with a rolling pin, until the breasts are all about the same thickness. Season chicken with salt and pepper.

Working one chicken breast at a time, dredge the chicken in flour, then dip in the eggs, and finally, coat it in the breadcrumbs. Repeat these steps for the remaining chicken.

Prepare an oiled baking dish for baking the chicken and set aside.

Heat about 3 tablespoons oil in a large skillet over medium-high heat. When oil is hot and shimmery, place two chicken breasts in and cook until breading is golden brown—3-4 minutes each side. Repeat for the remaining chicken breasts (adding additional oil as needed). Move chicken to a baking dish in a single layer, with 2 tablespoons sauce underneath each breast.

Top chicken with about 1⁄3 cup sauce, then top with a piece of mozzarella. Save the remaining sauce for another use. Top the mozzarella with Parmesan cheese and place in the oven.

Bake chicken for 15-18 minutes, then turn the broiler on low and broil for about 2 minutes, to brown the cheese.

To serve, top chicken with olive and tomatoes and enjoy!
Hello and welcome to my home and table!
I'm Sandy—lover of food, family, cooking, THE BIG BOARD, travel, and bringing people together. Through great recipes and connection around the table, we become better, stronger, and more courageous people. Feasting on Life is real, and every time we do it, we grow a little more. Read more...