Skinnytaste's Slow Cooker Poached Salmon
Easy salmon recipe cooked to perfection in a slow cooker: Skinnytaste's Slow Cooker Poached Salmon with Meyer Lemon, Capers, and Parsley recipe!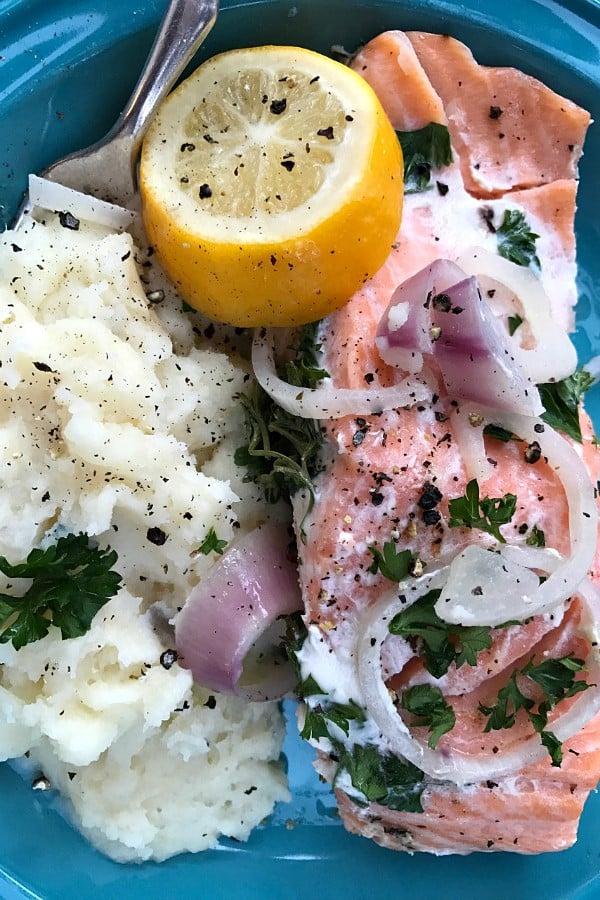 Friends, today I'm so excited to share my friend Gina's beautiful new cookbook: Skinnytaste Fast and Slow, with some of the easiest, tastiest, most convenient healthy recipes—ever!
Most of you know that we cook a lot of salmon in our kitchen (and if you've ever eaten in our home, I bet you've had salmon). When Gina's new cookbook arrived (thank you, Gina!), I couldn't put it down, there are so many recipes to try. They all look fantastic!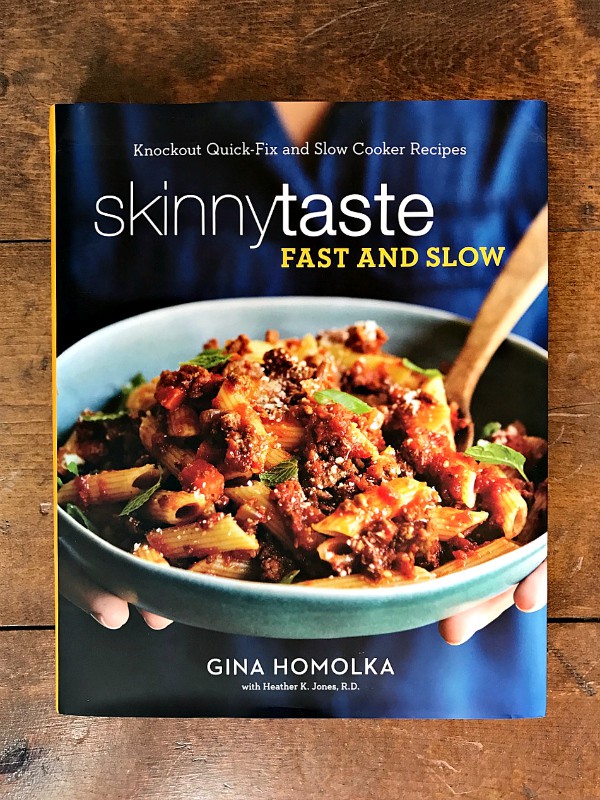 When I saw this recipe, Slow Cooker Poached Salmon with Meyer Lemon, Capers, and Parsley, I knew right away it was a must-try.
Gina, being a very dear friend (we go way back), is such a talented cook, blogger, cookbook and author. I love her positive attitude, her helpful spirit, and quite honestly, she's one of the most humble bloggers I've every met. She cares about her world, people, health, beauty, nature, and so much more … I feel very blessed for the time we've had together.
Skinnytaste's Slow Cooker Poached Salmon
At first, I was a little wary–Can you really make a "good" salmon dish in the crockpot?
Remember that fish is best eaten when it is really fresh, and if it smells "fishy," then that is because it is old. Buy it fresh!
Parchment paper is a staple in my pantry, and I layered it in the slow cooker. What a clever way to avoid the mess!
It turned out gorgeous, tasty, with perfect flavors, light and fresh!
And easy clean up!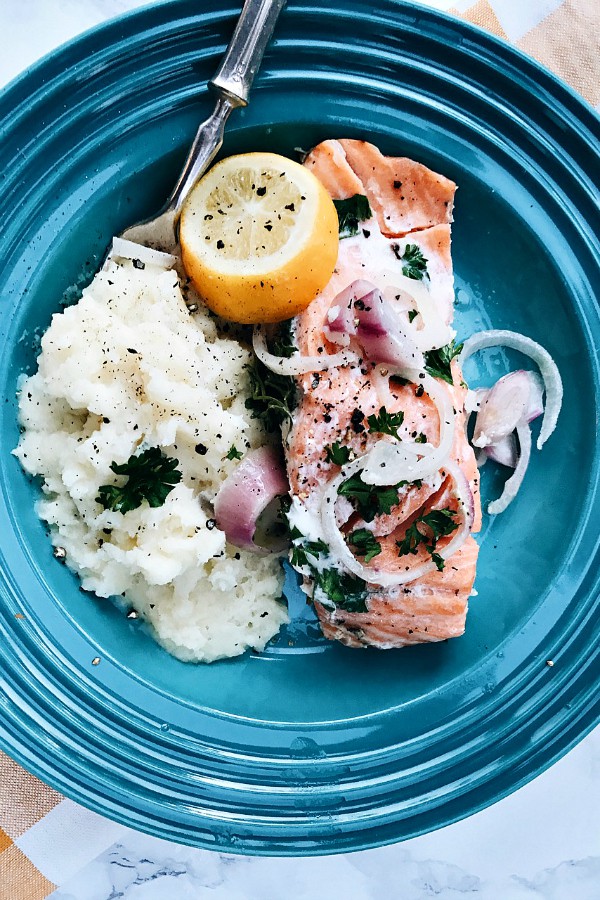 Skinnytaste.com
Now for the book: You may already be familiar with Gina's blog, Skinnytaste, and then her first successful cookbook, The Skinnytaste Cookbook. Gina and I were in Asheville together, and I happened to take this picture of her, before her first cookbook became so successful.
NY Best Sellers List, indeed.
And now for this book, too!
Congrats to my lovely friend, Gina.
Here are a few recipes we can't wait to try:
Slow Cooker
Chicken and Dumpling Soup
Korean-Style Beef Tacos
Spicy Harissa Lamb Ragu
And we just made the Blueberry Crumble (in the crock pot – YUM!)
Under 30 Minutes
Zucchini Noodles with Shrimp and Feta
Pizza-Stuffed Chicken Roll-Ups
Cauliflower "Fried" Rice
Can't wait to try the Cauliflower Potato Tacos, too!
Buy Gina's book: HERE.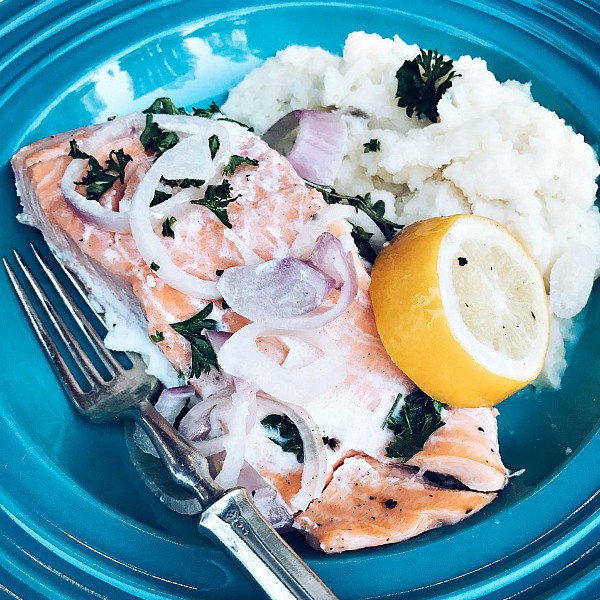 Get the Recipe: Slow Cooker Poached Salmon with Meyer Lemon, Capers, and Parsley
Ingredients
3 Meyer lemons
3 sprigs of fresh parsley
1 large shallot, thinly sliced
1/4 cup dry white wine
1 pound skinless wild salmon fillets, 1 inch thick, cut into 4 pieces
1/4 tsp. kosher salt
Freshly ground black pepper
4 tsp. capers, drained (optional)
Instructions
Cut 2 pieces of parchment paper about 12×15 inches. Place them into the slow cooker lengthwise, one on top of the other, to create a sling that will make it easy to remove the salmon later.

Slice 2 of the lemons into 1/4-inch thick slices. Cut the remaining lemon into 4 wedges and set aside. Arrange the lemon slices in a single layer along the bottom of the slow cooker, on top of the parchment. Top with the parsley sprigs and shallot slices. Pour in the wine, and just enough water to get the level of the liquids even with the lemon, about 1/4 cup.

Season the salmon with the salt and pepper to taste. Place the fish onto the lemon slices.

Cover and cook on low for 1 to 1 1/2 hours, until the salmon is opaque throughout.

Using the parchment paper sling, transfer the salmon to a baking sheet. To serve, gently transfer a piece of salmon onto each of 4 plates, discarding the liquid, lemon, and herbs. Serve topped with the capers and with the reserved lemon wedges for squeezing.

Hello and welcome to my home and table!
I'm Sandy—lover of food, family, cooking, THE BIG BOARD, travel, and bringing people together. Through great recipes and connection around the table, we become better, stronger, and more courageous people. Feasting on Life is real, and every time we do it, we grow a little more. Read more...