Mixing up Love and Smoked Turkey Mango Chili Recipe
When I'm short of time, and friends are coming for a casual dinner, this time is perfect to serve Smoked Turkey Mango Chili Recipe!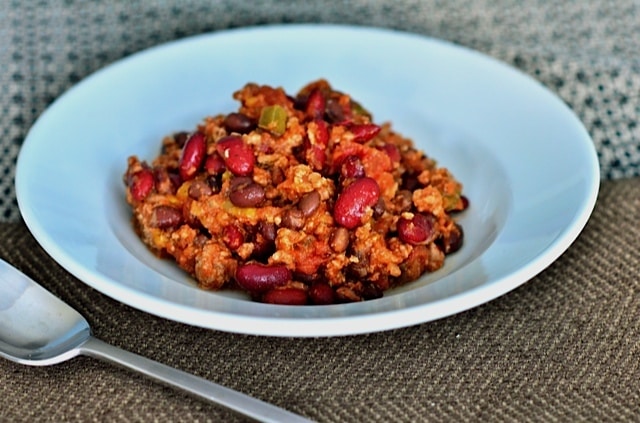 I experimented with several recipes this fall, but I must say, simple is best for me. If I have more time to plan out a dinner party, I'll look at making more involved recipes. But if I'm planning a casual last-minute get-together and making chili, I don't want to have to roast the peppers, be chopping for hours, cooking beans the night before, etc. I want something flavorful NOW.
Smoked Turkey Mango Chili Recipe
That's why I appreciate being able to open a quick and easy can of beans.
Making chili should not be a daunting task. I played around with my usual recipe, this time adding ground turkey and smoked cumin.
Oh, boy!
Mix up a little love and chili, and you'll have happy guests!
Oh, and throw a bag of chips on the counter and by adding a handful of crunched chips on top, it's even tastier. Serve with cilantro, extra cheese, sour cream, and chips and you're good to go!
What's your favorite go-to chili recipe?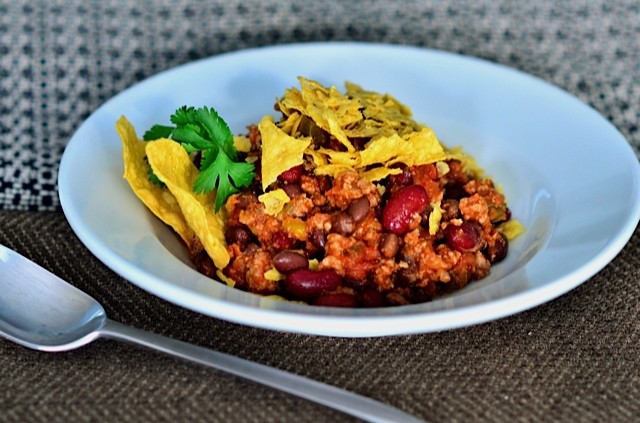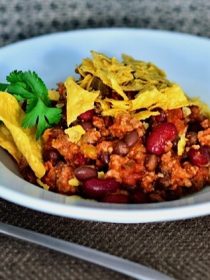 Get the Recipe: Smoked Turkey Mango Chili Recipe
Quick and easy–ready for company–recipe!
Ingredients
2 lbs. ground turkey
3 15 oz cans Mexican-stewed tomatoes, undrained
3 15 oz cans Bush's black beans, drained
3 15 oz cans Bush's kidney beans, drained
4 cups peach mango salsa, I use Costco's brand
3 tsp. smoked ground cumin
3 tsp. chili powder
salt and pepper
Instructions
Cook ground turkey; strain. Season to taste with salt and pepper.

Add to a large pot; add in the beans, tomatoes, salsa and spices.

Heat on medium high for 10 minutes, stirring constantly. Turn down to low and simmer for 20 minutes.

Taste and season to taste.
More chili recipes on RE:
Hello and welcome to my home and table!
I'm Sandy—lover of food, family, cooking, THE BIG BOARD, travel, and bringing people together. Through great recipes and connection around the table, we become better, stronger, and more courageous people. Feasting on Life is real, and every time we do it, we grow a little more. Read more...