Spelt Cinnamon Apple Cake
Spelt Cinnamon Apple Cake with warm flavors (cinnamon, spelt, almond, and brown sugar), topped with whipped cream. The ultimate Christmas brunch dessert!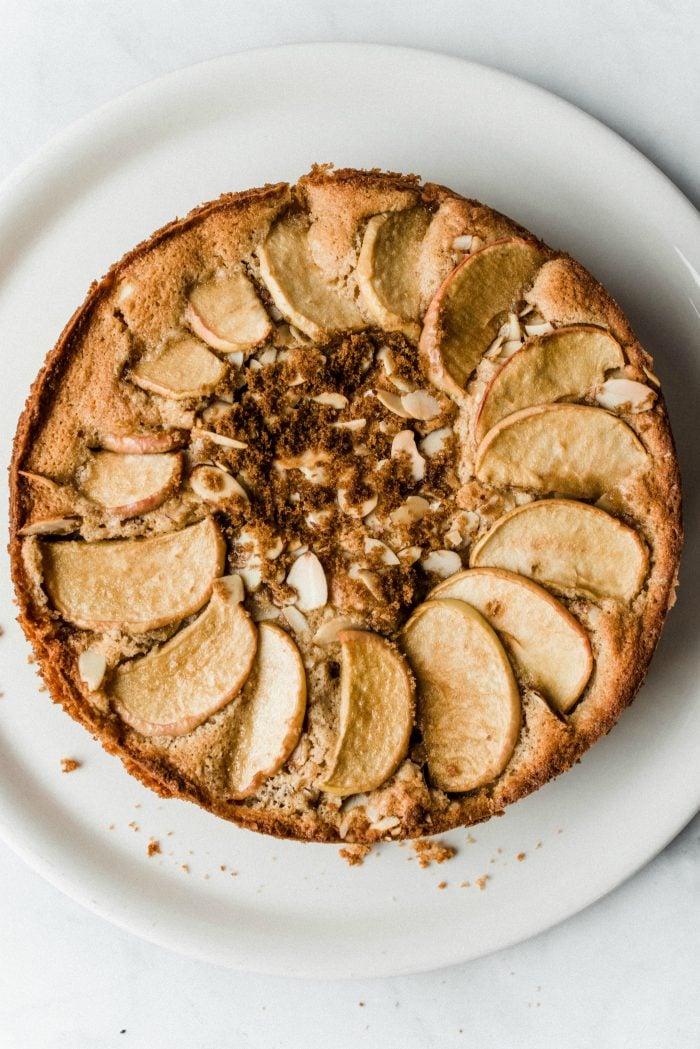 Friends, are you hosting for the holidays? Today I'm sharing a few of my tips for what makes a great dinner, plus this easy Spelt Cinnamon Apple Cake Recipe! You can also try French Apple Cake or my Pear Coffee Cake Recipe.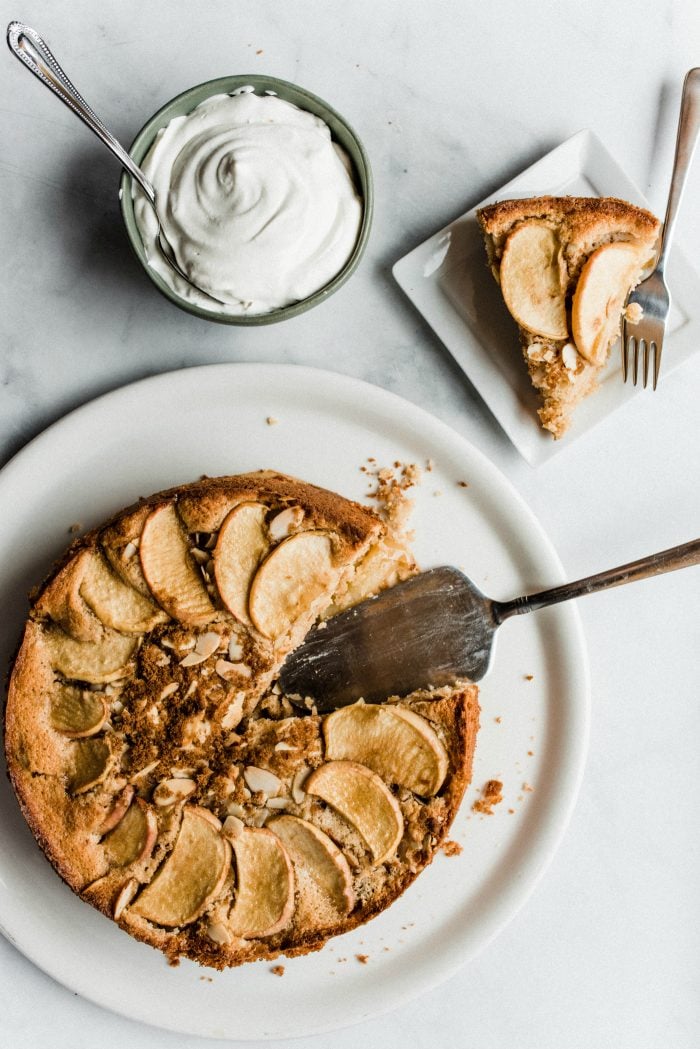 Spelt Cinnamon Apple Cake
This apple cake smells like a cozy winter day! It's rich with warm flavors like cinnamon, spelt, almond, and brown sugar, with hints of brightness from the acidic apples and cider vinegar. Don't forget the sour cream! It ensures that the texture is moist and cake-y.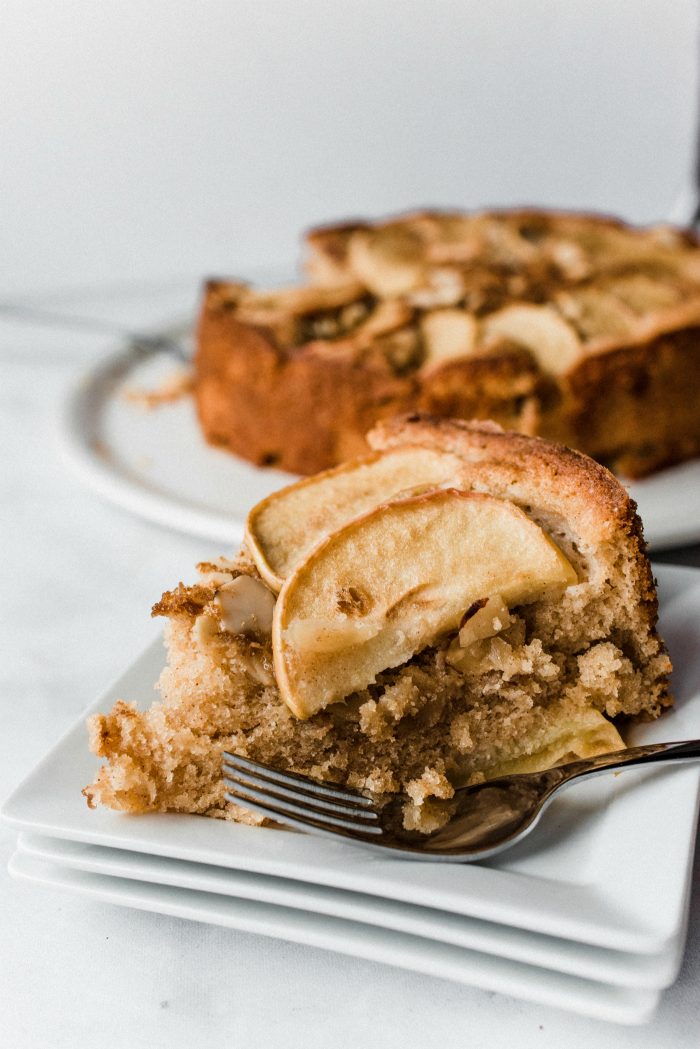 You can swap out the almonds for walnuts if desired.
You can even swap out the apples for pears!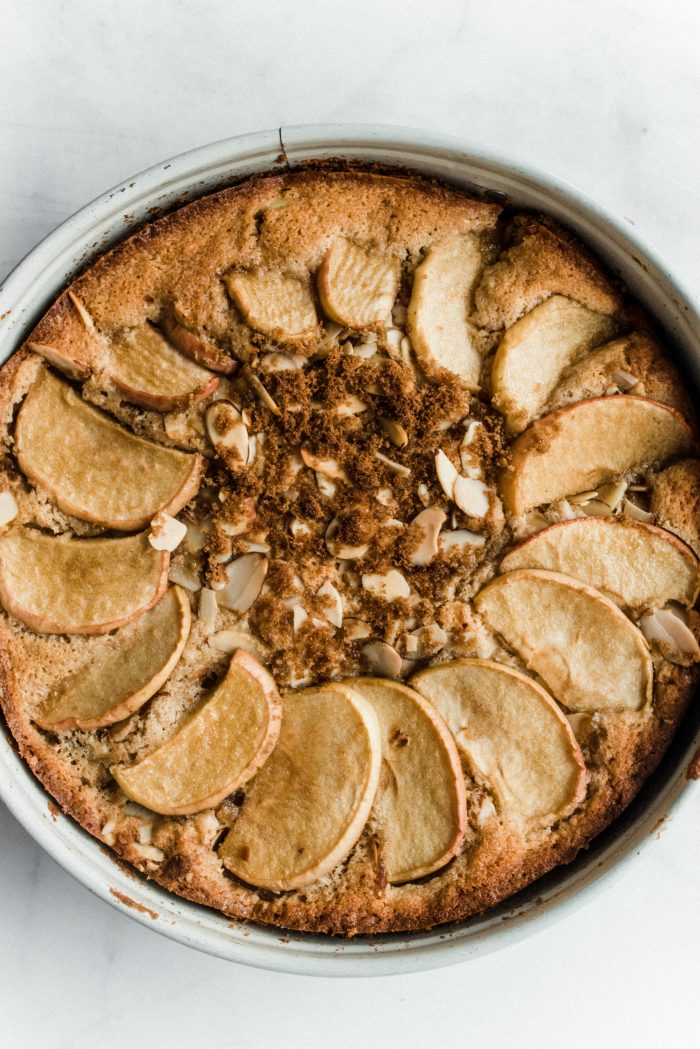 Creating opportunities when hosting
Last time we had guests over, we all went for a walk. You can create space for your guests to have alone time, or ask who wants to go on a walk?
People can opt in, or hang back for their nap or time to rest.
Holiday entertaining should be fun, refreshing, and not too chaotic, in my mind.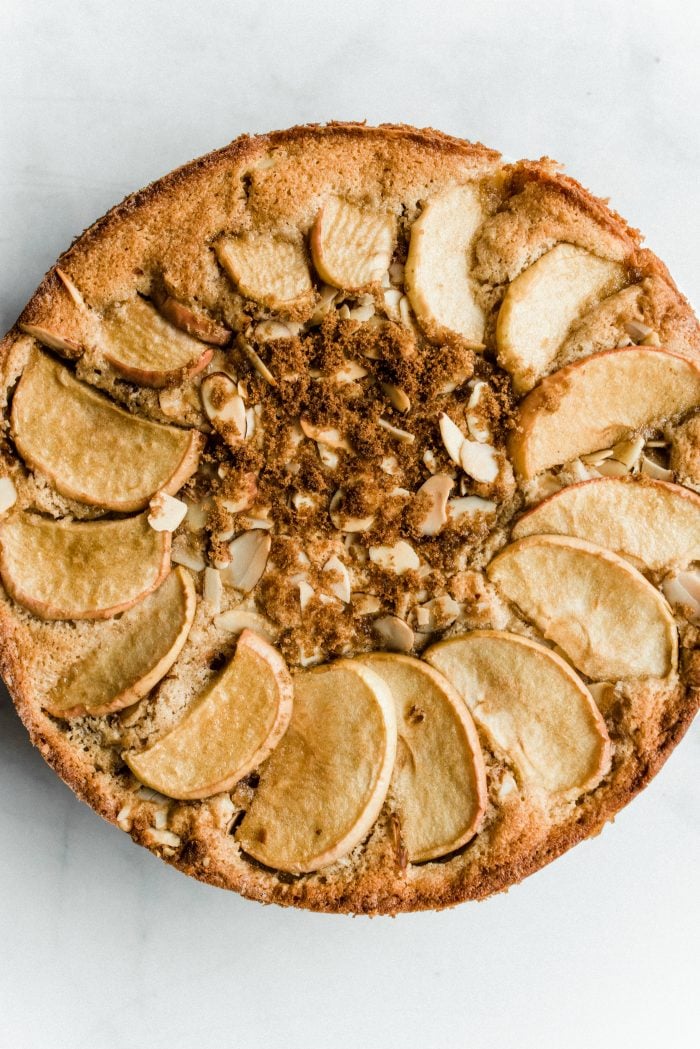 Lively? Yes! We always have music playing, or the kids are playing music. But when it's time to wind down, there are always some great options.
Of course at night, we're all pooped and it's time to end the party.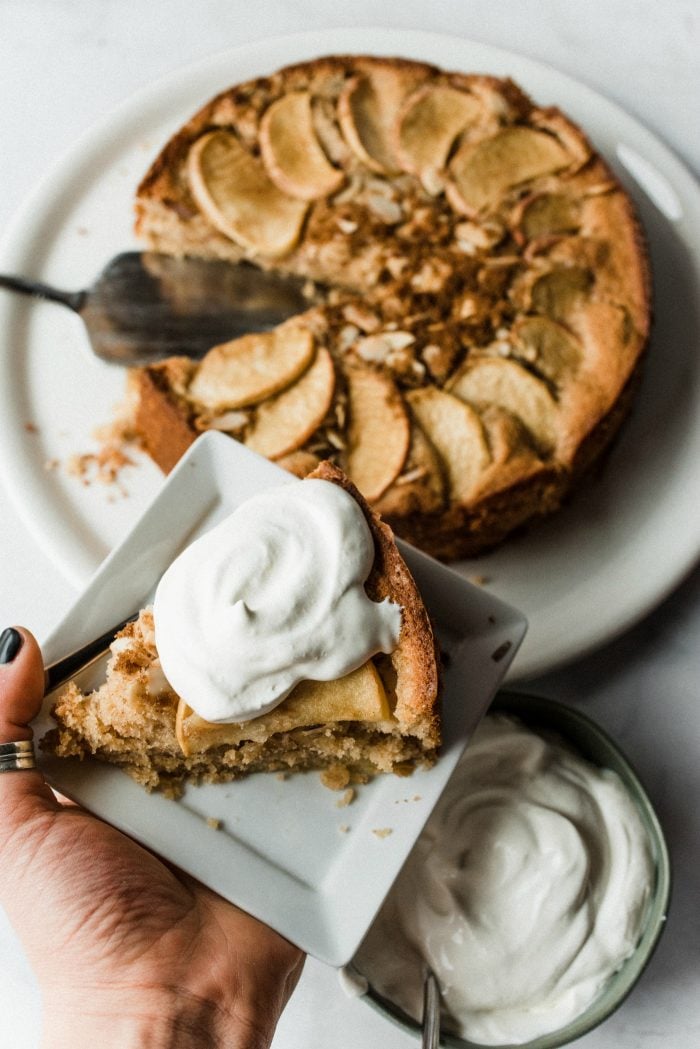 What is spelt?
Spelt is a type of grain that is strongly related to wheat with a nutty flavor. It is not gluten-free. It's one of my favorite flours to bake with. I love the flavors so much! But it is more dense.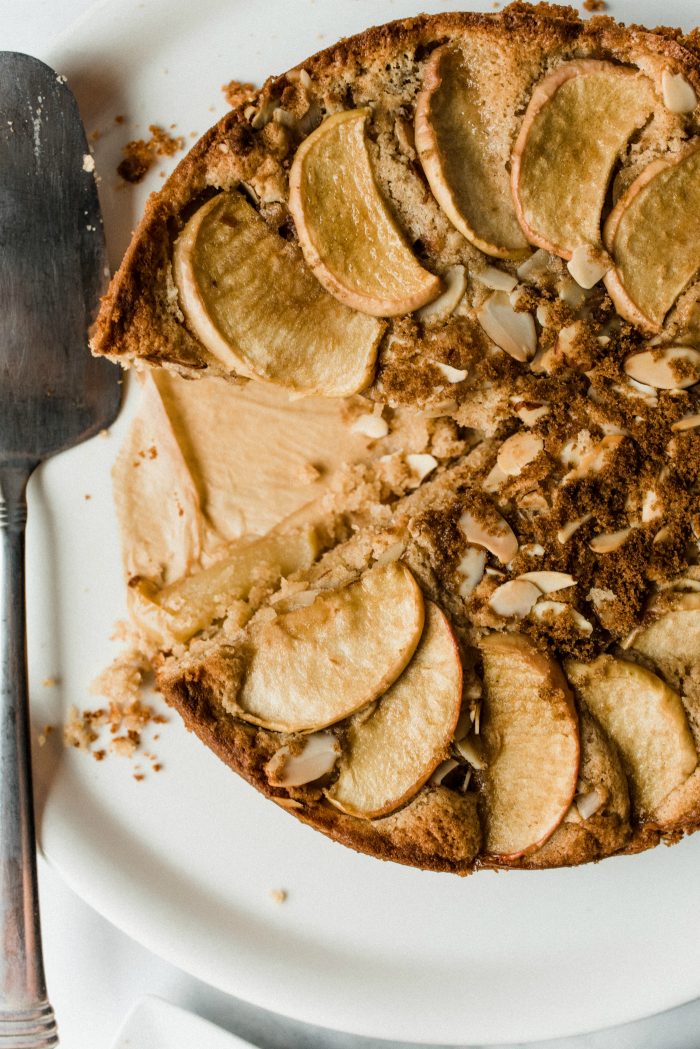 Hosting TIP
If you're worried about people staying too long, you can always suggest: Come from 5 until 8!
It's okay to set a boundary if you need to. Especially if you're heading out of town the next day, or have big plans ahead.
Or, you're just pooped!
The holidays can be exhausting, so setting limits is a good thing!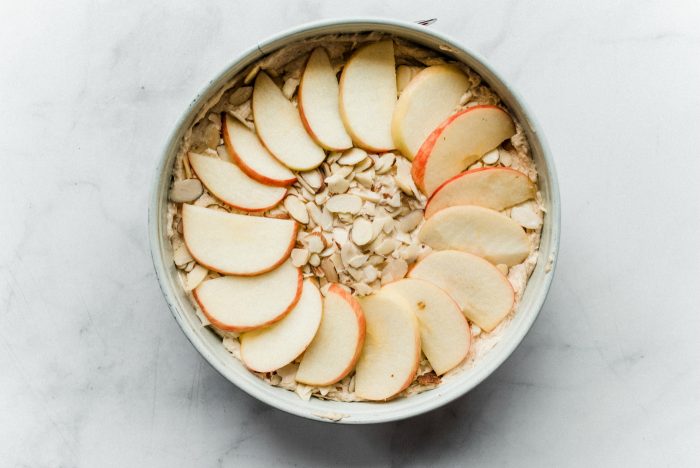 Double the Apple Cake recipe
Consider making an extra cake when you have time!
1. Freeze for later.
2. Give away.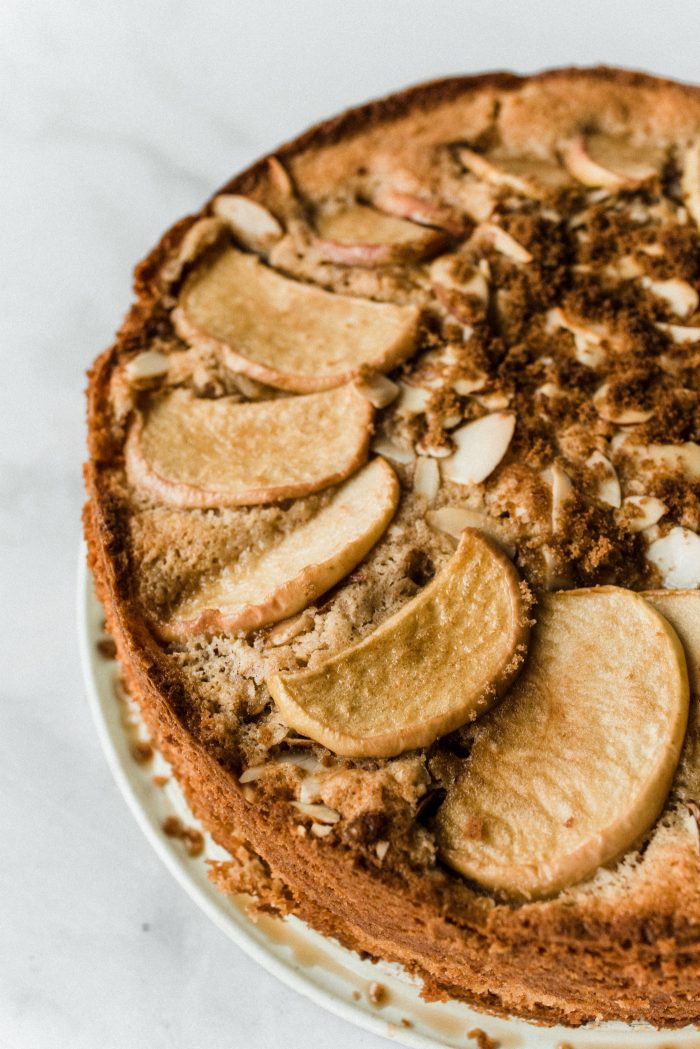 This cake is best served for brunch with whipped cream or vanilla ice-cream!
Which is the perfect breakfast cake for Christmas Day!
Get the Recipe: Spelt Cinnamon Apple Cake
Ingredients
2 cubes unsalted butter, softened, plus more for greasing
1 ⁄2 cup white sugar
1 ⁄3 packed cup dark brown sugar
plus 1/4 cup, divided (to coat apples)
1 tsp vanilla extract
1 tsp ground cinnamon
3 ⁄4 tsp. kosher salt
2 large eggs, at room temperature
3/4 cup all-purpose flour
3/4 cup plus 3 Tbsp spelt flour
1 1 ⁄2 tsp. baking powder
1 ⁄2 cup sour cream
1 Tbsp neutral oil, like grape seed, avocado, or canola
1/4 cup sliced almonds
2 apples, Honeycrisp or Pink Lady, cored and sliced into 1/4 inch thick slices, divided
1 Tbsp apple cider vinegar
Instructions
Preheat the oven to 375°F and grease a 9-inch springform cake pan, and line the bottom with a circle of parchment paper.

In a stand mixer using the paddle attachment, combine the butter, white and brown sugar, vanilla, and the salt on high, until mixed and lightly fluffy. Add the eggs one at a time—fully incorporate the first egg before adding the next. Add in the sour cream 1/4 cup at a time and mix until incorporated, then the apple cider vinegar and 1 Tbsp oil—mix until smooth.

In a medium bowl, combine the white flour, spelt flour, and baking powder. Add half of the dry mixture to the wet ingredients on a low speed. Scrape the sides of the bowl and paddle if needed, then add the remaining dry ingredients and mix on low speed until combined and smooth—don't over-mix.

Fan out the slices of 1 apple onto the bottom of the pan with a sprinkle of brown sugar, then pour in the batter and smooth the top. Fan out the remaining apple around he edges, then sprinkle the top with the almonds and brown sugar—make sure the almonds are mostly covered so they don't burn.

Bake for 40-45 minutes, or until the cake is golden and a tester inserted into the center comes out clean.

Remove the pan from the oven and move to a cooling rack. Allow the cake to cool for 20 minutes, then unmold by scraping a knife around the edges and releasing the sides.

Serve for dessert or brunch with whipped cream or vanilla ice cream.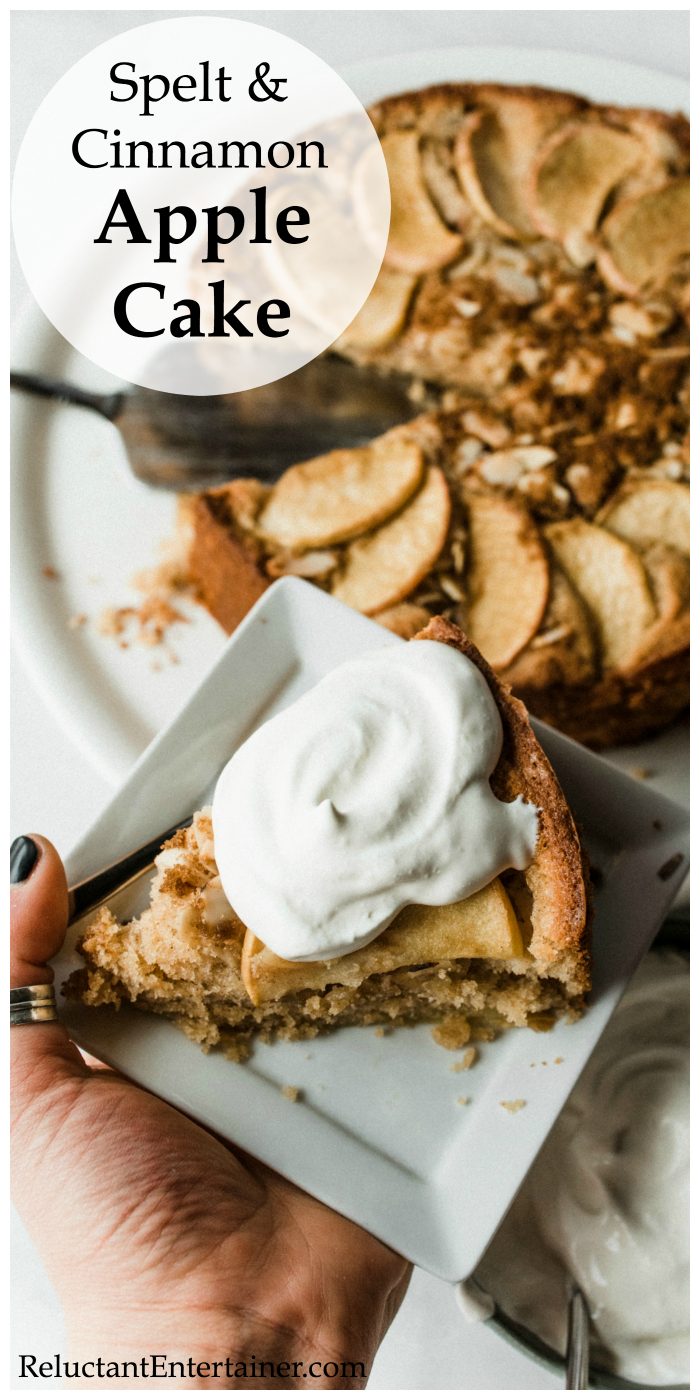 Hello and welcome to my home and table!
I'm Sandy—lover of food, family, cooking, THE BIG BOARD, travel, and bringing people together. Through great recipes and connection around the table, we become better, stronger, and more courageous people. Feasting on Life is real, and every time we do it, we grow a little more. Read more...