BEST Sugo di Carne Recipe
We love this BEST Sugo di Carne Recipe with rich, savory flavors! We make it with penne pasta, and this recipe feeds a crowd! Looking for a recipe to start off the New Year?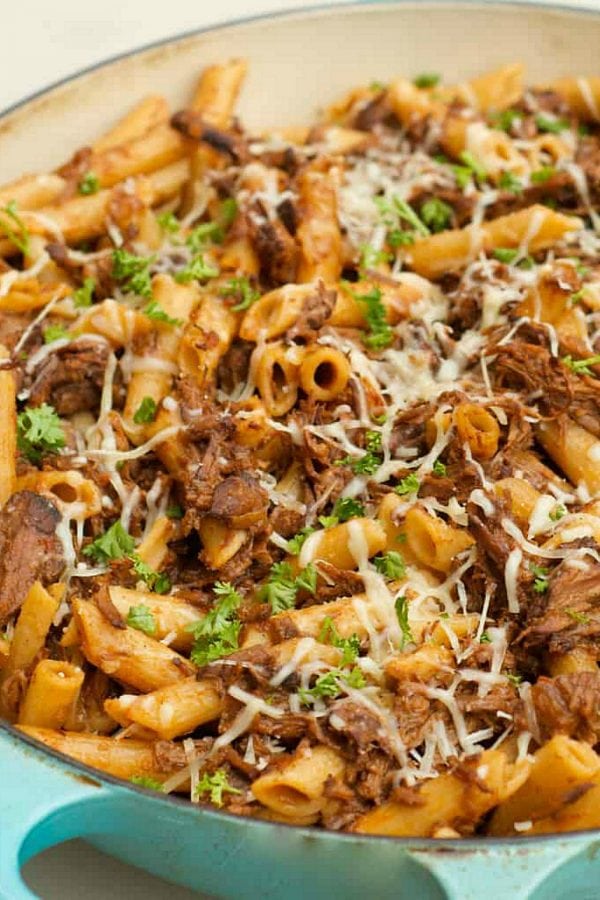 Friends, you've got to try this comfort Sugo di Carne Recipe, that I'm reposting from my blog from December 2014. Originally it came from Bon Appetit's "RSVP: Readers' Favorite Restaurant Recipes" from their December 2007 edition.
Caffe Mingo Sugo di Carne
This recipe is from Caffe Mingo, Portland, Oregon, one of our favorite restaurants to visit when we go to that city.
On the menu this week? We're simmering a pot of this Caffe Mingo's Sugo di Carne Recipe right now. You can halve the recipe, or freeze half of the meat mixture before adding to the pasta.
BEST Sugo di Carne Recipe
When you mention Italian (or Sunday) meat sauce, most people will immediately think of those monuments of Italian cooking, the ragù alla napoletana and the ragù alla bolognese, sauces that require hours of cooking and an elaborate preparation.
Like this Cafe Sugo di Carne Pasta Dish, these time-consuming ragù recipes are often reserved for special occasions. Ragù alla napoletana is an expression from back in the days when the main event of every Sunday was a multi-course meal. I say, "bring back Sunday supper." This is one of my goals for 2021, when we can host again!
Ingredients for Sugo di Carne with penne pasta
Unsalted butter
Beef bottom round (beef top round roast is another option!)
Red onions
Bottle of Chianti wine (or other fruity wine)
Can peeled tomatoes
Brewed espresso (we use Storyville coffee)
Penne pasta, (we use DeLallo)
Parmesean cheese
Fresh parsley
Penne al Sugo di Carne Recipe
With only six ingredients in the sauce, you can't go wrong.
What I love about this recipe today is it is a far simpler meat sauce that may not exactly be fast food, but it certainly takes far less time and effort than a traditional recipe.
All you need is meat, some canned tomatoes, lots of onions and butter, and plenty of wine. Oh, and about two hours to spare, most of which can be spent away from the stove.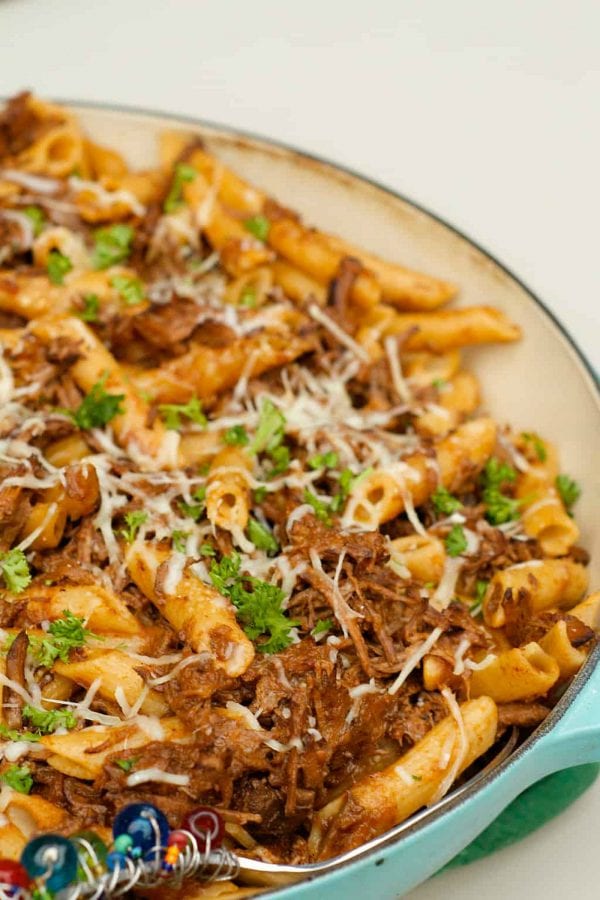 My favorite cut is beef top round roast (boneless) which is usually less costly than beef bottom round, and to my taste is more tender and savory. Oh, and how did I forget to mention espresso? We only use Storyville Coffee beans, so making two cups of rich, dark, robust espresso just makes the sauce even better.
After you braise the meat, you blend or mill the sauce. Secret to blending hot stuff? Never put the lid on the blender. Hold a paper towel over the top and blend on "low." That way it won't explode! (I've done this too many times with hot soups.)
Make the sauce 3 days in advance
This espresso braised beef pasta dish is delightful. Make the sauce recipe up to three days in advance and let the flavors steep!
But … making it in advance is not a requirement. It tastes just fine making it the day of your dinner!
I think your guests or family will love this dish, so please, come back and tell me all about it!
More One-Pot dishes
Lemon-Rosemary Roasted Chicken Tenders with Potatoes
Mushroom Florentine Pasta Recipe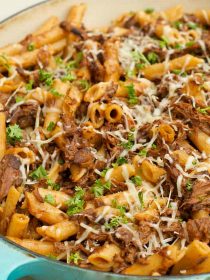 Get the Recipe: Caffe Mingo's Sugo di Carne
Recipe from Caffe Mingo's restaurant, downtown Portland, Oregon. Amazing pasta sauce that feeds a crowd!
Ingredients
1 cup 2 sticks unsalted butter
1 5- pound beef bottom round, cut into 2 inch cubes (beef top round roast is another option!)
3 red onions, halved, thinly sliced
1 750 ml bottle Chianti or other fruity wine
1 28 oz can peeled tomatoes with juice
1 cup brewed espresso
2 pounds penne, I use DeLallo
Parmesan cheese
Fresh parsley, finely chopped
Instructions
Preheat oven to 400.

Melt 1 Tbsp butter in large ovenproof pot over medium heat. Sprinkle beef with salt and pepper. Working in batches, cook beef until browned, about 4 minutes per batch. (Use 1 stick of butter, divided with the batches of meat.) Transfer beef to large bowl. Reduce heat to medium. Add the other stick of butter to pot and melt. Add onions and cook until soft, stirring frequently, about 5 minutes.

Return beef and any accumulated juices to pot. Add wine, tomatoes with juice, and espresso. Bring to a boil, cover, and transfer to oven.

Braise beef until tender, about 2 hours. Using slotted spoon, transfer beef to bowl and with 2 forks, shred the beef.

Take the juices and puree in blender (I use my Vitamix) or run through a food mill. Add the meat to the milled sauce.

Return beef to pot. Season to taste with salt and pepper.

Pasta: Cook in pot of salted boiling water until tender, but still firm to bite. Use a pasta with ridges to adhere to sauce. Divide pasta among 12 shallow bowls, spoon meat sauce over, and serve, or serve in one large bowl.

Do ahead: Can be made 3 days ahead. Chill uncovered until cold, then cover and keep chilled. Rewarm before serving.

Garnish with Parmesan cheese and fresh chopped parsley.
Notes
Reposted from 2014 on RE
Hello and welcome to my home and table!
I'm Sandy—lover of food, family, cooking, THE BIG BOARD, travel, and bringing people together. Through great recipes and connection around the table, we become better, stronger, and more courageous people. Feasting on Life is real, and every time we do it, we grow a little more. Read more...