6 Tips on Planting Bulbs Late in the Season
This past week we've had a burst of springlike weather in the Rogue Valley. One thing I had on my list "to do" back in December, was to get a couple of bags of bulbs in the ground that I had sitting around. But then the snow came … and I needed tips on planting bulbs late in the season!
I took the chance! I went ahead and planted the bulbs and I can't wait for the next few months, when they'll be peeking out of the ground with a beautiful "hello" to the world!
Some bulbs need to be planted in the spring; others do best when you plant them in the fall. When to plant bulbs depends a lot on when your bulbs are supposed to bloom.
But the big question I had was, was it too late to plant the bulbs in January? Because I had also found at our local Grange their whole selection of bulbs 40% off!
So I stocked up.
Bulbs aren't instant-gratification plants. They need time in the ground before they send forth stem, foliage, and flowers, which I bet we'll be seeing some popping up in the next month or so.
Spring-flowering bulbs such as tulips and daffodils must be planted by early winter to bloom in spring, because they require a long period of cool temperatures to spark the biochemical process that causes them to flower.
They're pretty tough, because they can usually take what Mother Nature dishes out. A short freeze won't damage the young bulb shoots and buds, though it may 'burn' already open blossoms.
Bulb-planting tips – late in the season:

1. Look for after-Christmas bulb sales at local stores or nurseries.

2. It's typically best to avoid bulbs that are mushy or really soft, or have mold growing on them. They most likely won't make it.

3. Take the chance. Dig the soil (if not frozen) and plant the bulbs. They are better off in the ground or a chilled pot than wasting away in the garage.

4. Take a picture of where you plant the bulbs, so you know exactly where they are planted.

5. If they are still firm and plump, another option is to plant them indoors as forced bulbs. Good option is the ground is still frozen.

6. Some say to soak the bulbs in water before planting.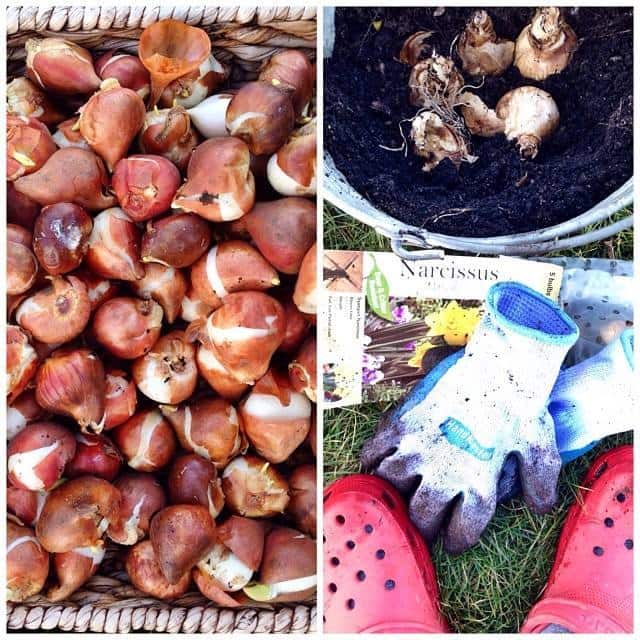 I got out my gloves, and I started digging, planting over 100 bulbs.
Cold weather, but beautiful sunshine, and the ground was not frozen here in Oregon.
I saved out a few bulbs for this old bucket.
For a dramatic show of spring-flowering bulbs, mix up the bulbs in a pot. That way you'll get a variety of colors which is really beautiful! (Photo from BHG.)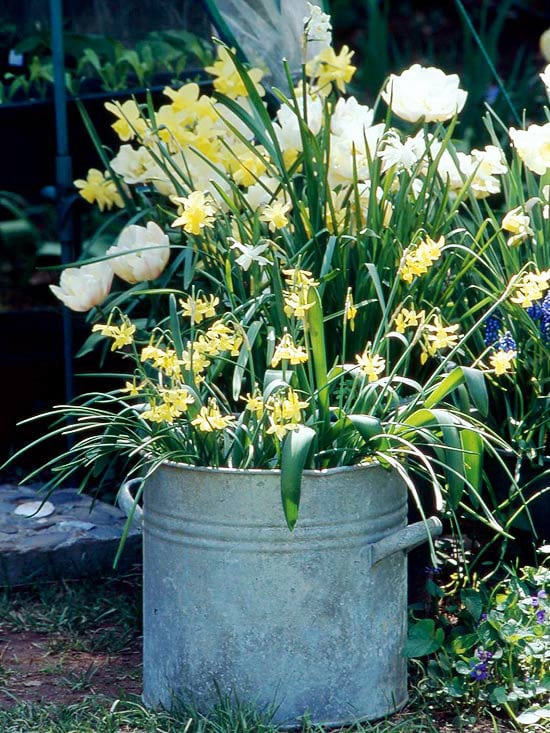 An unseasonably warm spell (like we're having now!) may cause some bulbs to bloom earlier than anticipated. I keep peeking …
I say, bring 'em on.
Every year, I'm always amazed how our bulbs bloom, after being planted under the most improbable circumstances (late!) :)
Have you planted bulbs this year? Any tips to share?