Trader Joe's Belgian Waffle Board
For a large gathering for breakfast or brunch, serve a Trader Joe's Belgian Waffle Board. Add toppings: Maple or pumpkin butter, lemon curd, and preserves.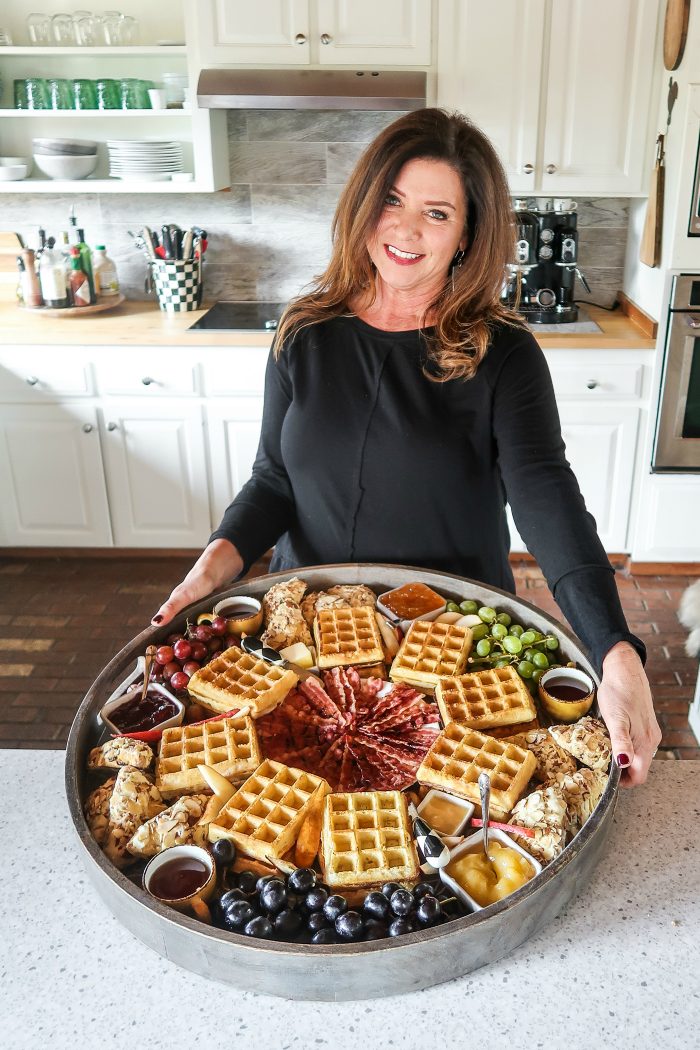 Friends, just in time for the holidays, a breakfast, brunch, or dinner Trader Joe's Belgian Waffle Board. We love Belgian waffles, so whether you make them at home (and freeze ahead), or pick up store-bought, this spread is a party hit!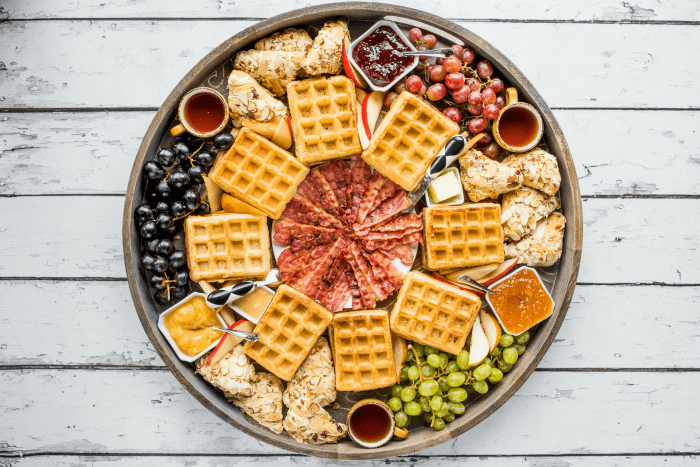 As Charlie Brown says in one of my favorite movies, A Charlie Brown Thanksgiving, "I can't cook a Thanksgiving dinner. All I can make is cold cereal and maybe toast." :)
I wonder if Charlie Brown would have liked my Fall French Toast Board or English Muffin Breakfast Board (probably more doable).
Well, today we're sharing a better breakfast than Charlie Brown's cold cereal and toast. And you can buy everything at Trader Joe's! Including the Belgian Waffles, or you can try my friend Miss's Easy Belgian Waffle Recipe and make and freeze!
Trader Joe's Belgian Waffle Board
How to make an epic breakfast board
Decide how many you are hosting, then use a board that holds the amount of food you will be serving. Below are the different board sizes. The largest board serves about 12 guests for a meal (not an appetizer).
Grab the shopping list below (easy to print out), and gather the food.
Figure out how much time you will need to toast (or bake in the oven) the Belgian waffles. Keep warm in the oven on a large plate until ready to serve.
Arrange the food on the epic board. Leave space for the waffles.
Belgian Waffle Board
Here's the thing about Belgian waffles. They don't have to be piping hot for this board.
And here are some of our favorite toppings:
Lemon curd
Peach Bellini Jam
Strawberry preserves
Organic maple butter
Maple syrup
Regular butter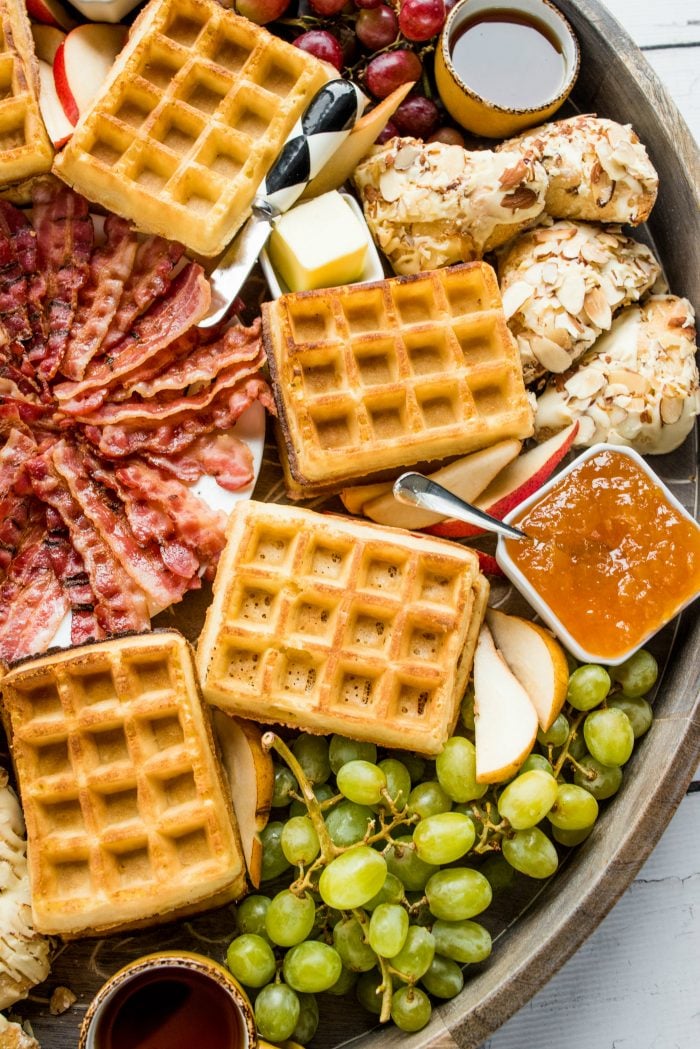 According to the season, add in Mini Orange Cranberry Tea Scones, and fresh fruit.
This time of year, for Thanksgiving and Christmas, you can add in tri-colored grapes, and pear and apple slices!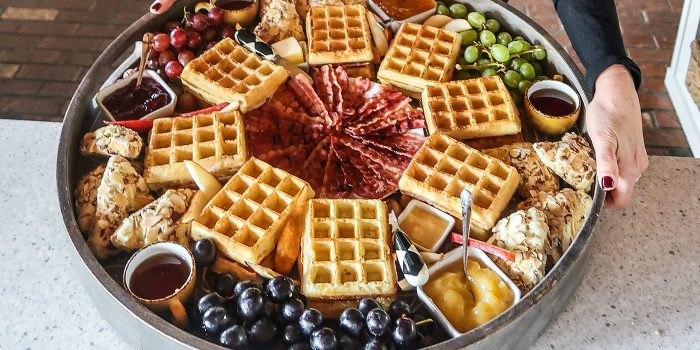 When I'm making these boards, I am thankful.
I'm thankful because I know we have more than we need, and I'm thankful we can share it with others.
As Ann Voskamp says, Thanksgiving creates abundance. :)
Happy hosting!
28-inch Charcuterie Board
Friends, here are the boards that I LOVE. A "lip" is the secret to the best charcuterie or dinner board, because the food does not fall off. [This post has affiliate links. Every purchase from these links supports RE at no extra cost to you. Thank you!]
Here are the affiliate links:
LARGE Hand-Carved Gabrielle Tray, Large – 28.5 inches round. Buy >> HERE
LARGE Hand-Carved Gabrielle Tray (gray) – 24 inches round. Buy >> HERE
MEDIUM Hand-Carved Vine Round Tray (white washed) – 20 inches round. Buy >> HERE
SMALL Hand-Carved Gabrielle Tray (gray) – 18-inches round. Buy >> HERE
MEDIUM Willow Hand-Carved Tray (mango wood, gray) – 20.25 inches round. Buy >> HERE
MEDIUM Whitewashed Mosaic Wood Tray (antique white) – 20-inches round. Buy >> HERE
Rememember it says it is "not food safe," so you need to prepare the board by either laying down parchment paper under the food, or you can "season" it like we did.
Here are a few other (affiliate) options:
Courtland Wooden Lazy Susan – 18-inch round. Buy >> HERE
LAZY SUSAN is a board that spins. It does NOT have a lip, but it's cool for the center of the table.
Here's an 18-inch wine barrel wood board or a 24-inch hammered large round tray or a 26-inch stainless steel serving platter that you may also like! Check out the weight on these boards.
How to season a Charcuterie Board
If a wood board says it "not food safe," you can lightly sand it down with sand paper, and rub down with beeswax and mineral oil.
We used this butcher block and cutting board oil conditioner after we lightly sanded the board down.
Or, lay down parchment paper! Easy peasy!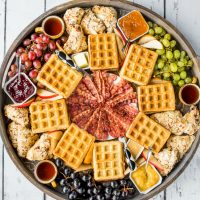 Print Recipe
Trader Joe's Belgian Waffle Board
Ingredients
3

boxes Trader Joe's Belgian Waffles

14

pieces

bacon

cooked

Lemon curd

Peach Bellini Jam

Strawberry preserves

2

packages Mini Orange Cranberry Tea Scones

Organic maple butter

Maple syrup

Regular butter

Tri-colored grapes

Pears

sliced
Instructions
Prepare a large board. Cook ahead the bacon and keep warm (set aside).

Cook ahead the Belgian waffles (either in the oven or toast), and keep warm in the oven until ready to serve.

Fill small bowls with butter, jam, syrup, etc.

Leave a space on the board for the waffles. You can either put a large (hot) plate of waffles in the center of the board, or place them directly on the board, right before serving.

Arrange the food on the epic board. Fill in the open areas with fresh fruit.

Serve!