Fall French Toast Breakfast Board
For fall hosting, serve a Fall French Toast Breakfast Board. Make French toast; assemble bites of fall–fresh fruit, cinnamon rolls, jellies, and syrup!
Friends, when I think of the fall season, I start getting excited for the holidays! Maybe you'll be hosting out-of-towners, or friends and family this year, like we will be.
My new boards are FOOD SAFE, and made in the USA, and find them on The Big Board page! Or find the links at the bottom of this page!
French Toast Breakfast Board
A breakfast or brunch board [this Fall French Toast Breakfast Board] is a fun way to bring people together in the warmth of your home. Probably the favorite day of the week for a breakfast board is a Sunday!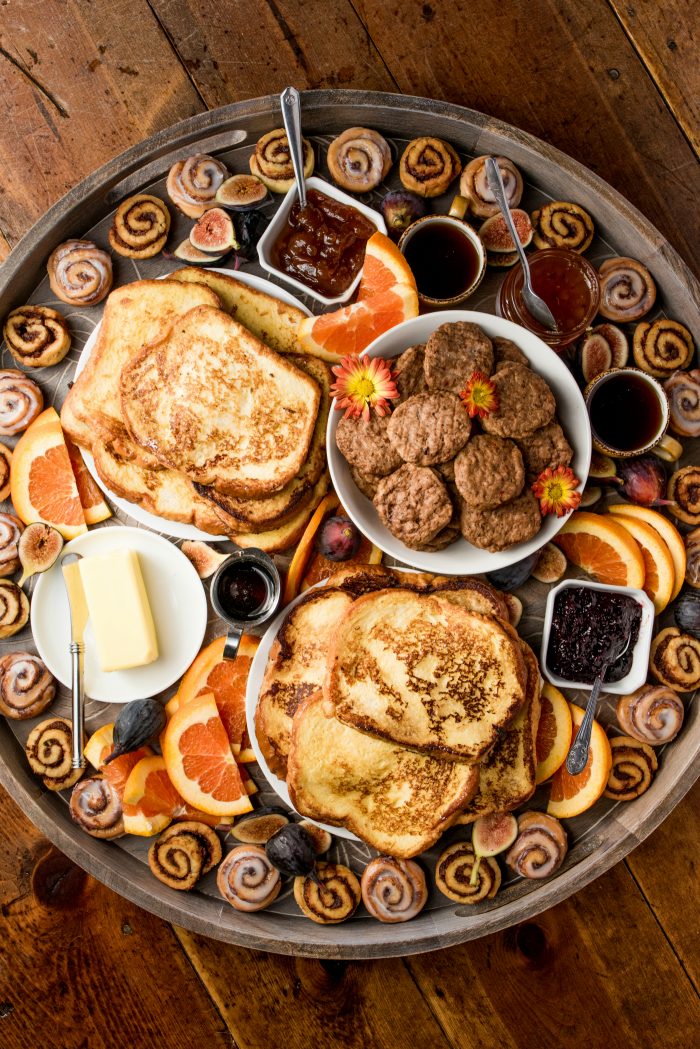 Fall French Toast Breakfast Board
All you need for this board is your favorite French toast recipe, cinnamon rolls (or possibly Best Sour Cream Banana Bread?), jellies, syrup, and fruits in season!
And for this board I served it on the 24-inch board (link at the bottom of the post).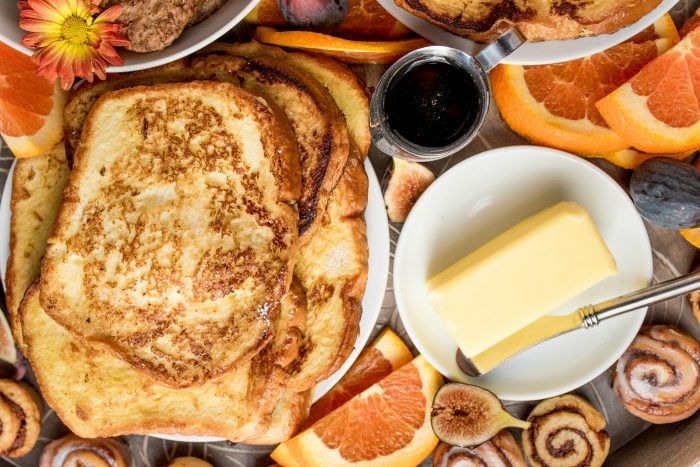 We used oranges, cinnamon rolls, pear and berry jams, and garnished the platter with a few fall-colored flowers.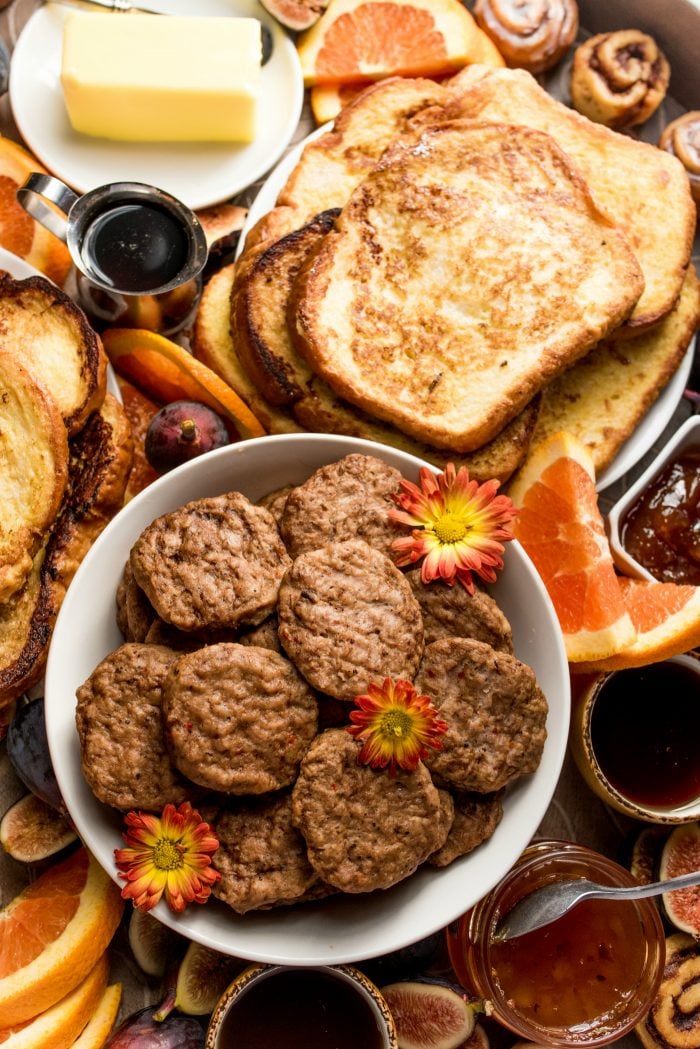 How to prepare a breakfast board
Maybe you're going to church, and you want to serve brunch (closer to lunch) when you return.
Plan ahead and shop for ingredients.
Do prep work ahead–prepare the fruit, put the jellies in dishes, syrup in cups, etc.
Make the French toast mixture ahead.
Arrange as much as you can on the board ahead of time, leaving room for the "hot" plates of French toast.
Make the French toast and keep warm in the oven until serving.
Set dishes, paper napkins and forks out.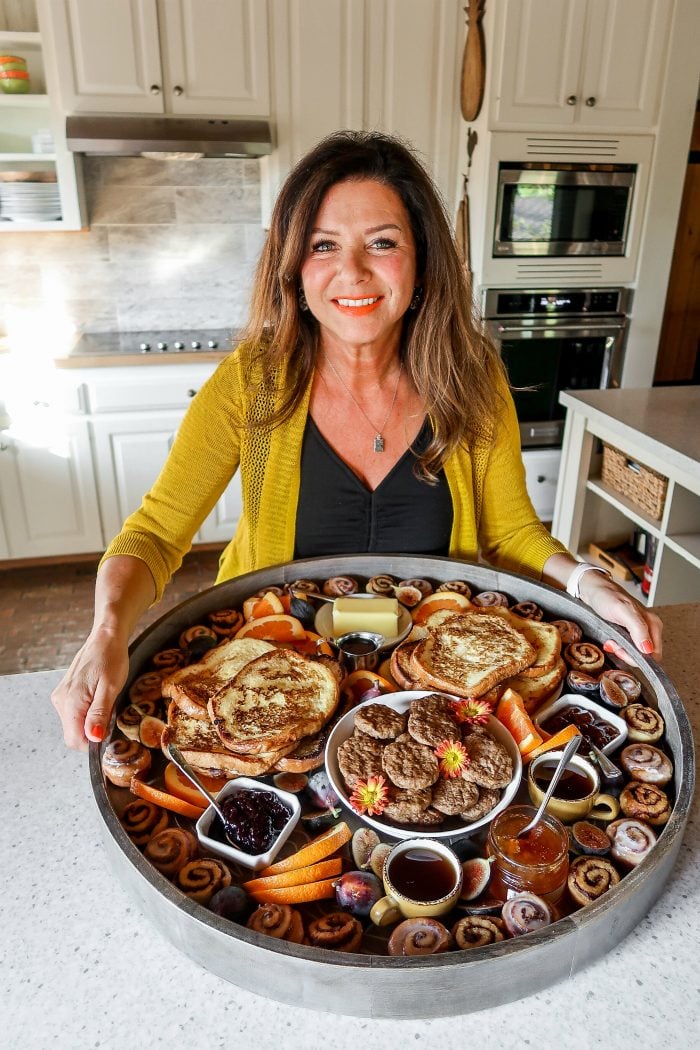 How to host a Sunday brunch
What I love about the breakfast or dinner boards is that initially you put some time into planning and creating the board, but then once you set it out with the hot food – EVERYONE DIGS IN.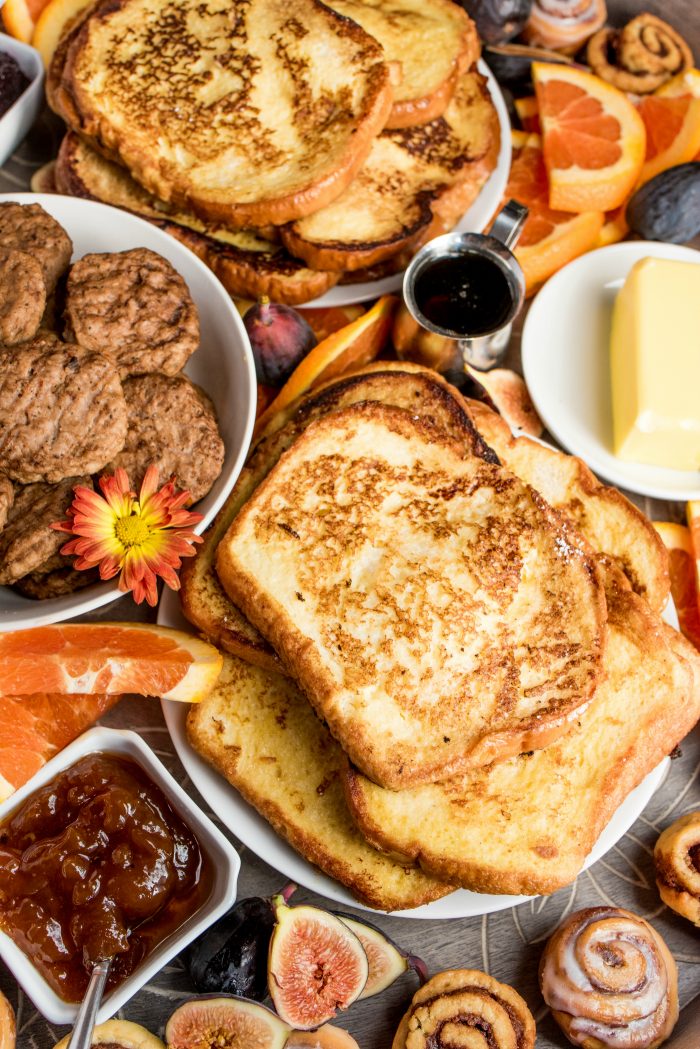 Make your favorite French toast recipe
You can make my Challah French Toast Breakfast Recipe below, inspired by Ina Garten, or make your family-favorite recipe.
Serve with delicious maple syprup and favorite jellies.
You get to sit down and enjoy your guests.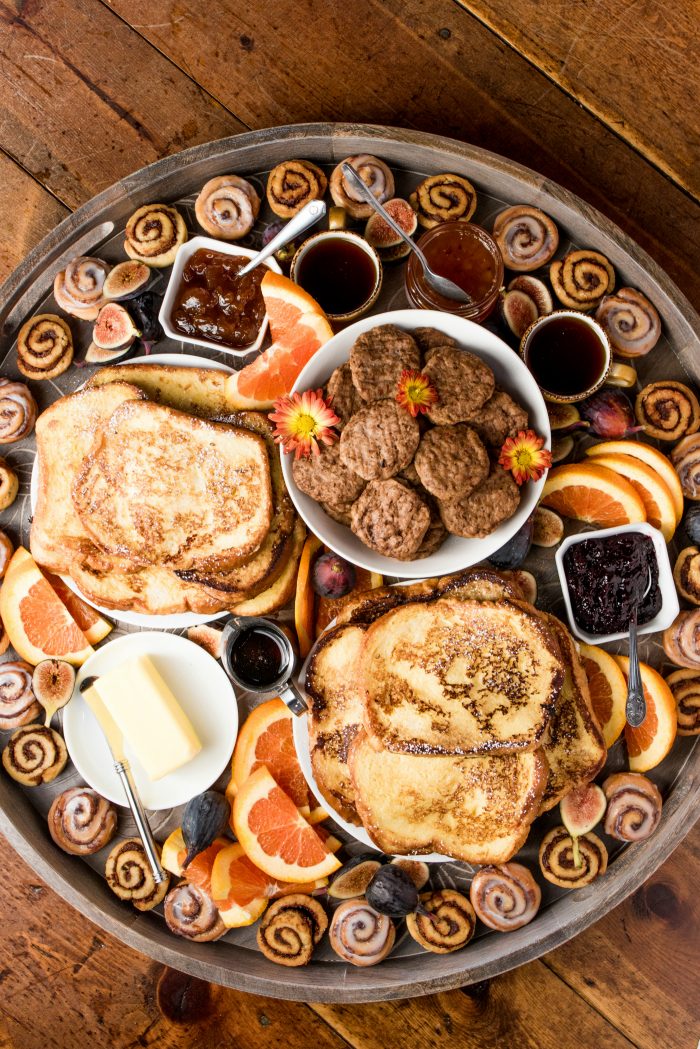 You don't have to set a fancy table.
Just set out dinner plates, paper napkins, and forks.
We like to serve espresso for those who want a quick "pick-me-up."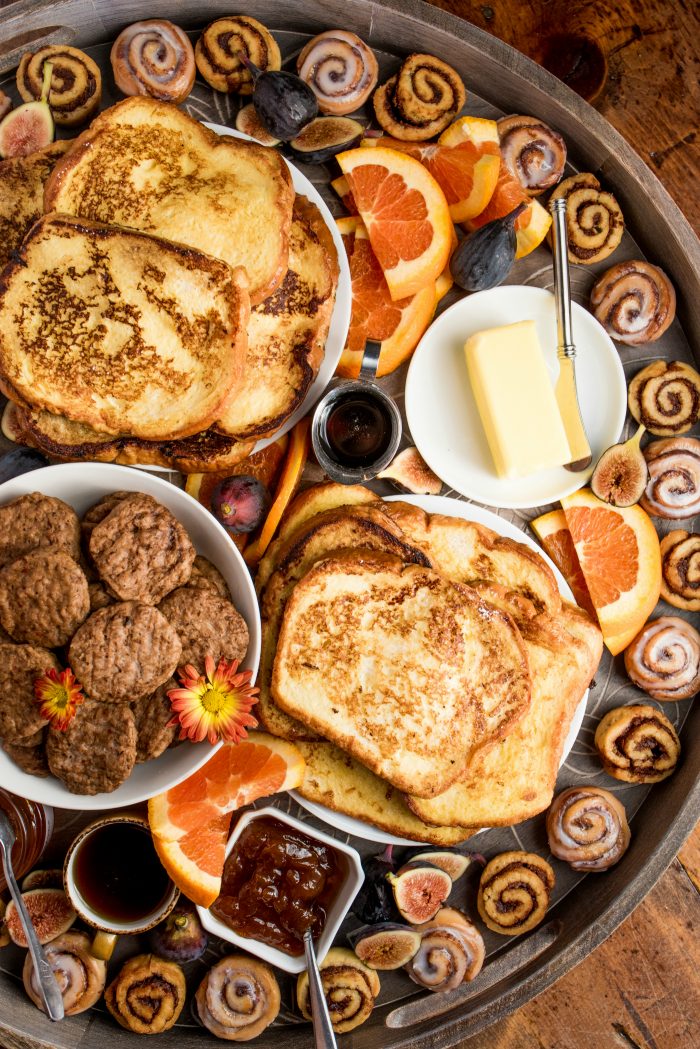 The benefits of serving breakfast boards
Friends, I believe people all around us are craving fellowship. And I'm reminded all the time, when I create my dinner boards or charcuterie boards, my main focus and goal is to bring people together in a casual setting. There's really nothing fancy about serving food this way. In fact, I believe it's more functional than a traditional sit-down meal.
It's functional because it creates a certain hygge, a warm feeling (all the food in one place), a cozy atmosphere!
Friends, The Big Board® is here! Yes, I've partnered with JK Adams, the premier woodmaking company in Vermont, with my own line of RE boards!
20-inch round, maple
26-inch round, maple
12 x 36-inch maple
NEW 12 x 24-inch maple
23-inch Lazy Susan
26-inch ebonized BLACK, cherry
12 x 36-inch ebonized BLACK, cherry
A board with a lip (or raised edged) so the food doesn't fall off
FOOD SAFE
Made in the USA
Undercut handles (a unique design)
Thank you for your support, as we've sold out so many times already!
Order The Big Board® today!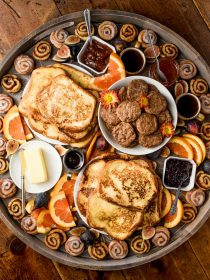 Get the Recipe: Fall French Toast Breakfast Board
Ingredients
1 package Italian Sliced Bread, thick sliced (or Challah bread)
6 large eggs
1 1/2 cups milk or 1/2 & 1/2
1 tsp. orange zest
1/2 tsp. vanilla extract
1 Tbsp. honey
1/2 tsp. salt
1 loaf Challah bread
1 Tbsp. butter
1 Tbsp. oil
1 package Jimmy Dean Heat and Serve Sausage Patties, 26 patties
Pure maple syrup
Apricot jam
Marionberry jam
Pear hazelnut jam
30 mini cinnamon rolls
2 large oranges, sliced
12 figs, halved
1 red pear, garnish
Instructions
On a large board (with a liplace the cooked meat in the middle. Cook the meat and keep in the oven warm until ready to serve, then place the plate in the designated spot.

Place a pear in the middle of board for a beautiful garnish (optional).

Cook ahead the French toast and keep warm in the oven. Plate on 2 plates and arrange on the platter.

Fill in the open areas with jellies and syrup. Place the mini cinnamon rolls around the outer edge of the board.

In any open areas lay down figs (cut in haland orange slices. Optional to garnish with fall flowers (edible). Serve!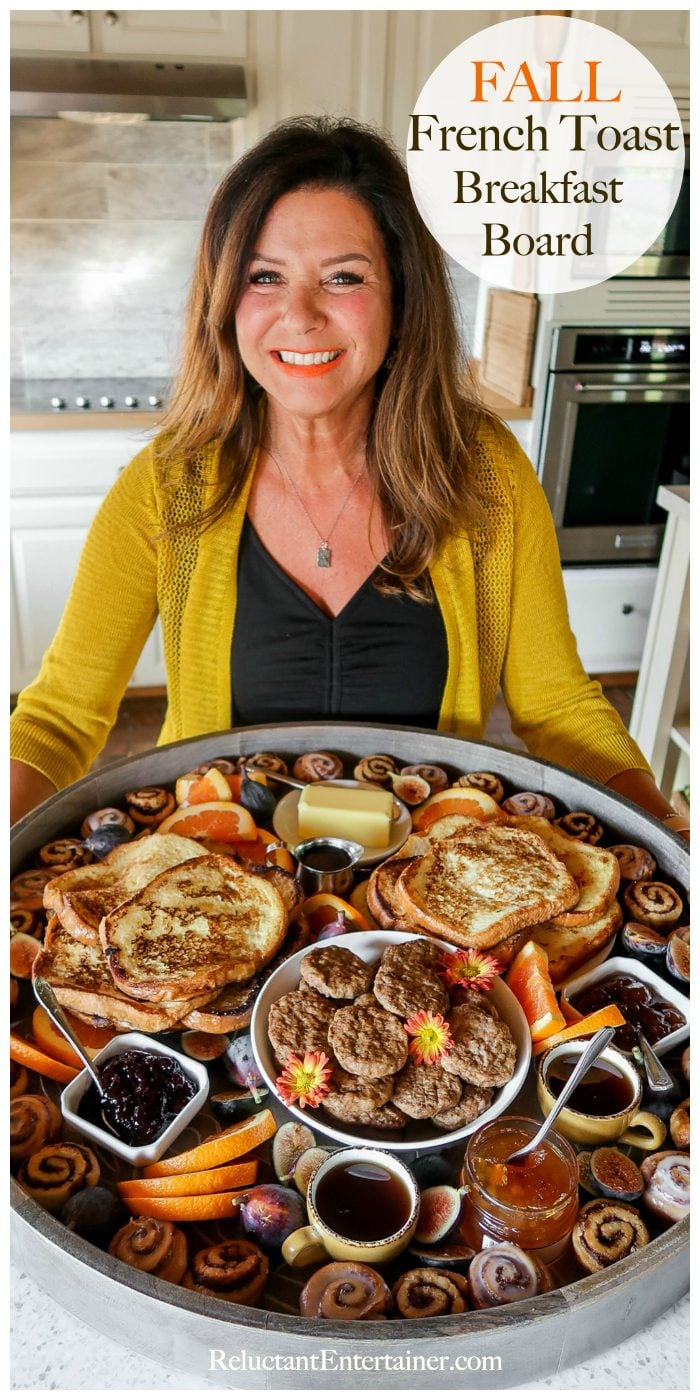 Hello and welcome to my home and table!
I'm Sandy—lover of food, family, cooking, THE BIG BOARD, travel, and bringing people together. Through great recipes and connection around the table, we become better, stronger, and more courageous people. Feasting on Life is real, and every time we do it, we grow a little more. Read more...