Challah French Toast Breakfast
Enjoy Challah French Toast Breakfast Recipe for a holiday breakfast or brunch. Serve with delicious maple syprup and orange zest!
One of the ways to give during the holidays is to get together with friends for a meal where everyone contributes.
Challah French Toast Breakfast
The holidays are a beautiful gift! And there are many creative ideas and homemade gifts to give! Like this French Toast Breakfast idea!
I like to think of these ways of giving: Food, togetherness, time, and love!
The gift of food. You'll love this French toast gift idea below!
The gift of togetherness. There are families who choose to no longer give gifts during Christmastime, but instead just spend time together.
The gift of time. Or the families who give of their time, to serve another family or those who are "without." It can be as simple as driving the elderly for errands, doing yard work, getting groceries, etc.
A gift of love. I've gone through the many seasons of giving in my lifetime. Being a young girl, a single woman, then married. Having children changed everything, at least for a time. Now we're coming out of that season and our kids are embarking on "young adulthood" … which may bring us full-circle to no gifts?
Whatever the season, or gift, it's all about love …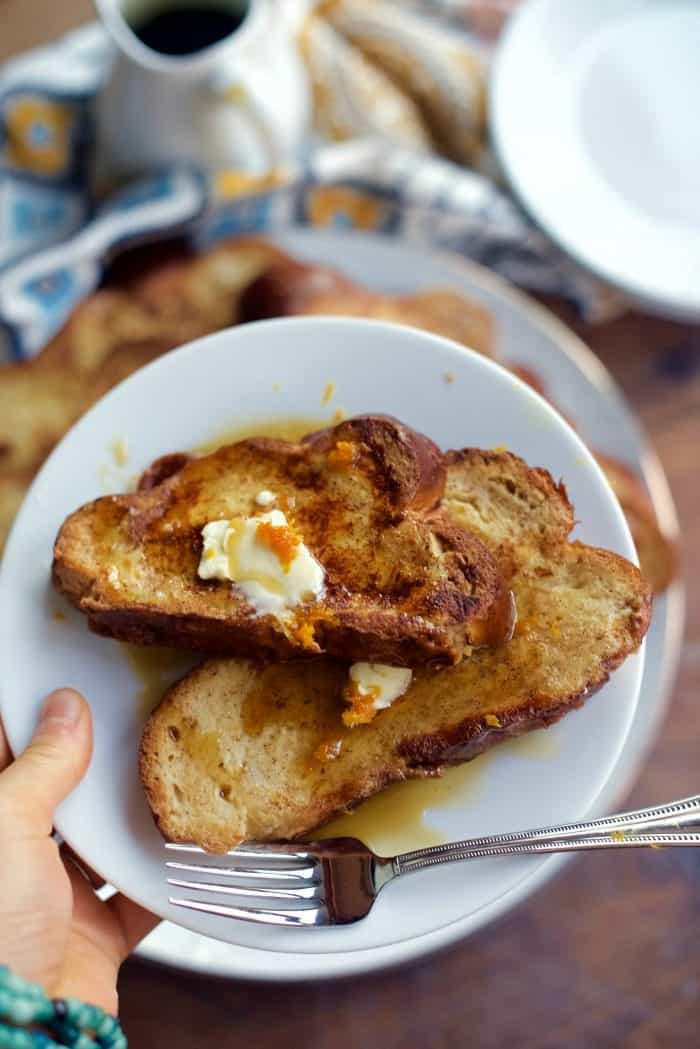 I've learned to embrace people's views on gift-giving. I believe that gift-giving is a love language.
Some people love to give. Others decide "we don't give any more–it's about being together." Some do that not out of pride, but to fight materialism. I give a hearty amen to this, but at the same time a new season will come along (like having children) and will we be willing to change our traditions?
Being able to bend and do things a little different each year is a huge gift to give your family!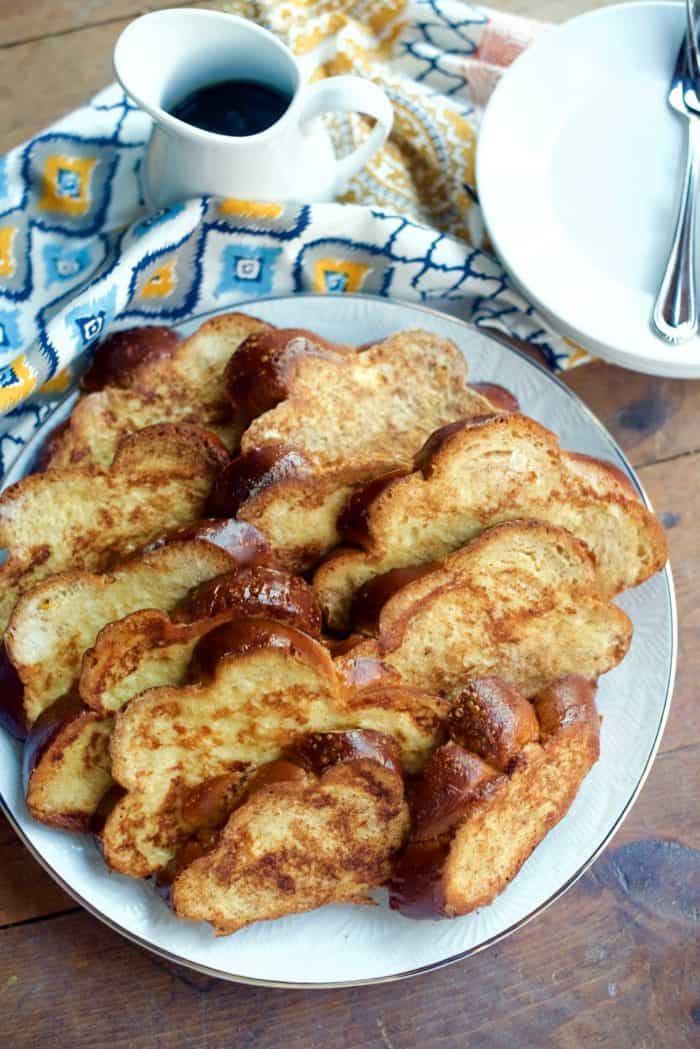 Challah French Toast Breakfast Recipe
Our friends Minor and Jeannie always give the gift of "time" or "food", last year giving us our Christmas Day Breakfast using a fresh loaf of Challah bread.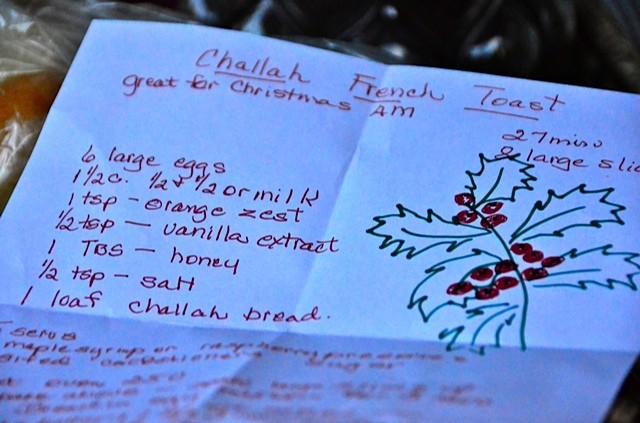 Very fun! We enjoyed this Challah French Toast Breakfast Recipe on Christmas morn a few years back.
They gave it to us wrapped up in a basket–a fresh loaf of Challah Bread, and Jeannie's beautifully written recipe, and Minor's art! A keepsake for sure!
Breakfast Recipe Basket
GIFT IDEA: In a beautiful basket, add a fresh loaf of Challah bread (in Medford I would buy it at Great Harvest) with a bag of oranges (for zest, and the rest possibly for fresh squeezed orange juice?), with a quality bottle of maple syrup. Don't forget to add the recipe to the basket! And any other fun items that would complete the basket.
ENJOY and Happy Weekend, Friends!
This year, what is the "love language" of giving from your family? Time, gifts, food … ?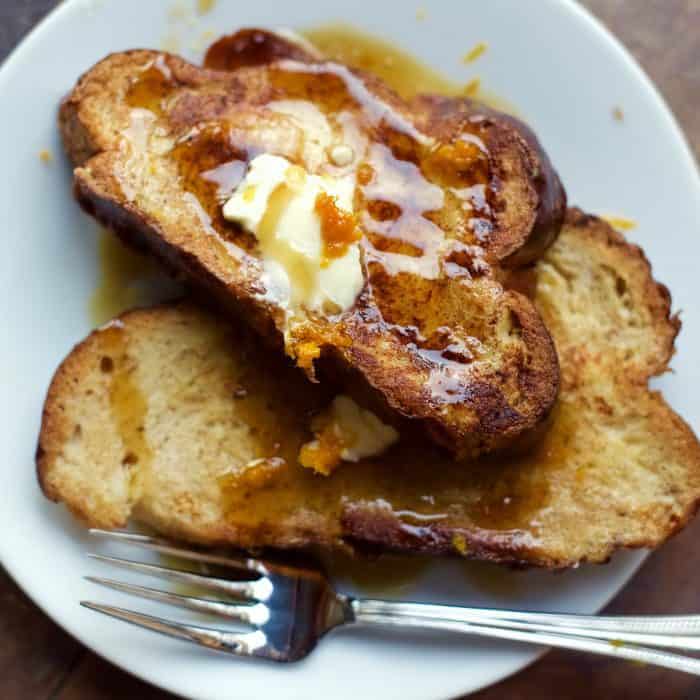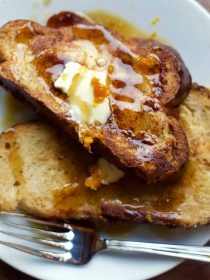 Get the Recipe: Challah French Toast Breakfast Recipe
Great for Christmas morning. Makes 8 large slices. Original source from Ina Garten.
Ingredients
6 large eggs
1 1/2 cups milk or 1/2 & 1/2
1 tsp. orange zest
1/2 tsp. vanilla extract
1 Tbsp. honey
1/2 tsp. salt
1 loaf Challah bread
1 Tbsp. butter
1 Tbsp. oil
Instructions
Preheat the oven to 250 degrees.

Prepare the above ingredients in a medium bowl. Whisk together.

Soak the slices of bread in egg mixture for 5 minutes.

Heat 1 Tbsp. butter and 1 Tbsp. oil in a frying pan. Add the soaked bread and cook 2-3 minutes on each side.

Place in the heated oven to keep warm until served.

Serve with warm maple syrup or raspberry preserves with sifted confectioners sugar.
More holiday breakfast recipes: French Toast Roll Ups [The Baker Mama], Apple Challah Bread Recipe [A Spicy Perspective], Chocolate French Toast Casserole [Crazy for Crust], and my Baked Pumpkin Egg Nog French Toast (watch the video!)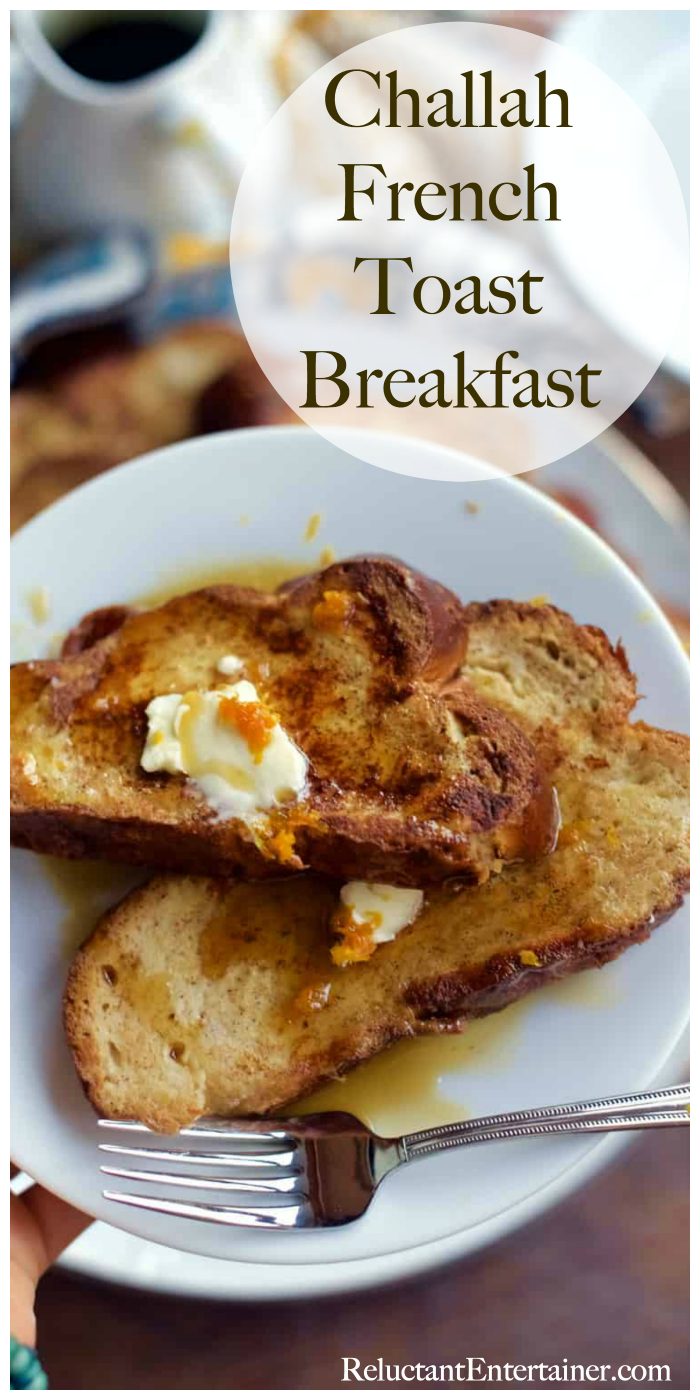 Hello and welcome to my home and table!
I'm Sandy—lover of food, family, cooking, THE BIG BOARD, travel, and bringing people together. Through great recipes and connection around the table, we become better, stronger, and more courageous people. Feasting on Life is real, and every time we do it, we grow a little more. Read more...