Make Ahead Challah French Toast Casserole with Cranberries
This Make Ahead Challah French Toast Casserole with Cranberries recipe is perfect for the holidays and out of town guests. Buy Challah bread on a Friday so they don't sell out!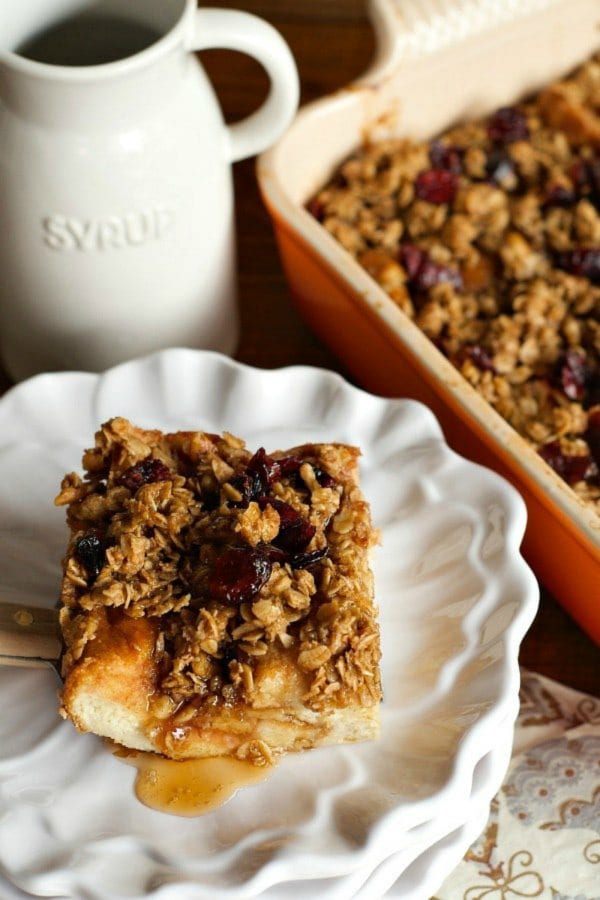 Just in time for the holiays, enjoy a square of this moist Make Ahead Challah French Toast Casserole with Cranberries. Served with maple syrup … so good. Friends, you could also serve a breakfast casserole on The Big Board! Serve it like this Fall French Toast Breakfast Board!
You may also want to try my Pear Croissant Breakfast Casserole or Baguette Ham Overnight Breakfast Casserole.
Make Ahead Challah French Toast Casserole with Cranberries
All you need are these ingredients to make this breakfast casserole!
Eggs + milk + butter
Apple juice
Vanilla
Salt
Cranberry Apple Butter (I bought from Trader Joe's but you can use any kind of jam)
Oats + brown sugar
Cinnamon + salt
Walnuts
Cranberries
Count your Blessings. When I hear or read those words, they pierce my soul. I am truly grateful for so much that I never want to take for granted. Do you ever feel like you're forgetting to give thanks, or that you don't do it enough?
To put these words in to action, every day of our lives, is what knocks out despair, discontentment, negativism, worry, stress.
Giving thanks brings joy, perspective, appreciation, peace, a positive attitude. It's a ray of sunshine in our lives!
By the way, I'm counting my blessings for this season with our kids in our lives. Our kids are funny. They love to play music when we are out of the house, or gone a a few hours. Which, as a mom, I love sitting back and enjoying every note played. But I too remember doing the same thing — cutting loose on the piano when I had the house to myself.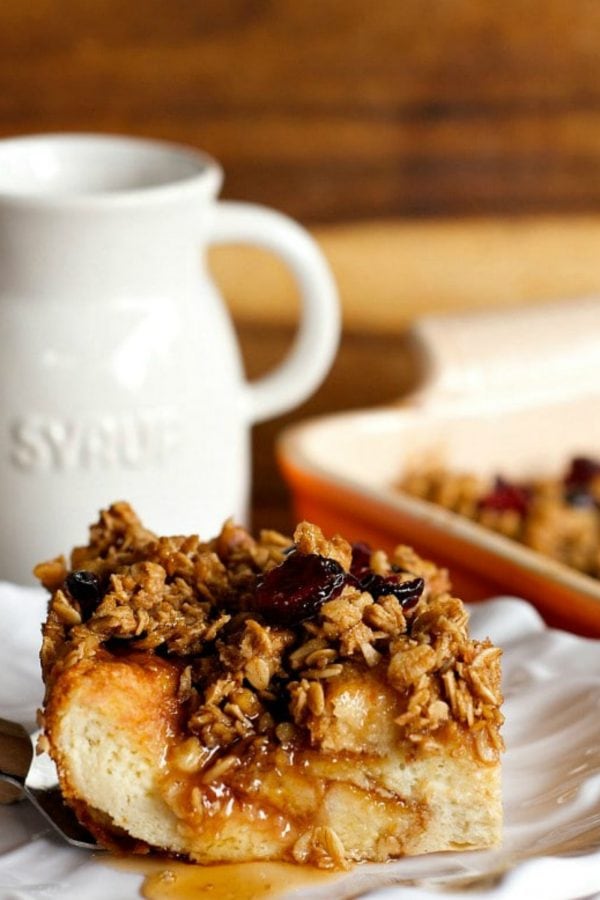 How to make Challah French Toast Casserole with Cranberries
Our oldest helped me in the kitchen last week prepare this amazing recipe, Make Ahead Challah French Toast Casserole with Cranberries.
Gather the ingredients.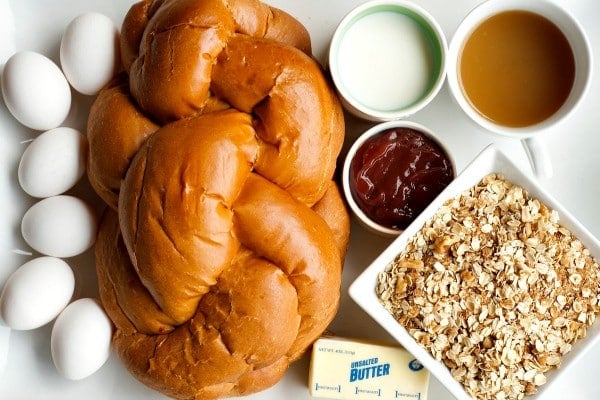 Spread the preserves on the bread.
Soak up the egg mixture overnight.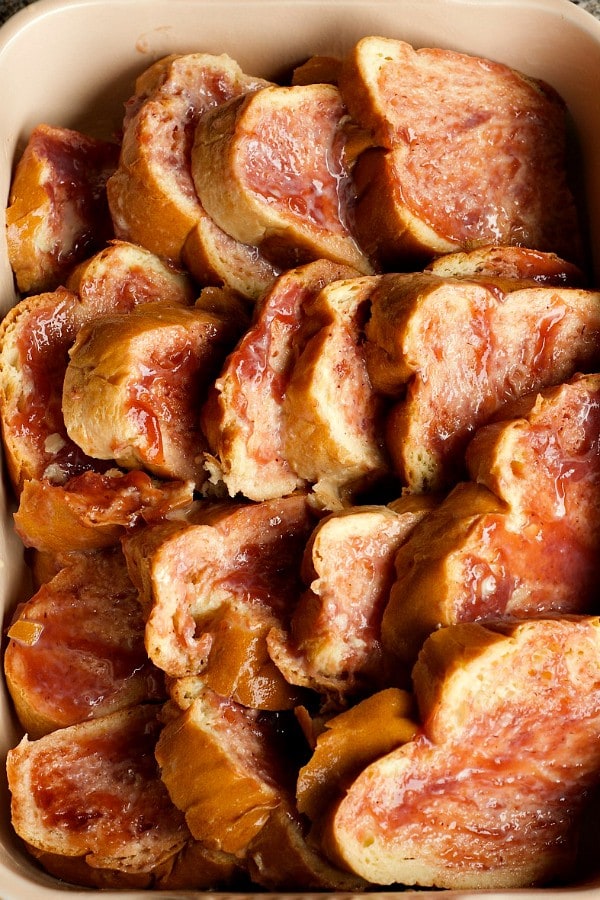 Refrigerate 4-18 hours, then add the topping.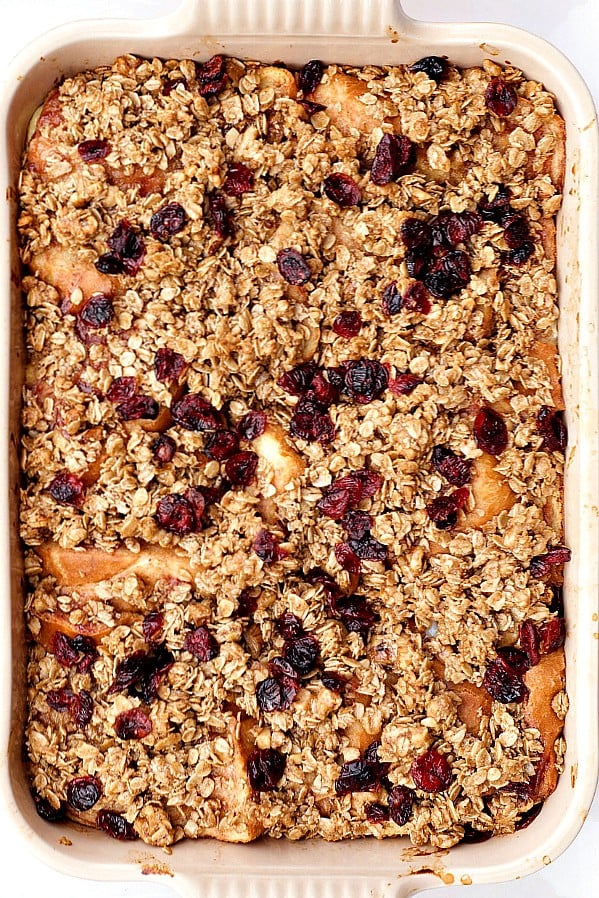 Baker and serve.
We were experimenting together with the recipe, and just in time for Abby and and a handful of her friends to enjoy, as we pulled this out of the oven!
A holiday morning meal
WOW! I'm posting this recipe today because it's perfect for the week ahead if you have out of town guests arriving for the holidays! Actually, any season will do, it's that good.
Pulling a dish out of the fridge and placing it in the oven means nothing but EASE and RELAXATION for the host. I love this type of meal. It makes me feel good, like I made something special for my guests, without all the hard work.
Here's another great one for the holidays: Overnight Monte Cristo Breakfast Casserole. My friend, Maria, has a great Sausage Breakfast Casserole recipe, too.
Syrup and plenty of napkins
Set out the syrup, plates, napkins, forks. Let the guests dive right on in!
Enjoy, and I hope that many of us will work hard (yes, holiday preparation is a lot of work), but still be able to sit back, relax, and savor the blessings that are coming to us this very week!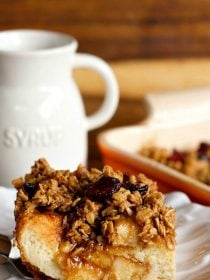 Get the Recipe: Make Ahead Challah French Toast Casserole with Cranberries
Soak the bread in the egg mixture and jam (or apple butter) the night before, and add the crunchy topping the morning of, before placing in the oven to bake! Perfect make-ahead breakfast to serve to out-of-town guests.
Ingredients
6 eggs, lightly beaten
1 cup milk
1 cup apple juice
1 tsp. vanilla
1/2 tsp. salt
1/2 cup cranberry-apple butter, I used Trader Joe's or favorite preserves
1 lb. loaf challah bread or brioche, cut into 1-inch thick slices (discard the ends)
1/2 cup butter, 1 stick, softened
3 cups oats
1/2 cup packed brown sugar
1 tsp. ground cinnamon
1 tsp. vanilla
1/2 tsp. salt
1/2 cup walnuts, chopped
1/2 cup cranberries
Instructions
The night before, assemble the French toast. Prepare a 9×13 pan by lightly spraying the sides and bottom.

Mix the eggs, milk, apple juice, vanilla, and salt. Set aside.

Spread a thin layer of the preserves on one side of each slice of bread, and then dip into the egg mixture. Arrange the slices jam side up in the baking dish, overlapping slightly if necessary. Pour any remaining egg mixture over the bread and gently press the bread into the custard. Cover tightly with foil and refrigerate for 4-18 hours.

In a large bowl, combine the butter, oats, brown sugar, cinnamon, vanilla, salt, and nuts. Cover the bowl and refrigerate until ready to bake the French toast.

In the morning, preheat the oven to 350 degrees. Uncover the egg/bread mixture and press down on the bread to absorb any custard on the bottom of the dish. Scatter the topping on the dish, sprinkle with cranberries, recover with foil, and bake for 30 minutes. Remove the foil and bake for another 15-20 minutes, until puffy and golden brown. Let cool for 10 minutes before serving.

Serve with syrup, powdered sugar, or more preserves.
Notes
Reposted from Nov 2014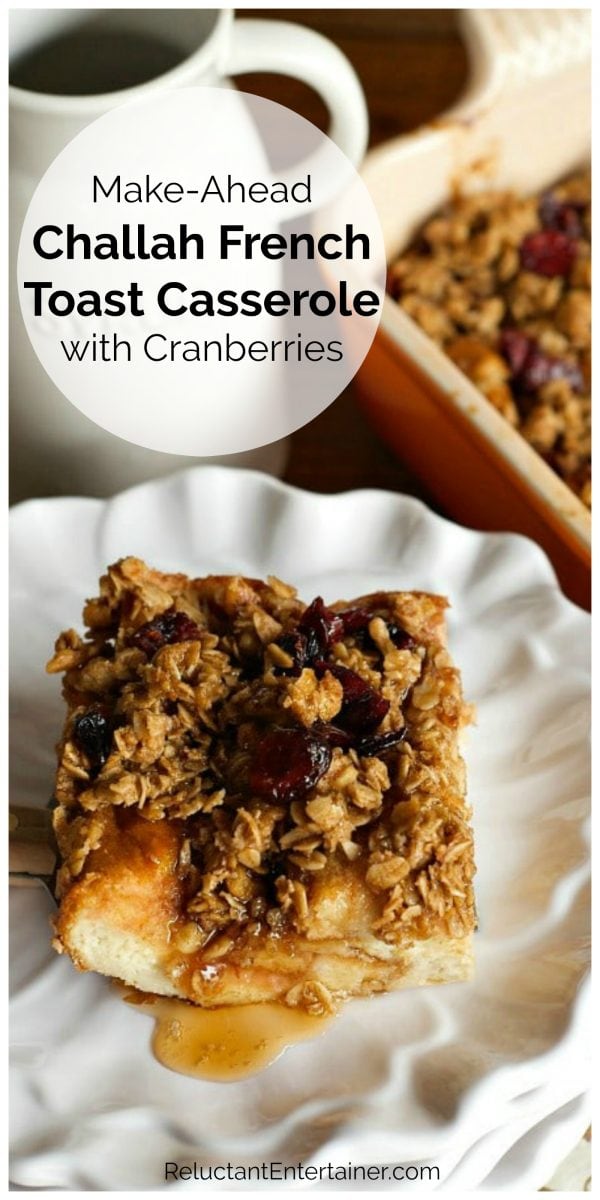 Hello and welcome to my home and table!
I'm Sandy—lover of food, family, cooking, THE BIG BOARD, travel, and bringing people together. Through great recipes and connection around the table, we become better, stronger, and more courageous people. Feasting on Life is real, and every time we do it, we grow a little more. Read more...