Baked Berry Stuffed French Toast
Serve a special breakfast for guests, and make this Baked Berry Stuffed French Toast, a mascarpone French Toast casserole packed with fresh berries!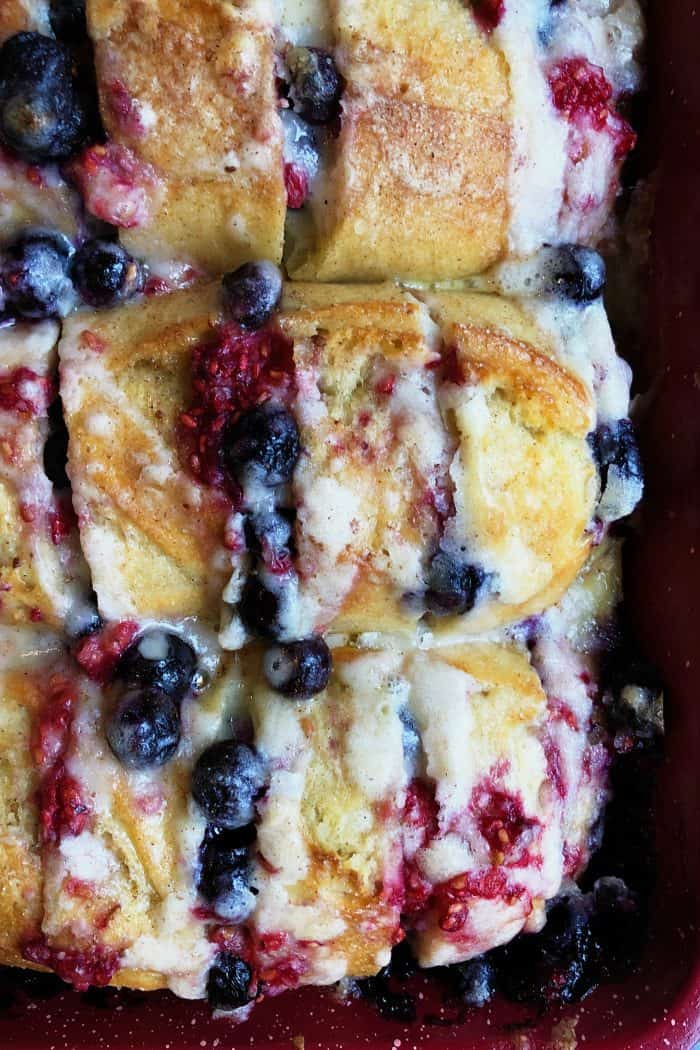 Friends, just in time for a Saturday or Sunday brunch, serve this delicious overnight french toast, a Baked Berry Mascarpone Stuffed French Toast! You can even make this the main dish on your breakfast board this year! Watch the video!
The beauty of this recipe baked french toast is you can make it ahead, or make it the day of serving (just let sit in the fridge for an hour before baking).
Baked Berry Stuffed French Toast
Raspberry and Blueberry Mascarpone French Toast Casserole is filled with luscious berries and mascarpone cheese. It makes a delightful addition to your Easter or holiday menu (think Christmas or Fourth of July). This would be so good served with my Overnight Monte Cristo Breakfast Casserole–just sayin'! :) Or, served on THE BIG BOARD!
Why we love this recipe
Made with the demi baguette bread, this spin on the regular French Toast casserole is unique and tasty!
It only takes a few extra minutes to stuff the bread.
Prepare this the night before and keep in the fridge overnight.
Make ahead breakfasts are perfect for early risers, and out of town company! For any weekend brunch, I love to do the prep ahead for breakfast casseroles–easy to pop in the oven bright and early!
This French toast recipe is stuffed with with raspberries and blueberries is a delightful way to start the morning!
If you're having special overnight company, whip up some Virgin Mimosas and make it a memorable meal!
Ingredients for Baked Berry Stuffed French Toast with mascarpone
Whew, that is a long name! But here's what you need for this delicious berry French toast recipe:
French, demi baguettes
Mascarpone or cream cheese
Vanilla and almond extract
Powdered sugar
Lemon zest
Fresh blueberries (or frozen)
Fresh raspberries (or frozen)
Eggs
Granulated sugar
Cinnamon
Maple syrup
How to Serve on Overnight French Toast Bake
Bust out the maple syrup! Although maple syrup is an obvious, we also have a few favorite go-to toppings for any sweet French toast breakfast casserole!
Powdered sugar
Whipped Cream
Fresh berries or berry sauces and syrups
Honey
Coconut flakes
Chopped nuts
Lemon Curd or Lime Curd
Cinnamon sugar
Her's a TIP: You can reheat the leftovers of this breakfast casserole recipe very easily. I gently heat individual servings in the microwave.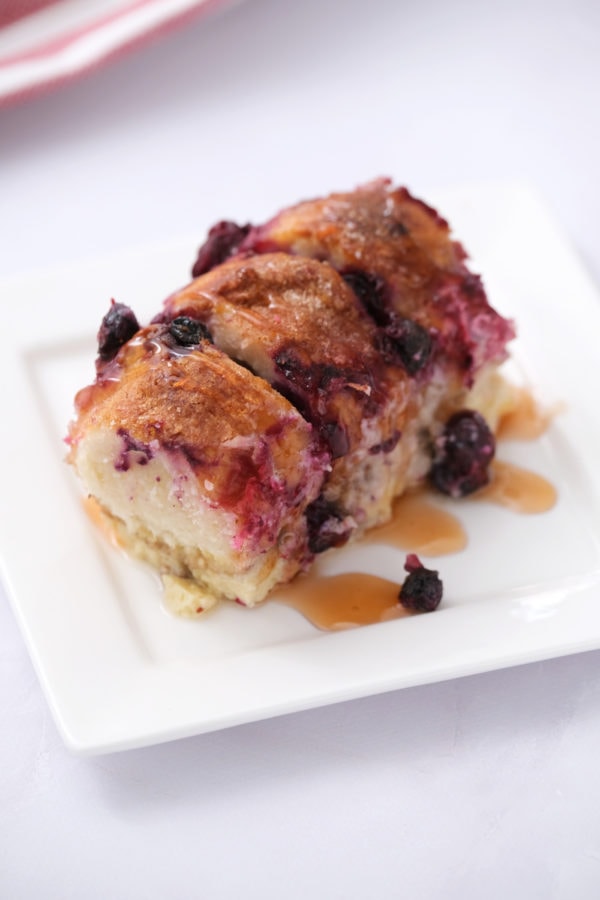 What kind of bread do you use for stuffed French toast?
Did you know you can make a french toast casserole with almost any kind of bread? For this recipe today I used 5 French demi (which means small) baguettes. Usually a stale bread will work great, too, especially if the casserole is sitting overnight.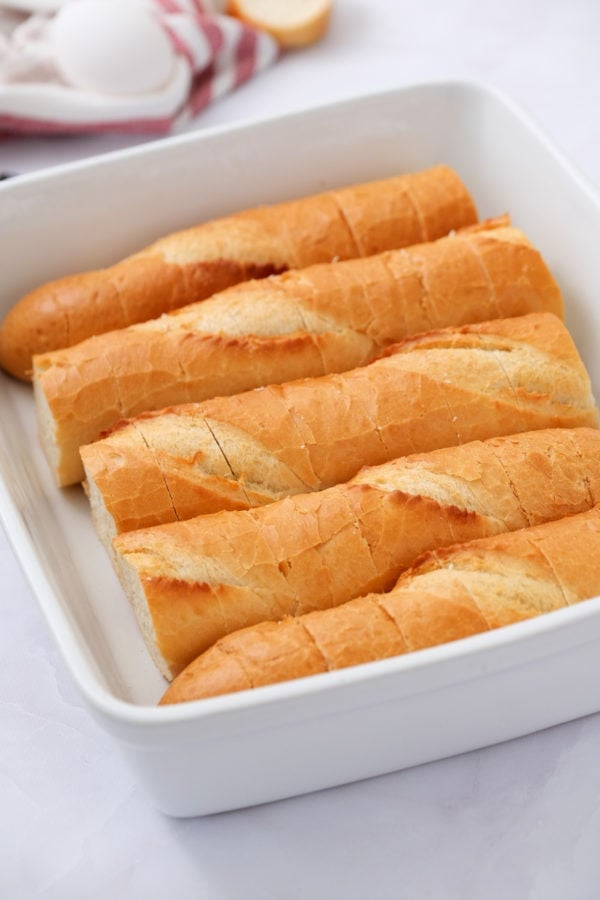 We love the ease of making this rich and delicious French toast for my family. With a warm, creamy filling of mascarpone cheese and a sauce of mixed berries, it's a very easy-to-make breakfast treat that looks like you spent all morning preparing it.
How do you make baked stuffed French toast?
To make a stuffed French toast, you are literally stuffing the bread with some kind of sweet filling (usually ricotta, cream cheese, or mascarpone cheese).
Take the 5 small French baguettes and make slices, about one inch apart.
Don't cut all the way through.
Stuff the bread with the mixture, and push together.
Place all the baguettes tightly in a prepared 9×13 pan.
It's that easy!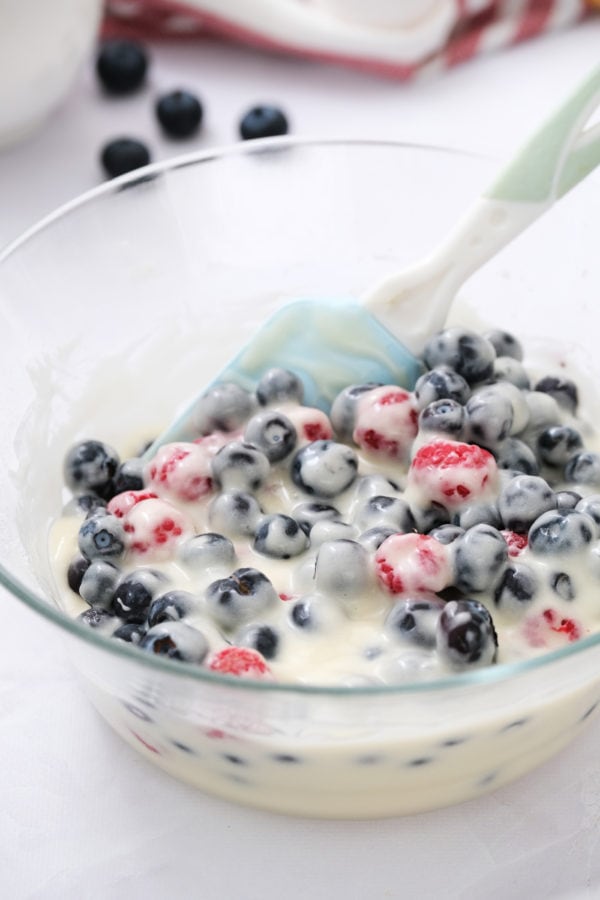 How do you make cream cheese stuffed french toast?
My recipe today is simple, because you can use cream cheese or mascarpone cheese. Or, if you love ricotta cheese, this Strawberry Lemon Ricotta French Toast is a must-try recipe!
It's all about the fresh berries! You can also try frozen (defrosted and drained) berries!
Make it any time of year–it's delicious for any season!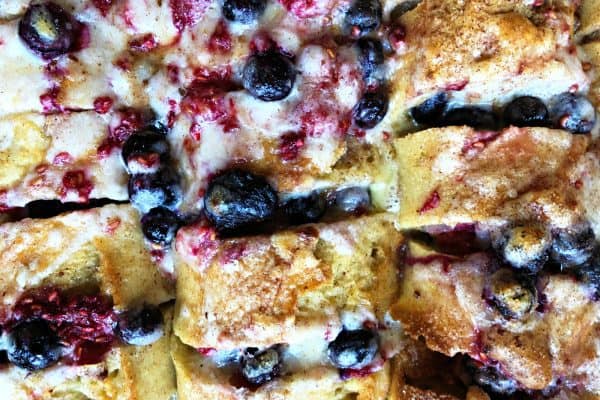 More Breakfast Casseroles to try:
Nutella and Banana Stuffed Crescent Rolls
Engligh muffins Pear Bread Pudding with Caramel Sauce Recipe
Challah Bread French Toast Recipe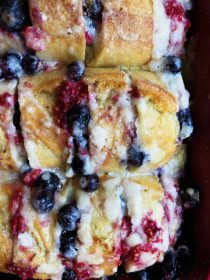 Get the Recipe: Berry Baked Stuffed French Toast
Optional to make ahead and keep in fridge overnight. Or day of, just make sure and prepare and let sit in fridge for an hour before baking.
Ingredients
5 4 oz French, demi baguettes (or larger ones, cut to fit in a 9x13 pan)
8 oz mascarpone or cream cheese, room temperature
2 tsp. vanilla, divided
1 tsp. almond extract
2 cups powdered sugar
1 Tbsp. lemon zest
2 cups fresh blueberries
1 cup fresh raspberries
6 eggs
2 cups milk
¾ cup granulated sugar, divided
1 ½ tsp. ground cinnamon, divided
Maple syrup, for serving
Instructions
Prepare a 9x13 baking dish with cooking spray.

Cut each baguette into 1-inch slices, cutting to, but not through, bottom of loaf. If using a longer baguette, cut to fit in a 9x13 pan.

Prepare the filling by beating the mascarpone cheese, 1 tsp. vanilla and almond extract until smooth. Beat in the powdered sugar and lemon zest; fold in the berries.

Spoon the filling between the baguette slices; arrange the baguettes side by side in a 9x13 pan.

In a large bowl, whisk together the eggs, milk, 1/2 cup sugar, 1/2 tsp. cinnamon, and 1 tsp. vanilla extract. Pour over the bread; cover and chill overnight (up to 2 days).

Preheat oven to 350 degrees.

Remove French toast from refrigerator while oven heats. With remaining 1/4 cup sugar and 1 tsp. cinnamon, mix together; sprinkle over the French toast.

Bake, uncovered, 30-40 minutes, or until puffed and golden and a knife inserted in the center comes out clean. Cover with foil and bake another 5-10 minutes if needed (and eggs are set).

Remove; cool. Serve with your favorite maple syrup!
Notes
Adapted from BHG. Reposted from DEC 2018 on RE.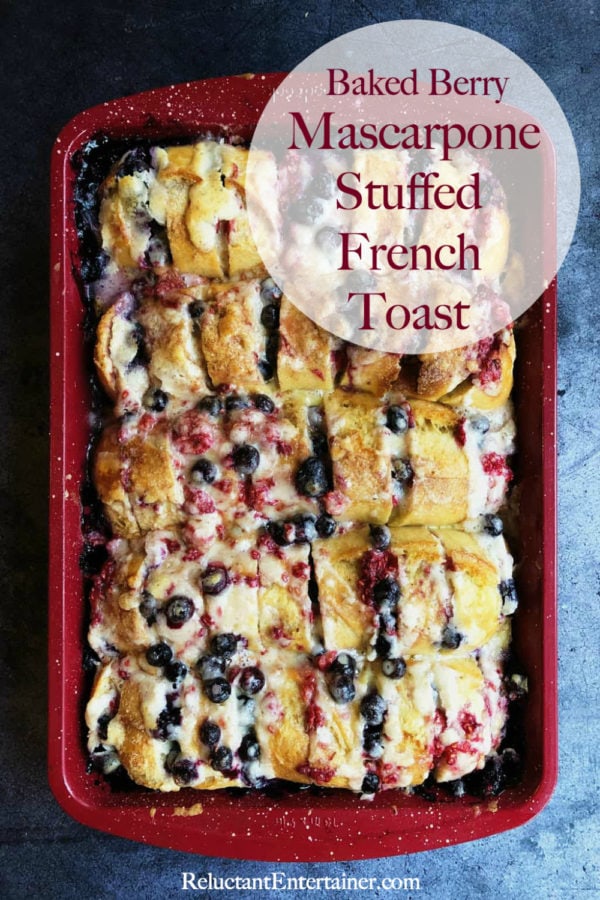 Hello and welcome to my home and table!
I'm Sandy—lover of food, family, cooking, THE BIG BOARD, travel, and bringing people together. Through great recipes and connection around the table, we become better, stronger, and more courageous people. Feasting on Life is real, and every time we do it, we grow a little more. Read more...