Game Day Weekend and Turkey Cheese Sliders
These Turkey Cheese Sliders are perfect for game day, a tasty lunch, or a potluck dish!
For those last minute entertaininers who need a quick "slider" recipe to make for tomorrow's Big Game, this one will work! Turkey Cheese Sliders, made on your favorite leftover bread, cut into circles or squares. Brilliant!
First of all, this morning was spent at our friend's new juice bar in Ashland (Oregon), called NW Raw (NW Raw on Facebook). There's nothing quite like it here in southern Oregon, all organic foods and fresh-pressed juice. And then there's the ambience, which has a very northwest feel. Stunning! Here's a sneak peek.
Something new I'm adding to my redesign of my blog, is an "EAT HERE" tab at the top, where I'll be featuring southern Oregon, Bend, and Portland restaurtants. YAY! I've wanted to do this for a long time. :)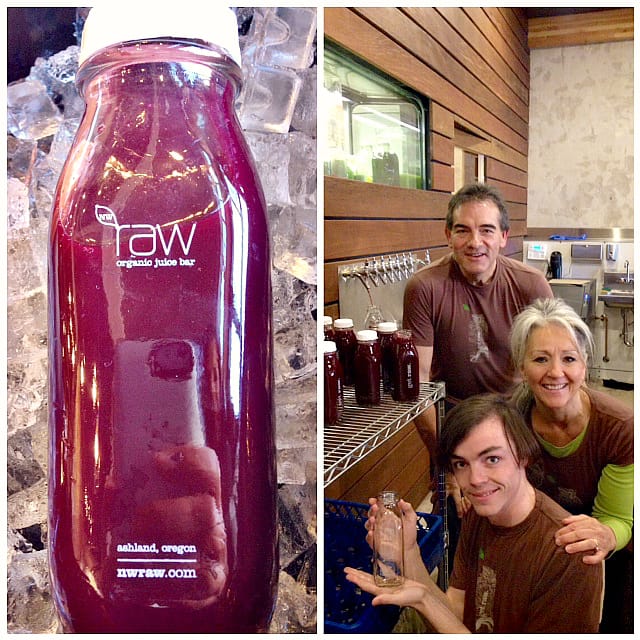 So, how do you go from juicing to eating sliders?
This is probably the only weekend of the year you can do that. I mean, who can attend a Super Bowl party and not indulge in a slider or two?
I adapted todays recipe from a Rachael Ray magazine awhile back, using turkey instead of beef. Another tip: I like to pick up local breads from Grocery Outlet, and support local businesses. For this recipe I used Jalapeno Cheddar from Village Baker in Ashland. The other tip, grate the onion (instead of chopping), which is much faster. I whipped this recipe up in about 30 mintues total, then plated them for serving.
Oh, and I love mustard, pickles, and cheese! Brings back the olden days, eating cheeseburgers at Dell's Hamburgers in Medford, Oregon.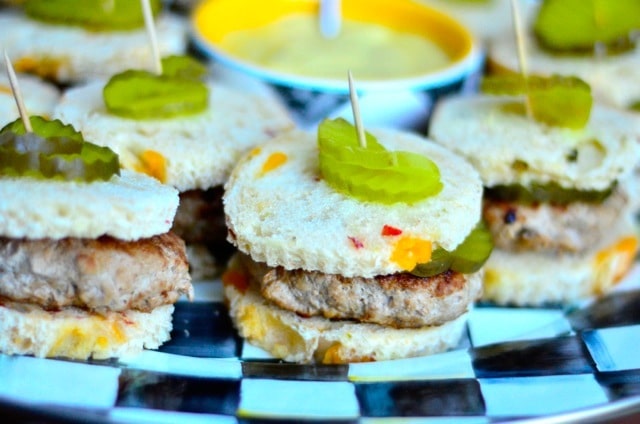 You can serve the mustard sauce on the side, or fully assemble them with the meat, sauce, and pickle. Yum!
Enjoy! And Happy Super Bowl weekend! May your favorite team WIN!
Are you making any special recipes this weekend?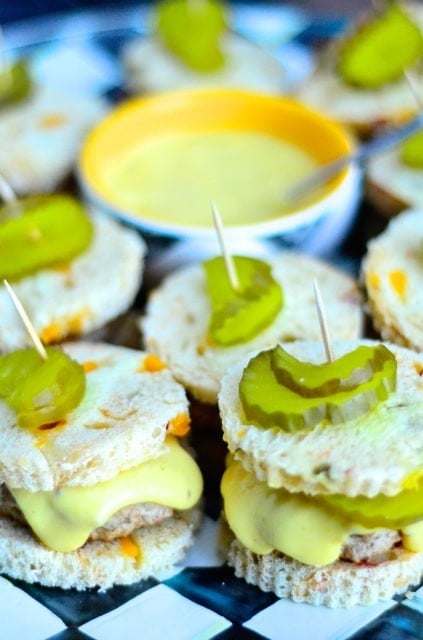 Get the Recipe: Turkey Cheese Sliders
Ingredients
16 slices good quality specialty bread
1 1/2 pounds ground turkey
3 garlic cloves, pressed
1/4 cup grated red onion
1 T. paprika
1/2 cup beer
Salt and pepper
Drizzle of olive oil
2 T. butter
2 T. flour
1 cup milk
1 cup Sharp Cheddar cheese
1 T. yellow mustard
Several drops of hotsauce
Sliced pickles, dill or bread and butter
Instructions
Heat the oven to 350F. Cut the bread into 3″ circles or squares, arranging on a baking sheet. Toast in oven for 8-10 minutes, turning over 1/2 way through.

Combine the turkey with the garlic, onions, paprika, beer, salt and pepper. Mix and form 8 small burgers and drizzle with oil.

Heat a griddle and cook the patties on medium-high heat for about 3-4 mintues on each side.

In a saucepan, melt the butter; whisk in the flour and milk and stir. Simmer to thicken for 3 mintues. Season with salt and pepper.

Melt in the cheese, mustard, and hot sauce.

Divide the patties among 8 pieces of toast, top with cheese sauce, and another slice of bread.

Garnish with pickels and secure with toothpicks. Serve!
Don't forget to enter the Coca-Cola giveaway going on right now on RE!

Hello and welcome to my home and table!
I'm Sandy—lover of food, family, cooking, THE BIG BOARD, travel, and bringing people together. Through great recipes and connection around the table, we become better, stronger, and more courageous people. Feasting on Life is real, and every time we do it, we grow a little more. Read more...