Impromptu Entertaining with Vegetable Lasagna
Last week at a small, impromptu dinner party in our home, I served this Vegetable Lasagna–packed with plenty of vegetables and cheese–and we served it with a fresh green salad and crunchy bread.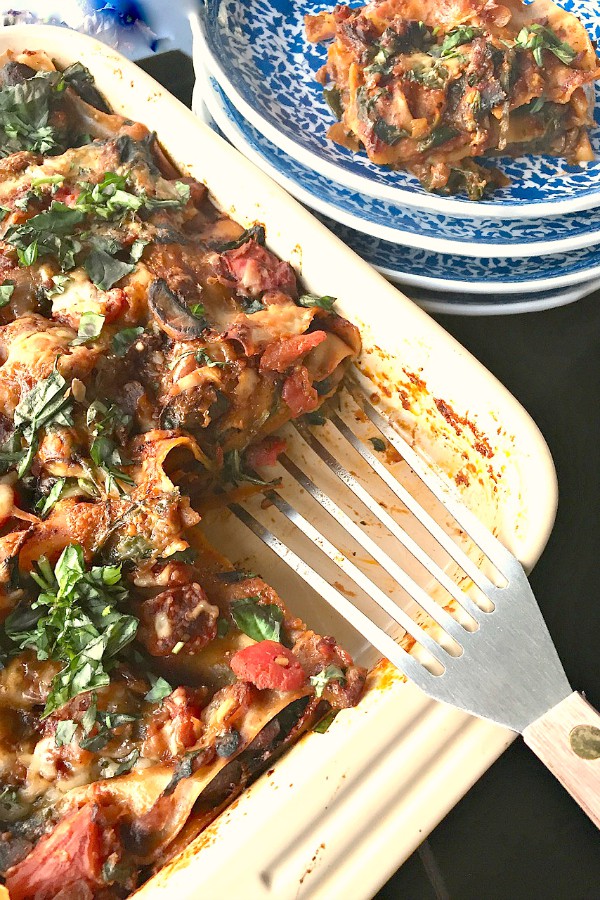 This week we are living in abundance, again! We're surrounded by so much. When you think of our homes, neighbors, good food at our tables, sometimes it's almost too good to be true! I truly am thankful for the abundance of what we've been given in this life.
Last week, an invite was made that we didn't really plan on, so I ended up making a very simple lasagna (using ingredients that I already had on hand). I love being able to bless others on a whim!
Impromptu entertaining.
You can sort of call this impromptu entertainering!
Impromptu dining experiences can sometimes result in the funnest times together. You don't have time to stress about the details, and you learn to go with the flow and to "enjoy the moment."
I've had times when my house was a mess, and the kids were running like crazy, but we still gathered and enjoyed a meal together with good friends. To me those times reflected the essence of true entertaining.
Vegetable Lasagna.
Today's recipe is quick and easy, budget-friendly, vegetarian, and one perfect for an impromtu dinner!
If you haven't bought DeLallo's Organic Whole Wheat Lasagna Noodles (no-boil, oven-ready), they are the best!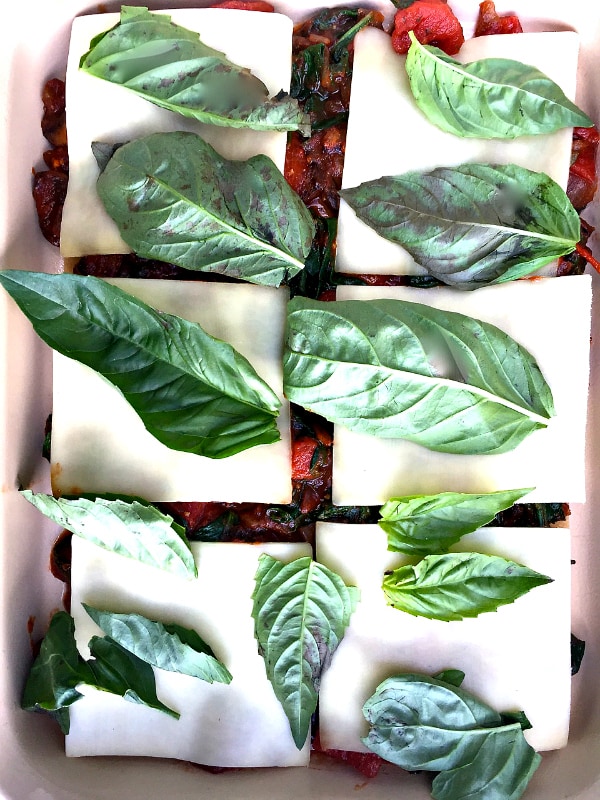 Layer with cheese and fresh basil.
You'll have a lasagna dinnerready to serve in less than 1 hour!
How to enjoy impromptu entertaining:

– Invite people into your home instead of going out to a restaurant (where the food can sometimes be very disappointing).

– You can sit as long as you want and visit and not worry about getting kicked out.

– You can eat good food, and you know exactly where it came from.

– You don't have to get dressed up.

– If you have time to plan ahead, you can share the cost by delegating a portion of the meal.
It's important to share day to day life with the people that we care about. I took out the part about hosting sometimes being expensive cuz you just mentioned delegating to control costs.
And you know, as I always say, Delegate! Delegate!
When's the last time you hosted "impromptu" and what did you serve?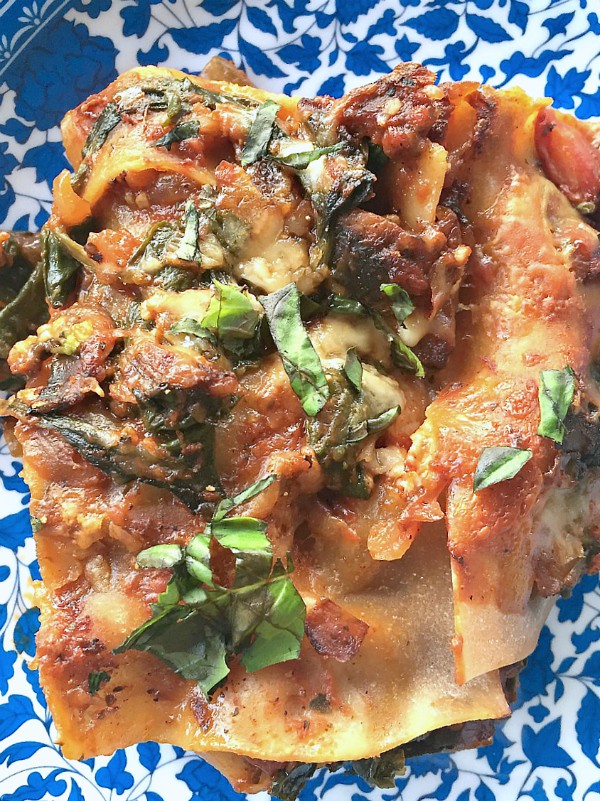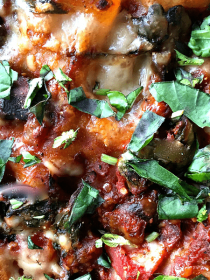 Get the Recipe: Vegetable Lasagna
Very simple lasagna with vegetables and cheese! Perfect for #MeatlessMonday or an impromptu dinner! DeLallo's Organic Whole Wheat Lasagna noodles are the best in flavor! Since I used what was in my fridge, I used a combo of Jack cheese and Parmesan cheese – Awesome!
Ingredients
1 Tbsp. olive oil
1 large onion
4 cups baby Portabella mushrooms, sliced
8 cups spinach
1 15 oz. can diced tomatoes
1 15 oz. can tomato sauce
Favorite seasoning, I used Italian
Fresh basil leaves, about 8-12
8 oz. Parmesan cheese, I used shaved, divided
4 oz. Mozzarella cheese or Jack cheese thinly sliced or shredded
9 oz. DeLallo Whole Wheat Lasagna, 15 sheets – no-boil
Instructions
Preheat oven to 350 degrees.

In a large pan, heat the olive oil and sauté the onions for about 3 minutes. Add the sliced mushrooms and cook another 5 minutes on medium heat, stirring continually. Add the spinach, stir until wilted.

Add the tomatoes and tomato sauce. Add favorite Italian seasoning and season the sauce to taste.

Spray a 9×13 baking dish and place 5 sheets of lasagna noodles on the bottom, overlapping one another. Spread 1 cup of the sauce on top, and sprinkle Jack or Mozzarella cheese (or thinly sliced). Next, lay down about 8-12 fresh basil leaves.

Layer again 5 lasagna noodles, 1/2 of the sauce, sprinkle with Parmesan cheese, and repeat this process.

Place remaining sauce on top and sprinkle with 1 cup of Parmesan cheese. Cover the baking dish with foil. Bake lasagna for 40 minutes. Uncover and bake until hot and bubbly, about 20 more minutes.

Let lasagna sit for 10 minutes before serving.
Are you following me on Instagram, Twitter, Facebook and Pinterest? If you'd like to subscribe to Reluctant Entertainer, to have each post delivered straight to your e-mail box, then please add your email, here. It's really easy! Thanks for being here today!
For more #MeatlessMonday Recipes:
Visit Kalyn's Kitchen Meatless Monday
Aggie's Kitchen Two Bean Vegetarian Lasagna
Cookin' Canuck's Vegetarian Enchilada Stuffed Spaghetti Squash
Foodie Crush's Slow Cooker Vegetarian Lasagna Soup
and Skinnytaste's Vegetarian Recipes for #MeatlessMonday
Hello and welcome to my home and table!
I'm Sandy—lover of food, family, cooking, THE BIG BOARD, travel, and bringing people together. Through great recipes and connection around the table, we become better, stronger, and more courageous people. Feasting on Life is real, and every time we do it, we grow a little more. Read more...