Strawberry Vegetarian Nachos Recipe
Enjoy Strawberry Vegetarian Nachos Recipe for a summer evening meal or snack. Make with your favorite chips, cheese, corn, berries, avocados, and more!
Friends, are you looking for a delicious snack to make for friends stopping by?
Strawberry Vegetarian Nachos Recipe
Try this fantastic Strawberry Vegetarian Nachos Recipe with jalapenos and of course, your favorite cheese and chips, summer veggies, and pinto beans! You may have tried my Banana Split Honeycrisp Apple Nachos, which are super YUM in the Fall.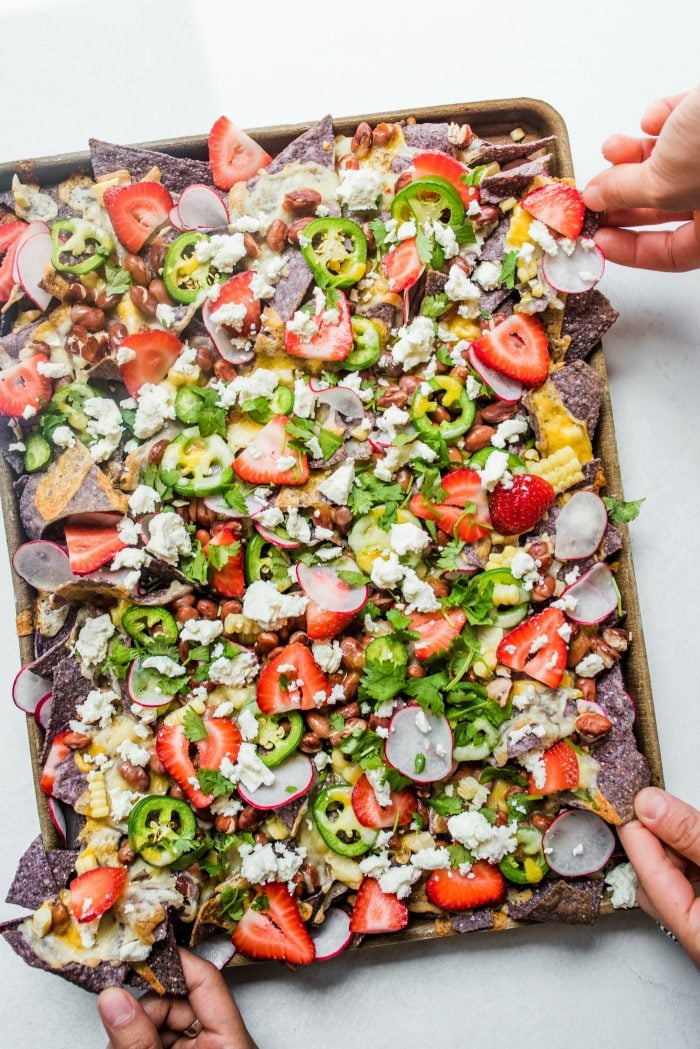 Or, it's good enough for lunch or dinner.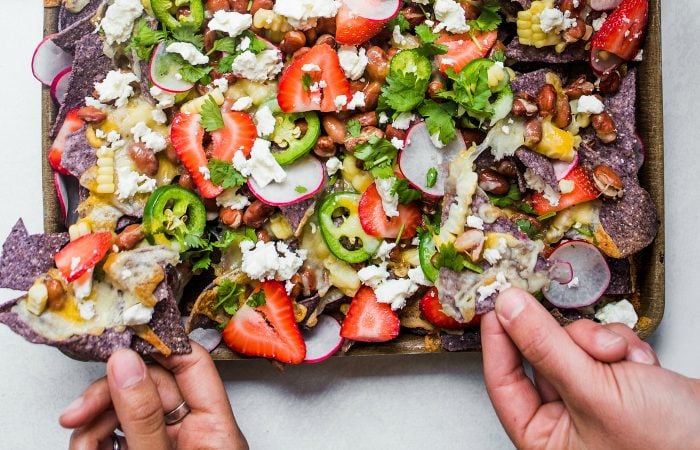 Or for sitting out on your deck on a hot summer day, or for a pool snack!
You can always serve it with sour cream or an additional salsa, and a bottle of rosé wine.
Thankful for another birthday
My birthday weekend was so lovely. We spent it with friends on different occasions and also floated the beautiful Deschutes River!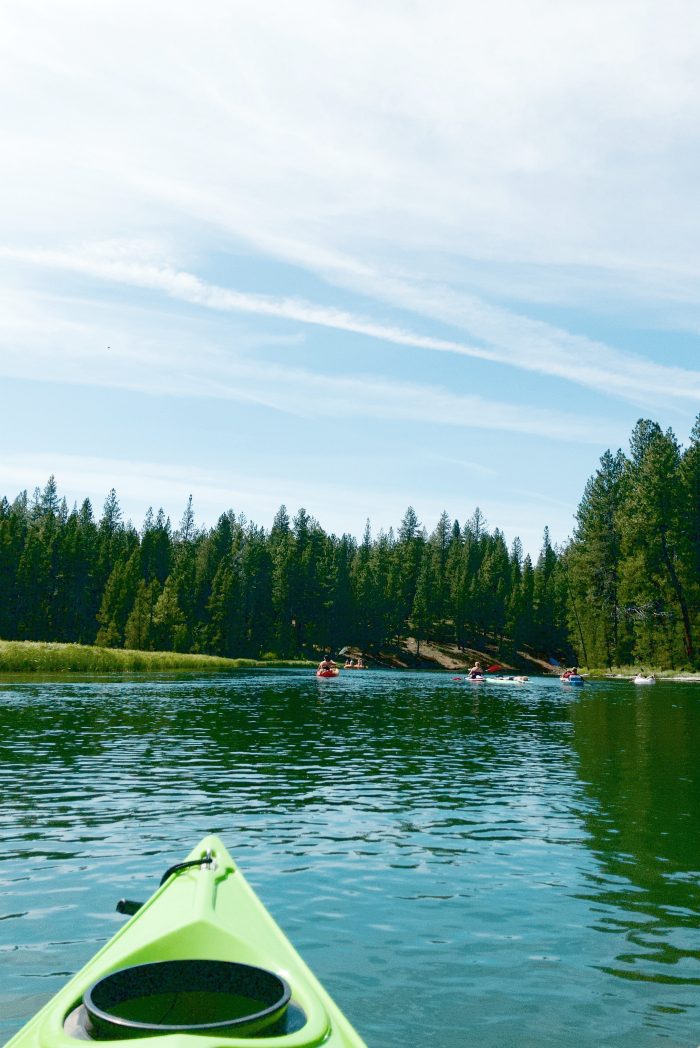 I always say, "bestill my heart," when I'm on this river. I can't get enough of it.
Add in 75 degree weather … and a cool breeze that pushed us right down the river with very little effort.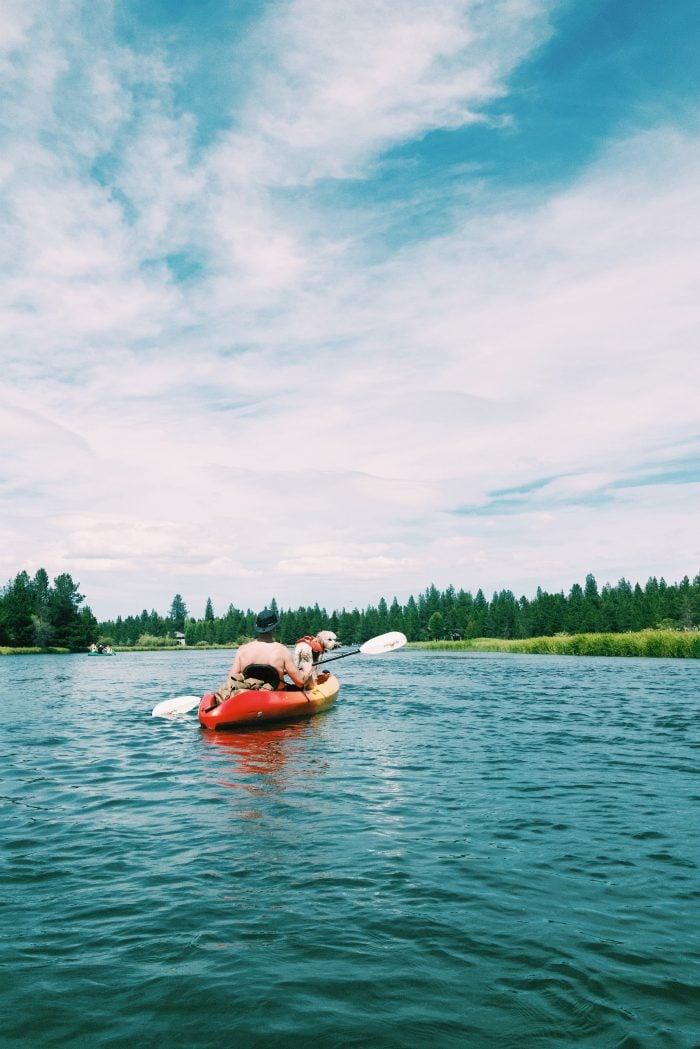 When I'm on the water, it just does something to my soul.
"Who looks upon a river in a meditative hour and is not reminded of the flux of all things?"
— Ralph Waldo Emerson
For most people who know how to be still, or enjoy the moment, the flowing river reminds us of the ongoing flow of time.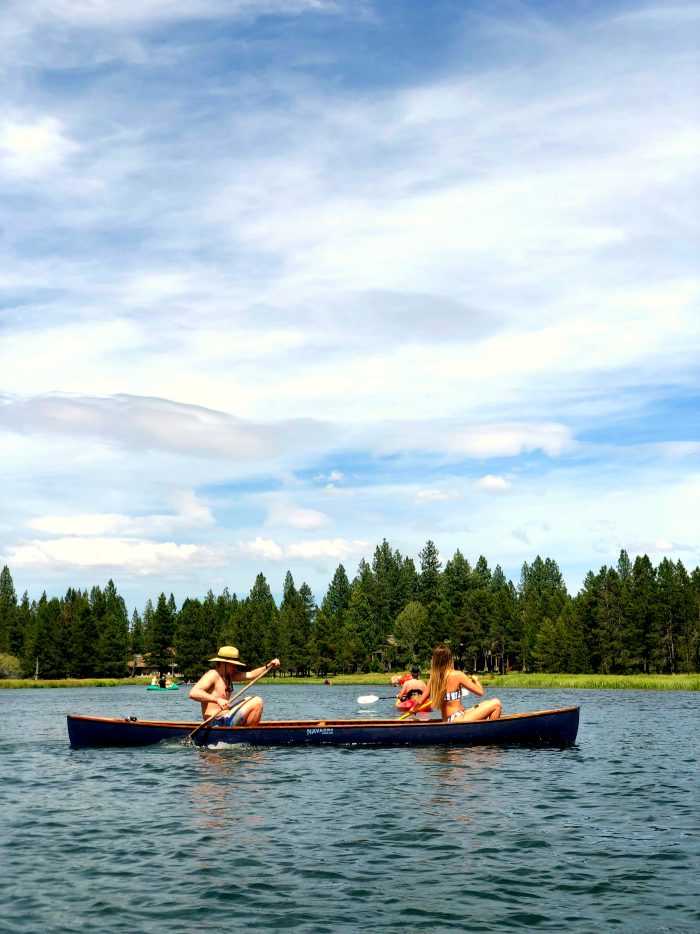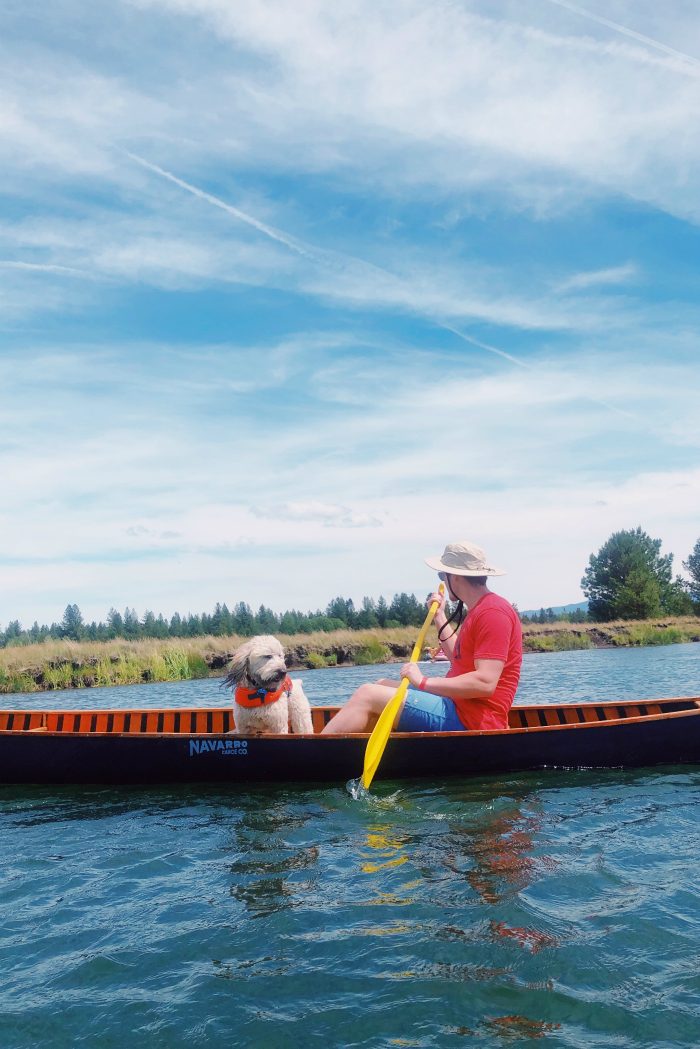 When birthdays come around, I'm a happy girl, celebrating mine in July in the great outdoors.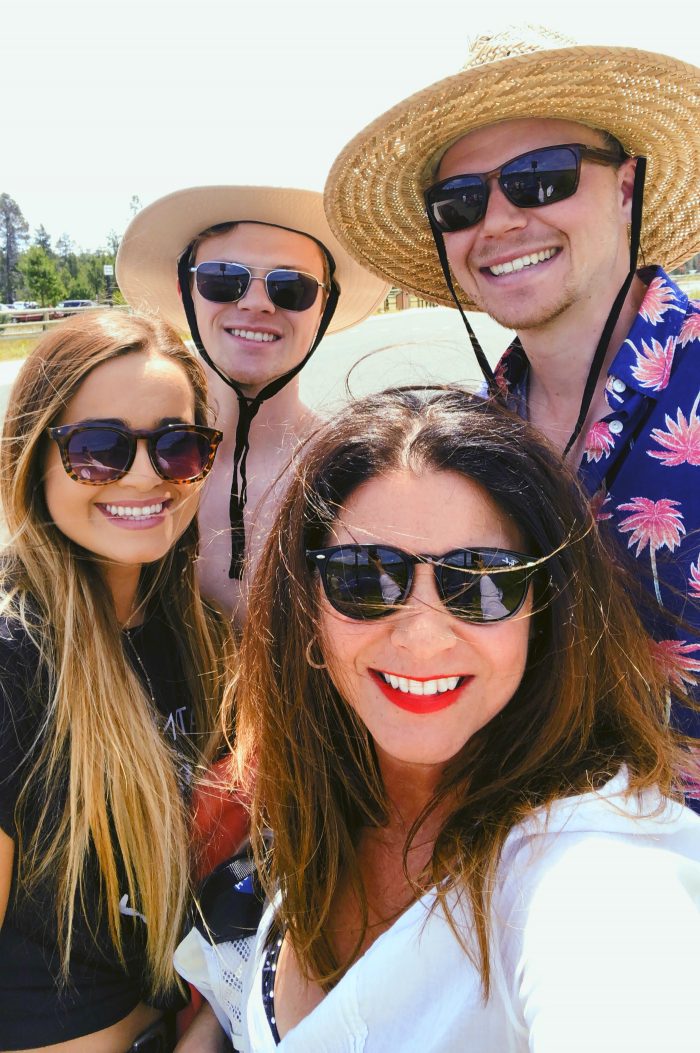 It's always better when the family is with me.
Back to the quote. The flow of time … the days are passing quickly.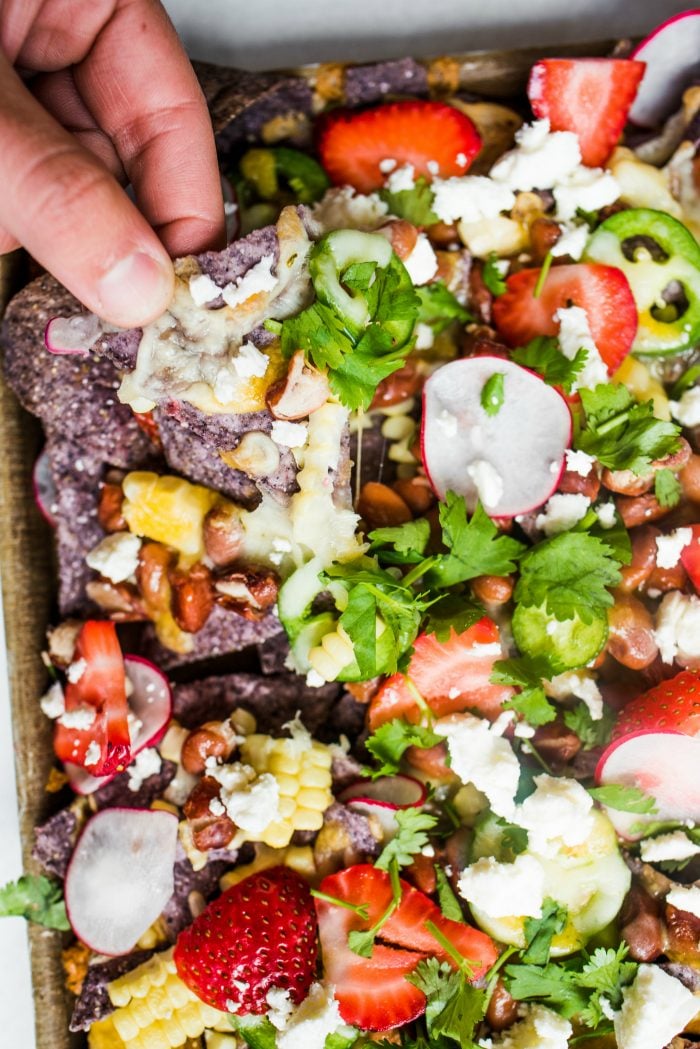 Ingredients for nachos
All you need for these nachos are these ingredients: Blue corn chips (we buy at Trader Joe's), pinto beans, fresh summer corn (cut off the cob), and Mexican cheese.
Then produce like avocados, jalapenos, radishes, strawberries, and cilantro.
Don't forget the fet cheese crumbles and Mexican cheese!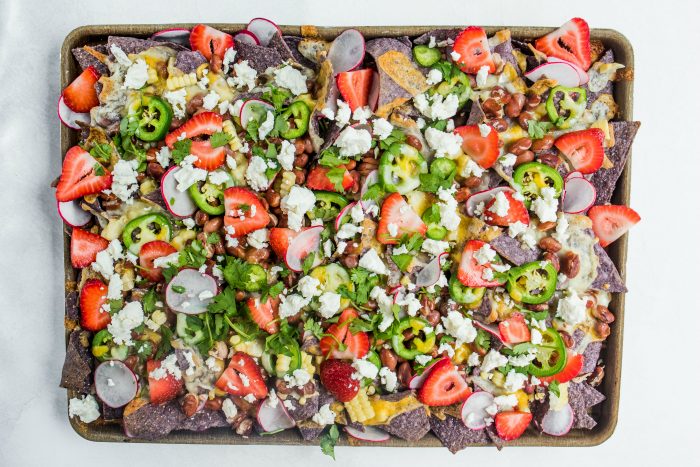 Vegetarian Nachos Recipe
Now this recipe is vegetarian, but of course you can always add a protein like chicken or salmon (or pork or steak?)
Or try different variety of cheeses!
Layer it all together on your favorite platter and serve!
Happy mid-summer, friends!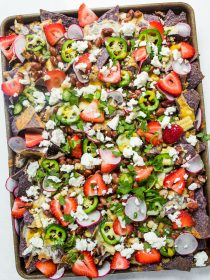 Get the Recipe: Strawberry Vegetarian Nachos Recipe
Ingredients
Blue corn tortilla chips
1 can (15 0pinto beans, drained and rinsed
2-3 ears of corn, boiled, kernels cut off the cob
2-3 c shredded Mexican cheese
1 avocado
1-2 jalapeños, sliced
1/2 c feta cheese crumbles to garnish
Radishes to garnish
Strawberries to garnish
Cilantro to garnish
Instructions
Preheat oven to 425 degrees F.

Layer chips, cheese, corn, jalapeño, and pinto beans and bake for 8-10 minutes.

When cheese is melted, remove from oven and top with feta, strawberries, radishes, and cilantro.

Eat immediately and enjoy!
Notes
Note* If you want to reheat your nachos, broil them under low heat to get the crispy texture back.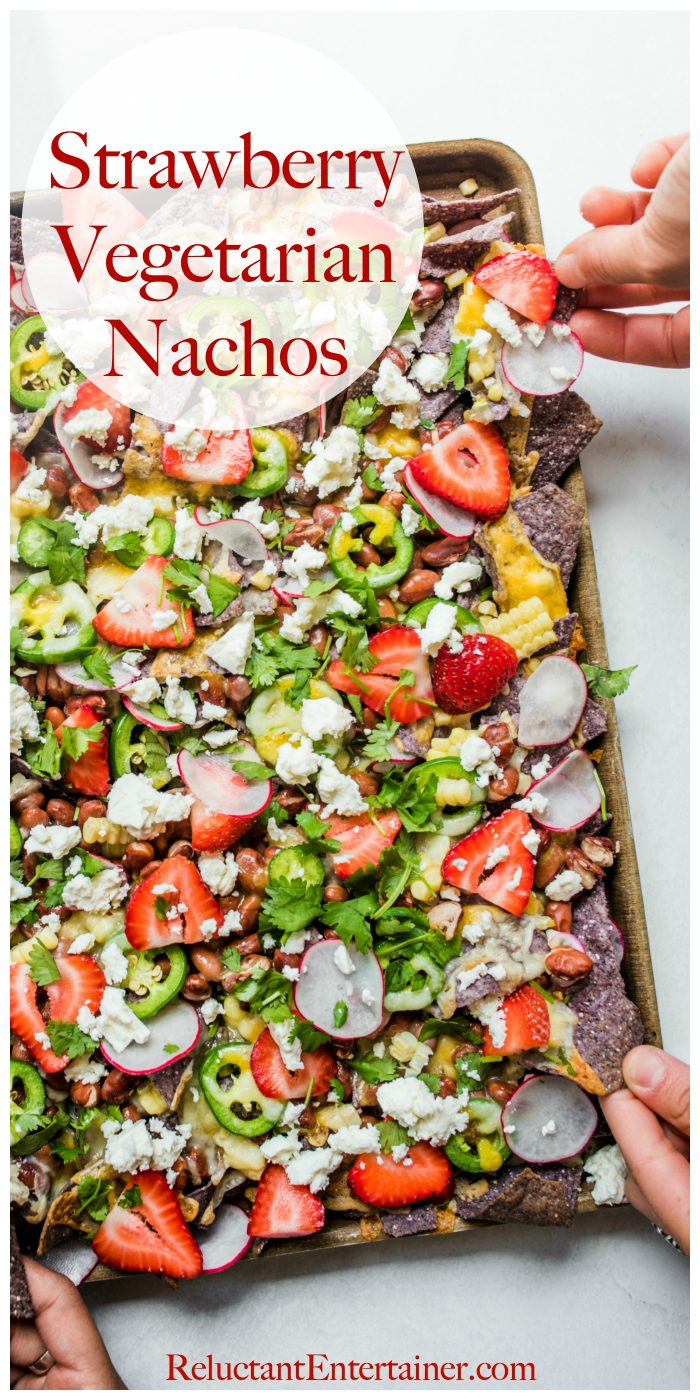 Hello and welcome to my home and table!
I'm Sandy—lover of food, family, cooking, THE BIG BOARD, travel, and bringing people together. Through great recipes and connection around the table, we become better, stronger, and more courageous people. Feasting on Life is real, and every time we do it, we grow a little more. Read more...