What is a Blogging Conference? Evo 11′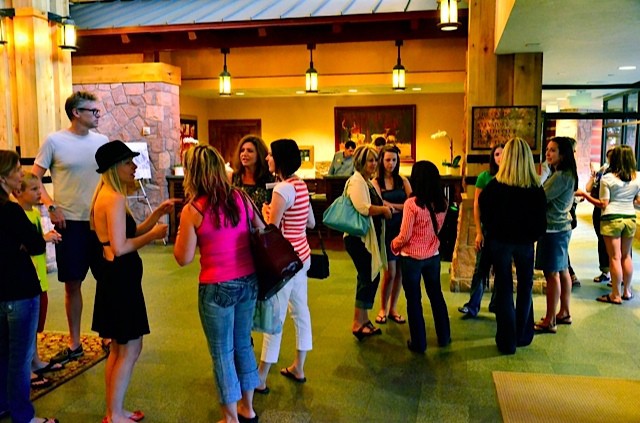 I've had many people ask me what a blogging conference is, why I go, and what happens at these events. I thought the best way to share about my recent travels to Evo 11' in Park City would be to share my honest thoughts with a few pictures to go along with each inspiration.
Evo 11' is a social media blogging conference nestled away in the hills of Park City, UT, held at the Canyons Resort. This was my second year to attend and I'd recommend it to anyone. Just look at the beauty!
It's designed for bloggers in general, like foodies, mommy bloggers, design bloggers, and dad bloggers, too, to come and learn about blogging, whether you're a beginner or an expert. There's always something new to learn and the speakers are usually outstanding! It's a well-balanced group of people and I really enjoy that. And, yes, a blogger looks like a social media geek with an iPhone, computer, and camera in hand.
EVO is very family friendly, as you can see by the fun that my husband and I, our daughter and her friend, are having at the Bush's Beans Party at Park City Mountain Resort. (More pictures below.)
We enjoyed an intimate dinner downtown Park City at 412 Bistro with the "Team Beans." We do sort of feel like family now, since we've been working together with Bush's Beans for about a year and a half. :) At blogging conferences you'll hear great information about working with brands.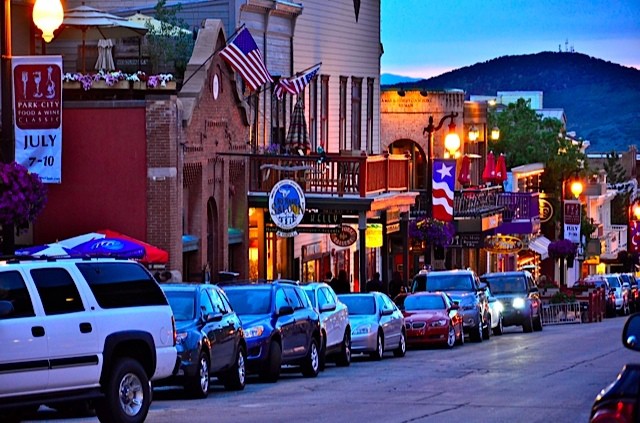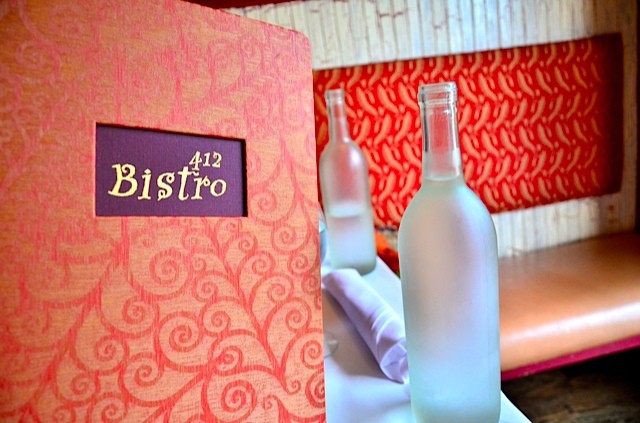 (Aggie and Maria)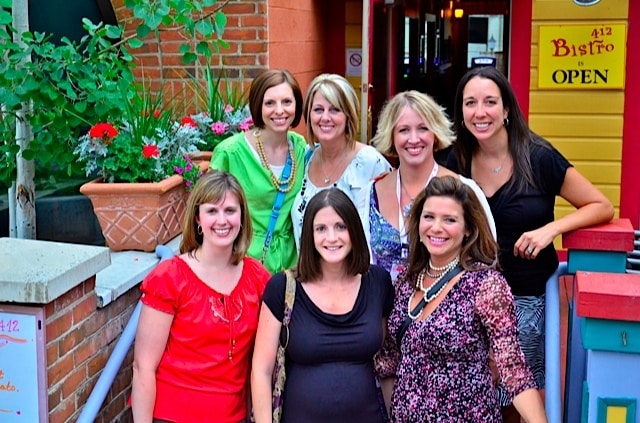 (Katie, Cheryl, Kristen, Aggie, Laura, Maria, and me)
Attending a conference allows you to either dive into the lives of others and make new friends, or you can be really quiet and keep to yourself. One of the greatest gifts of blogging that I've received in the past 4 1/2 years has been very rich friendships. I've also found people with similar interests and passions as me.
Because I love to entertain, I think about the people I meet that I'd be giddy to invite into my home to a dinner party.


Wouldn't a virtual dinner party be fun? I adore these ladies! (Annalise, Kelley, Helen Jane, Lisa, me, and Alison)
And these lovely ladies. Flavia is a brand new friend who I just met and our family could have swooped her up, packed her in our suitcase, and brought her back home with us. Katie is a sweetie, too, with a beautiful, family-friendly blog. (Katie on the left, Flavia on the right.)
Cheryl, Marla and Kristen know way more than I do about blogging, and are quick to offer advice and to help other bloggers out. They are resourceful and awesome ladies!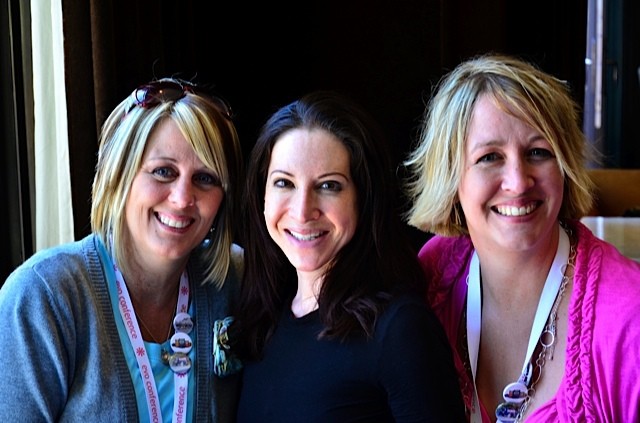 Aggie and I worked out hard climbing those BIG hills every morning. It was actually a very spiritual time as we reflected on our goals and direction for blogging. It was very refreshing, encouraging and exciting! (Love ya, girl!)
Another important fact I've learned over the years is that blogging is not about perfectionism, arrogance or pride. Blogging is about sharing your passions, giving out to others, and treating everyone with respect and dignity. For example, even when you may not have the perfect photo on your blog, it's okay. For me, as the hostess of real life dinner parties, I rarely have time to stage and get the perfect picture before I'm waiting/serving my guests. That's when I hope the story comes through and hides the not-so-perfect photos. (Love covers a multiple of sins, right?) :)
Here are some of the inspirational pictures from a food/photo workshop up in the hills of Park City at Lookout Cabin.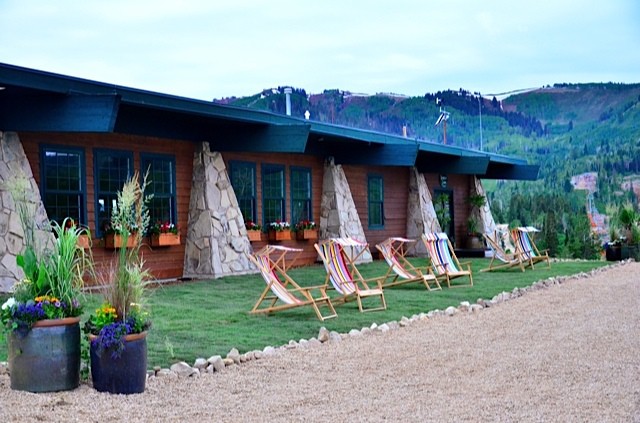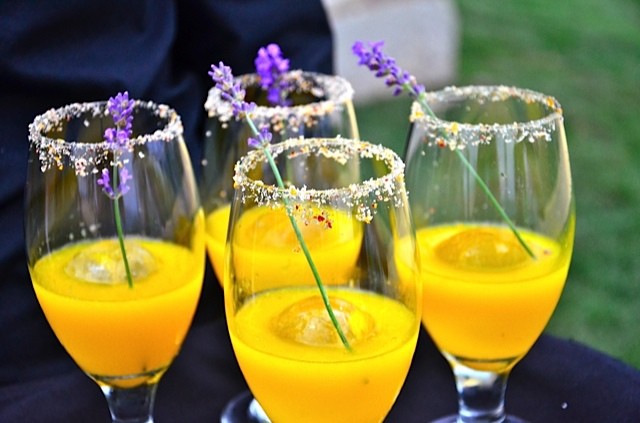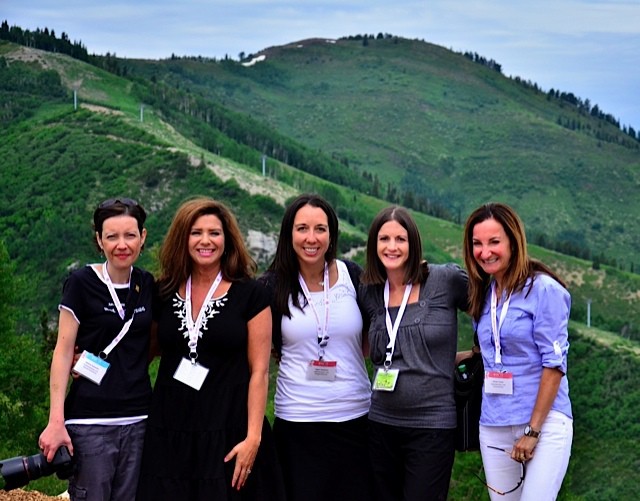 (Helen, me, Aggie, Maria, and Alison) Alison is a new breath-of-fresh-air-friend, too. Really special lady.
The workshop was photography instruction (taught by Helen of Tartelette) and a cooking demonstration. The food was delish and the setting was …well, … you decide. Go God!!
My favorite part of going to conferences is meeting new bloggers. You can tell right away when you meet a genuine person, because, again, they ask a lot of questions about your life.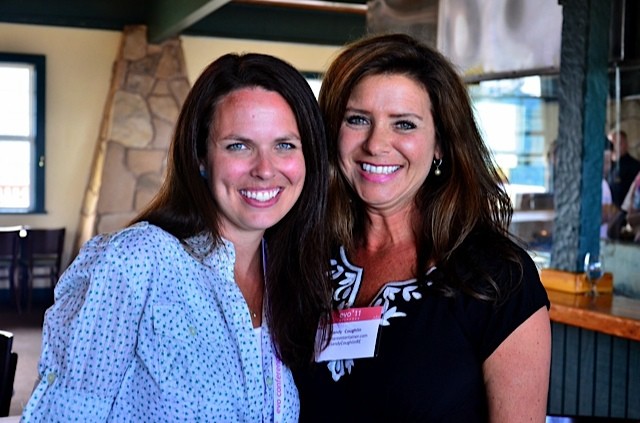 (My new friend, Sara, from One Charming Party.)
One of the classes I attended was on food styling and photography with Diane Cu and Todd Porter from White on Rice. I learned so much from these two. They were relatable and taught us so much about the camera. As we ended each session, they encouraged us to take the information learned and to pass it on to 5 bloggers. In other words, their insights and instruction were not to be kept a secret. I so appreciated their "pay-it-forward" mentality.
Todd and Diane were very humble. Teaching is definitely "less about them and more about others."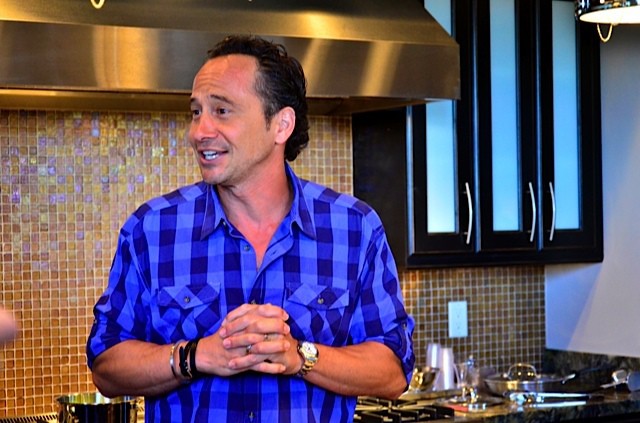 And then there's the incredible Jeffrey Saad, with the same style of teaching, who taught a hands-on food workshop, sponsored by Bush's Beans. This man lives and breathes enthusiasm and excitement. You can clearly feel his love for food and the people. (You can watch Jeffrey on July 12th for session 2 of United Tastes of America.)
I'm sort of starting to sound like a rerun here on RE … the people, the people … it's not about us …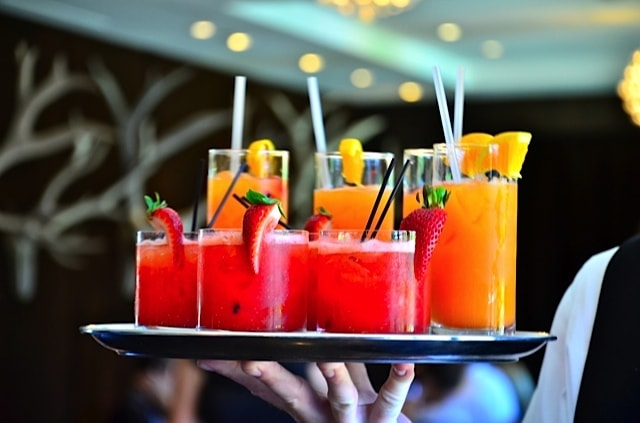 I was able to reconnect with Tsh from Simple Mom and Melissa from The Inspired Room, two of my very first blog friends who I met 4 years ago at Blissdom. They are "balcony" friends in my life, for sure. Meeting people from different states (and even countries) is another added benefit of blogging. (These two gracious ladies also endorsed my book.) :)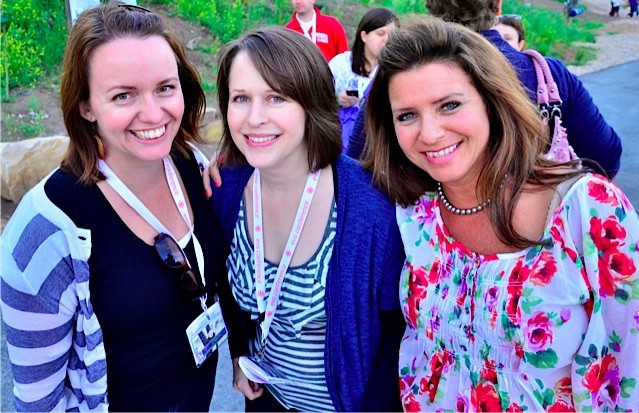 I met Jo Packham one year ago at EVO, and if you don't know Jo (Where Women Create and Where Women Cook), she's also the founder of The Creative Connection conference, if you're looking for a blogging conference to attend this Fall. I love this picture (below) of Jo and me talking, because it shows her in action. :) She is talented, creative … I think "bigger-than-life" explains her well. She has a new book coming out this Fall called: Where Women Cook: Celebrate!: Extraordinary Women & Their Signature Recipes. It's a hard back book of 27 beautiful photographed parties and I'm very honored that my annual New Year's Eve dinner party was included in this lovely book!
Back to the Park City Resort party, sponsored by Bush's Beans … a few more "fun" pictures.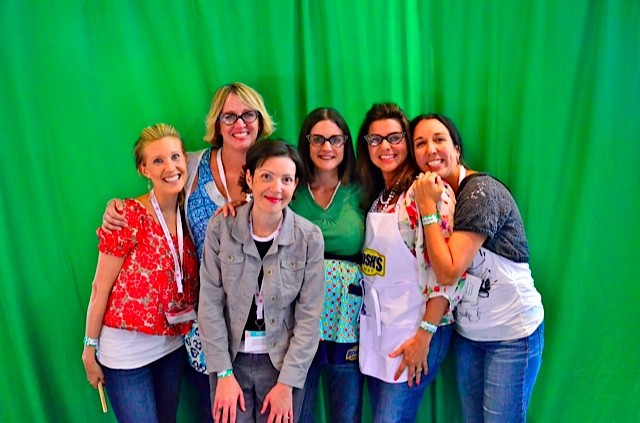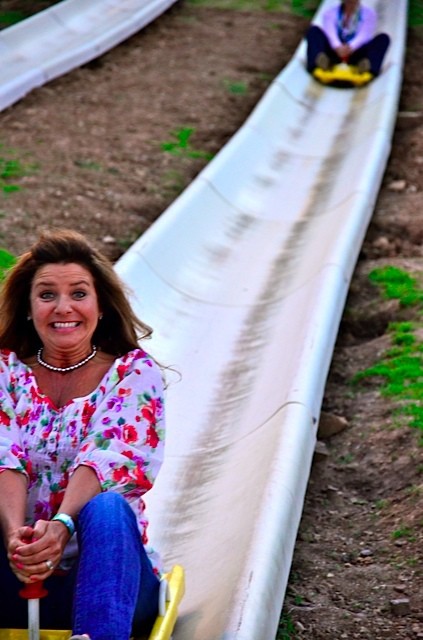 (Kristen)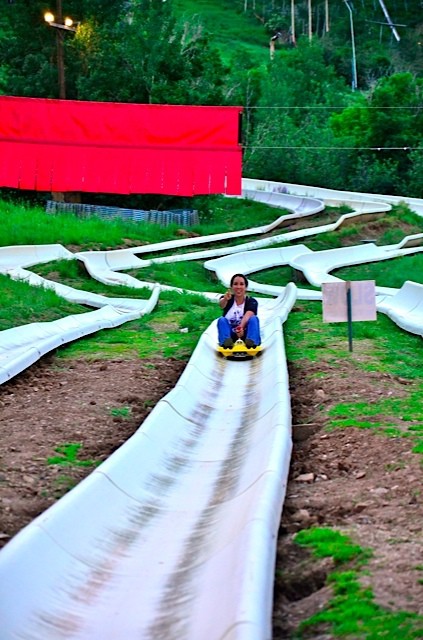 (Aggie)

(Lisa)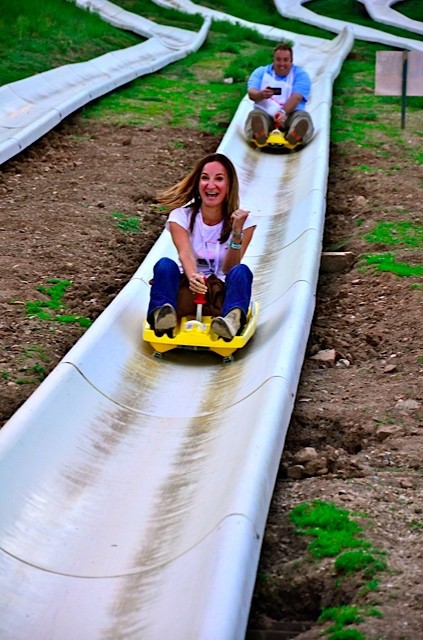 (Alison)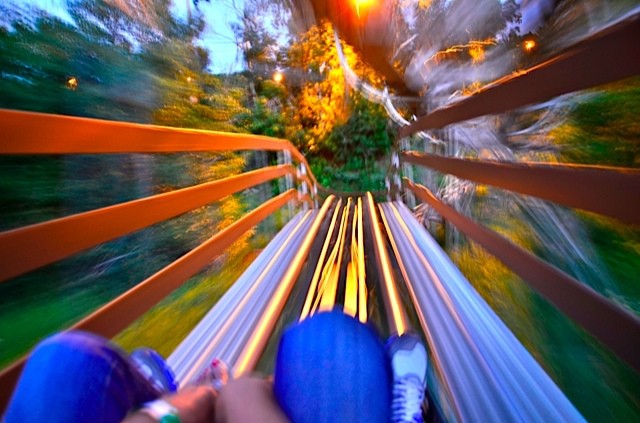 (hubs and I on the scary roller coaster ride)
So, who made this conference a huge success? I would say for sure the founders Rachael and Jyl, but also the speakers, teachers, sponsors, and the venue itself. But mostly, the people who attended.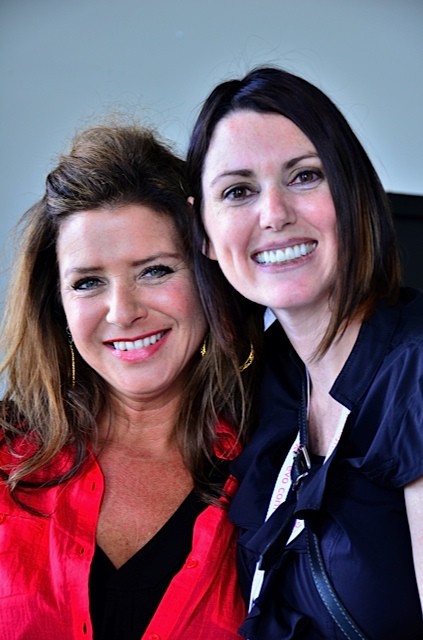 As a group of bloggers were gathered around a "celebrity blogger" (very popular and wonderful person, just too many people gathered around) my family and I quietly slipped away and found the closing key note speaker. Have you heard of Me Ra Koh? Her keynote was so inspiring, we texted our teenage daughter to quickly come downstairs to join us. Both having photography and the same faith in common, she had words of inspiration, little nuggets of wisdom, that my husband and I could never have given to our daughter. It was our last little "gift" of EVO before the night ended.
So what is a blogging conference?

As we left the closing event and headed back down the steep mountain in the rain, and as we said our last good-byes to old and new friends, I felt happy and content.
It's the positive relationships in life that make us better people. The ones that challenge us to grow, to have more courage, to make a change, to step it up, to try something new, to see things in a "new" light, to recommend us, to teach us to put perfectionism aside. Ones that encourage us to become better parents (which is more important than better bloggers), that inspire us to love our spouses more (when it's tempting to love our computers more) … to become better people.
It was the people at EVO that once again changed my life.
Have you attended a blogging conference and if so, how did it change your life?

(Bush's Beans paid for my trip to Evo 11′, but they did not pay for me to write this post today.)
More posts on EVO:
Completely Delicious
Two Peas and Their Pod
Use Real Butter
Ingredients, Inc.
Hello and welcome to my home and table!
I'm Sandy—lover of food, family, cooking, THE BIG BOARD, travel, and bringing people together. Through great recipes and connection around the table, we become better, stronger, and more courageous people. Feasting on Life is real, and every time we do it, we grow a little more. Read more...