Winter Rustic Charcuterie Board
The beauty of a charcuterie board is you can prepare it ahead of time. Make this Winter Rustic Charcuterie Board and enjoy with your guests!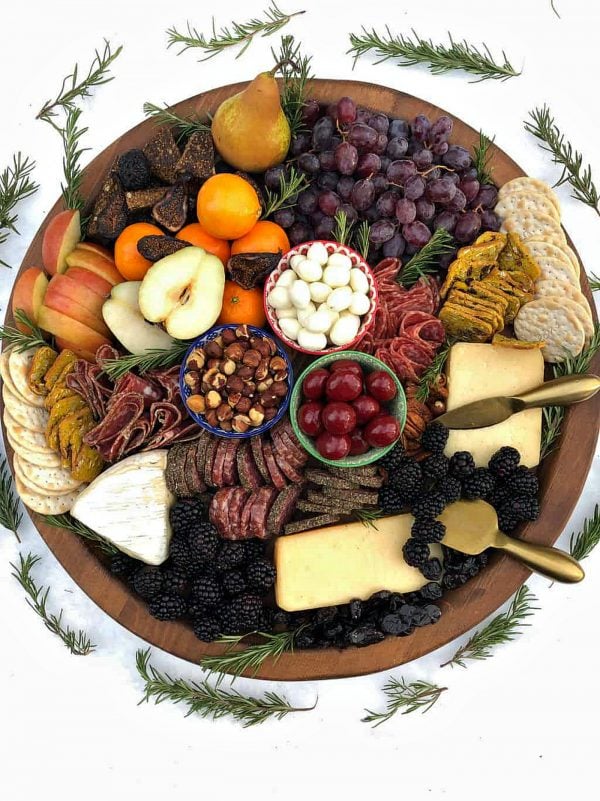 Friends, just in time for a small gathering, enjoy this Winter Rustic Charcuterie Board, and invite new people into your home! Or, are you feeling burned out this holiday season, even just into the first week of December?
Winter Rustic Charcuterie Board
To prepare the board, find a board that works for the number of guests who are coming. This recipe today, we enjoyed with 4 people.
If you have 10-12 people coming, you may want to make my Epic Charcuterie Board or gather ideas, here.
What's typically on a charcuterie board?
For this winter board, we added cheese and meats (cured meats make up a charcuterie board).
Winter treats, like blackberries, pears, clementines, and grapes.
Don't forget the sweets – chocolate covered cherries and yogurt covered almonds (so festive in color, too!)
Keep hosting simple
This is such a simple way to entertain. Gone are the days of long, long dinner parties (where you feel you have to do it all), when instead, you can create a "board" and keep hosting simple.
Back to the holidays that are here, whether we like it or not.
Are you excited or do you already feel burned out … and the festivities haven't even begun?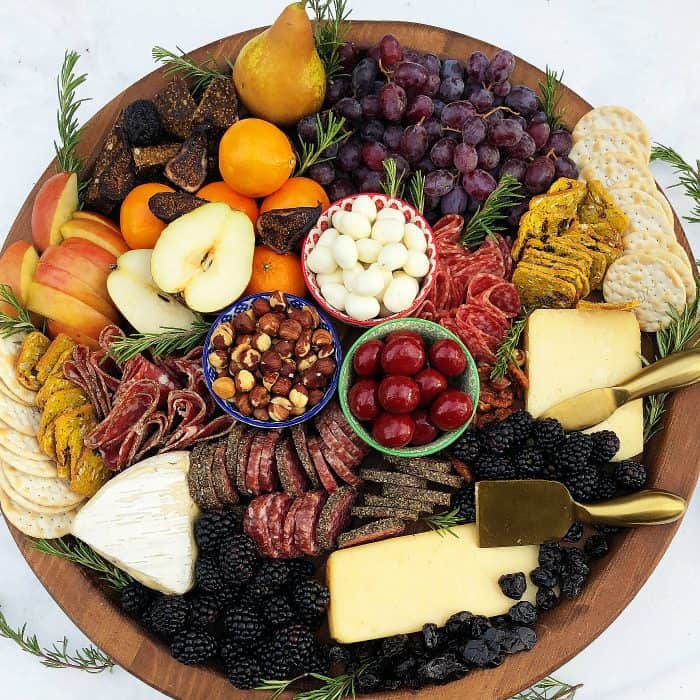 Reader shares her feelings
A long-time follower of RE wrote to me, and in true honesty, I thanked her for being real. Real, because I know many of us dread the holidays and have the exact same feelings.
I'm not a reluctant entertainer by any means; in fact, I regularly offer to host gatherings at my house and throw a couple of big parties each year. However, I am frustrated.

I feel that in our group of friends, I am the only one who actually hosts people. It seems as though everyone else has one excuse or another as to why they can't have people over. So as a result, I am the one putting out quite a bit of money and time to host people, and I feel as though I receive nothing in return. I understand that the payoff for me should be that everyone has a great time, and I am happy when they do, but it'd be nice to not have to cram a lot of people into my smallish house once in awhile and deal with the setup, cleanup, and aftermath of spending a few hundred dollars to entertain.

Much of my frustration came about recently when I hosted a party. I didn't get a chance to mingle as much as I had wanted and I ended up not enjoying myself at all–to the point where I'm not doing this again next year. Even with small get-togethers, we are friends with only one couple that reciprocates at all when it comes to entertaining. It's nice to not have to do most of the work sometimes, and to feel appreciated when we are invited to someone else's house. But with most of our friends, we are either going out to a restaurant or meeting up at my house.

My husband and I wonder, are we just not on the "A" list and maybe some of our friends really are entertaining and they just don't invite us? I don't know how to reconcile my feelings about all of this. As we come upon the holiday season, I'd love to have a few couples over, but then again, I don't feel as though it should be up to me to host ALL THE TIME if we want to see each other. Ironically, my house is the smallest of all in our circle of friends, yet I'm always the hostess.

What do you think? Do I just need to get over myself and be grateful that people like to come to my house and that they end up having a good time, or am I a little justified in not wanting to always put out the expense and the work it takes to be a good hostess? Or is it something else all together?
Mix up hospitality!
I think people are just not entertaining like they should. I doubt there is an A list. I know people have judged me for having an A list, when in reality sometimes we just want to invite people over who inspire and lift others up, who are encouraging and know how to have a fun time. The other thing about A or B lists is that, in our minds, we build traditions. As in, this group comes together, and the next time, the same people should be invited.
I like to mix it up. That is what hospitality is all about. And it's always rewarding to invite new people over. Life is about growing, building new relationships, expanding our horizons, and getting to know new people and what they are about.
It's inspiring to invite new people over. It's also comfortable to invite long-time friends over.
Start with "easy."
Where to buy a charcuterie board?
Friends, The Big Board® is here! Yes, I've partnered with JK Adams, the premier woodmaking company in Vermont, with my own line of RE boards!
20-inch round, maple
26-inch round, maple
12 x 36-inch maple
NEW 12 x 24-inch maple
23-inch Lazy Susan
26-inch ebonized BLACK, cherry
12 x 36-inch ebonized BLACK, cherry
A board with a lip (or raised edged) so the food doesn't fall off
FOOD SAFE
Made in the USA
Undercut handles (a unique design)
Thank you for your support, as we've sold out so many times already!
Order The Big Board® today!
Get the Recipe: Winter Rustic Charcuterie Board
Ingredients
3 hard cheese bricks: 1 doublecreme mushroom Brie, 2 hard white cheeses
Salami slices, thick & thin
Procuitto slices
Blackberries
Pear
Grapes
Clementines
Apple slices
Fig Cake with Walnuts, or, serve fig jam
Dried figs
Dried cherries.
Yogurt covered nuts
Milk chocolate cherries
Nuts
2 kinds of your favorite crackers
Instructions
On a round platter (or Lazy Susan), arrange the foods and serve right away!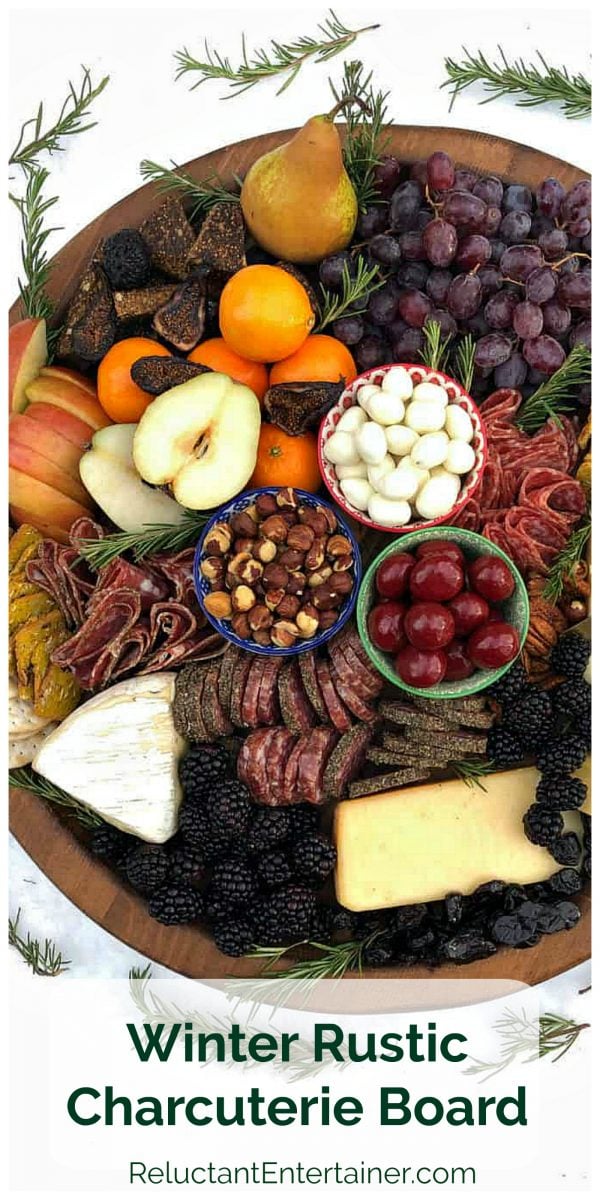 Hello and welcome to my home and table!
I'm Sandy—lover of food, family, cooking, THE BIG BOARD, travel, and bringing people together. Through great recipes and connection around the table, we become better, stronger, and more courageous people. Feasting on Life is real, and every time we do it, we grow a little more. Read more...