Winterizing the Garden with New Potato Rake (and Video!)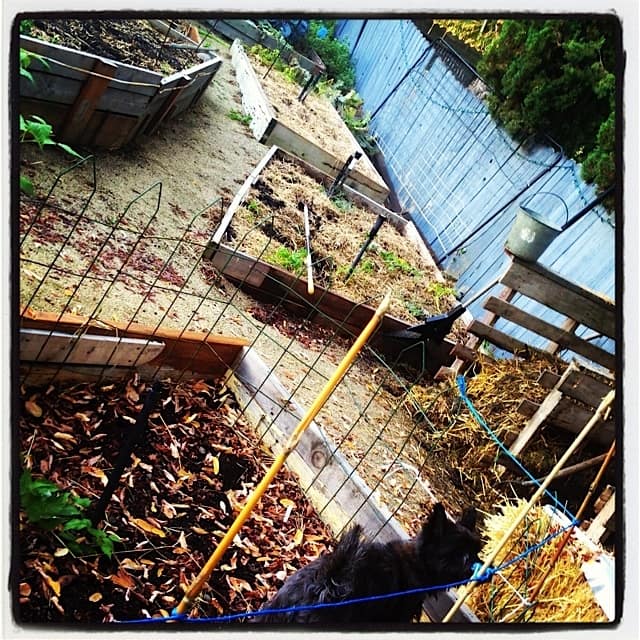 Last weekend, in between rain storms, my husband and I spent hours out in the garden, putting our "garden to bed" for the winter months. (Above: Hi, Haggis McStitch!)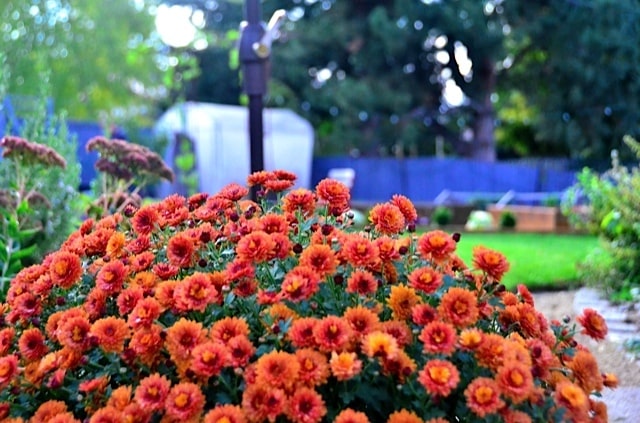 But first, I have to tell you about Paul's new favorite tool ($38) that he's been eyeing for quite some time now. My husband is very frugal when it comes to gardening–reusing, recycling, and buying most tools from yard sales–so breaking down and buying this was a stretch for him.
We now have a "potato rake."
And, what's this video today on RE?
I really don't see myself as a "video-girl" so let me know what you think! :) It could be fun for future gardening posts to add in a short video to my posts. (Yes, no?)
The purpose of our new potato rake is to not puncture the potatoes. Brilliant!
You use it to loosen the soil.
We harvested our potatoes.
And our sweet potatoes. Which, by the way, are rarely perfect in shape. They often come out of the ground like a horror-movie figures. But they are still delicious!
Oh, and there's Haggis again, our Cairn Terrier, who sometimes thinks he's a cat and walks the fence line. We had neighbors once who thought he was a big fury (ugly) cat. How dare them! :)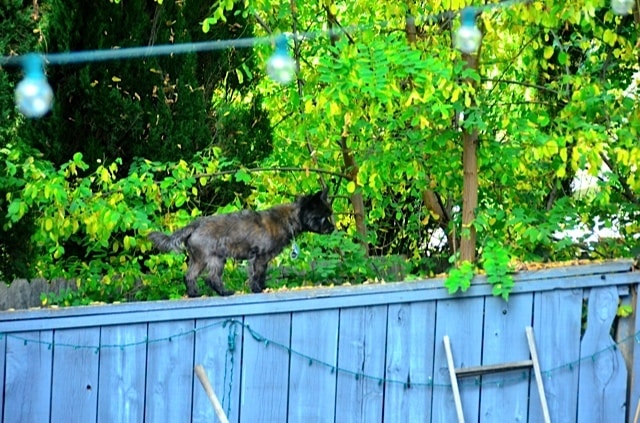 Our neighbors: We think we have your dog. At first we thought it was an ugly cat. :)
But we love our little fury guy. :)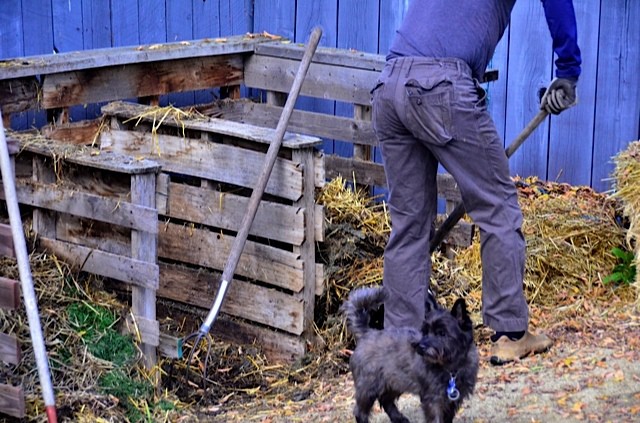 Now's the time to work the compost into the soil, too, if you have it, because the soil is so workable.
And straw. We always use straw, but it's 2-year old straw. You never want to use fresh straw or hay in your garden beds, because the seeds will sprout. You need to let it sit first, for 24 months, so the sprouting begins and ends. The straw we used here has been sitting here for a couple of years.
How to winterize garden beds
1. Clear the top (pull out the garden plants, get rid of weeds).
2. Sprinkle Cover Crop over the beds (we used Gardenway) that don't have any root crop in them (like potatoes, asparagus).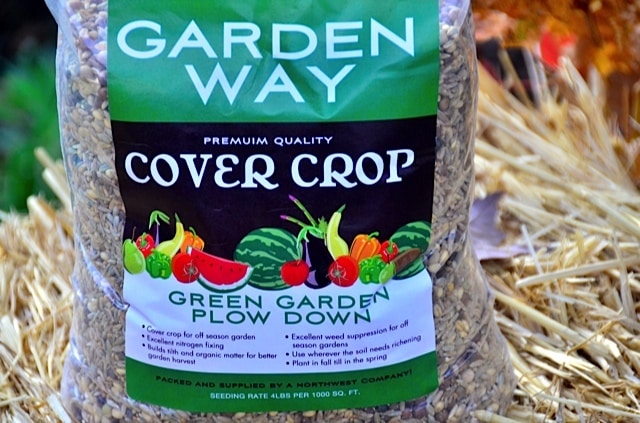 What exactly is Cover Crop?
It's a bag of mixed seeds with nitrogen, and it builds tilth and organic matter for better garden harvesting. It suppresses weeds during the off season (winter months). You use it wherever you want to enrich your soil, planting it in the fall, and then tilling it up in the spring. (On these beds, you don't want to use straw. We used straw in the beds that still had potatoes in them.)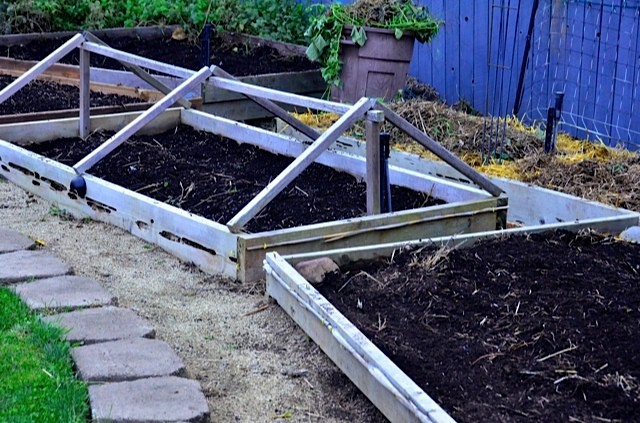 How to use Cover Crop on your garden beds
1. Harvest all vegetables.
2. Get the weeds out, rake the beds.
3. Sprinkle lightly with Cover Crop; slightly rake over the top.
4. Water (or count on the rain to water the beds).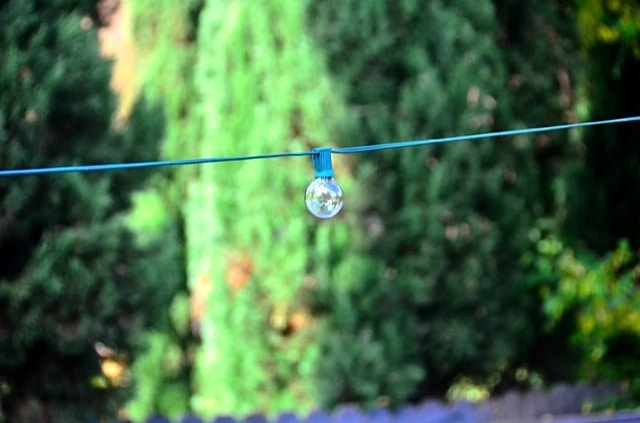 We leave our lights up year round. Nothing better than looking out and seeing them glowing over the beds during cold winter months–and knowing the garden is resting. (We bought our lights at Pottery Barn about 5 years ago, if you can believe that. They've stood the test of time!)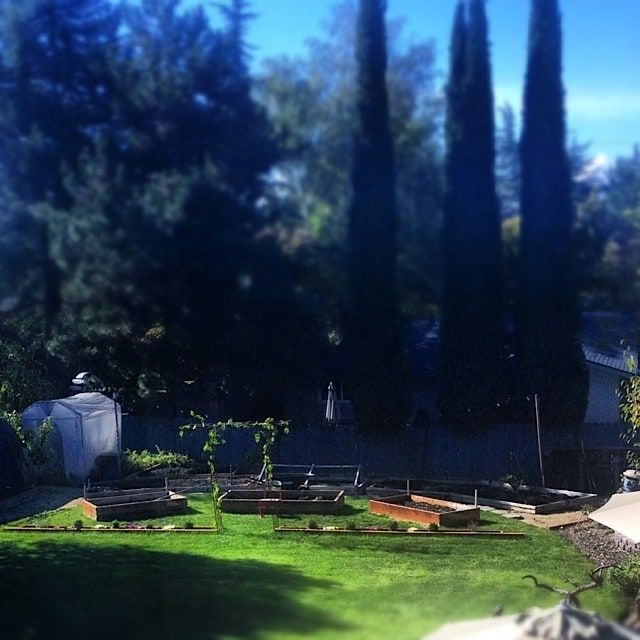 Awww, it's nice to have fresh raked beds, ready for their long winter nap.
Have you winterized your garden yet? Or, please share any tips you have for winterizing your garden!?
(We love sharing garden tips with you, from Oregon, but head on over to the Old Farmer's Almanac and read their suggestions on Putting the Garden to Bed. Martha talks about preparing the farm for the "dead of winter," here.)
Hello and welcome to my home and table!
I'm Sandy—lover of food, family, cooking, THE BIG BOARD, travel, and bringing people together. Through great recipes and connection around the table, we become better, stronger, and more courageous people. Feasting on Life is real, and every time we do it, we grow a little more. Read more...