Almond Flour Chocolate Brownies
Looking for a gluten-free brownie recipe? These mouth-watering Almond Flour Chocolate Brownies are a fudgy-type brownie, made with almonds.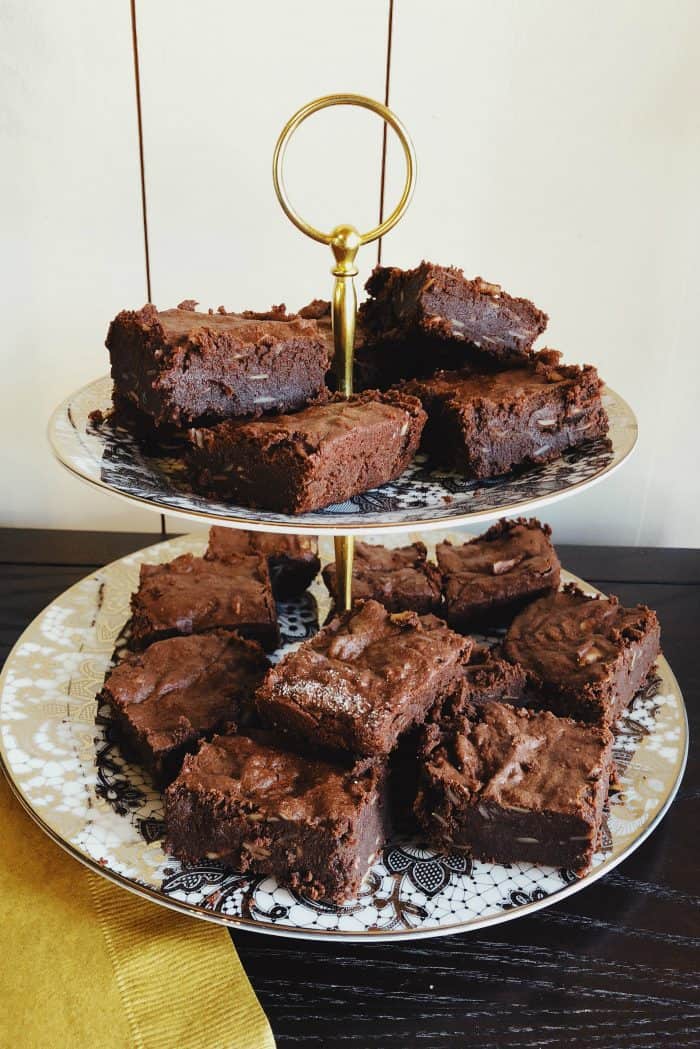 A little warning about this post. It's not only "sweet" with a delicious Almond Flour Chocolate Brownies recipe, it's also a sweet love story from 2 years ago.
Almond Flour Chocolate Brownies
Because life is usually very sweet, I thought I'd post one of our all-time favorite Almond Flour Chocolate Brownies recipe, that we enjoy in our home.
In fact, they are so good, I usually keep a batch in the freezer. You can freeze these up to 3 months!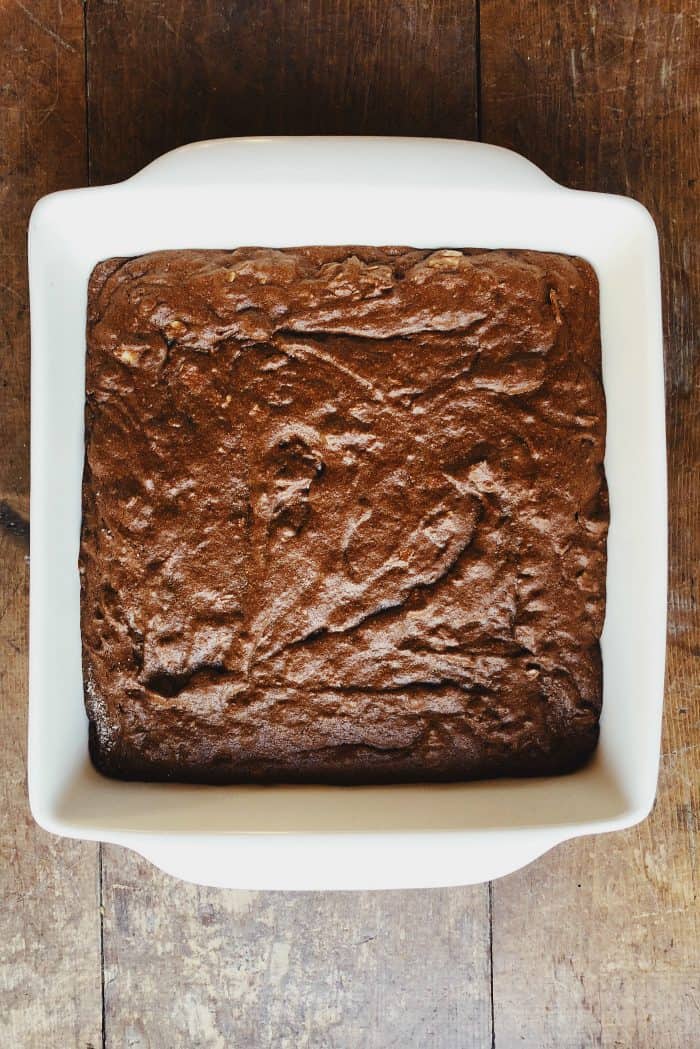 Why in the freezer? When we're trying to hold back on our sweets and have a little discipline in our lives?
Several times in the past month, we've hosted dinners here where I've asked a guest to bring dessert.
Gluten Free Chocolate Brownies
There's always someone in the group now who seems to be gluten-free, and these brownies are just that!
(That's Alder, our Whoodle, with his nose in everything!)
How to freeze brownies
Made with almond flour (I buy Blue Diamond Almond Flour at Costco), I keep brownie squares individually wrapped, so they're easy to pull from the freezer and quickly microwave. Almond flour is easy to find in most stores now, and sometimes we buy it at Trader Joe's, too.
No need to worry about gluten-free when I'm already prepared, right?
But … even if you're not gluten-free, the flavor is so divine!
How to freeze brownies: To freeze brownies or bar cookies, cool brownies or bar cookies completely, but do not cut into individual servings. Wrap tightly in plastic wrap, then wrap again with foil. Freeze up to 3 months. To thaw, unwrap and let them stand at room temperature for 3-4 hours before cutting into squares or bars.
And, have I told you just how much I just love a brownie that melts in your mouth?
Happy Friday, and have a great weekend!
More almond flour recipes:
Shredded Zucchini Almond Flour Pancakes
Salty Sweet Butterscotch Brownies
Flourless Brownies with Chocolate & Pecans
Almond Flour Yogurt Waffles [All Day I Dream About Food]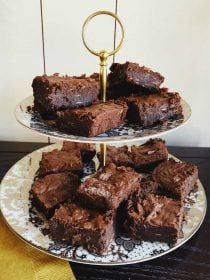 Get the Recipe: Almond Flour Chocolate Brownies
Ingredients
8 oz bittersweet chocolate, minimum 70% cocoa solids
1 cup butter, 2 sticks
1 tsp. vanilla extract
1 tsp. almond extract
1 cup sugar
3 large eggs, beaten
1 ½ cups almond flour, I buy at Trader Joe's
1 cup chopped almonds, toasted is best
Instructions
Preheat the oven 325ºF. Melt the chocolate and butter gently over a low heat in a heavy-based saucepan.

Take the pan off the heat, mix in the vanilla, almond extract and sugar, and let it cool a little.

Beat the eggs into the pan along with the almond flour and chopped almonds. Prepare a 9 inch square baking pan with cooking spray or parchment paper.

Bake for 28-30 minutes. Allow to cool before serving.
Notes
Originally posted JUN 2016
Hello and welcome to my home and table!
I'm Sandy—lover of food, family, cooking, THE BIG BOARD, travel, and bringing people together. Through great recipes and connection around the table, we become better, stronger, and more courageous people. Feasting on Life is real, and every time we do it, we grow a little more. Read more...