Shredded Zucchini Almond Flour Pancakes
The perfect weekend breakfast or brunch or holiday dish: Shredded Zucchini Almond Flour Pancakes, with a delicious cream and fresh strawberries!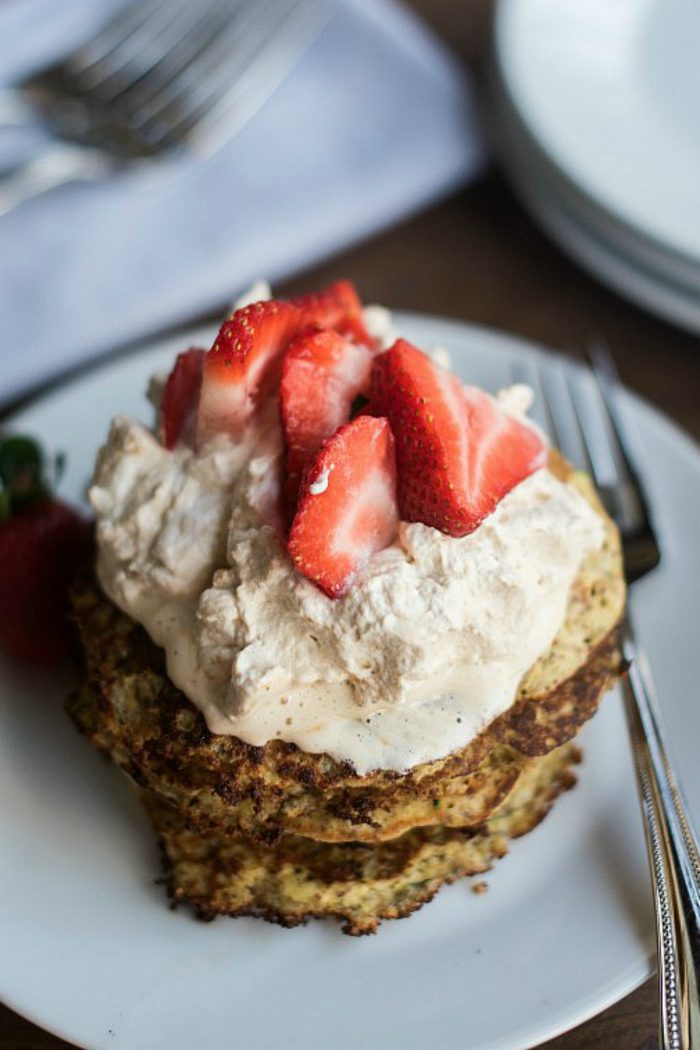 Friends, enjoy these Shredded Zucchini Almond Flour Pancakes, made with summer zucchini! They're delicious to serve for Sunday brunch, or even a weeknight dinner. If you're like our family, we love breakfast for dinner.
Zucchini Almond Flour Pancakes
Fresh from the garden, grab as much zucchini as possible and grate away!
Grate the zucchini for these delicious pancakes. And the topping? Well, it's pretty tasty!
The sun shone on Tuesday this week, warm sun, by which I mean in the upper 40s. I walked along the river with a childhood friend who lives less than a mile from our home, and then went to Home Depot and Target to buy wood and cushions (can you guess what we are making?), cleaned through the garage, and sat down to dream up a plan for herb planters for our deck with my husband.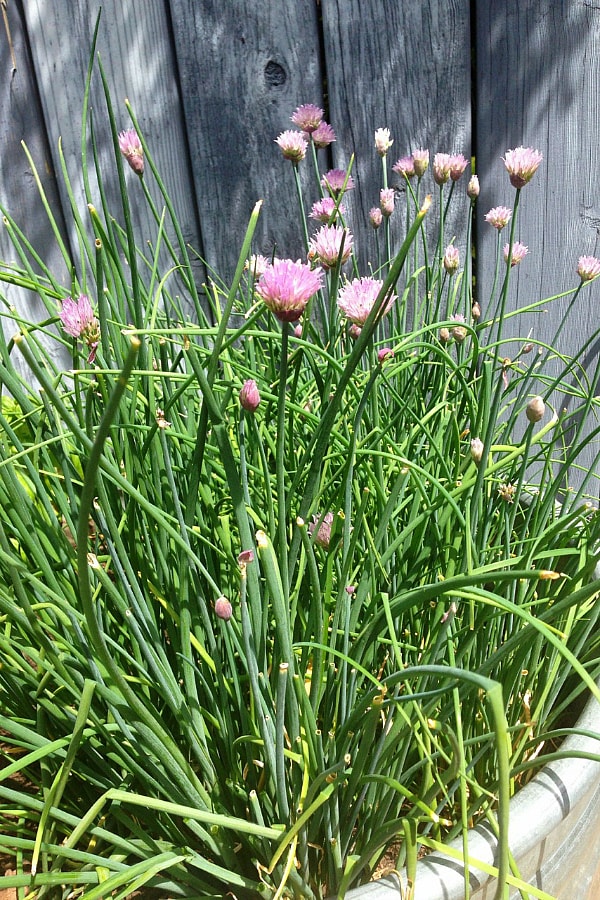 Herbs are something I'm truly missing from back home (our herb trough), here in our new home (but not the whole garden, just the herbs). I can't wait to share the outcome with you!
And let's put it this way, there will never be deer on our wrap-around deck (because they have no access–yay!)
Tomorrow we'll watch March Madness with our friends who are visiting from out of town. I'm not a crazy basketball fan, but you can't live in Oregon and not watch this game on Saturday, right?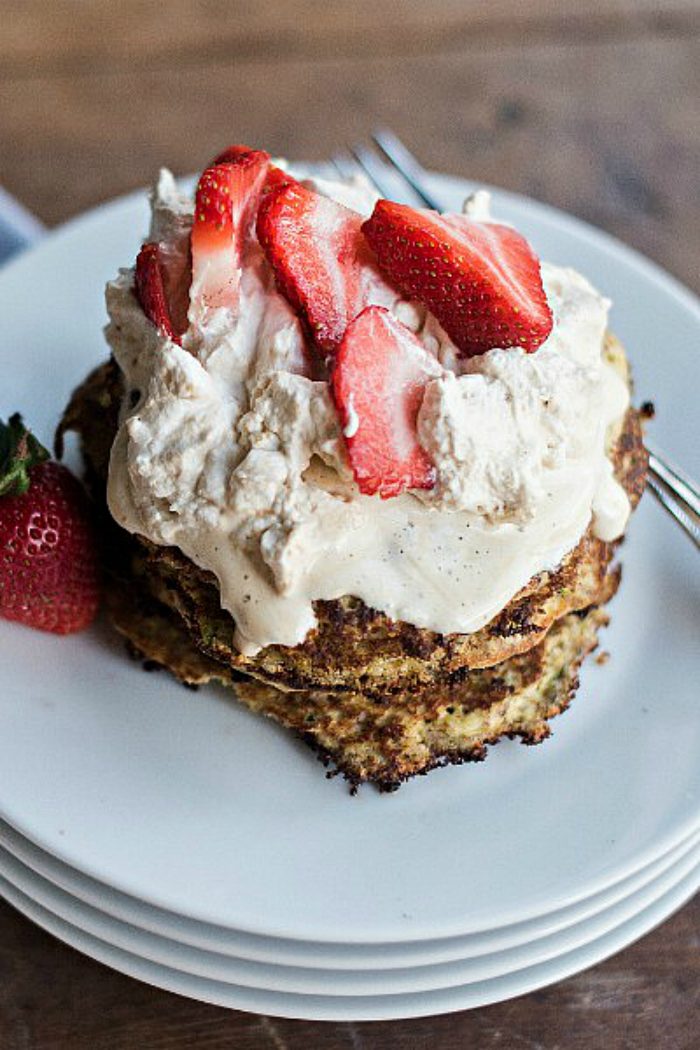 Shredded Zucchini Almond Flour Pancakes
Our friends are spending the night, and I'll whip up a batch of these Shredded Zucchini Almond Flour Pancakes for breakfast, and probably make a pot of chili the night before as well. EASY! Casual!
These pancakes are incredibly filling, because they are protein-packed and don't have as high amount of carbohydrates as regular pancakes.
Serve with delicious toppings, such as maple syrup, honey, berries, whipped cream with coconut sugar, almond butter, or cashew butter.
Or fresh strawberries!
When I think about weekends, I love how we are able to get into the outdoors. Whether hiking, fly fishing, kayaking, snowshoeing, bike riding, or even walking, how we will spend time in nature is our choice to make.
When we say we don't have enough time, it shows the need for a true commitment, which is always so worth it.
So, we'll be watching an important basketball game on Saturday. The Final Four will determine who goes on to the finals.
Four games, two winners meet each other in the championship!
Eventually, in our own lives, we'll weed out the stuff in our lives, whether we want to or not, down to one final moment. And there will be one winner.
How do you define winning at life?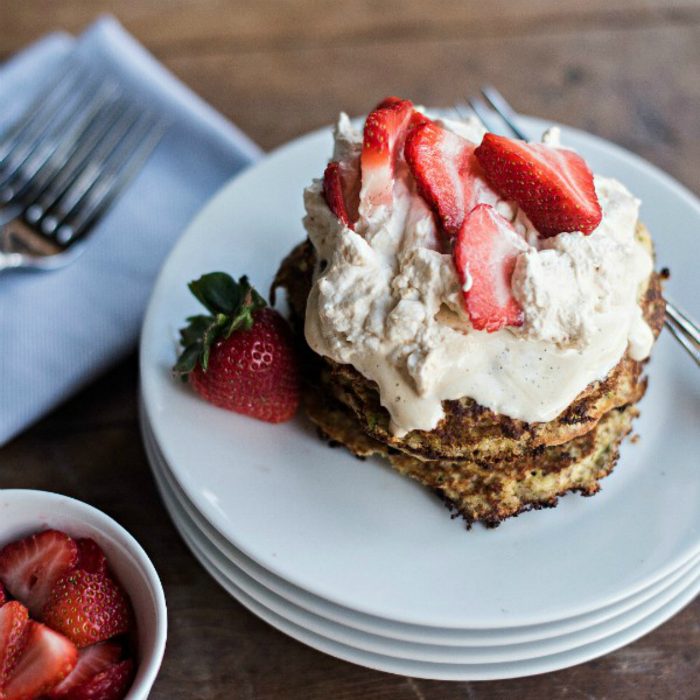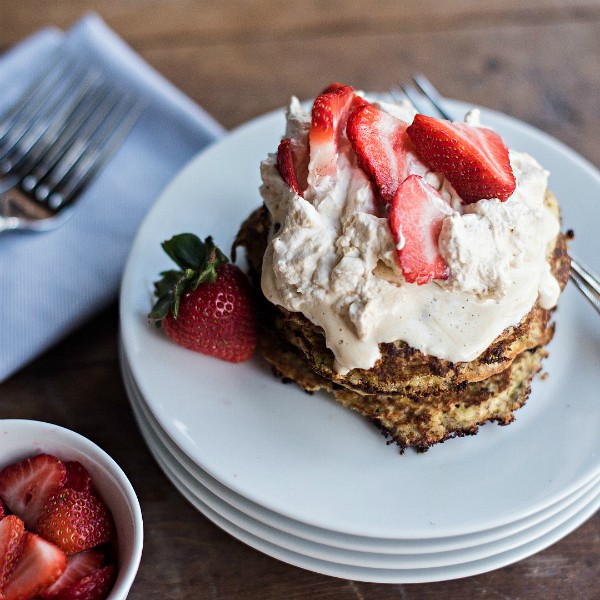 Print Recipe
Shredded Zucchini Almond Flour Pancakes
Ingredients
2

small zucchini

shredded

1/3

cup

ground flax

1 1/2

cup

almond flour

1

Tbsp.

honey

1/4

tsp.

salt

1

tsp.

cinnamon

1

tsp.

nutmeg

1

tsp.

vanilla

1/2

cup

Greek yogurt

1/4

cup

Chia seeds

6

eggs

1/2

cup

coconut milk

Coconut oil for cooking

Optional toppings: maple syrup

honey, berries, whipped cream with coconut sugar, almond butter, cashew butter
Instructions
Finely shred the zucchini (you can use a food processor or a cheese grater). Combine zucchini with ground flax, almond flour, honey, salt, vanilla, cinnamon, nutmeg, Greek yogurt, chia seeds, eggs, and coconut milk.

Allow to sit overnight in the fridge (optional).

Heat 1/4 Tbsp. coconut oil in a hot pan per pancake. (Cooking in hot oil makes the outside nice and crispy.) Place about 1/4 cup of batter onto hot oil. Allow pancake to cook for a minute before reducing the heat to medium/low. Cook pancake 3/4 of the way through (wait until small bubbles appear before flipping), 2-3 minutes per side.

Serve with delicious toppings such as maple syrup, honey, berries, whipped cream with coconut sugar, almond butter, or cashew butter. (Add nut butter for extra protein :)
More brunch recipes:
Butternut Squash Granola Parfaits
Make-Ahead Chocolate Coffee Cake