EASY Apple Pumpkin Cupcakes
These EASY Apple Pumpkin Cupcakes are a scrumptious harvest treat; optional to serve as cupcakes with no frosting as a breakfast or snack muffin!
Have I told you how much I love pumpkin season? Pumpkins are popping up in recipes all over, and today I'm sharing delicious Apple Pumpkin Cupcakes, fun for a party or a tasty treat for the family!
Apple Pumpkin Cupcakes
I recently made this Apple Pumpkin Cupcakes recipe, and my daughter and I decorated the cupcakes right before she left for college. But … we had to take them to family and friends and get them out of the house because they were THAT GOOD. I seriously love this recipe, and it's made with Bush's Country Style Baked Beans. Who would have thought?
Cupcakes remind me of …
Cupcakes remind me of little kids, and I can't help but think back to about 19 years ago, when we took this picture of our kids in our backyard in Medford. So cute, we were headed to a Halloween or Harvest party. I look at these pictures and they make me so happy, but also sad. But then I get over it quickly, because I know we are not to revel in the past, but live for each day and look forward to the future. So much good has happened in our lives the past 16 years, my heart is full of love and thanksgiving.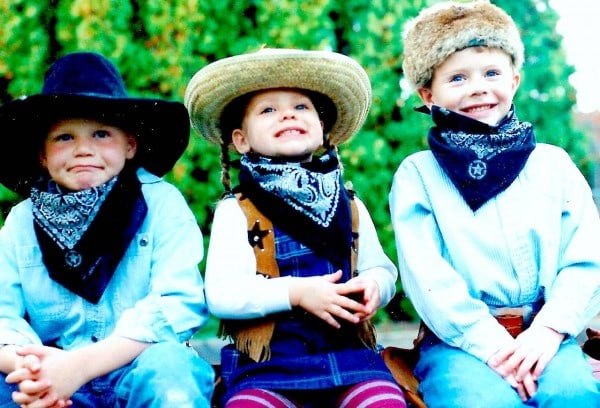 Make cake or muffins
Now for the scumptious recipe.
Caramel apples and candy corn are great for parties, but I like to bring something more unique than candy.
This recipe can make a larger cake, or 24 muffin-sized.
It's a fun potluck, party, picnic, after-school treat.
It's only 5 ingredients, including baked beans, applesauce and pumpkin – pureed.
Abby and I made a cream cheese frosting, with light sprinkles on top for a final, tasty touch. Which, by the way, one thing that makes cupcakes so fun is the cute muffin tins!
So here's the dilemma today.
Cupcakes or cake?
(And if you're looking for more harvest or Halloween party treats, go here.)
What gets baked more in your kitchen, cupcakes, muffins or cake?
Get the Recipe: Apple Pumpkin Cupcakes
For cake: Spoon batter into a sprayed 9×13 cake pan at 350° F for 30-35 minutes or till a wooden pick inserted near the center comes out clean. A
Bush's Beans recipe
.
Ingredients
1 can, 16 oz BUSH'S® Country Style Baked Beans
1 pkg, 16.25 oz spice cake mix
3 large eggs
1/2 cup classic applesauce
1 can, 15 oz pumpkin puree (not pumpkin pie mix)
Frosting: 1/2, 4 ounce package cream cheese, softened
1/4 cup butter, 1/2 stick
1 tsp. vanilla extract
1 cup powdered sugar
Instructions
Remove the bacon from the can of Country Style Baked Beans. Pour the can of beans and sauce into a blender and puree.

Combine the cake mix, use ¾ cup of the pureed beans (discard small amount of remaining puree) and 3 eggs in a mixing bowl and mix well.

Add the applesauce and pumpkin and mix well till all ingredients are combined.

Use cupcake pans with paper liners. Fill 2/3 full.

Bake at 350° for 12- 15 minutes or till a wooden pick comes out clean.

Makes 2-3 dozen cupcakes.

For the frosting, mix the softened cream cheese, butter, vanilla, and powdered sugar together.

Top cupcakes with cream cheese frosting (optional).
More pumpkin cupcakes: Keto Pumpkin Pie Cupcakes Recipe [All Day I Dream About Food], Chocolate Covered Pumpkin Cakes [Oh Sweet Basil], and Pumpkin Chocolate Chip Banana Bread [RE].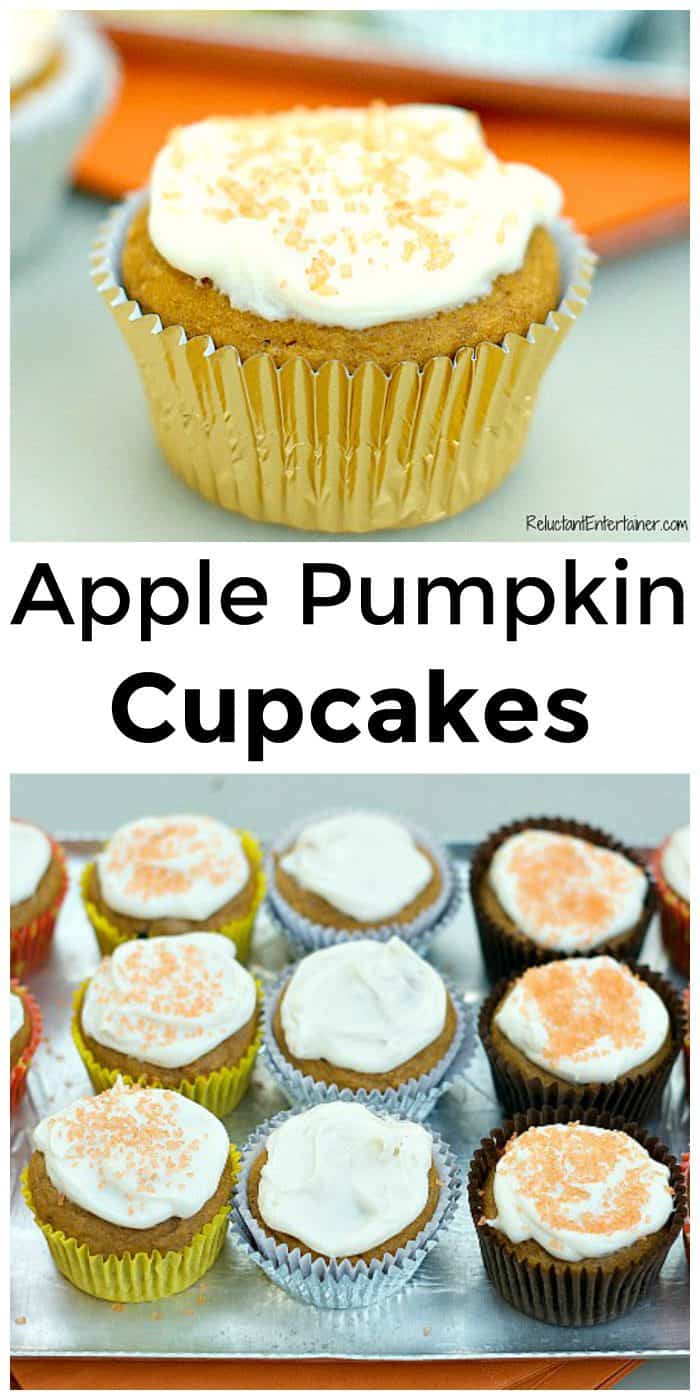 post updated from 2015.
Hello and welcome to my home and table!
I'm Sandy—lover of food, family, cooking, THE BIG BOARD, travel, and bringing people together. Through great recipes and connection around the table, we become better, stronger, and more courageous people. Feasting on Life is real, and every time we do it, we grow a little more. Read more...