Grilled Apple Pistachio Pomegranate Brie Bites
Heat up the grill for Grilled Apple Pistachio Pomegranate Brie Bites. Delicious flavors of apples with melted brie, pistachios and pomegranate seeds!
Just in time for the holidays, serve a new and festive appetizer, Grilled Apple Pistachio Pomegranate Brie Bites. Or maybe you've tried my Cranberry Orange Relish Brie Cheese Appetizer or Roasted Pumpkin Mini Sweet Peppers Appetizer – YUM!
Brie Cheese appetizer
These little bites are delicious flavors of grilled apples with melted brie, pistachios and pomegranate seeds!
Friends, I know I've written a lot about the seasons of life. We've all lived a real – life of love, loss, regret, and celebration.
And I would say most of us have gone through seasons of transitions, sadness, and very hard times.
Maybe you're just coming up for air from a painful experience, and you're thinking about hosting again.
Don't rush it , … feel it, live it. And when you're at a place where you're ready to share with others, the table can be a sweet place to do this.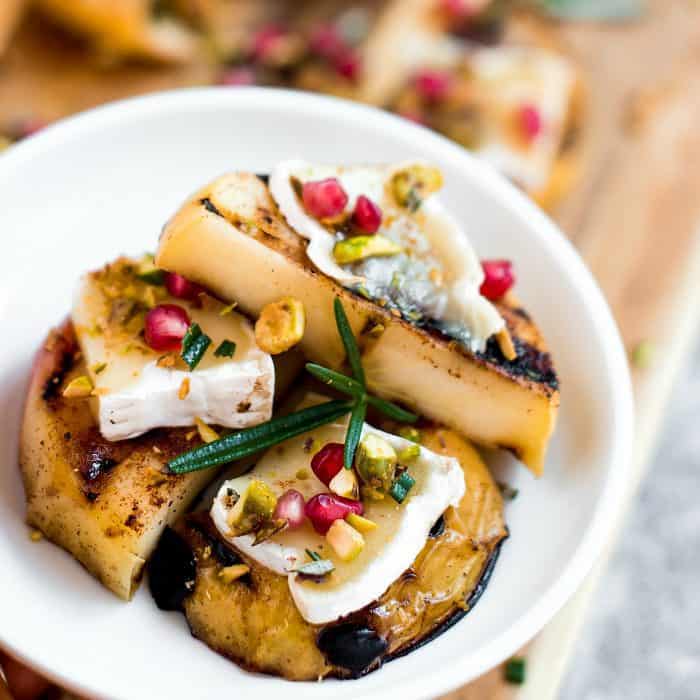 Grilled Apple Pistachio Pomegranate Brie Bites
Think of a crostini appetizer, but instead of the bread, using grilled apple slices.
The perfect flavors of a slice of grilled apple with melted brie, topped with pistachios and pomegranate.
How to grill apple slices
Heat the grill on high. Cut the apples into 1/2-inch rounds. Coat with oil to get grill marks (so pretty!)
Lightly sprinkle with cinnamon and nutmeg, grilling for about 2 minutes.
Top the slices, while warm, with the recipe ingredients below. SO GOOD!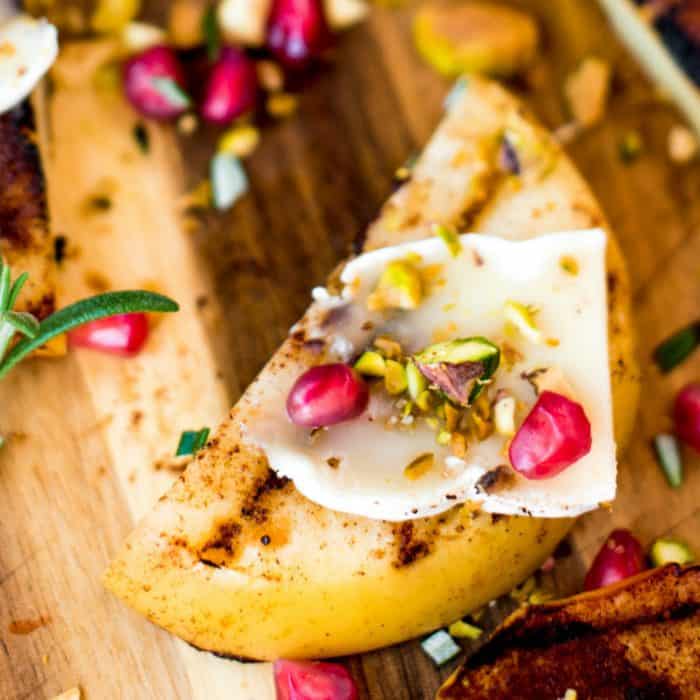 Make a recipe a conversation starter
Whether an appetizer or a dessert, this recipe is a conversation starter!
Don't wait until you're happy to host. Food is the catalyst that brings us together much of the time.
Maybe you're saying, but I'm just not happy. I don't want to host until I'm happy again.
We've been there. Paul and I lost 3 parents in 5 years, and it was a tough few years early on in our marriage. Those years were a mixed bag of love, joy, sadness, and loss. They were painful years.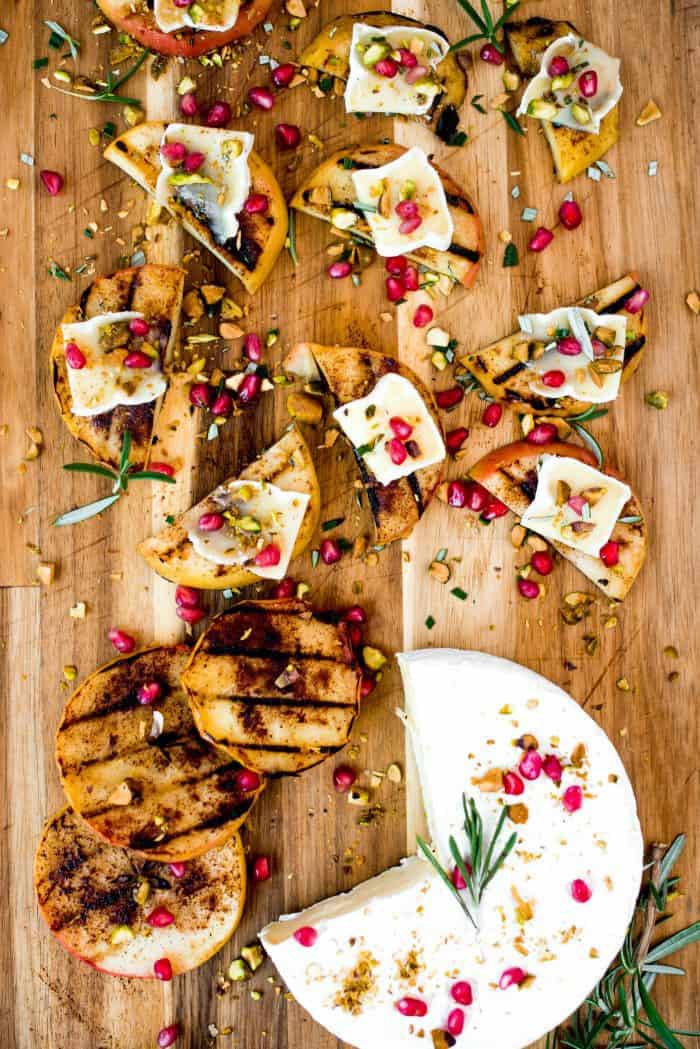 But I'm reminded of how happiness—true happiness—is an inner quality. I loaned a book to my friend, Dez, and she returned it with a beautiful quote:
"True happiness is to understand our duties toward God and man; to enjoy the present, without anxious dependence on the future; not to amuse ourselves with either hopes or fears, but to rest satisfied with what we have, which is abundantly sufficient." –Seneca
If your mind is at peace, you are happy. If your mind is at peace, but you have nothing else, you can be happy. If you have everything the world can give – pleasure, possessions, power – but lack peace of mind, and you're constantly anxious, you can never be happy.
Hospitality is medicine for the soul
Start where you are today, friends, and enjoy the present.
When we're done hosting a dinner, I always feel so happy. My soul feels happy.
People don't realize it, but it's actually medicine for the soul. You give out, extend yourself greatly (hosting is no easy task), and it pays off, especially if there is transparency around the table.
Friends, I feel it's time for more transparency, more openness, extending our tables with love and grace!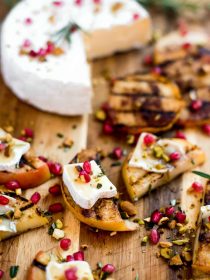 Get the Recipe: Grilled Apple Pistachio Pomegranate Brie Bites
Ingredients
2 Fuji or honey crisp apples
Cinnamon to sprinkle
2 tsp rosemary, finely chopped
Oil to coat—grape seed or avocado oil
4 oz Brie cheese cut into 1x1 inch pieces
1/3 cup pomegranate seeds
1/3 cup chopped pistachios
Salt to garnish
Instructions
Preheat grill on high.

Cut apples into 1/2 inch rounds, then coat in oil (this gives you the grill marks).

Place apples on grill and lightly sprinkle with cinnamon and nutmeg. Grill apples for 1-1 1/2 minutes on on each side.

Remove from grill, cut in half, then top with Brie, pistachios, rosemary, pomegranate seeds, and a pinch of salt. Serve while warm.
More festive appetizers: Easy Cheese Fig Spread Appetizer [RE], Pressure Cooker Cranberry Pecan Baked Brie [Pressure Cooking Today], and Kahlua-Pecan-Brown Sugar Baked Brie [Noble Pig].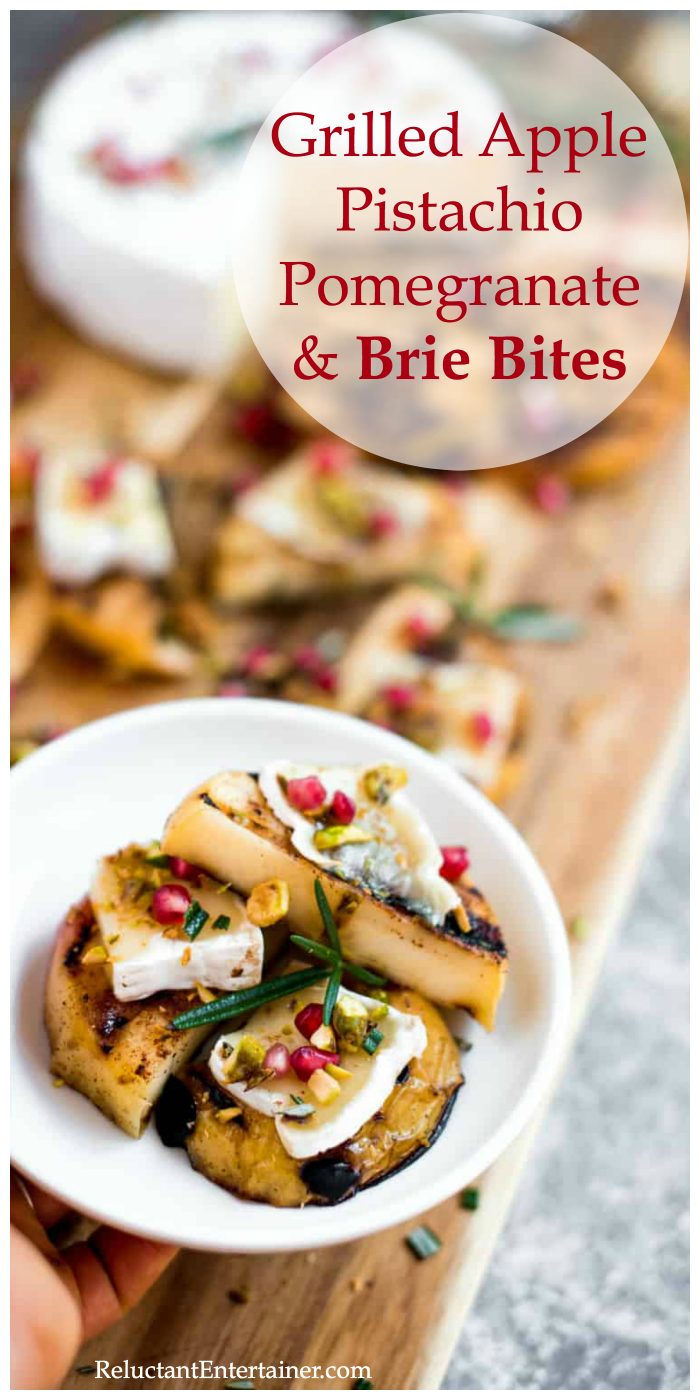 Hello and welcome to my home and table!
I'm Sandy—lover of food, family, cooking, THE BIG BOARD, travel, and bringing people together. Through great recipes and connection around the table, we become better, stronger, and more courageous people. Feasting on Life is real, and every time we do it, we grow a little more. Read more...