Baked Marmalade Brie with Spicy Pecans
Baked Marmalade Brie with Spicy Pecans is an appetizer recipe served with your favorite crackers or baguette bread, and Sweetened Dried Orange Slices! WATCH THE VIDEO!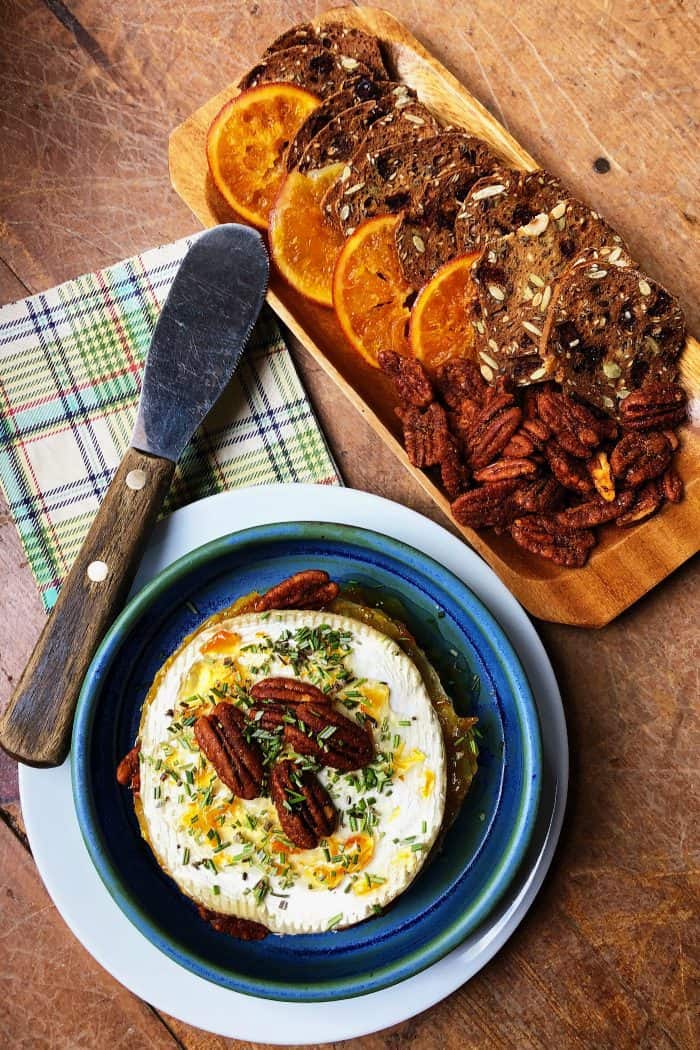 We've found that living happy lives means practicing community in our home, around our tables, and sharing what we've been given with others. Looking for a great appetizer to start off a party? You may have tried my popular Baked Lemon Pistachio Brie or Brie-Stuffed Cranberry Turkey Burger Recipe (that's right, brie in the middle of a burger – YUM!)
Baked Marmalade Brie
You'll love this easy Baked Marmalade Brie with Spicy Pecans. I always keep marmalade stocked in my pantry, just so I'm ready for this recipe!
Hospitality really does go further than a gourmet meal and a pretty setting. To me those are fun, but the heart of the matter is that connection—sometimes a soul connection, a connection with words, a physical connection.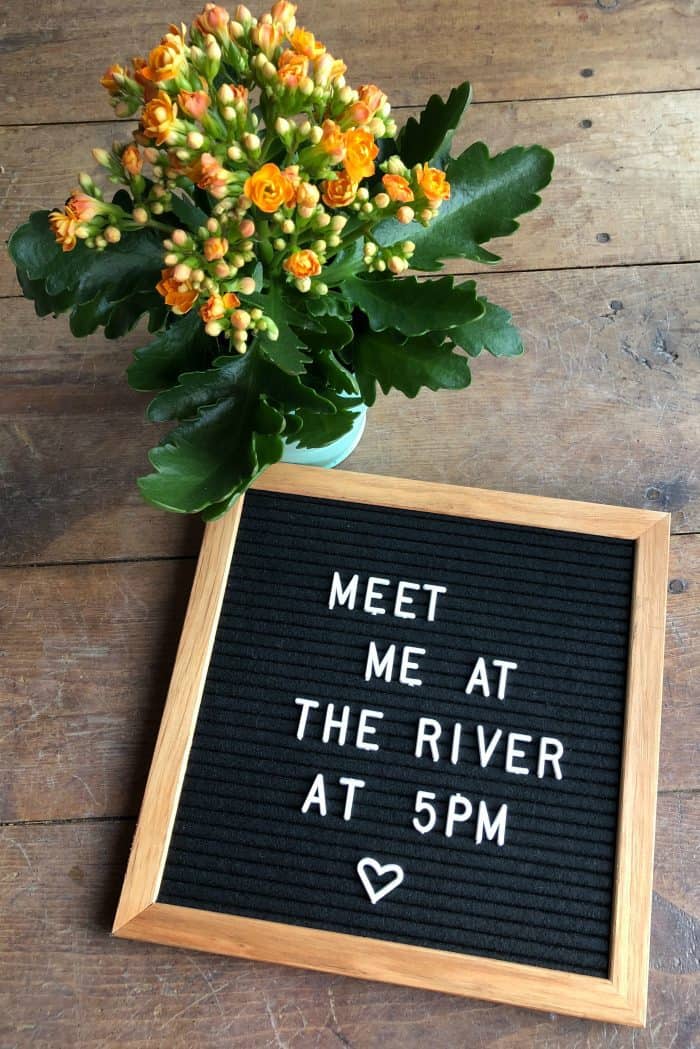 Of course more importantly, if your marriage isn't in order, then it's almost impossible to have a happy home.
A few weeks ago I surprised my hubby with a note, to "meet me at the river at 5 pm."
I rode my bike to the river, with a yummy appetizer and wine in my bike basket.
Baked Marmalade Brie with Spicy Pecans
Pulled out a tablecloth, this Orange Marmalade Brie with Pecans appetizer, and set up the wine.
And I waited.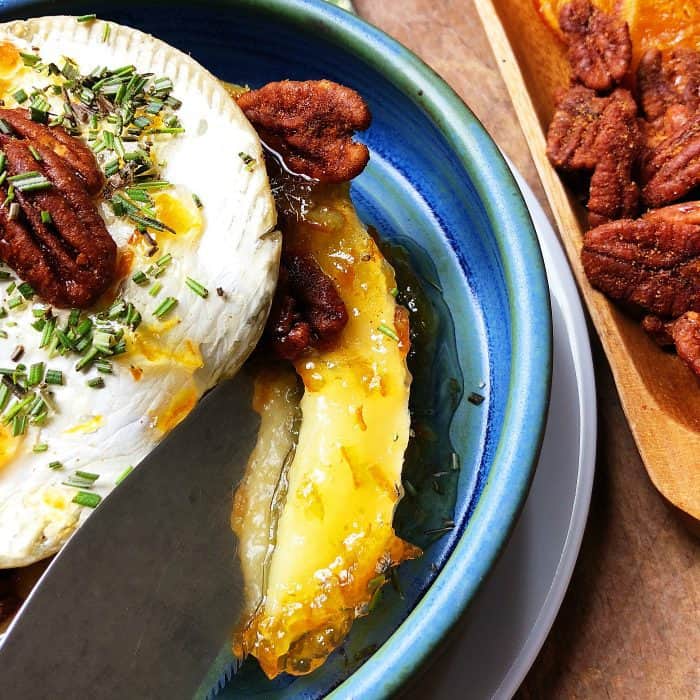 So fun, we enjoyed nibbling on a few bites, and sipping wine.
Keeping "surprise" in marriage is so important. We can get all comfortable and never try new things, or we can venture out and take a risk. Moving over to Bend was taking a risk for us, and our family. But we tried it.
Great things never come from comfort zones. Right?
I hope this post today inspires you to do something new with your spouse, partner, or a friend in your life!

How to bake brie
Preheat oven to 375°. Place
Brie in a small baking dish, or place the brie on a sheet pan covered with parchment paper.
Bake until warm and just softened (about 10 minutes), or until it starts to ooze but not melt.
Get the Recipe: Baked Marmalade Brie with Spicy Pecans
Ingredients
1 small, 8 ounce round of brie
1 cup spicy pecans, we buy at Trader Joe's, or you can make your own
1/3 cup orange marmalade + 2 Tbsp.
Fresh rosemary, finely chopped
Sweetened Dried Orange Slices, I buy at Trader Joe's
Thinly sliced baguette, for serving, or favorite crackers (we love Lesley Stowe Raincoast Crisps Cranberry and Hazelnut Crackers)
Instructions
Preheat the oven to 375 degrees. Place brie round in an ovenproof serving dish. Or, lay parchment paper down on a baking sheet.

Slice the top of the brie round off, cutting inward to make a bowl. Remove the "lid."

Fill the bowl with the marmalade and 1/2 cup of spicy almonds. Place the "lid" on top, pushing down. (It's okay if a little bit falls to the side).

Bake for 10-11 minutes, or until the cheese inside the rind is melted and bubbly.

Spread the remaining 2 Tbsp. marmalad on top. Sprinkle finely chopped fresh rosemary.

Serve hot with your favorite crackers or baguette bread slices. Optional to serve with Sweetened Dried Orange Slices.
More brie recipes: Pressure Cooker (Instant Pot) Cranberry Brie Recipe [Pressure Cooking Today] or Blueberry Walnut Baked Brie [Boulder Locavore].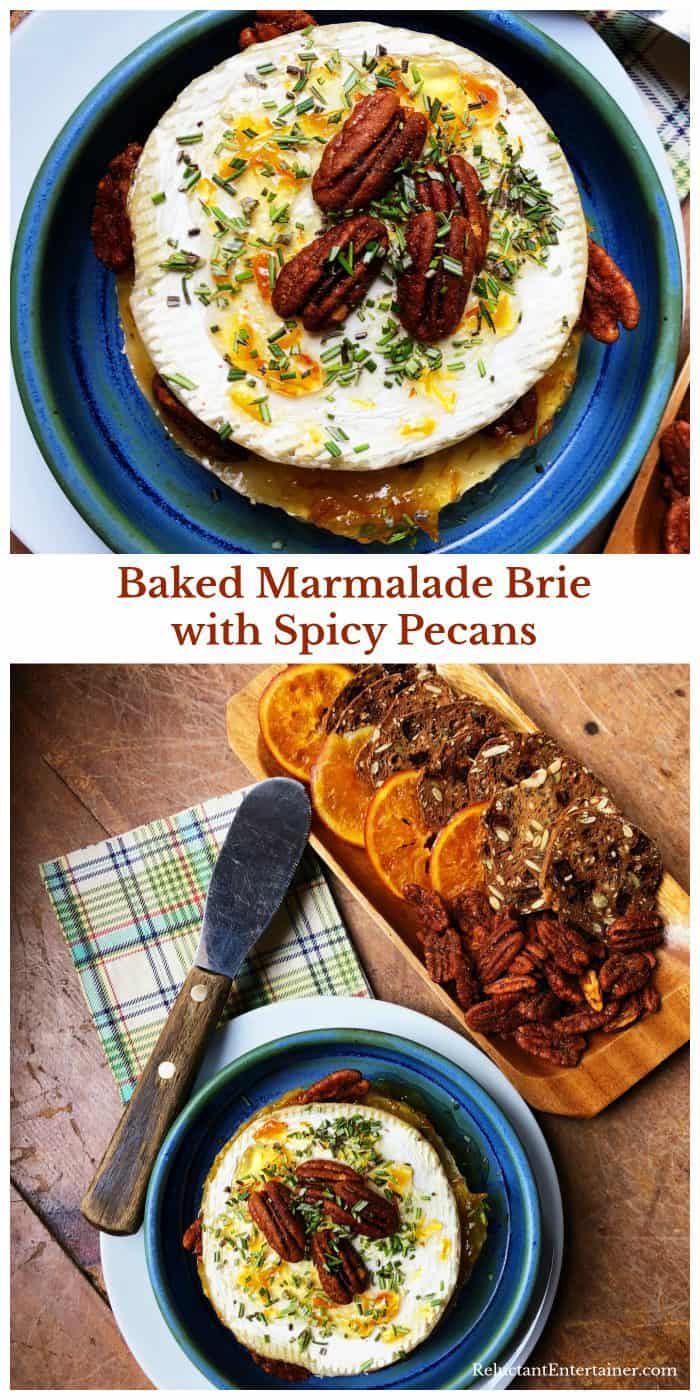 Hello and welcome to my home and table!
I'm Sandy—lover of food, family, cooking, THE BIG BOARD, travel, and bringing people together. Through great recipes and connection around the table, we become better, stronger, and more courageous people. Feasting on Life is real, and every time we do it, we grow a little more. Read more...