Pear Quinoa Salad for The Lemon Bowl's Baby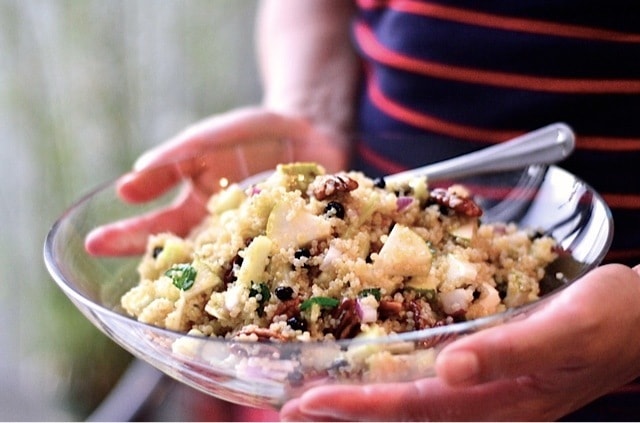 My friend Liz, from The Lemon Bowl blog, is having a baby boy!
Today I'm sharing a Pear Quinoa Salad that I'll be bringing to Liz's baby shower!
Since we're virtually celebrating Liz's shower, Kristen, Sheila, and Rachel coordinated a group of bloggers to share together in this lovely event, with an outstanding baby shower menu! (Link to recipes at the bottom of this post.)
Liz and I first met on a brand trip in Carmel, CA, earlier this year, and she was just newly pregnant. She's not only a breath of fresh air, but truly a giving, warm and vibrant person who loves to blog and share healthy recipes. If you haven't checked out her site and her "weightless story" – it's worth a click over.
Showers are fun, but buying the soft, cuddly gifts are even more fun for me. And a potluck shower is delicious, too. Everyone gets to participate which makes it easy on the hostess!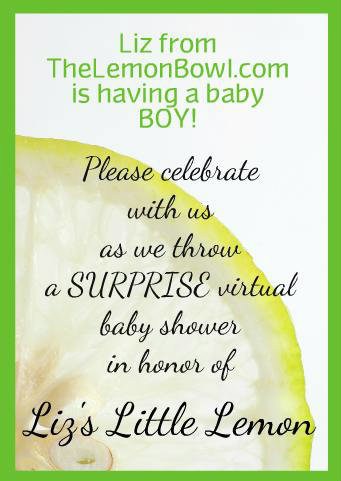 I love to think of this group of bloggers gathering together "in real life," celebrating Liz and her new baby boy, and enjoying each other's fabulous dishes.
I hope you enjoy my contribution: A quinoa salad with fresh pear. It's pear season here in Oregon, and having so many local orchards and pears to choose from, this dish is perfect for the season. It's very easy, light, and I like leaving the skins of the pears on. Just slice and serve!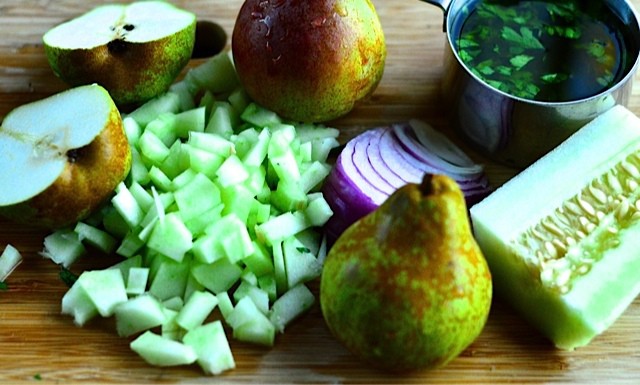 So, Liz, this salad and THIS DAY is for you!
Enjoy, and we can't wait for Baby Boy Croce to arrive and to join your wonderful family!
What's your favorite salad to take to a baby shower?
Pear Quinoa Salad
I cook quinoa ahead of time using my rice cooker. One cup of quinoa to 1.5 cups of water! Easy!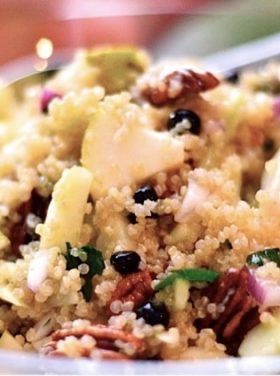 Ingredients:
1/4 cup chopped parsley
1/4 cup lime juice
1 tsp. agave nectar or honey
1 tsp. sea salt
1/2 cup olive oil
3 cups cooked quinoa
1 Tbsp. chopped parsley
2 fresh pears, cut into chunks
1/2 cup dried wild blueberries (optional)
1/2 cup spicy pecans, chopped
1/2 cup diced carrots
1/2 cup diced celery
1/2 cup diced cucumber
1/2 cup diced red pepper
1/4 cup chopped scallions
1/4 cup red onions, diced
Directions:
Mix the first 5 ingredients in a bowl; set aside.
Add the other ingredients together in a larger bowl.
Mix in the dressing. Garnish with parsley. Serve!
All images and text ©Sandy Coughlin for Reluctant Entertainer.
Enjoy more recipes from Liz's blogging friends:
Appetizers
Beverages
Salads
Main Dish
Desserts