Best Places to Eat in Maui
Heading to Hawaii soon and wondering what the Best Places to Eat in Maui are? Well you're in luck, because we recently visited the beautiful Island of Maui, Hawaii for sixty days! That's right, 2 whole months of beauty and drool-worthy places to to eat in Maui!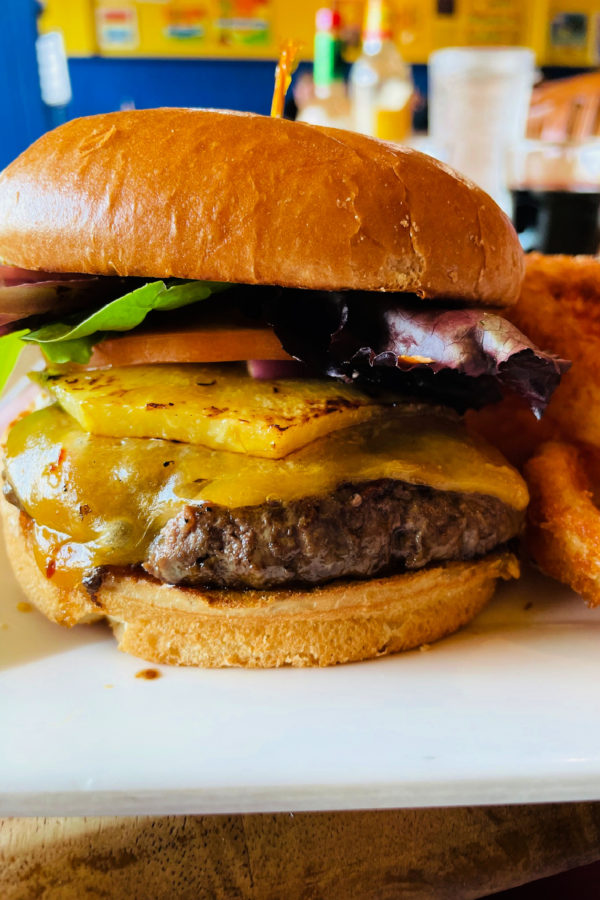 I'm a huge lover of Hawaii. I just can't get enough of the islands. Our last time we visited was a short visit to Ohua (SP) and then in 2015, we spent a week in Kaui. This time we had plenty of time to check out to many incredible places, from Mama's Fish House to Kula Bistro (two of our favorite spots).
We've visited all the great beaches, so many amazing restaurants, and my husband even rode to the top of Haleakala two times on his bike. We checked his bike on (like a piece of check-on luggage) on the plane with no problems. We even bought Apple air tags to track the bike.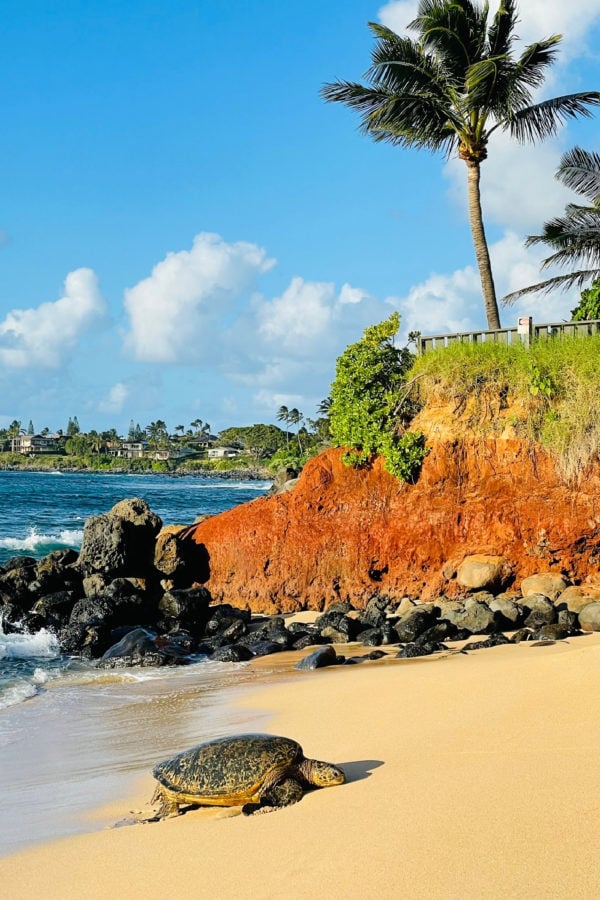 Best Places to Eat in Maui
When it comes to food, Maui does not disappoint. Since we stayed in the Paia area, we visited almost all of the restaurants in that area. Sadly, Lahaina was also a favorite, and in the spirit of remembering, and praying for the community and the rebuilding of this beautiful area–we hope that many of the restaurants will be rebuilt. We have not forgotten the people of Maui. We feel it would be wrong to not include our favorite places that we enjoyed.
We came home from our trip inspired by Hawaiian recipes, and love this Hawaiian Pineapple Bread, this chicken recipe, these burgers, and a pineapple coleslaw. Delish! Let's just say we love Hawaiian food!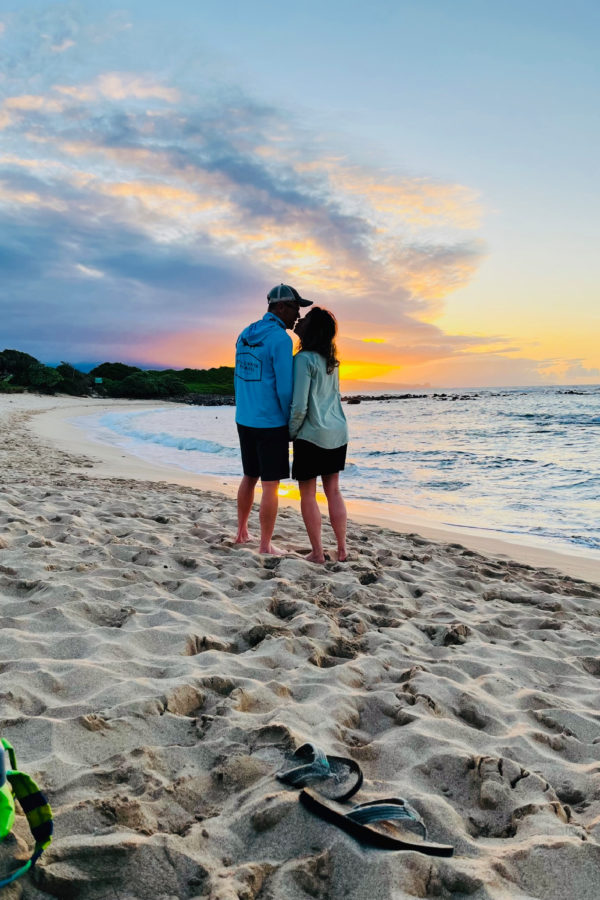 Along with eating, we enjoyed the beach, beautiful Maui Sea Turtles, hiking, the Aquarium, visiting churches, bike riding, site seeing, people watching, snorkeling, and so much more!
Did you know that Maui is Hawai'i's second largest island? We visited Kauai 8 years ago (hard to believe it's been that long), and loved that island, too.
The resort areas of South and West Maui feature the majority of the high-end restaurants, but the smaller neighborhoods, like Paia, have just as good food. Don't forget the foodtrucks that are in Kihei to Kahului, where you'll find some of the island's best food.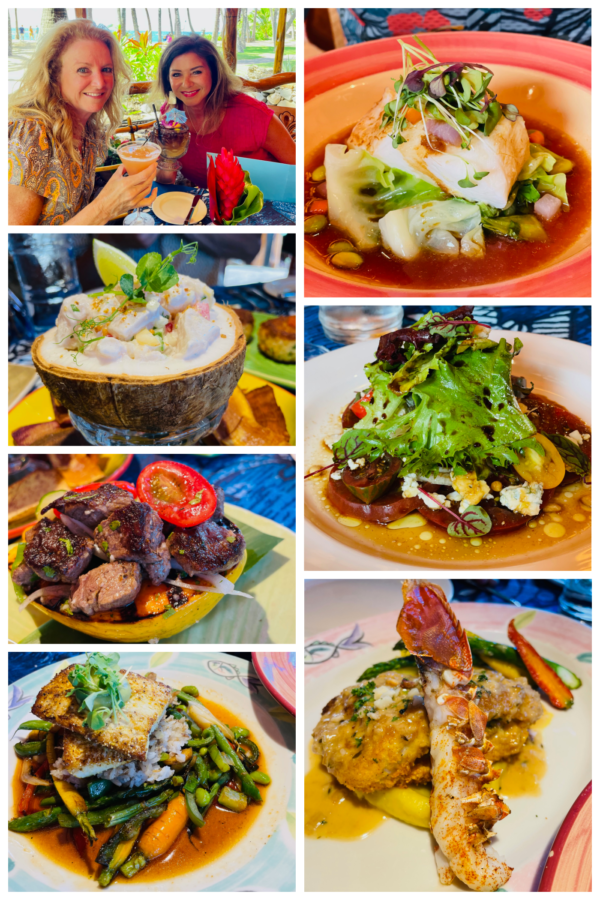 Paia, Maui
KUAU STORE
Right up the street from where we stayed was the Kuau Store. We loved this place for lunch plates, poke bowls, and twice a week they sold freshly made Sour Dough Bread. Some say that they have the best poke in Maui. You can also get slushies, hamachi kama or Japanese curry, and fresh tuna sashimi and poke by the pound.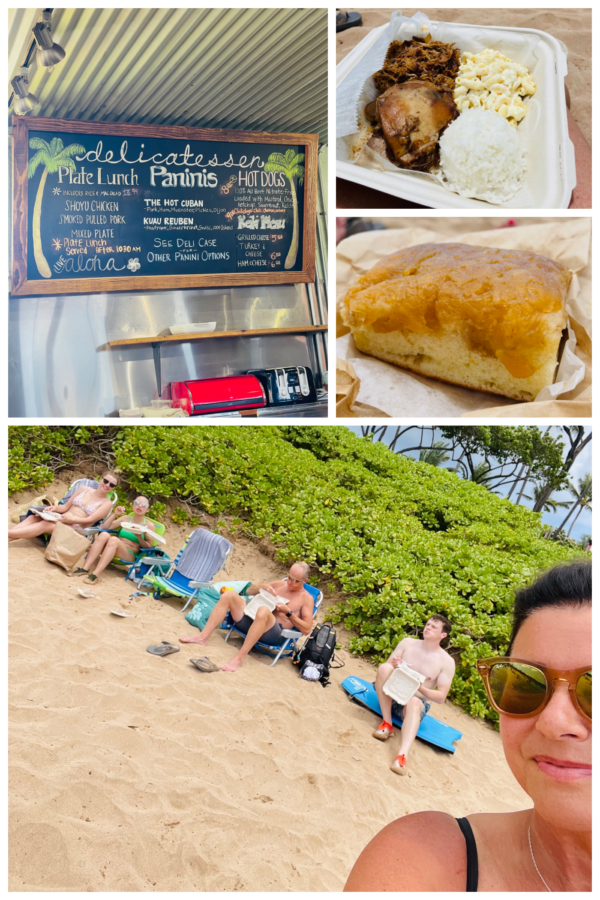 MAMA'S FISH HOUSE
Mama's is a Maui landmark as they have been serving seafood in this same location since 1973. The location is only steps from the sand at Kuau Cove, and it's a great place to take incredible photos. The restaurant is very upscale and spendy. In order to get a reservation, you need to book months in advance. Also there is a great tip: Walk-ins may grant you a place a the bar, or a late lunch reservations. We were able to go two times while we were there for 2 months.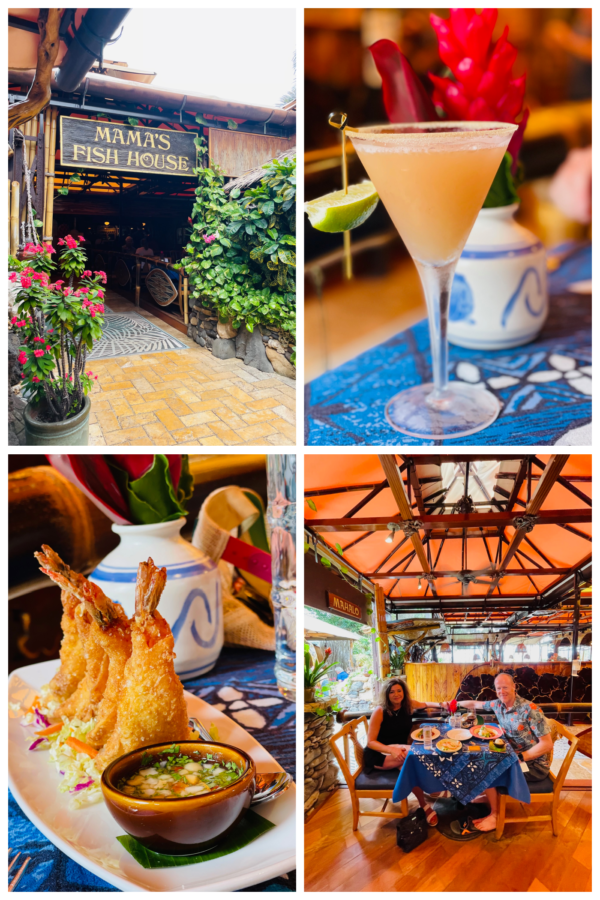 PAIA FISH MARKET
Paia Fish Market is so popular that they've recently expanded to locations in Kihei and Lahaina (we are hoping they will rebuild there). But Paia is the "original" and we ate fish tacos at least once a week. The spot is the original that opened 30 years ago, and everything on the menu is incredible–from the fish tacos to the burgers, dinner plates, quesadillas, clam chowder, and more.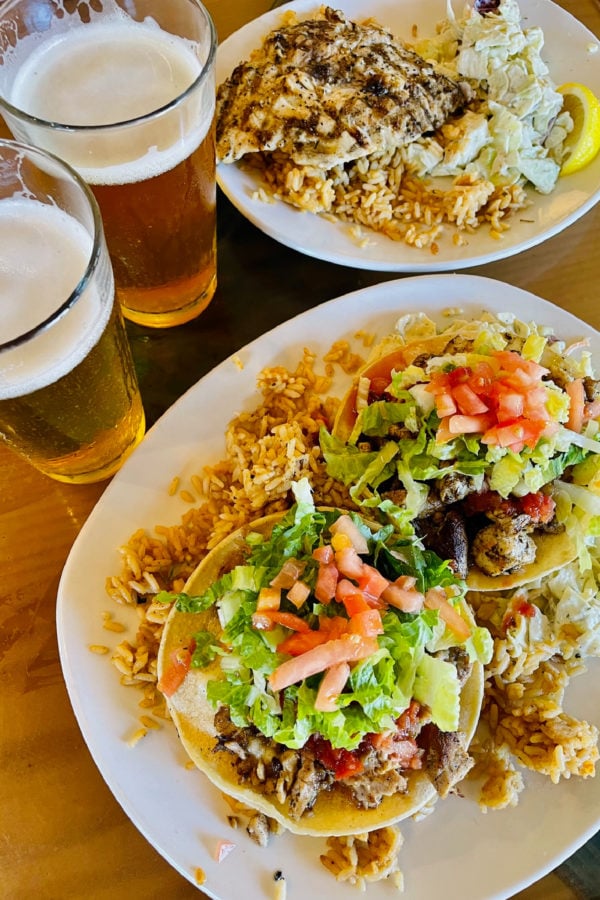 LIMA COCINA + CANTINA
Lima is Maui's first restaurant and bar featuring traditional Peruvian cuisine. They are known for their authentic Ceviche bar and best in class cocktails, such as the famous Pisco Sour and a slushy Pisco Punch. I had both of these drinks, and they were fantastic. It's a really fun place to take your friends to happy hour!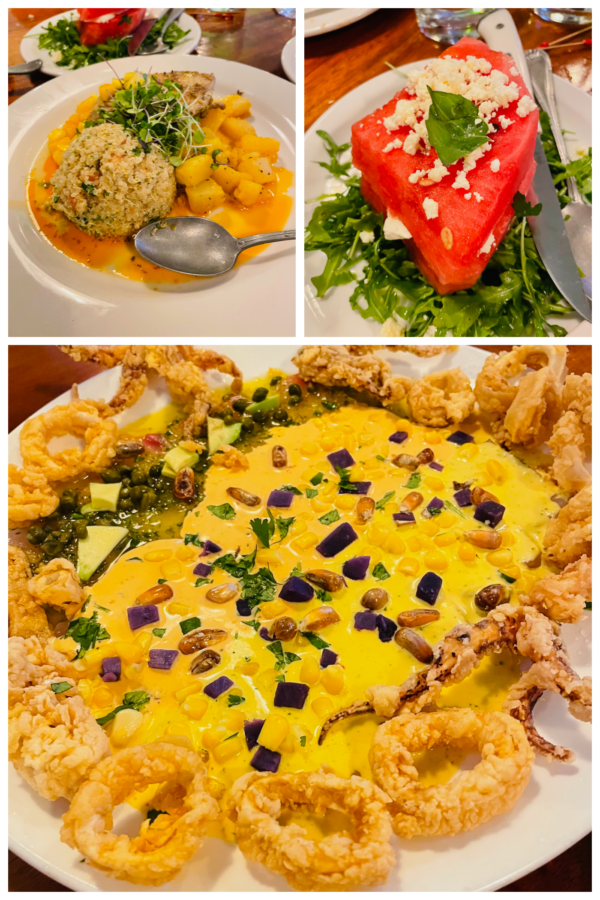 VANA SUSHI
Located right in the center of Paia, VANA has the best menu with Japanese inspired dishes made with locally grown ingredients. They are known for their Jade Bar and a unique dining experience underneath the gorgeous Hau Tree (an outside area), with white string lights. This is a very classy restaurant, and one night we enjoyed live music.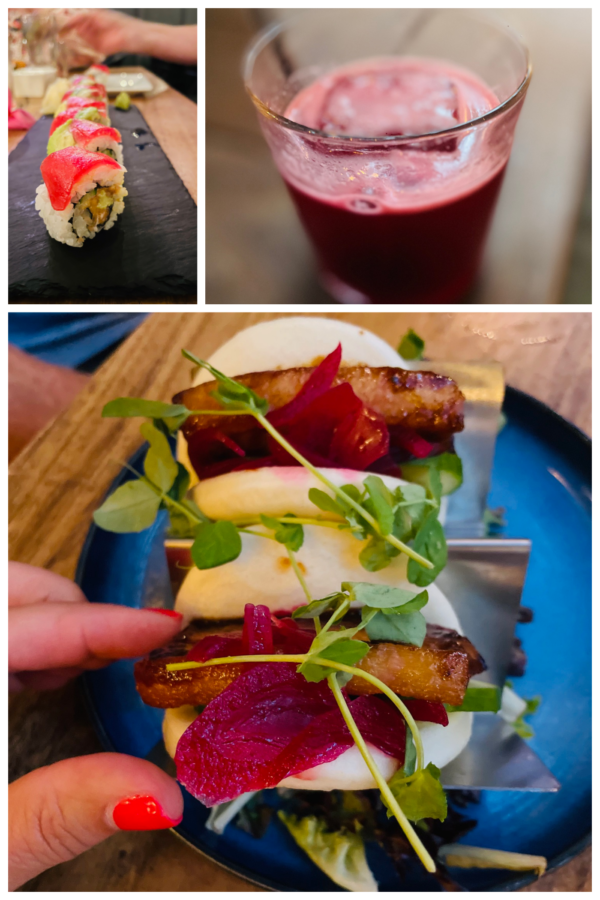 CAFE MAMBO
This cafe is a family owned restaurant in the heart of Paia Town, with delicious burgers and fajitas. The windows open up to the outside (breeze) and it's a fun casual place to visit.

CAFE DES AMIS
In the heart of Paia is the very cool Cafe Des Amis restaurant that serves Mediterrean, French, and Indian food. We enjoyed dinner here several times, and enjoyed their amazing hummus platter and specialty cocktails.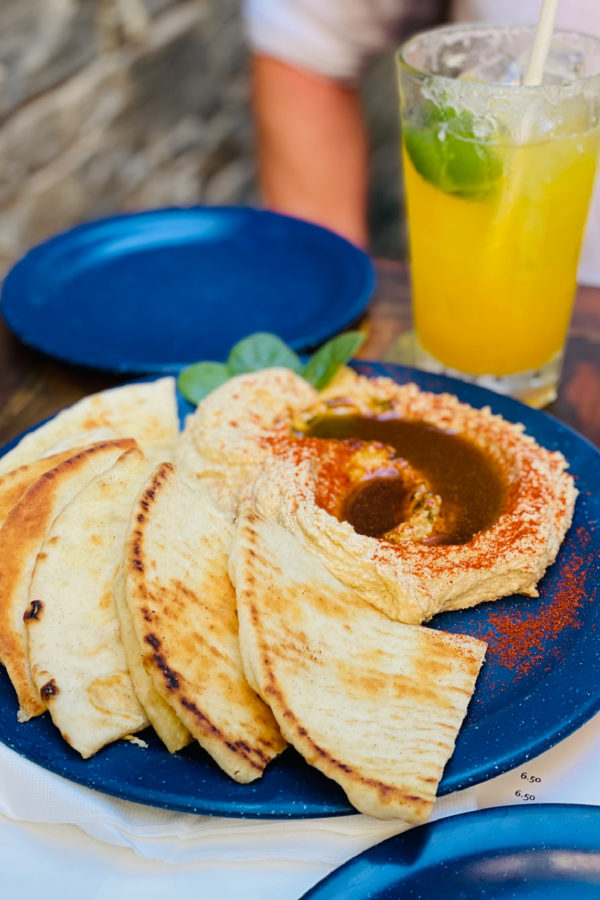 BETTER THINGS
Better Things is a coffee shop "a short walk" from the front street of Paia, with friendly staff and a good vibe and delicious vegan/GF options. Their cinnamon rolls are out of this world.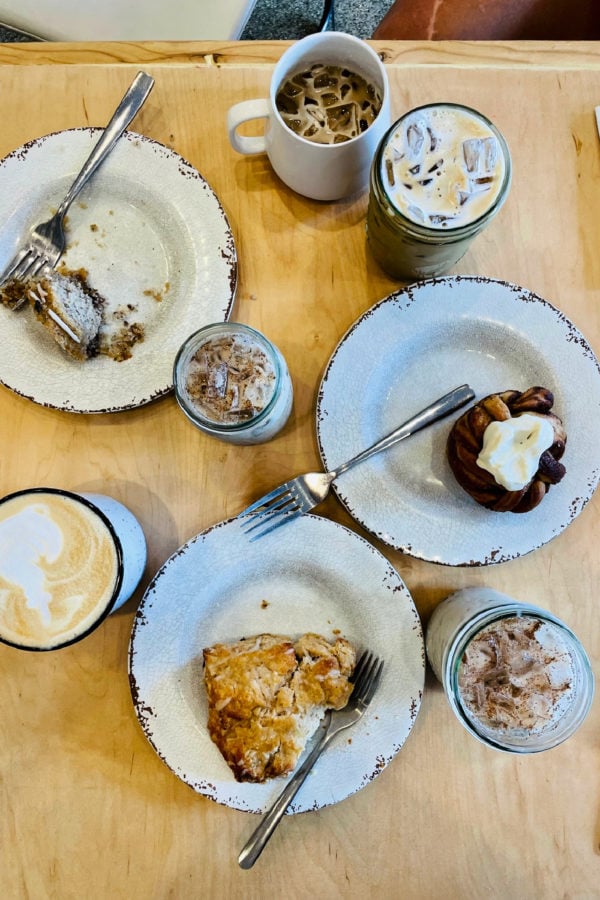 PAIA BAY COFFEE & BAR
This coffee bar is open for breakfast, lunch and dinner. All the food was good, and the coffee is top notch. What we really loved was the open-air dining, big open decor with a cool vibe of the whole place. On Sunday they have high-end jazz playing for several hours. At night, great bands played as well. You can also use the walk-up window for coffee and pastries, and it's on the way to Hana, on the Hana Highway.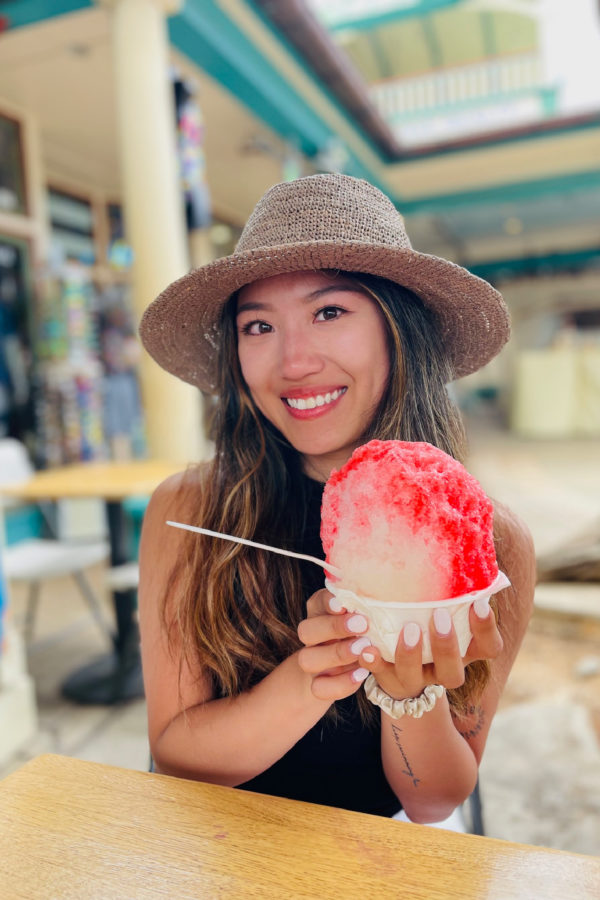 TOBI'S SHAVE ICE
There is more than one place to get shave ice on Maui, but the only place we recommend is Tobi's Shave Ice. Their ice shave is so fine, the cones are massive, and they have the best variety such as pickled mango, lychee & passion fruit.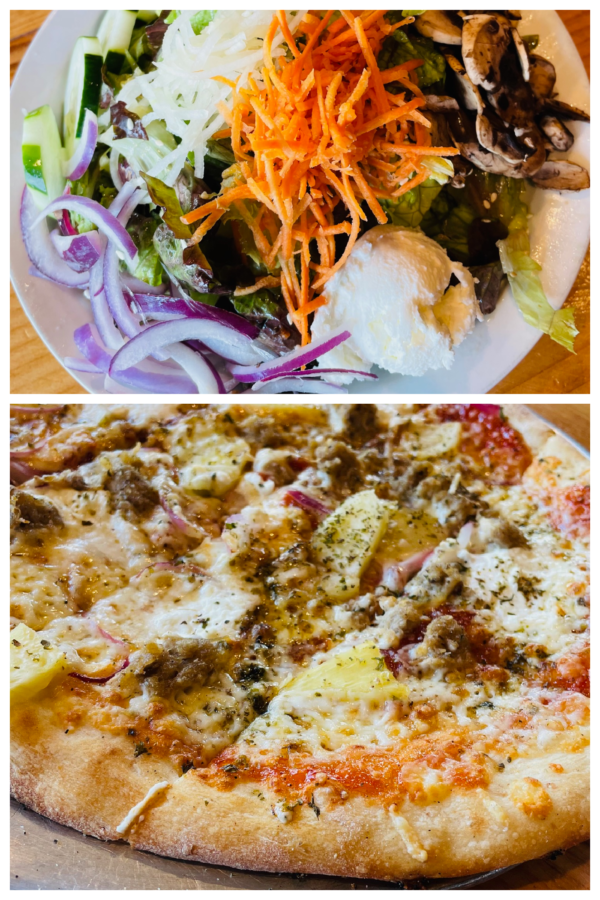 FLATBREAD PIZZA
Go early to get a table, because this place is always packed. They specialize in pizza and their salads are amazing, too. Try all the Hawaiian pizzas – they are outstanding.
Kula, Maui places to eat
KULA LODGE
The Kula Lodge is a popular place to eat for those who make the trek up to the top of Haleakala to watch the sunset. We enjoyed one meal, after my husband rode his bike to the top of Haleakala and then descended down to the lodge. It was good (but not as good as Kula Bistro) and over-priced. But the ambience outside is very cool. We took a stroll through the garden and enjoyed a pizza.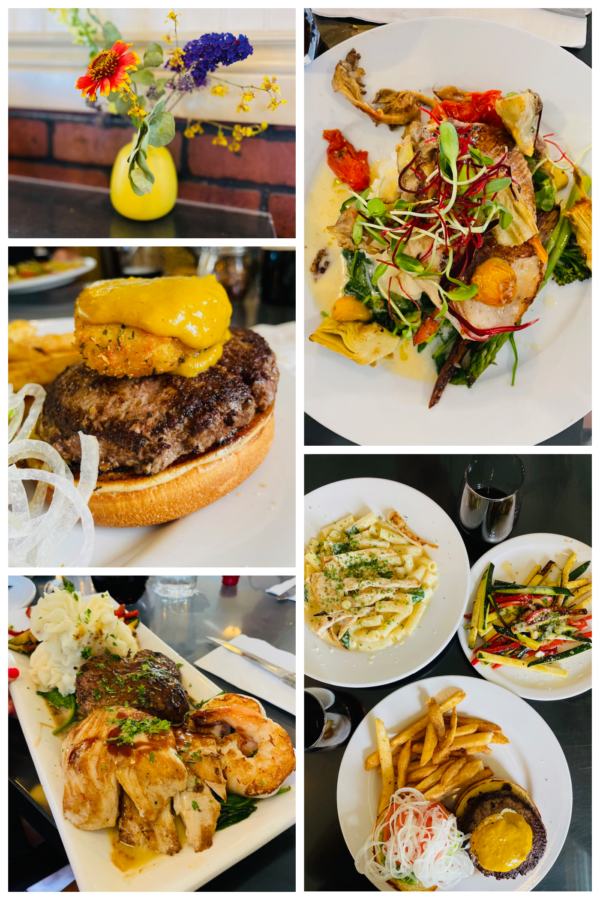 KULA BISTRO
Kula Bistro is a cozy restaurant on Lower Kula Road in Upcountry Maui. We discovered this restaurant by chance, and it remains one of our favorite places to eat in all of Maui. They do not take reservations (walk in only) and the entire menu is stellar, and the desserts are some of the best of Maui. Really–the sweet potatoes, the fish, the burgers, and the many desserts to choose from? You will most likely take a doggie bag home.
And so you know they have some of the best desserts on Maui? Their pistachio cake, and their macaroons–are out of this world.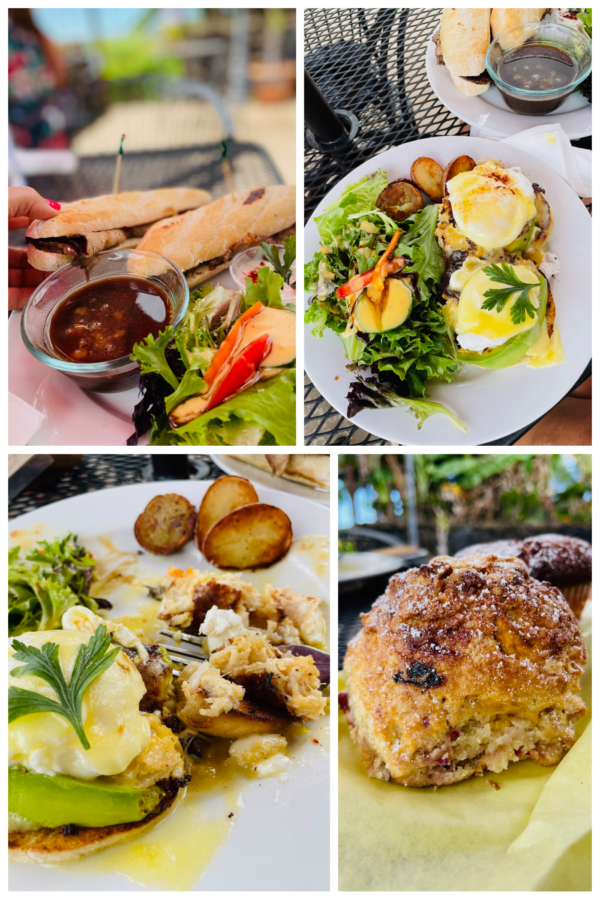 LA PROVENCE
The last day (we saved the best for last), we ate brunch at La Provence in Kula. OH MY. What a treat. The eggs benedict were amazing and probably one of my favorite breakfast meals I have ever had! The coffee was also great and the pastires are subperb. NOTE: You have to pay with CASH for the meal.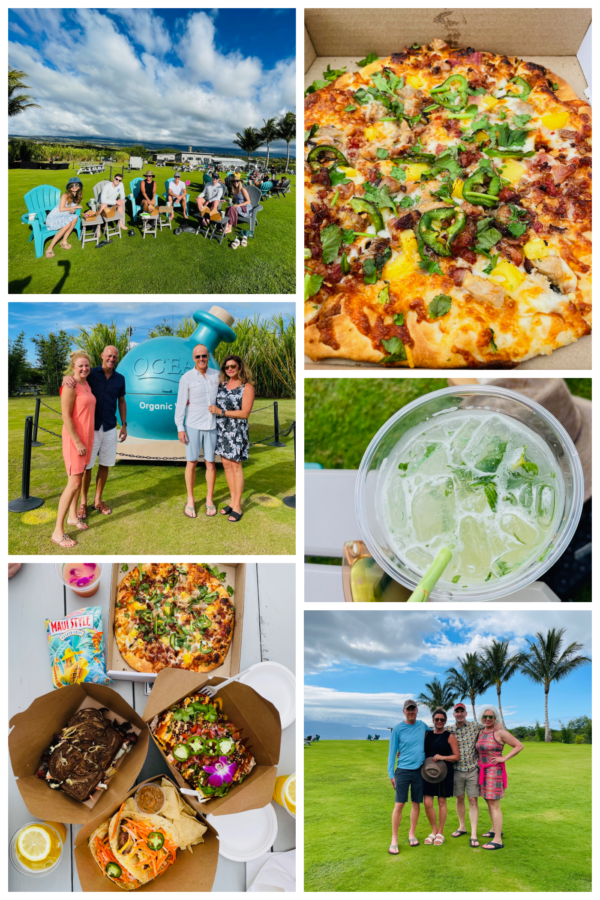 OCEAN VODKA
We took all of our guests to Ocean Vodka Distillery. It's owned by the Smith Family (farm), on 80-acres of breathtaking views from the slopes of Haleakala. You can also get to this beautiful destination from Maui's International Kahului Airport, as well as the island's world-famous resorts. You sit outside in Adirondack Chairs, listening to live music, sipping on your cocktail, and overlooking the amazing valley. There were lots of birthday parties and family gatherings with picnic tables and a huge area of soft, beautiful green grass.
Ocean Vodka offers breathtaking views, but delicious foods, like pizza, ahi nachos (out of this world), sandwiches, and their specialty vodka drinks. Plus they have a retail store featuring their spirits and merchandise.
Kahului, Maui
TIN ROOF MAUI
Tin Roof Maui is one of Maui's best lunch counters in a strip mall next to an auto parts store. It's not what you expect, but it's the best place for take-out. Their food is out of this world, and you can order online, and skip the line.
HAVENS (food truck by Costco)
Let's just say that Havens has the best burgers. Choose between wagyu chow fun, smashburgers, and spicy tuna and garlic crab handrolls. If you're shopping at Costco, save room for a burger from Havens!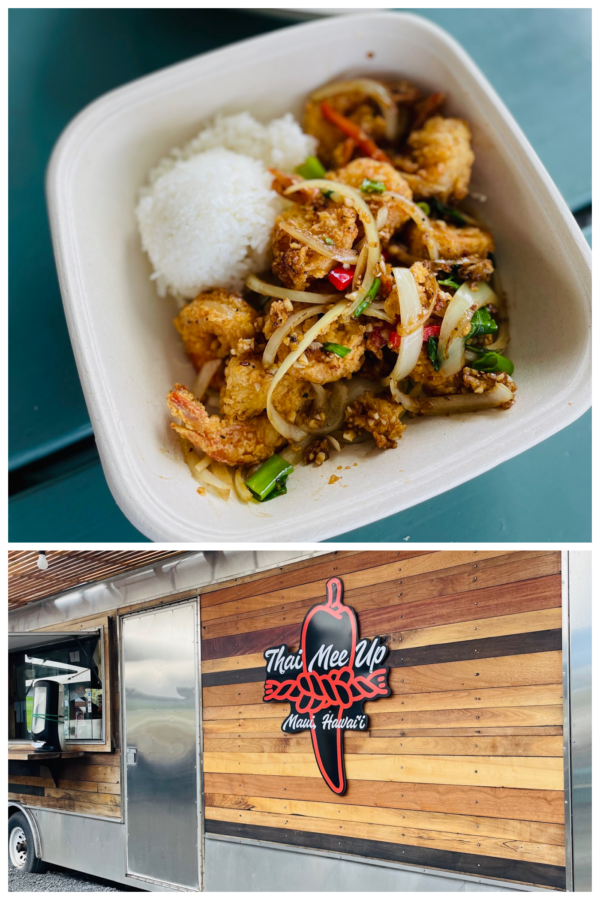 THAI ME UP (food truck by Costco)
After we shopped at Costco, when arriving at the Maui airport, we grabbed lunch at Thai Me Up. The Thai food is so fresh with traditional dishes (like Pad Thai), but we give it a solid A. The food carts are about 10 minutes from the airport.
Lahaina, Maui
We started working on this post and writing about our favorite places before the devestation of Lahaina's fire. We will continue with our recommendsations in hopes that each restaurant will be rebuilt, and a vibrant part of Lahaina again. Our prayers continue for Lahaina–the community and all of the people.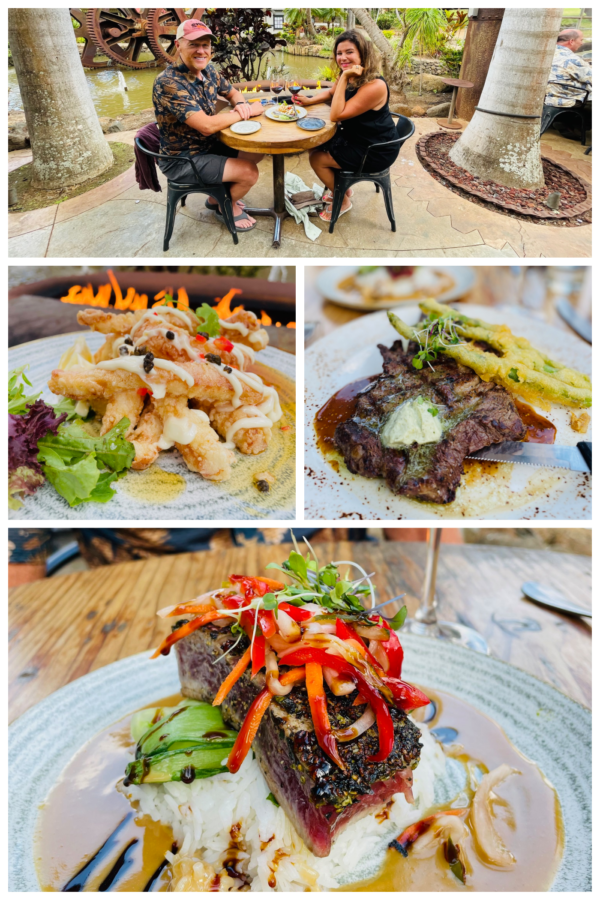 CAFE O'LEI AT THE MILL HOUSE
What an amazing dinner place, located on a beautiful plantation at the foot of a mountain, as the service, food and ambience were excellent. The food was fresh, authentic and presented beautifully.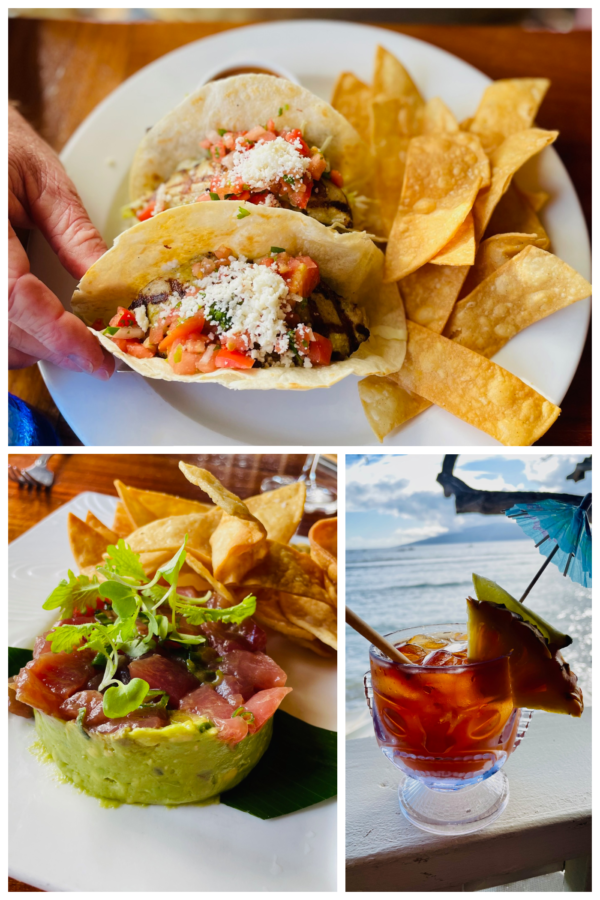 LAHAINA GRILL
We took our kids to Lahaina Grill. Known for their cocktails, they also have amazing seafood (all options). On the spendier side, every dish was divine!
DOWN THE HATCH
Down The Hatch serves breakfast, lunch, dinner, or happy hour! They serve the most delicious fish in the islands, with happy hour specials and affordable prices. After a long hike, we drove to Lahaina for these amazing tacos!
KIMO'S
We enjoyed a delicious seafood dinner with a refreshing drink along the Maui waters. The spot with the harbor views was incredible. They were known for their famous Hula Pie dessert and prime rib. Instead of a bread basket, like a typical restaurant would serve, they serve carrot cake muffins (which truly tasted like dessert), with rich creamy butter.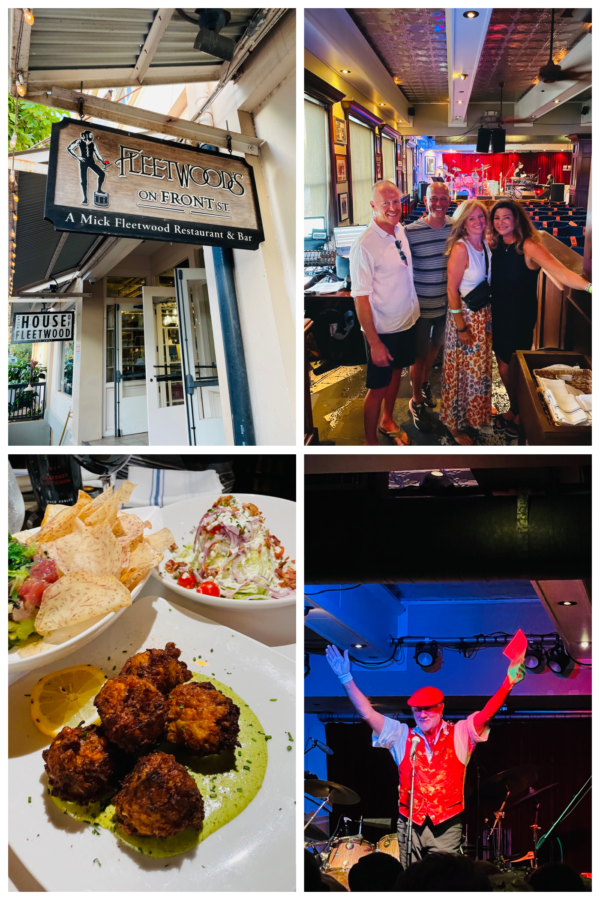 FLEETWOODS
How exciting that we got to meet Mick Fleetwood, the drummer of the band, Fleetwood Mac, at his restaurant with a rooftop bar. The building, both above & below ground, is awesome! Roof top dining is amazing, and the food, and views are top-notch. We also enjoyed a meal inside because we had tickets to his concert. It was a fun experience to have great seats in such a small venue. I'm friends with his lead singer to his band now, Getchen, on Instagram. What a great memory. We pray that Fleetwoods is rebuilt and that it brings even more joy to the community and tourists that come from afar to hear such a legend.
Oh, how we loved our dinner at Fleetwoods. We were also very lucky to get tickets to watch one of Mick Fleetwood's last concerts in Lahaina.
LAHAINA FISH COMPANY
Lahaina Fish Co. was one of our favorites with fresh-caught Hawaiian fish and local favorites. Everything was not only beautiful, but so tasty. And fabulous ambience.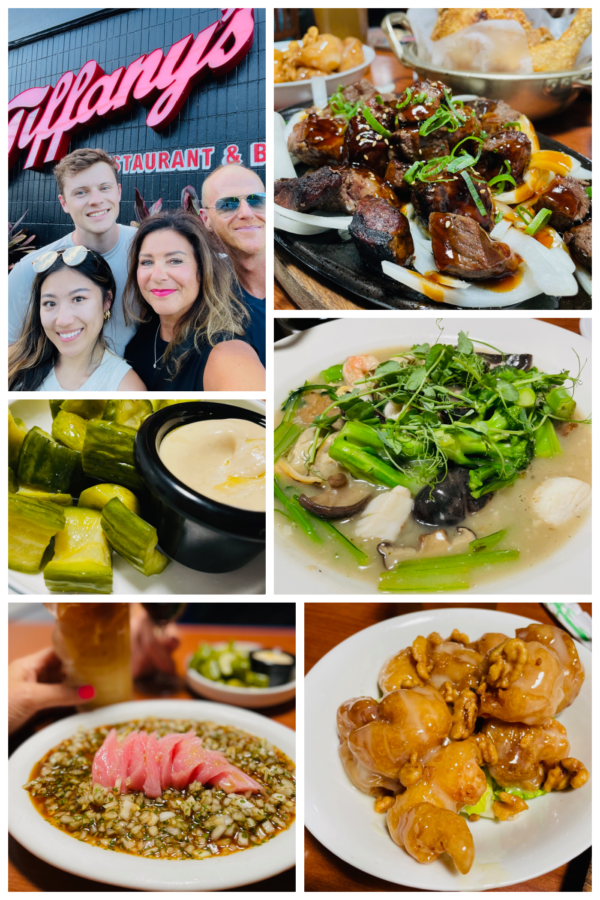 Wailuku, Maui
TIFFANY'S CHINESE CUISINE
Tiffany's has been a mainstay in Wailuku for over 20 years. We enjoyed the drive to a new part of Maui, a side we hadn't visited yet. Their menu has of over 50 dishes and we ate here twice. The new owners brought Thai, Chinese, and Indonesian cuisine to the menu, and some of our favorites were the walnut chicken, butterfish, crinkle-cut fries topped with truffle, parmesan, and pickles and dip.
Napili, Maui
SANSEI SUSHI
If you're looking for great sushi you can get it to go or dine in (VERIFY) from sushi topped with mangoes, shrimp cakes, or miso-marinated butterfish. Butterfish was our very favorite fish on the whole island. Everywhere we went, we were recommended to get it, and we indeed did. It's so soft and tender and the flavor is out of this world.
You also can't go wrong with the Panko Crusted Ahi Sashimi Sushi, Sansei Shrimp Dynamite, and the Seared Ahi Salad.
MAUI TACOS
How many times can you eat at Maui Tacos? As many as you want. Maui Tacos is like the "fast food" on the island. They have every option of Mexican food, and of course, their fish tacos are the best!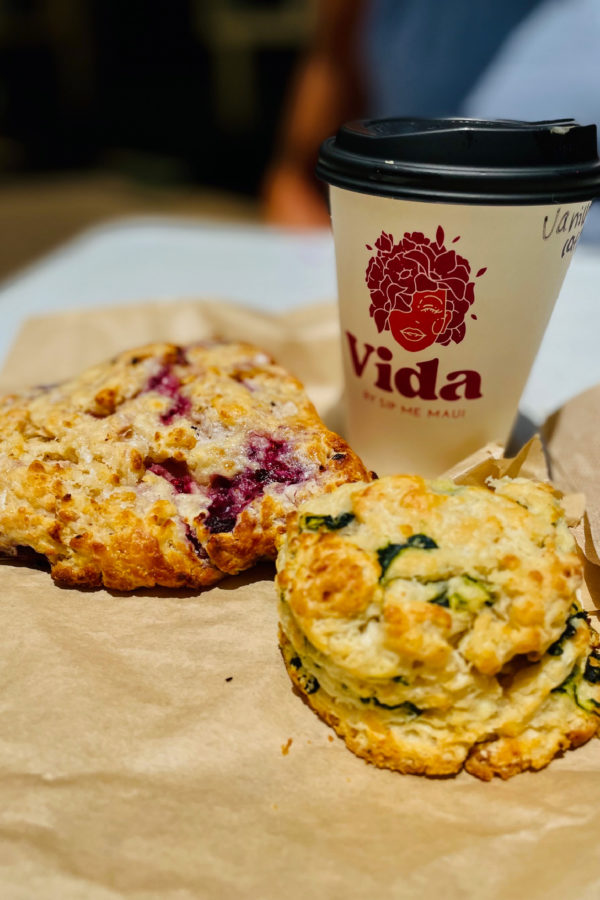 Makawao
VIDA BY SIP ME
This coffee shop offers delicious specialty lattes, delectable pastries in a spacious courtyard right off Baldwin Avenue!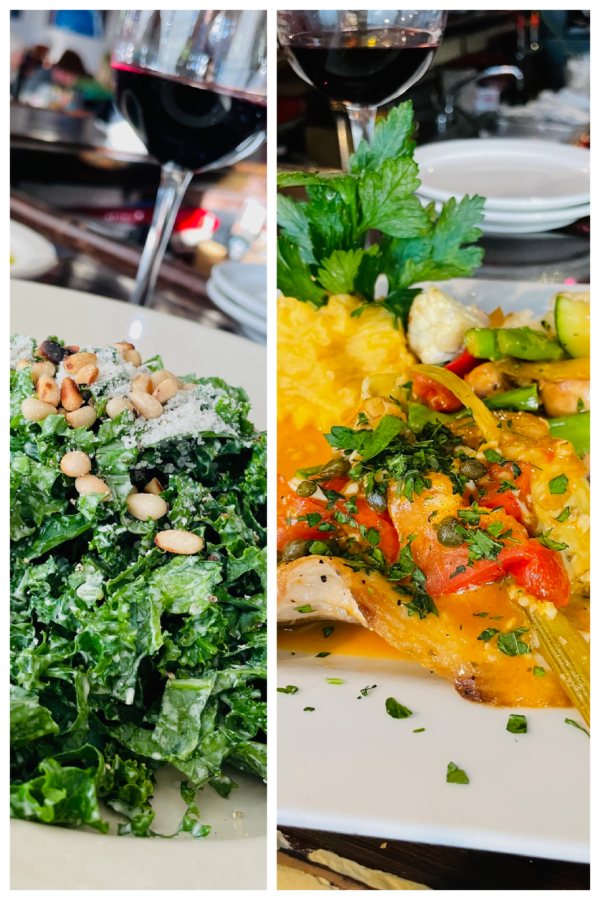 CASANOVA ITALIAN RESTAURANT
In the quaint little town of Makawao is this classic Italian restaurant known for their Italian wood fired oven and homemade dough, authentic Italian sauces, and delicious pizza. Their classic lasagna was soooo good, and also their fresh fish of the day, wiith a fresh kale salad.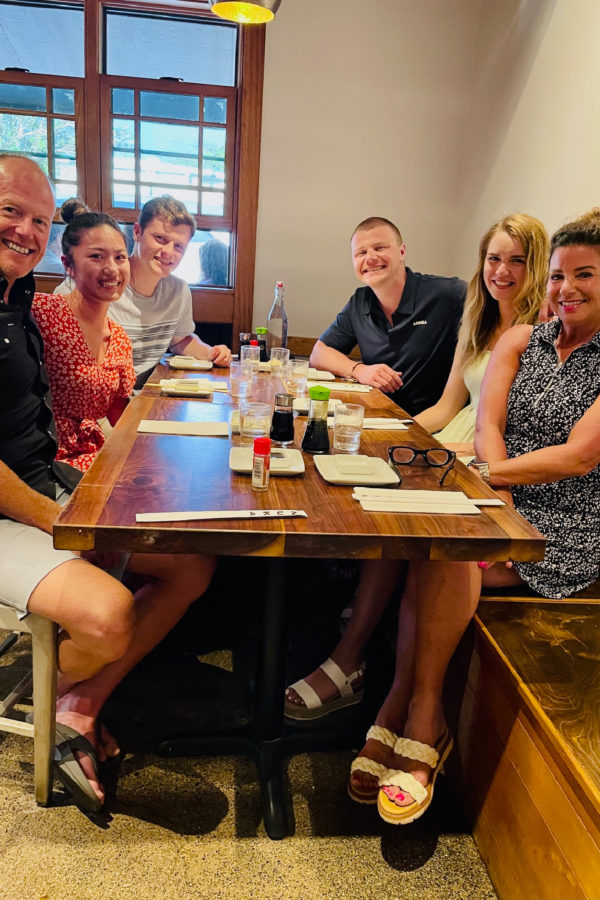 NUKA SUSHI
Nuka is up and around the corner from Paia, nestled in the small town of Haiku. They offer fresh sushi, both traditional and unique rolls, with Japanese-style ambiance.
We ate here several times, a local gem in such a cute neighborhood. With only seating for 50, the wait can be long (they do not take reservations). Get your name on the list, then walk across the street to get a drink. Try the Haleakala roll, it's baked and a real Japeanese treat.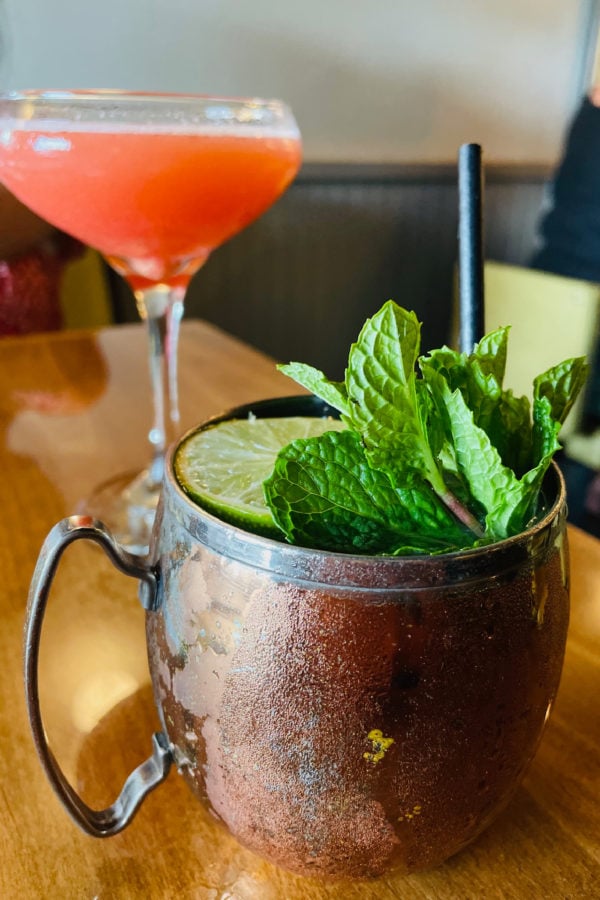 Wailea, Maui
FOUR SEASONS RESORT – DUO
Paul and I had the most wonderful meal at the resort for our 32nd anniversary at the restaurant, Duo. When you eat in their restaurant, you get to enjoy their private beach and the gorgeous view.
Great drinks, food, and ambience!
COCONUT'S FISH CAFE
Everyone said we had to try Coconut's Fish Cafe, and we loved it. Wild-Caught Fish, Hawaiian flavors, family recipes, and healthy options. The ambience is cute its one-of-a-kind surfboard tables, but you can also get take-out food. And the coconut shrimp was out of this world, and the fish taco mountain plate (huge taco without the shell) and poke bowl were delish.
MONKEY POD
We took our friends for lunch after a day at the beach. They have delicious drinks and appetizers, and the best kahlua pork and pineapple pizza, fish dishes and bulgogi tacos. Great location and ambience!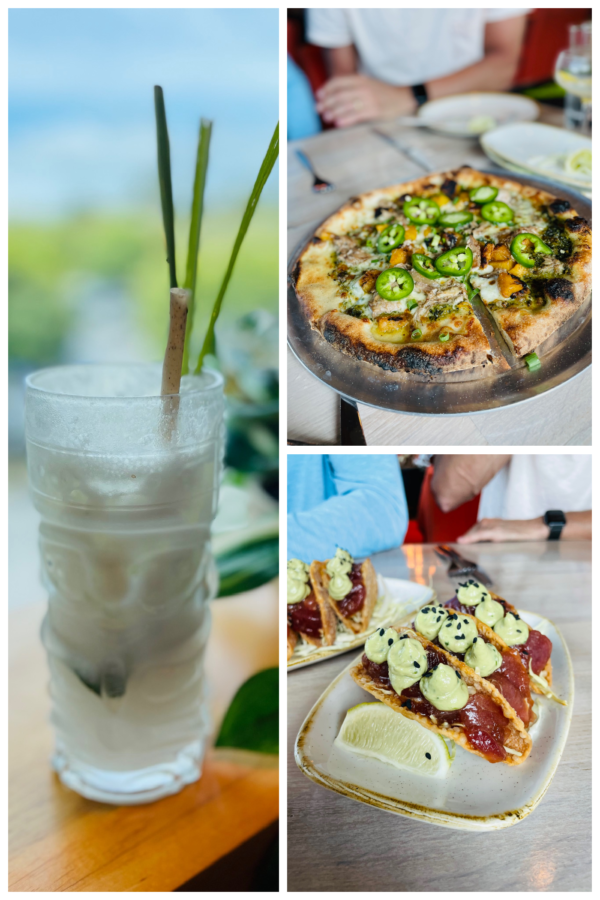 LINEAGE FUSION
A casual, modern Filipino & Hawaiian restaurant with shareable meals like the lion's mane liangban salad, Cantonese lobster noodles, or half a Korean fried chicken. They are known for their drinks, like the Da Musubi Man, a bacon-flavored bourbon, Byrrh, rice orgeat, lemon, and furikake–served in a Spam can!
If you want to attend a Luau:
I recommend the Old Lahaina Luau Maui. It's the most authentic luau in the Hawaiian Islands, with the best food. They serve a buffet of regional cuisine with plenty of food, starting with the kalua pig they unearth at the beginning of the evening, ending with chocolate dessert cups with lilikoi mouse inside.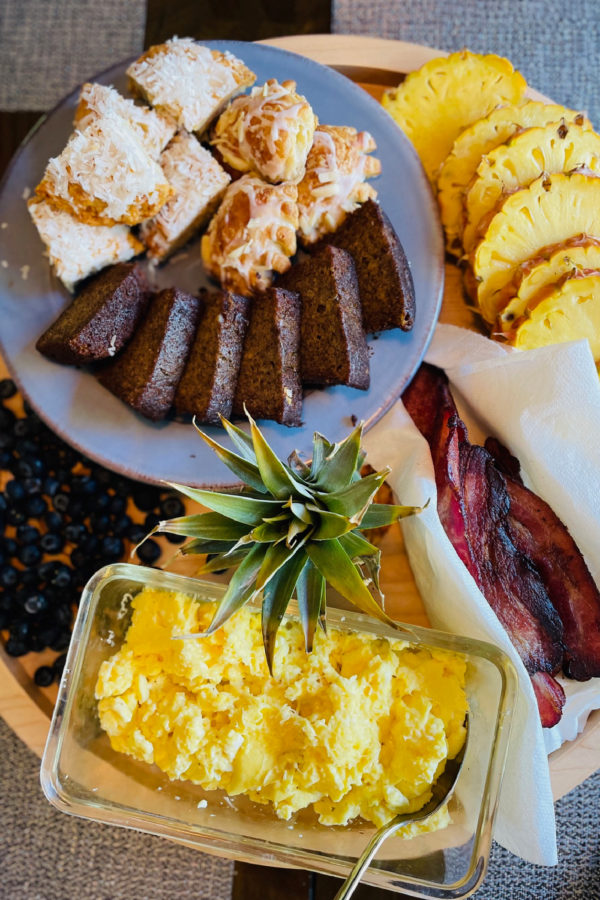 One of our favorite things on the weekends was to NOT eat out, and make our own breakfast board. We'd add banana bread, scrambled eggs, fresh pineapple, bacon, and local pastries. So good!
Another board idea is to add our Hawaiian French Toast recipe for breakfast!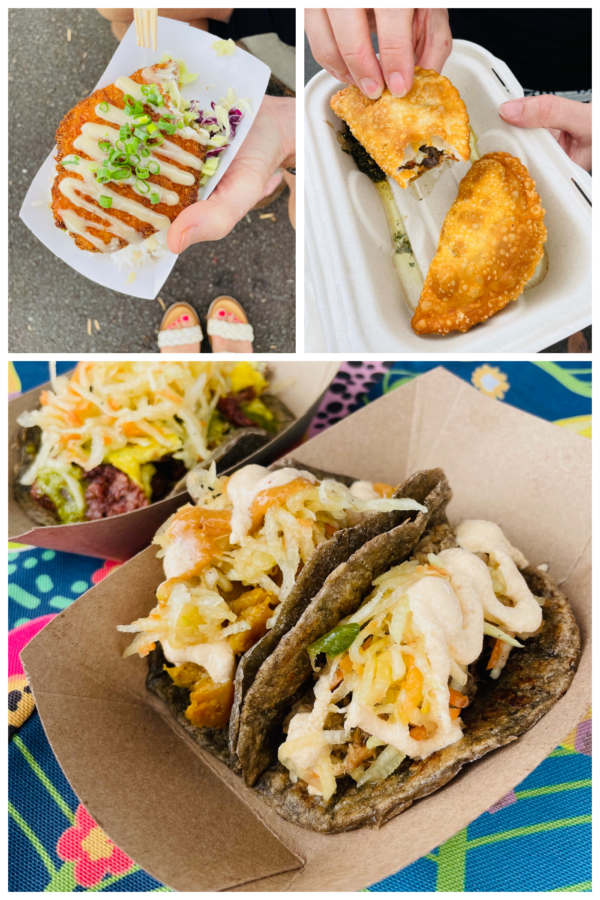 We also visited the Farmer's market in the up-country. Here we tasted some great tacos, fish, empanadas, and also saw all the local vendors selling beautiful things. The flowers at this market are stunning, as is the jewelry and quilts, and so much more.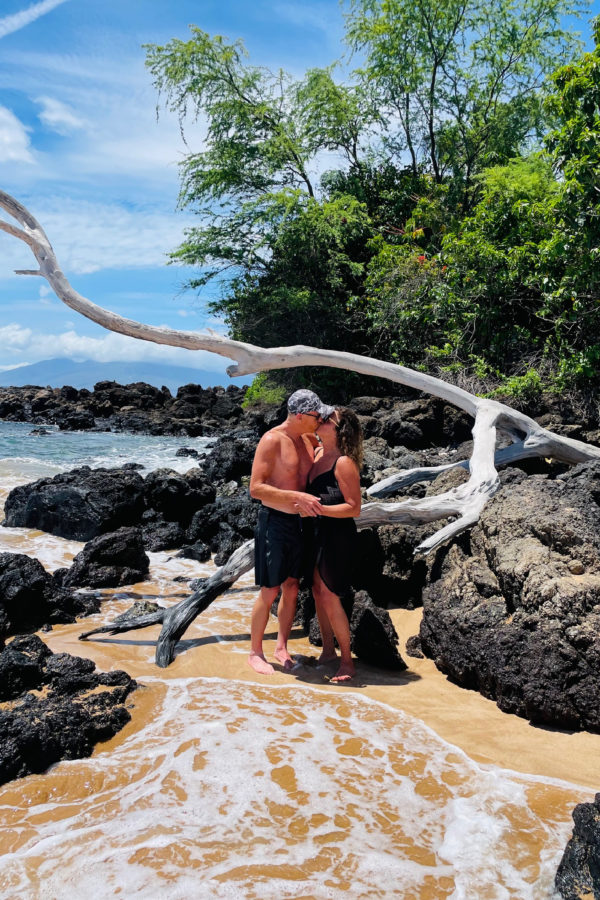 Our 60 days in Maui was not sponsored, but our goal was to try as many restaurants that we could, to give an updated list of recommendations to our readers. Again, we felt we needed to add Lahaina's favorites, as they rebuild the city and for when tourism will begin again. We stayed in a home (not Air B&B and not hotels), so we were also able to cook meals.
Hope you enjoyed this post – let us know if you love Maui as much as we did.
–Sandy
Hello and welcome to my home and table!
I'm Sandy—lover of food, family, cooking, THE BIG BOARD, travel, and bringing people together. Through great recipes and connection around the table, we become better, stronger, and more courageous people. Feasting on Life is real, and every time we do it, we grow a little more. Read more...