Mayo-Parmesan Crusted Chicken
This is one of those super easy recipes that, once you've tasted it, you'll wonder why you haven't been making it over and over again! The mayo locks in all the flavor and juiciness of the chicken breasts and also helps the Parmesan to stick. Chicken like you've never had it before – Mayo-Parmesan Crusted Chicken is so good, everyone will want seconds!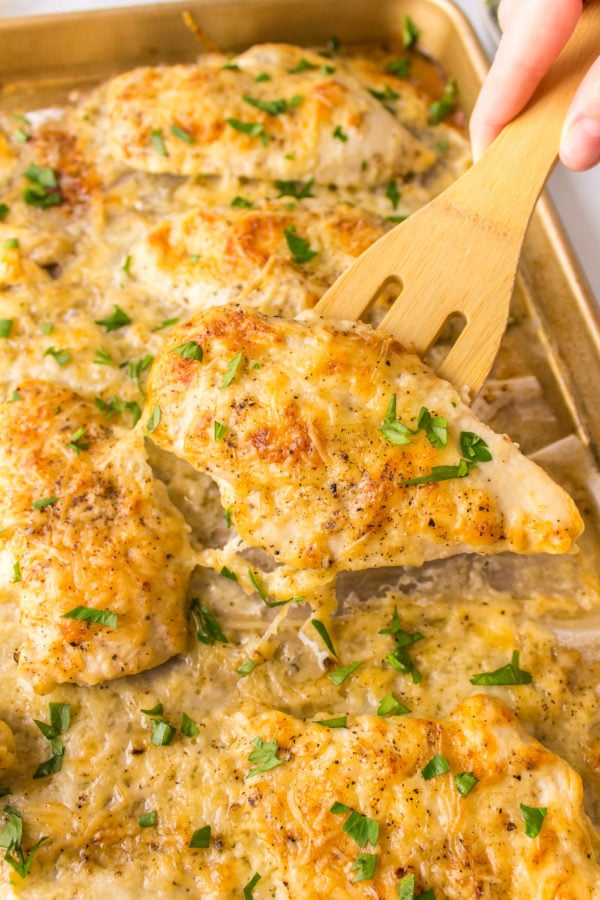 Chicken breasts can be hard to cook without drying out, but with this Mayo-Parmesan Crusted Chicken recipe, the mayo locks in all the juiciness and the Parmesan adds lots of flavor and a great texture. They bake up golden brown and delicious, and you can pair them with so many sides to build a delicious meal.
Mayo-Parmesan Crusted Chicken
I buy chicken breasts when they're on sale, then pop them into the freezer until I'm ready to use them. That way, I have chicken on hand to make delicious dinners any night of the week. And, if you buy boneless skinless breasts, this dish is ready to bake in no time! And have I told you how amazing it is served with our popular stick of butter rice recipe? Oh my!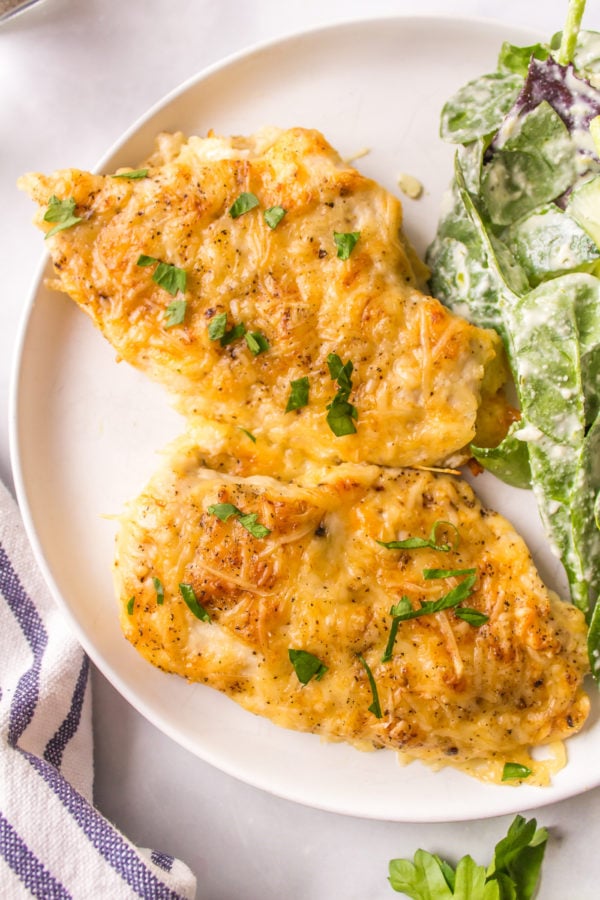 Sometimes, chicken breasts are huge! If that's the case, you can cut them in half horizontally to create two thinner breast pieces from one chicken breast. Not only will they cook faster this way, but it'll stretch your dollars a bit further.
Ready for chicken like you've never had before? This Mayo-Parmesan Crusted Chicken is my new favorite – try it yourself and see how easy and delicious it is!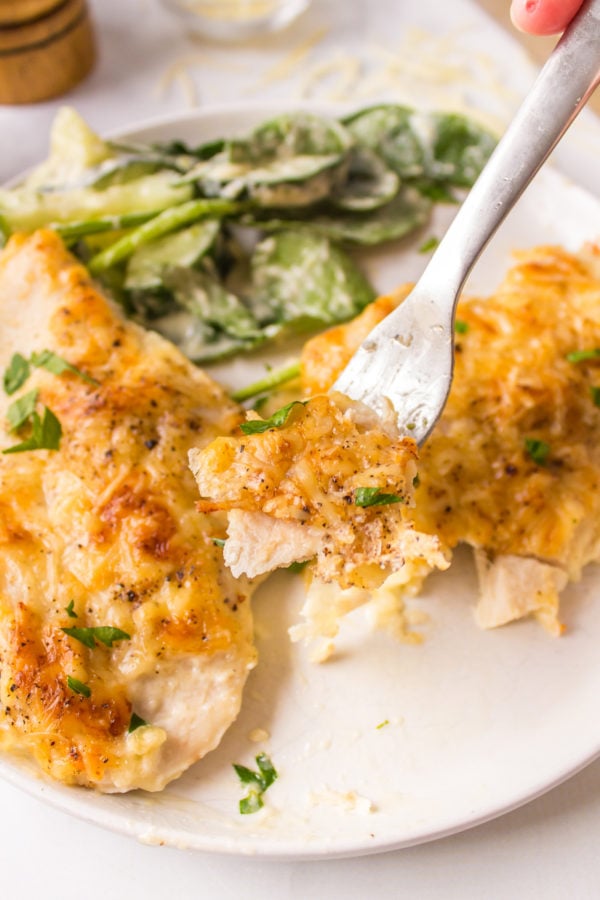 Why I love this recipe
You only need a handful of ingredients to make a stunning main dish everyone will love!
This chicken breast recipe pairs so well with so many sides – see my suggestions below.
Everyone loves this recipe. Don't be surprised if people ask for seconds!

Gather these ingredients
Boneless skinless chicken breasts – Cut in half to make 8 pieces.
Mayonnaise
Salt and ground black pepper
Parmesan cheese – Freshly grated Parmesan works best in this recipe.
Parsley – Chopped; optional garnish.

How to make the best Mayo-Parmesan Crusted Chicken
Preheat your oven to 375-F, set out a baking sheet with raised sides and line it with parchment paper.
Combine the mayonnaise with 1 teaspoon of salt and ½ teaspoon of ground black pepper. Mix well.
Add the freshly grated Parmesan cheese to another bowl.
Dip each chicken breast into the mayonnaise and coat it with a thin coat of mayo on both sides so that it is totally covered.
Roll the mayonnaise-coated breast in the grated Parmesan cheese and place it on the prepared baking sheet.
Repeat until all the breasts are coated, then sprinkle them lightly with a pinch of salt and pepper.
Bake the coated breasts at 375-F for about 30-35 minutes or until cooked through and the internal temperature is 165-F.
Remove the breasts from the oven and sprinkle with freshly chopped parsley.

Tips & substitutions
This recipe makes enough to serve 8, but you only need to start with 4 large chicken breasts.
To cut the breasts in half, lay the chicken breast flat on a clean cutting surface and cut it in half horizontally with a large, sharp knife.
Use freshly grated Parmesan cheese. Pre-shredded cheese is coated with an anti-clumping agent, which also prevents the cheese from melting well or evenly.
Good quality Parmesan cheese will give you the best flavor.

Serving suggestions
Baked Parmesan-crusted chicken is a terrific main dish, and I love how well it pairs with so many other dishes. You could serve it with Mushroom Polenta or a creamy orzo pasta dish to keep it Italian-themed. Or, lighten things up with a duo of roasted carrots and parsnips. Want to keep things simple? Serve the chicken with rice and a salad – you have so many options!

Storage
Store leftover chicken breasts in an airtight container in the fridge for 3-4 days. Reheat the leftovers in a low oven or in the microwave.

Check out these awesome chicken breast recipes while you're here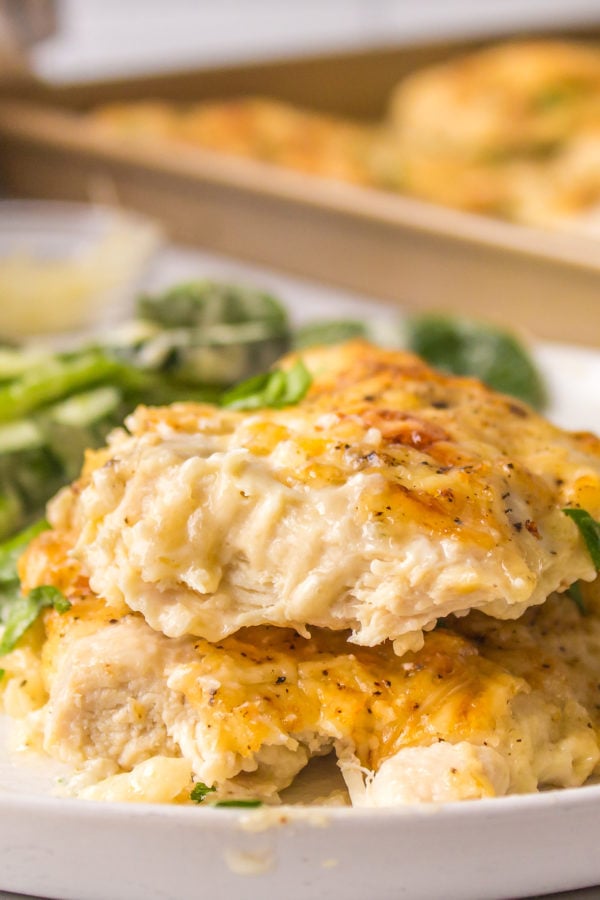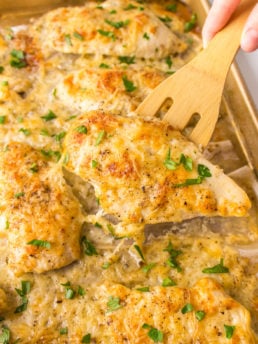 Get the Recipe: Mayo-Parmesan Crusted Chicken
So easy and so delicious, Mayo-Parmesan Crusted Chicken is a must-try dinner! The chicken is moist and flavorful every time!
Ingredients
4 large boneless skinless chicken breasts, cut in half to make 8
1 ½ cup mayonnaise
½ teaspoon salt
½ teaspoon ground black pepper
1 ½ cup freshly grated parmesan cheese
Chopped parsley, or basil for garnish
Salt and pepper, if you feel you need more
Instructions
Preheat the oven to 375°F.

In a small mixing bowl, combine the mayonnaise with the ½ tsp salt and ½ tsp pepper. Stir well.

Take another small bowl and add the freshly grated parmesan cheese.

Prepare a baking sheet with parchment paper.

Dip each chicken breast into the mayo (both sides) until the breast is covered. Next, roll it in the parmesan cheese and place the chicken on the baking sheet. Add another round of salt and pepper.

Bake for 35 minutes, or until the chicken is cooked through to an internal temperature of 165 degrees°F.

Remove from the oven and sprinkle with fresh chopped parsley. Serve!
Calories: 424kcal, Carbohydrates: 1g, Protein: 19g, Fat: 38g, Saturated Fat: 8g, Polyunsaturated Fat: 19g, Monounsaturated Fat: 9g, Trans Fat: 0.1g, Cholesterol: 67mg, Sodium: 923mg, Potassium: 236mg, Fiber: 0.03g, Sugar: 0.4g, Vitamin A: 191IU, Vitamin C: 1mg, Calcium: 229mg, Iron: 0.5mg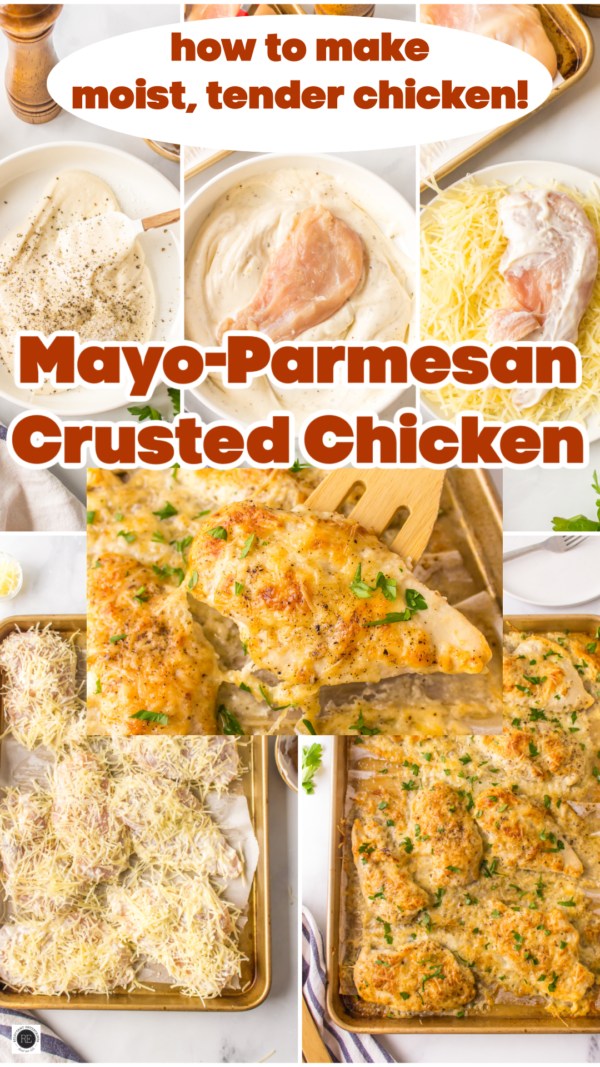 Hello and welcome to my home and table!
I'm Sandy—lover of food, family, cooking, THE BIG BOARD, travel, and bringing people together. Through great recipes and connection around the table, we become better, stronger, and more courageous people. Feasting on Life is real, and every time we do it, we grow a little more. Read more...