Caprese Chicken Foil Packs
Pack your favorite Caprese flavors into these easy stuffed chicken breasts for the best Caprese Chicken Foil Packs meal! Serve with a side of veggies.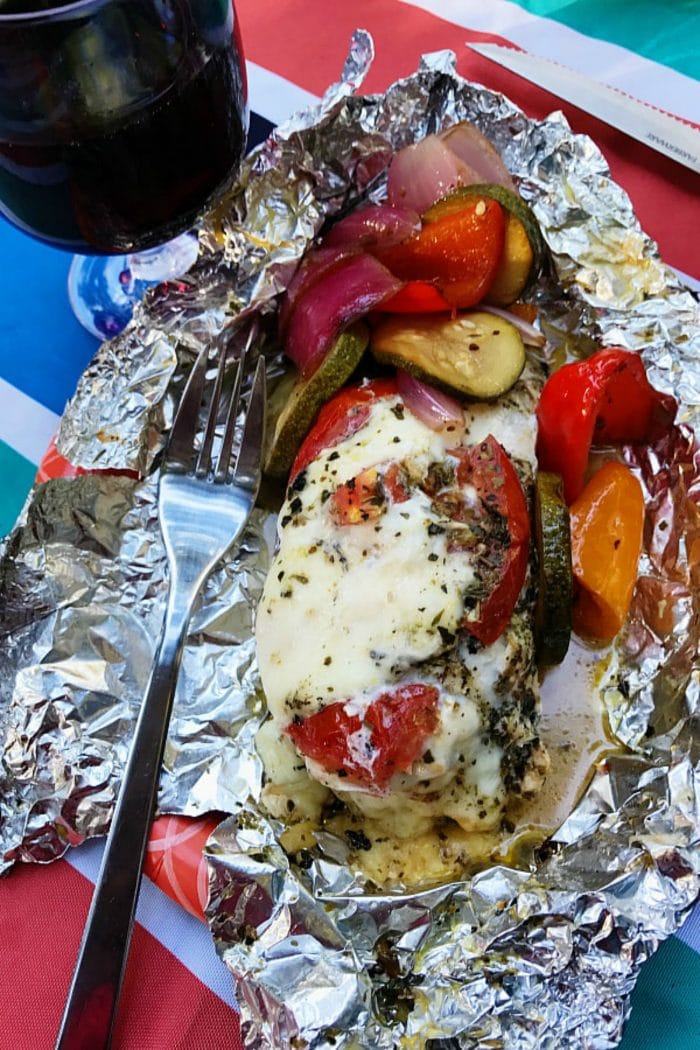 During one of our camping trips to Cultus Lake, here in Bend, Oregon, we enjoyed Caprese Chicken Foil Packs for dinner one evening. So good served with a side of marinated vegetables! Perfect for summer or any holilday weekend!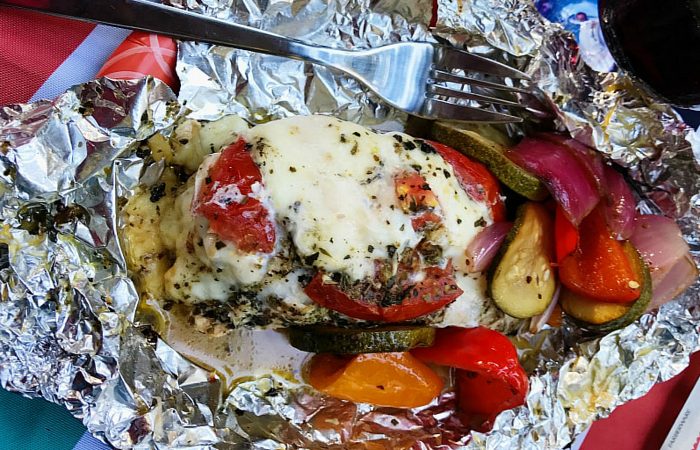 Caprese Chicken Foil Packs
Our friends usually bring their large grill, this time making us these Caprese Chicken Foil Packs for one of our dinners. All the favorite Caprese flavors in these easy and delicious stuffed chicken breasts recipe (thank you, Jenny!)
We usually split up the meals, sharing breakfasts and dinners (lunch on our own).
Super great recipe – just follow the directions, place on the grill, and you'll have the most flavorful "summer" dinner!
And don't forget a side of veggies!
Ingredients for chicken foil pack meal:
Boneless skinless chicken breasts
Pesto
Fresh mozzarella cheese (slices)
Roma tomatoes
Italian seasoning, salt, pepper
Fresh basil leaves
Cultus Lake, Oregon
Friends, this past weekend we camped with our some of our best friends at Cultus Lake, here in central Oregon, a 40-minute drive from our house.
What a beautiful place to go in the mountains, to cool off, and spend a few days with great friends!
Our kids came up for dinner one night, and we enjoyed Skinnytaste's Turkey Feta Burgers (so good), sat around the fire, and enjoyed the beautiful sunset.
We have so much to be thankful for, living in Oregon. There's so much beauty–everywhere!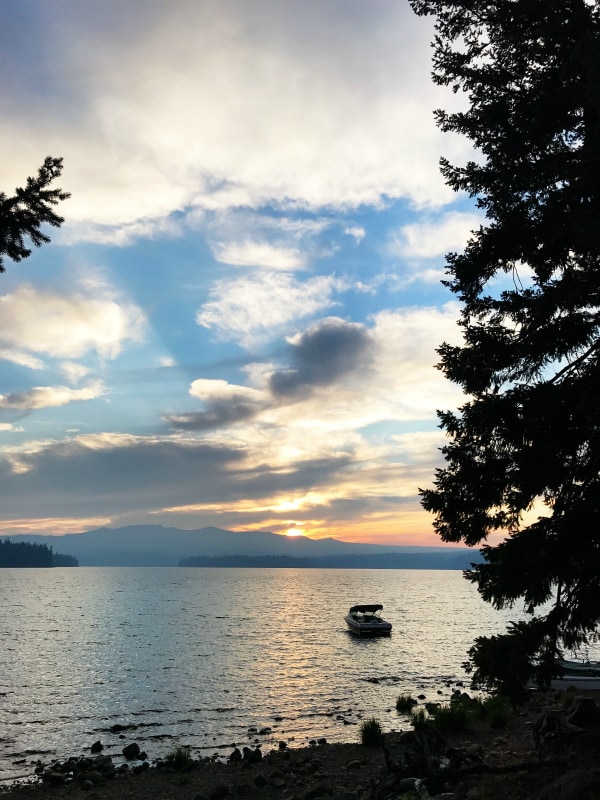 Cascade Lakes in Oregon
Cultus Lake is one of the most popular of the high Cascade Lakes, because it is one of the few that allows high speed motorized watercraft. You can also bring your kayak or paddle board!
This campground offers water opportunities on the lake, large campsites (55), as well as access to trails that lead north into the Three Sisters Wilderness.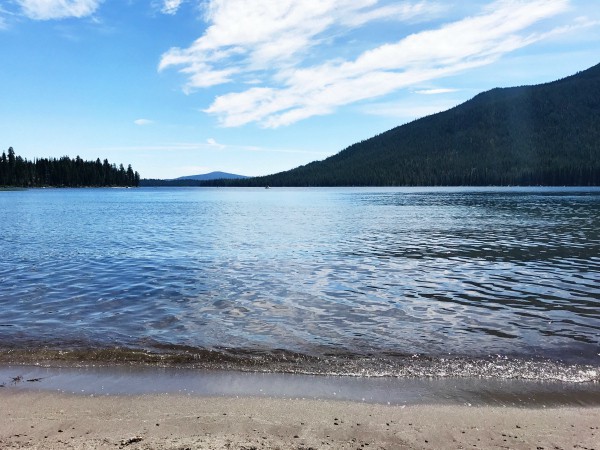 On Saturday we hiked 9 miles, we got to our destination, and enjoyed lunch and cooling off in the water.
Most of the sites are well shaded, a great place to cool off during the heat, and not far from Cultus Lake Resort.
At the resort you can eat a fine meal, sit out on the back patio and enjoy the view.
More Lake posts? Abby at Crater Lake, hiking in to Puck Lake, enjoying the beauty of Lucky Lake, nighttime canoeing on Sparks Lake with the family, and my favorite (not a lake, but a lovely trip … Yosemite!
Looking for more foil packet recipes?
Parmesan Chicken [Spend with Pennies], Low Country Boil [Nutmeg Nanny], Foil Pack French Dip Sandwiches [Chelsea's Messy Kitchen].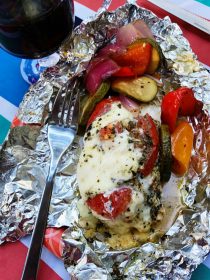 Get the Recipe: Cultus Lake Caprese Chicken Foil Packs
Ingredients
4 boneless skinless chicken breasts, 6 oz each
1/4 cup basil pesto, we buy Costco's pesto
8 oz sliced fresh mozzarella cheese
2 large plum, Roma tomatoes, cut into 4 slices each, halved
1/2 teaspoon Italian seasoning
1/4 teaspoon salt
1/4 teaspoon pepper
Fresh basil leaves, chopped
Instructions
Cut 4 large sheets of heavy-duty foil. Spray sides with cooking spray.

In the chicken breasts, cut 4 crosswise slits about 3/4-inch apart, carefully cutting almost to bottom of chicken breast, but not all the way through. Place each chicken breast on a piece of foil.

Spoon 1 teaspoon pesto into each slit in chicken breast. Place 1 mozzarella slice and 1/2 tomato slice in each slit. Sprinkle with Italian seasoning, and salt and pepper.

Bring up 2 sides of foil, sealing the edges; do the same on the other side, making a sealed packet.

Place packs on grill over medium heat. Cover the grill; cook 10 minutes. Rotate packs 1/2 turn; cooking 9 to 10 minutes longer. Check to see that chicken is done in the center.

Carefully fold back the foil; garnish with fresh basil and serve!
SaveSaveSaveSave
Hello and welcome to my home and table!
I'm Sandy—lover of food, family, cooking, THE BIG BOARD, travel, and bringing people together. Through great recipes and connection around the table, we become better, stronger, and more courageous people. Feasting on Life is real, and every time we do it, we grow a little more. Read more...