Moroccan Lentil Cauliflower Soup
Moroccan Lentil Cauliflower Soup is a healthy, delicious winter Vegetarian soup to serve for lunch or dinner! Serve with your favorite hot, crunchy bread!
Friends, life is eating, loving, and laughing. So much of enjoying eating and the whole food experience is about sharing a meal with someone you love!
We've been trying to eat more soups in our home, packing them full of veggies, laying off the carbs (tough job!), eating more slowly, and savoring every bite! If you've never tried my Red Lentil Sweet Potato Stew recipe, you may want to make this recipe, too!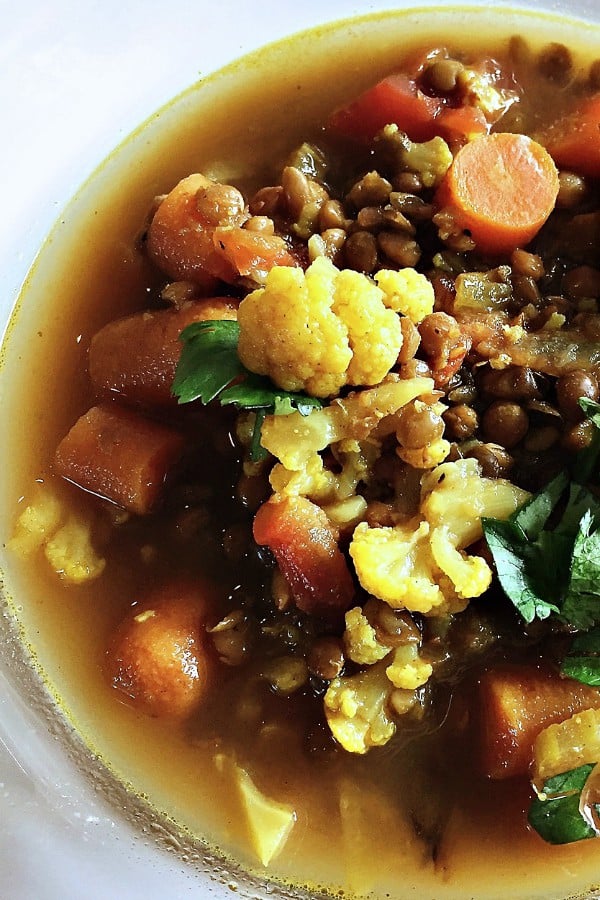 Healthy Living
So much of healthy living is about getting into the outdoors!
Last week I traveled to Yosemite with my husband, and we kept up our yoga and healthy eating! Some say it's difficult to eat healthy on the road, but I'm really learning to with success! It's all about discipline, balance, and making good choices.
We loaded up with NW Raw juices, a few salads, nuts, and healthy snacks. Plenty of water!
We ate salads during the day, and are really trying to stick to our 2016 goal of sharing a meal when we eat out.
Of course, yoga is a big part of our day now, and we were able to do day 36-40 of our 90 day challenge!
Yosemite hiking

We did get some hiking in. Being that it was Valentine's Day weekend, and our 25th Valentine's to spend together, I couldn't help but think how marriage has been a hike.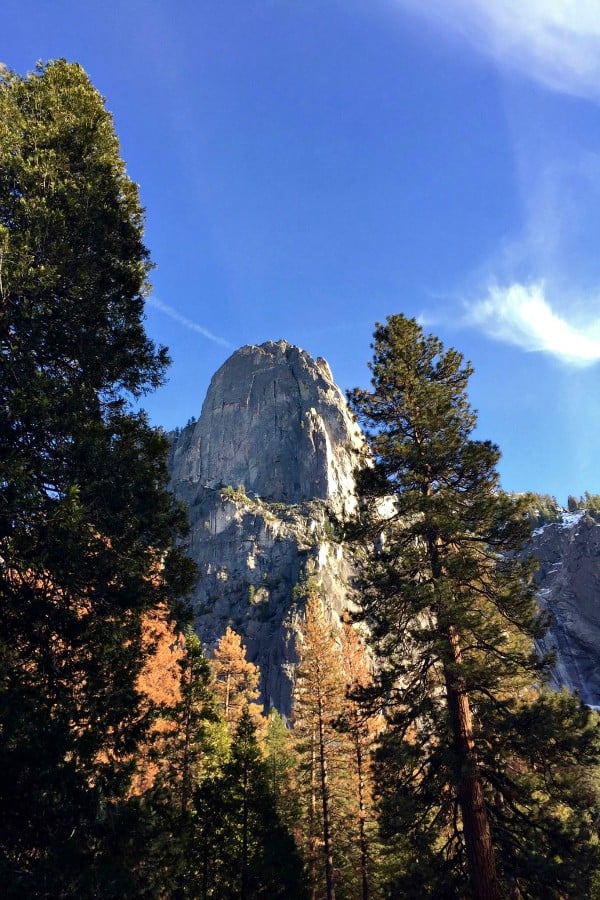 Hike your own pace
About half-way up the very steep climb, Paul would tell me, "Hike your own pace, baby, not mine."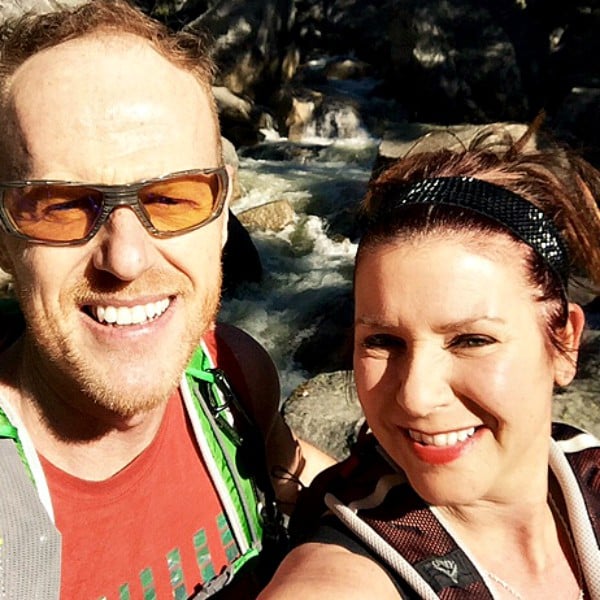 From that point, I kept thinking about every breath, every step, the icy (scary to me) spots, the steepness, how Paul was in front of me, and at times I'd move to the front, slipping on rocks, the man who fell, the friendly people we passed, and how my hiking stick kept me grounded. I received great insight on this 6.5 mile hike, and it taught me a lot about my own marriage!
The way up to our destination (Nevada Falls near the legendary John Muir trail).

Right before descending (6.5 hike), I looked up to see the heart etched.
I thanked God.
Heading to my good friend Lori's house for dinner and to spend the night, we had a hard time saying goodbye to the beautiful Yosemite valley!
Moroccan Lentil Cauliflower Soup
This lentil soup recipe I'm sharing today I made last week, and like most soups, it gets better with time, as the seasonings have time to develop as the soup sits (for a day or two). Make it a day ahead if you can, and then serve it to your friends!
I love Trader Joe's steamed lentils, which make it a cinch to get the soup cooking, so the flavors can steep and you can enjoy it for dinner.
So back to Valentine's Day, whether you're single or married, you spent the day with your sweetie or not, always remember that you are loved, valued, and special!
How did you spend Valentine's Day?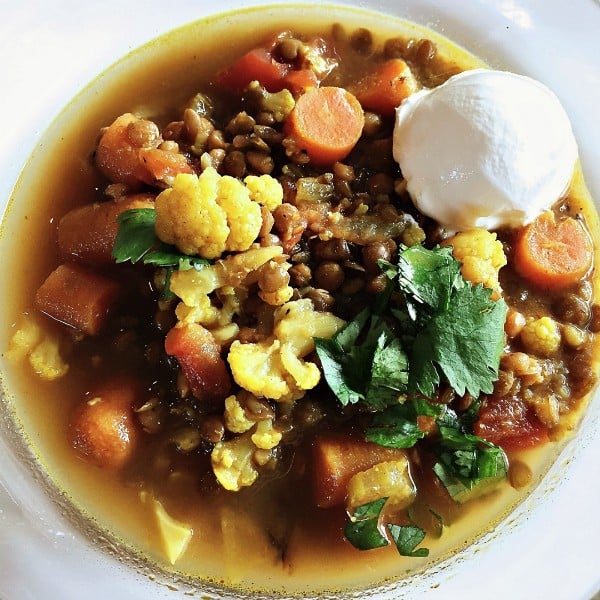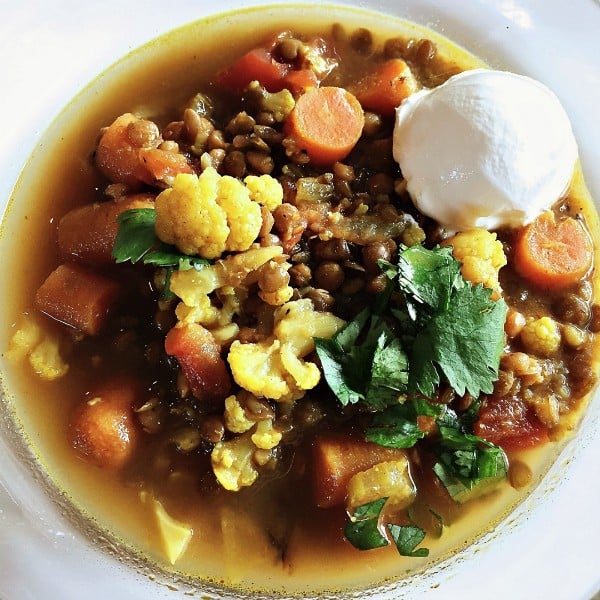 Print Recipe
Moroccan Lentil Cauliflower Soup
Ingredients
2

cups

chopped onion

2

cups

chopped carrots

4

cloves

garlic

minced

2

teaspoons

extra-virgin olive oil

2

teaspoons

ground cumin

2

teaspoon

ground turmeric

1/2

teaspoon

ground cinnamon

1/4

teaspoon

ground pepper

6

cups

vegetable broth or reduced-sodium chicken broth

non-vegetarian

2

cups

water

3

cups

chopped cauliflower

1 17

oz.

package of steamed lentils

I buy at Trader Joe's

1 28-

ounce

can diced tomatoes

2

Tbsp.

tomato paste

4

cups

chopped fresh spinach

1/2

cup

chopped fresh cilantro

2

Tbsp.

lemon juice

Sour cream

optional
Instructions
In a large sauté pan, heat the oil on medium-high and cook the onions for 2-3 minutes. Add carrots, garlic, oil, cumin, turmeric, cinnamon and pepper; cook for another 2-3 minutes. Add broth, water, cauliflower, cooked lentils, tomatoes and tomato paste, and stir until well combined.

Heat to a boil; turn down to simmer and cook, covered, for 30 minutes.

Just before serving, stir in spinach, cilantro and lemon juice. Cook for 5 minutes.

Refrigerate up to 3 days, or freeze for up to 6 months.
More lentil soup recipes:
Best Lentil Soup {Cookie and Kate}
Chimichurri Chicken Lentil Soup {A Spicy Perspective}
Curried Red Lentil Soup with Chickpeas {Closet Cooking}