Lentil-Grape Mint Walnut Salad Recipe
This Lentil-Grape Mint Walnut Salad Recipe is delicious served as a side salad, or a luncheon main dish, with a side of bread!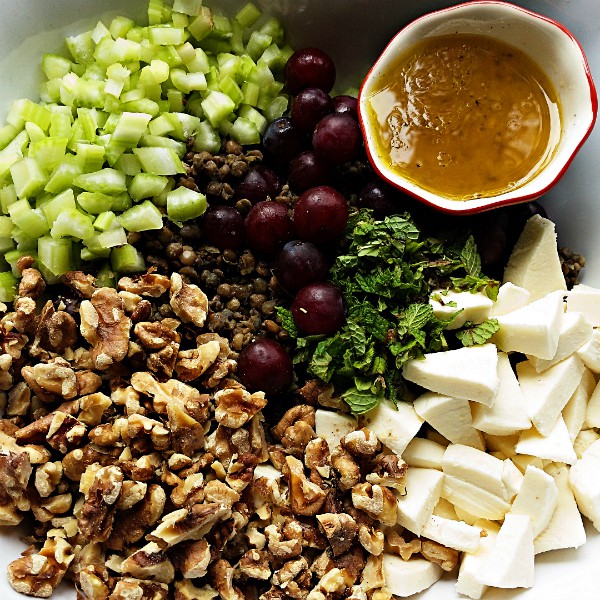 Friends, this past weekend I almost missed out on a spectacular moment. I was busy in the kitchen cooking up a storm, when my husband said, let's walk across the river. I knew this meant we'd be gone a couple of hours, and I had my own agenda in mind.
We sat down and ate a bowl of Lentil-Grape Mint Walnut Salad, and talked about what shoes or boots to wear, because spring is popping up all over the place, with new growth and buds and ground cover. And then take a few more steps, and there's 2 feet of snow!
Lentil-Grape Mint Walnut Salad Recipe
Today's recipe, Lentil-Grape Mint Walnut Salad Recipe is one of my favorite spring salads.
Add fresh mint, and a drizzly dressing. The perfect lunch, or potluck dish!
There's just something about the salty sweet flavors.
So we went on our hike, but my heart was torn by "things I wanted to do back home." Silly me. Don't I know that every time I go out into nature, it does something to my soul? It's a soothing feeling of satisfaction and gratitude.
Grace in hidden places
I really believe that God gives us gratitude, and shows us grace in hidden places. We get too busy with our agendas and to-do lists, and we don't slow down enough to truly open our eyes.
Out on our hike, on this day, my spirit, that was wound pretty tight, started slowing unwinding. I saw new things.
Family, friends and others popped into my mind, and prayers went out.
Colors and textures became more vivid, and grace was wrapped up in my next breath and step.
The wind on my face, I felt that God was telling me how much He loves me.
There was a thankfulness that went deep into my soul, with an attitude that was changed, and a deeper perspective on life.
It was there, but I had to find it.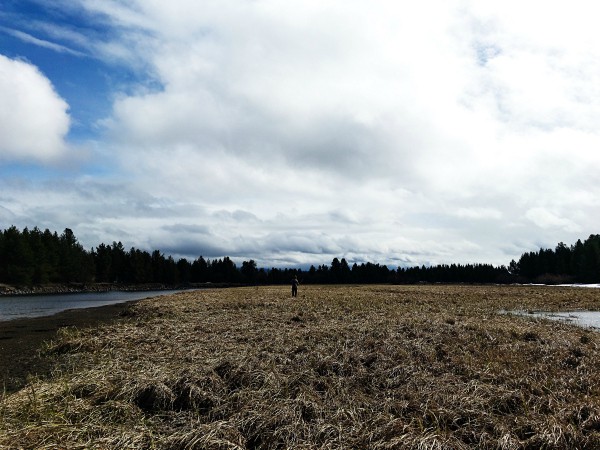 I'm glad I said yes to our hike on Saturday. Truly magical and peaceful, I'm sharing a few photos with you today.
Promise of Springtime
Plus a poem for springtime.
It's too easy to say no, and miss out on the simple gifts in life.
Will you go, when you are called?
Promise of Springtime, by Edith Nesbit

JUST a whisper, half-heard,
But our heart knows the word;
Caresses that seem
Like love's lips in a dream;
Yet we know she is here,
The desirèd, the dear,
The love of the year!
In the murmur of boughs,
In the softening of skies,
In the sun on the house,
In the daffodil's green
(Half an inch, half-unseen
Mid the mournful brown mould
Where the rotten leaf lies)
Her story is told.

O Spring, darling Spring,
O sweet days of blue weather
The thrushes shall sing,
Fields shall grow green again,
Daisies be seen again,
Hedges grow white;
Then down the lane,
Grown leafy again,
Shall go lovers together–
Lovers who see again
Sunshine and showers,
Perfume and flowers,
Dewy dear hours,
Dream and delight.

Warm shall nests be again,
Winter's behind us;
Springtime shall find us,
Taking our hands,
Lead us away from the cold and the snow,
Into the green world where primroses grow.
Winter, hard winter, forgotten, forgiven;
All the old pain paid, to seventy times seven,
All the new glory a-glow.
Love, when Spring calls, will you still turn away?
Winter has wooed you in vain, and shall May?
Love, when Spring calls, will you go?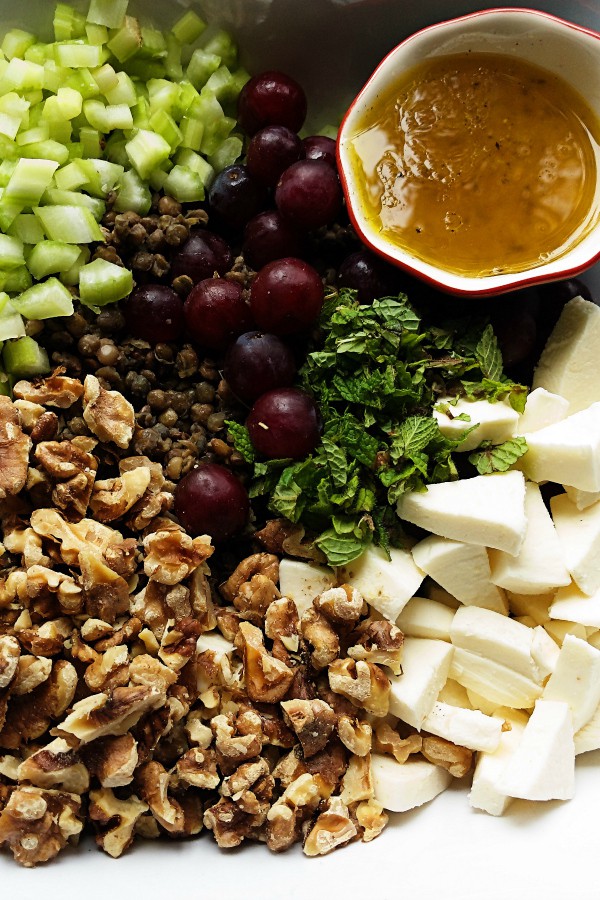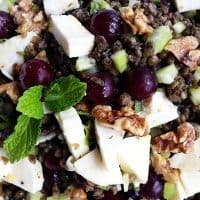 Print Recipe
Lentil-Grape Mint Walnut Salad Recipe
Ingredients
1

lb.

about 4 cups steamed brown lentils (already cooked, I buy at Trader Joe's)

2

Tbsp.

red-wine vinegar

2

Tbsp.

fresh lemon juice

2

tsp.

honey

3

Tbsp.

extra-virgin olive oil

1

cup

walnuts

toasted and roughly chopped

2

cups

seedless red grapes

halved if large

3

celery stalks

thinly sliced

2

Tbsp.

fresh mint leaves

chopped

6

ounces

fresh mozzarella cheese

cut in chunks

Coarse salt and ground pepper
Instructions
In a large bowl, add lentils, walnuts, grapes, celery, fresh mint, and mozzarella cheese. Gently toss.

Meanwhile, in a small bowl, whisk together red-wine vinegar, lemon juice, and honey. Whisk in olive oil.

Drizzle dressing over lentil mixture. Season to taste with salt and pepper.
More salads with grapes:
Summer Chicken Salad Sandwiches
Curried Jicama Fruit Pasta Salad
Roasted Chicken Grapes & Rosemary