Feeling Confident and Roasted Chicken, Grapes and Rosemary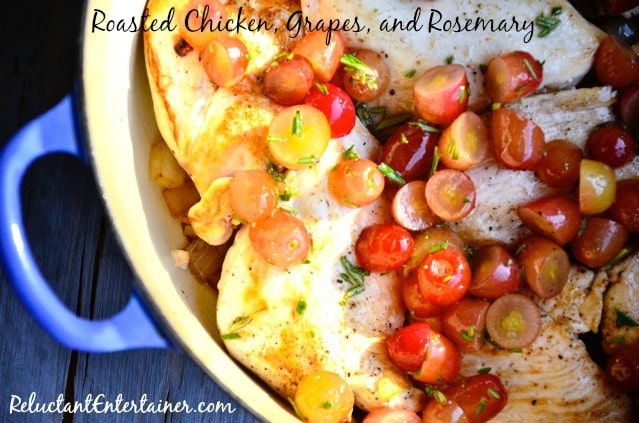 I've learned a valuable life lesson when it comes to entertaining, and that is to plan, prepare, and get organized with the details. Details like feeling confident in the menu that I choose. There's not a worse feeling, when you know company is coming, than feeling wishy-washy in the kitchen and questioning your culinary skills or your choice of menu.
Last week I said "yes" to a last-minute dinner date, friends coming to our house for a casual meal.
I think so many people say "no" to entertaining because it's scary, it's imperfect, and they just do not feel confident. But I like to think of each entertaining moment as an opportunity I can learn from. We all start somewhere small, with what we can handle, and those baby steps take us to the next experience.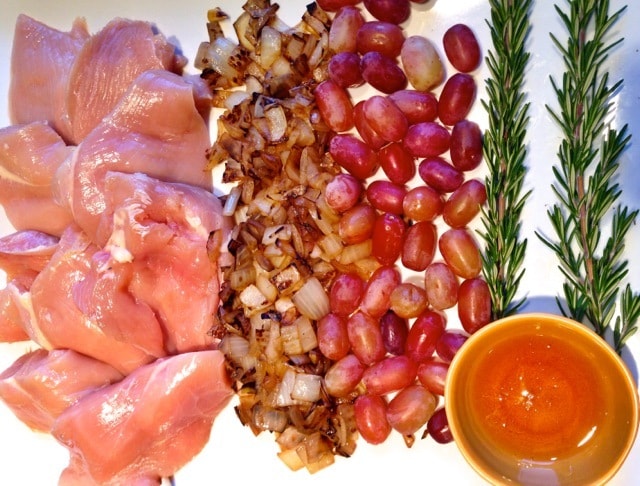 How to feel confident with your cooking:
-Decide on the menu. Don't get in over your head with recipes that are too difficult.

-Prep ingredients–like chopping vegetables–the day before.

-Start off with a clean kitchen, which makes cooking feel more organized.

-Don't feel rushed. Enjoy the cooking experience!

-Think about the guests who are coming and how you are going to bless them!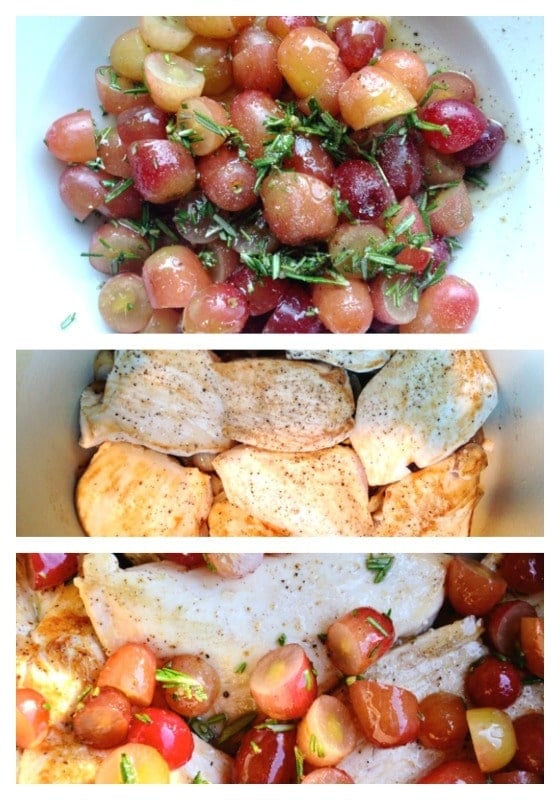 I also have really learned to not allow myself to be overly rushed when company is coming. I've had that experience a handful of times and I did not like the feeling. I had friends who were there to help, so it all turned out fine. But to really, to enjoy the moment, it's good to not rush through the things that we should be savoring, or the lesson that we can draw from each day!
What did I serve last week? Roasted Chicken and Grapes with Rosemary. Delicious! I love this recipe because you can prepare it, and then toss it in the oven right before the guests come.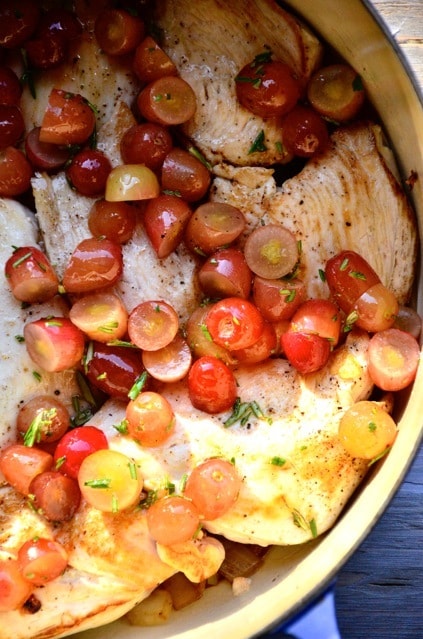 You can serve this on polenta, mashed potatoes, or mashed sweet potatoes! It's a warm, cozy dish that is festive and fun – and will be a great gift to offer your guests around a casual table this month.
How's your level of confidence in the kitchen, on a scale of 1-5 (1 being horrified, 5 being confident)?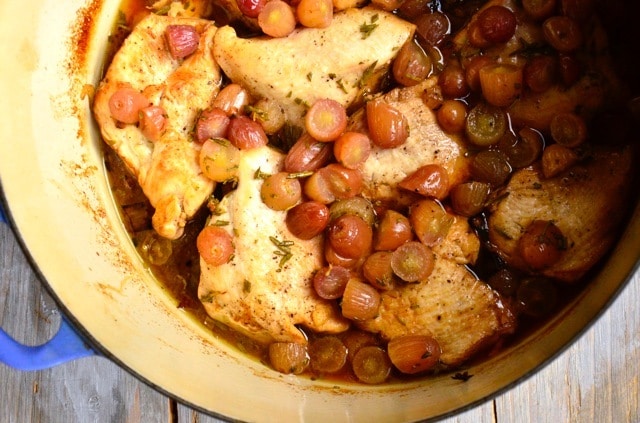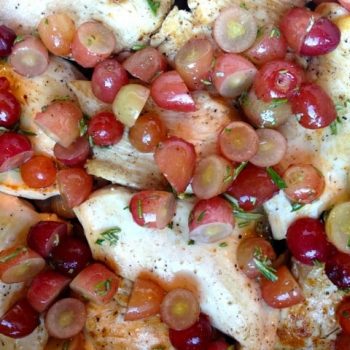 Print Recipe
Roasted Chicken with Grapes and Rosemary Recipe
A simple one-pot chicken dish with grapes and fresh rosemary.
Ingredients
4

whole chicken breasts

cut in half

1

medium sweet onion

chopped

Olive oil

Kosher salt and freshly ground black pepper

1/4

cup

white wine

4

T.

fresh rosemary

finely chopped

1/4

cup

honey

3

cups

of grapes

cut in half if large
Instructions
Preheat the oven to 400°F. Rinse the chicken, then dry it very well with paper towels, cutting the breasts in half. Salt and pepper each piece.

Heat 2 Tablespoons olive oil in a pan over medium heat, adding the chopped onions and sautéing for 3-4 minutes. Add the wine and cook for another 2 minutes. Remove the onions from the pan and set aside.

In the same pan, add a few tablespoons of olive oil and fry the chicken breast on each side for 2 minutes, or until golden brown.

In a separate bowl toss the grapes, honey, 1 Tablespoon of freshly chopped rosemary, and salt and pepper. Drizzle the mixture with olive oil. Mix and set aside.

Place the onion mixture on the bottom of a roasting pan, with chicken breasts on top, ending with the grape mixture. Sprinkle with 1 Tablespoon freshly chopped rosemary, and place the pan in the hot oven. Roast the chicken for 30 minutes.

Remove it from the oven and baste the chicken and grapes with the juices. *If thicker breasts, you may need 5-10 minutes longer.

Serve within 10 minutes on polenta, mashed potatoes, or mashed sweet potatoes.
I'm talking about JOY today …
over at The Art of Simple blog.
JOY really comes from doing for others. It's the simple things that really count in life that make your heart happy, happy, happy—like giving, listening, cooking, connecting. For me, it's about inviting friends and family in to our home. Acts of love can really make you happy, which can increase or respark that joy in your life.
=> read more … HERE.