One-Pot Paprika Chicken Thighs
This One-Pot Paprika Chicken Thighs recipe, with potatoes and carrots, is healthy and delicious, and good enough for company!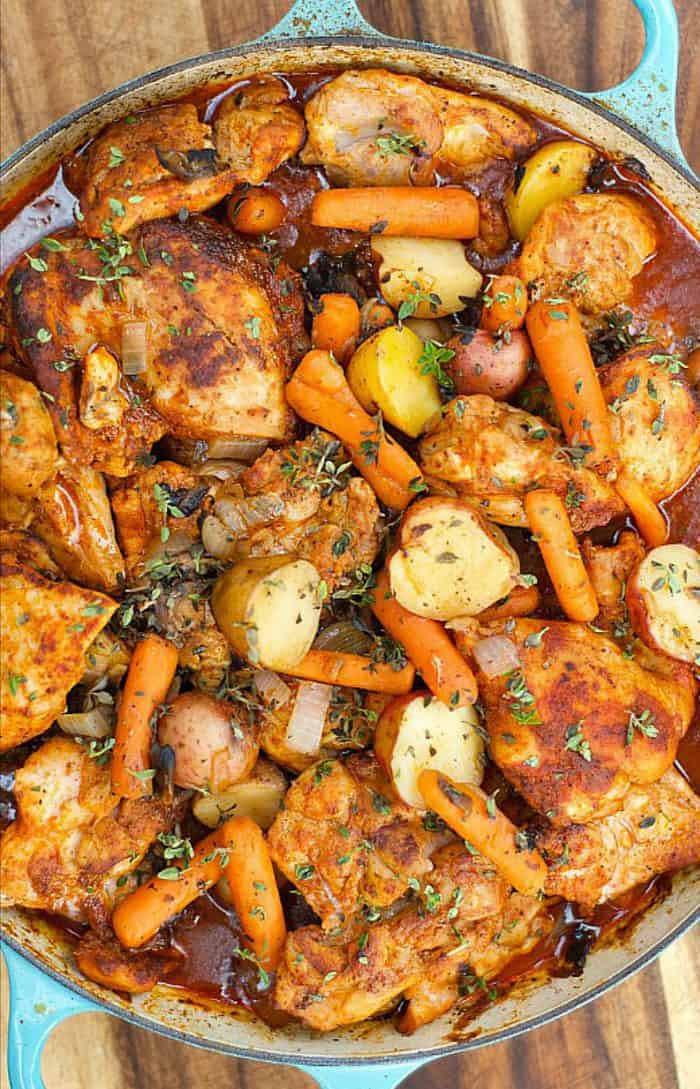 Friends, I'm sharing a post from a few years ago (when we had a giant garden), with a new video, and with hopes that you'll be inspired for DINNER TONIGHT! :)
As much as we feel we've let our garden go to "pot" this summer, with all of our travels, we couldn't be happier with the harvest that continues to give and give!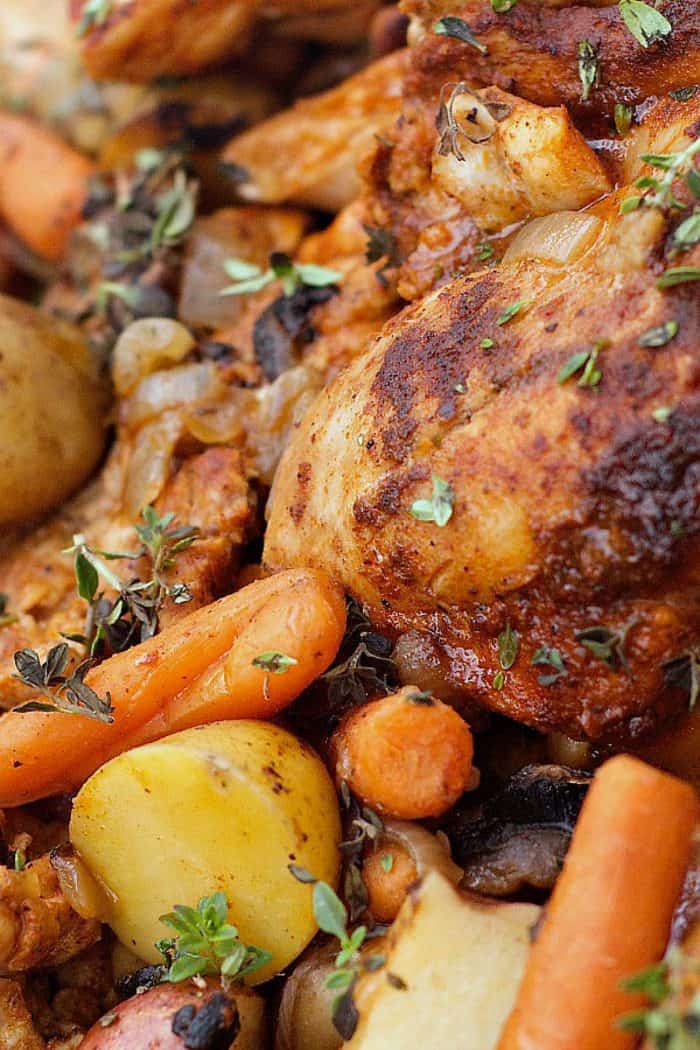 We feel very blessed this year, and most recently pulled baby red and white potatoes from the garden. I'm glad we got them when they were "babies," since they are more tender and flavorful than the larger potatoes.
Garden potatoes.
This recipe today I made up on a whim, using what I had in the garden and fridge. I love those kinds of recipes – where everything goes into one pot!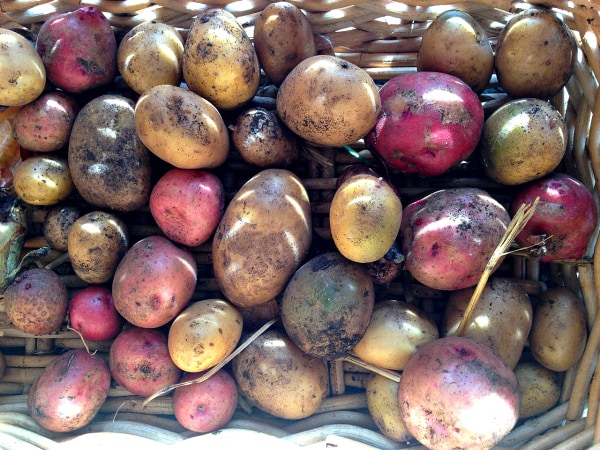 From our kitchen to hers.
I took one bite and thought to myself, Yum, this is fantastic!
So I called one of my friends, who I know works out of the house, and asked if she wanted to swing by to "pick up dinner" from our house!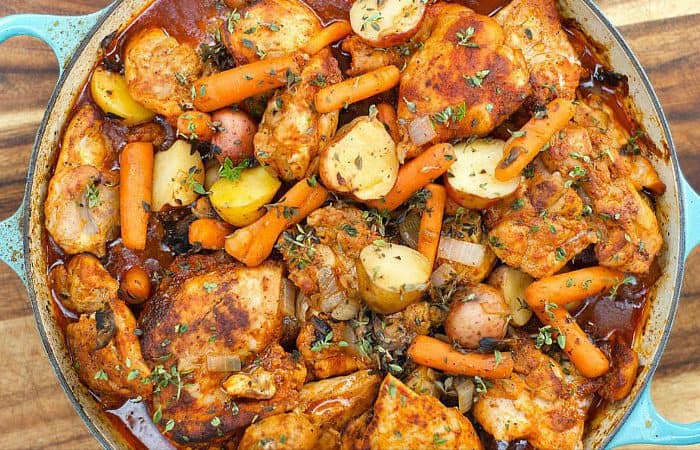 She was elated, I was more than happy to practice a "random act of kindness," and to think of how I could bless someone else.
One-Pot Paprika Chicken Thighs.
We enjoyed the dish for dinner, knowing our friends did as well.
Shake the chicken in paprika, salt and pepper. Cook for a few minutes on each side.
Then get going on all the veggies, adding the chicken again, white wine, stock, cooking to perfection.
Then … fresh thyme at the very end.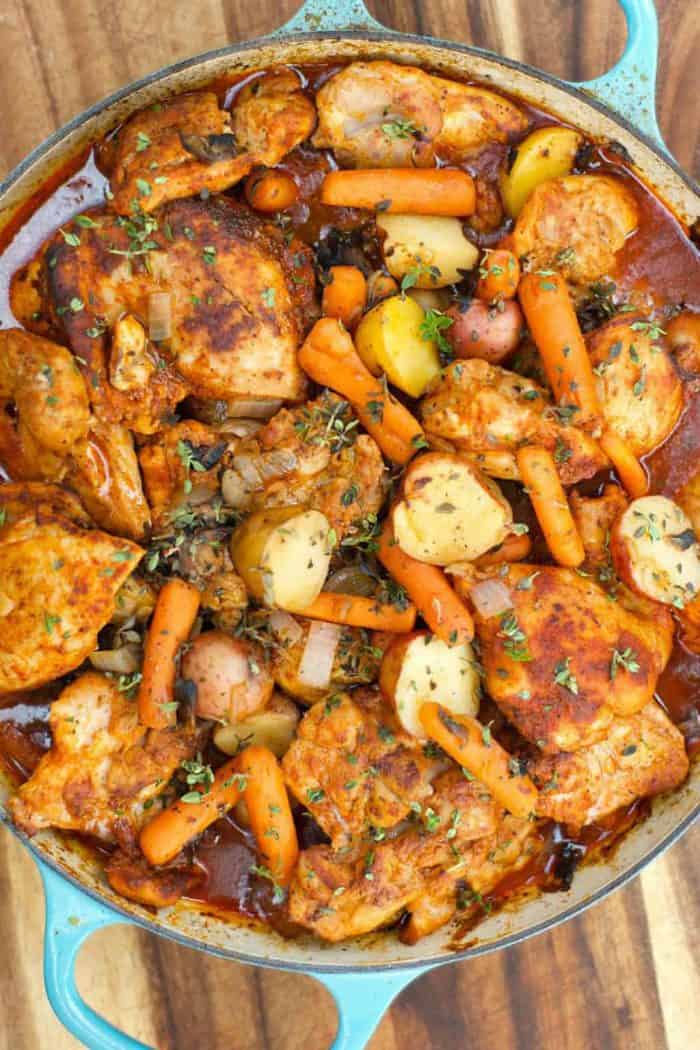 Serve it on rice, quinoa, farro, or even pasta – if you want more carbs! The sauce is that good!
Readers have asked about what smoked paprika I used, so here is a picture, but you can also use regular paprika in the recipe.
We enjoyed it plain … well, not really plain. The juices and flavors explode in your mouth, so you really don't need anything paired with it, except maybe a nice glass of wine.
It's more than flavor.
For me, cooking and sharing are more than flavor—they're about people, community, faith, life, feeding, leading—even though wholesome ingredients are important!
This recipe, served in my beautiful Le Creuset Braiser, is great to take straight to the table for serving.
The challenge.
I'd like to challenge you to think differently the next time you make a large meal (maybe you'll double the recipe, or you'll make extra so you have leftovers) to think outside your "little box" of who could benefit from a serving or two, of the exact meal that your family will be enjoying?
I'd love to hear about how YOU do it, what surprises or significant things happen when you share love+food?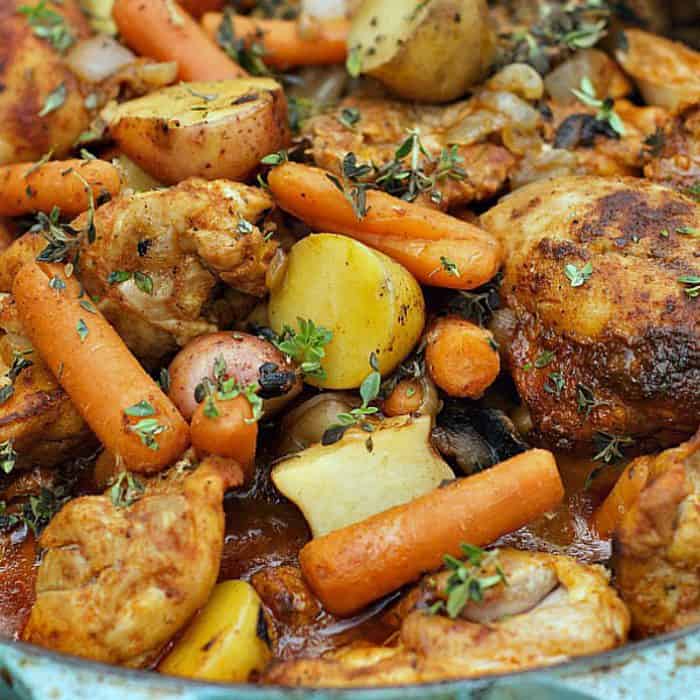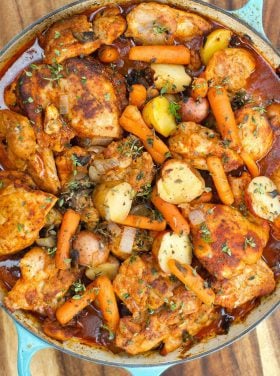 Print Recipe
One-Pot Paprika Chicken Thighs
One-Pot Paprika Chicken Thighs, with potatoes and carrots, is flavorful, healthy, and good enough for company! Try it on served in rice, quinoa, or farro. You can use white grape juice in place of the white wine.
Ingredients
3

lb

skinless

boneless chicken thighs, fat trimmed

1

tsp.

each Kosher salt and freshly ground pepper

2

Tbsp.

McCormick Smoked Paprika

you can also use regular paprika

2

Tbs.

olive oil

Pressed garlic

1

medium onion

finely chopped

2

cups

sliced mushrooms

1

lb.

red and white small potatoes

in 1-inch chunks

2

cups

baby carrots

2

Tbs.

flour

1 1/3

cups

chicken broth

3/4

cup

white wine

or white grape juice

1 1/2

Tbs.

fresh thyme

finely chopped
Instructions
In a Ziploc bag, combine about 2 T. smoked paprika, 1 tsp. each of salt and pepper. Mix together and add 4-5 pieces of chicken at a time, lightly shaking. Pull the chicken pieces out and put on a large plate. Repeat the process, adding more spices if needed, until all the chicken has been coated.

In a large heavy frying pan, heat the oil over medium-high heat. Add the chicken and cook until brown, about 2 minutes on each side. Transfer the chicken to a plate. Repeat the process until all the chicken has been lightly cooked.

Add the garlic and onion to the frying pan, stirring for about 2 minutes. Add the mushrooms and stir another 2 minutes. Add the potatoes and carrots. Sprinkle with salt and pepper and sauté for about 5 minutes.

Gently whisk the flour into the wine. Gradually pour into the vegetable mixture. Bring to a boil, stirring frequently. Add the chicken stock; stir. Return the chicken to the pan and bring to a boil.

Cover the pan, and reduce the heat to medium-low, simmering until the chicken and vegetables are cooked. Cook for about 30 minutes. Right before serving, stir the chicken and vegetables; add in the thyme. Taste and adjust the seasoning with more salt and pepper. Serve on farro, rice, or quinoa.
I am also a huge fan of my KitchenAid multi-cooker and Instant Pot for these types of recipes!
Here are some ideas how you can share meals with others:
It doesn't have to be gourmet.
Here's a cool concept how to eat with people from around the world.
Here's a cool Pinterest board – Make Ahead Meals for Family & Hospitality.
Great concept here on simple hospitality meals – with Coconut Brownies? Yes!
And I wrote this one year ago! Embracing the company, within your own little family, over at The Art of Simple.
Are you interested in learning more about my 3 1/2 quart Le Creuset Braiser?
I LOVE this beautiful piece in my kitchen … it's the BEST size for most family dishes, and not too heavy for me to lift! (This post is not sponsored by Le Cresuet.)
This post has affiliate links. Every purchase from these links supports RE at no extra cost to you. Thank you!