Chocolate Zucchini Cake Recipe
The perfect summer birthday Chocolate Zucchini Cake Recipe for any party, picnic, or potluck, made with fresh garden zucchini.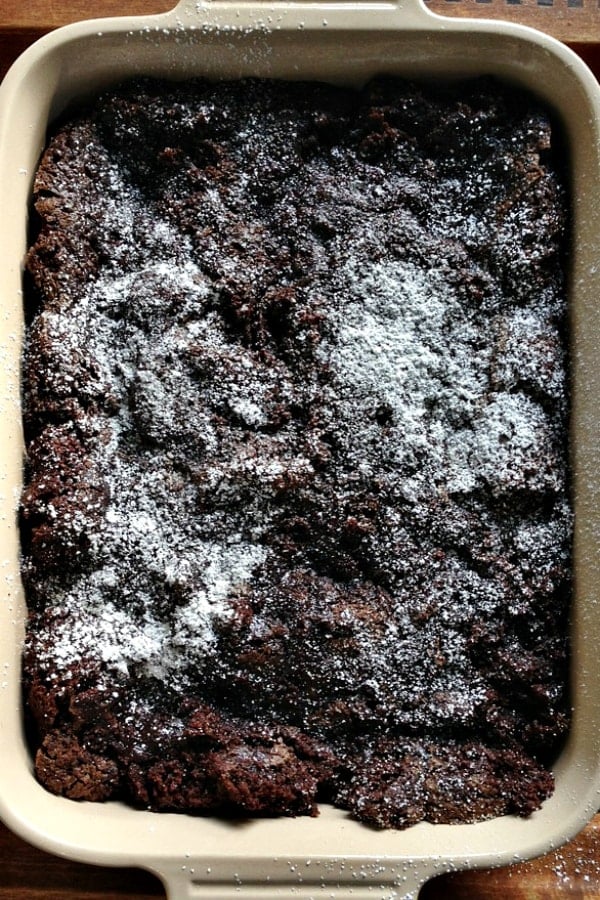 Time is important and so precious. It seems to become more valuable when we lose someone that we love! Yesterday my mama left this world, 19 years ago. And then, it seems like only yesterday she was here on earth, one of the best persons I've ever known. Today is her birthday, and she would have been 82 years old. That is hard to fathom. So Happy Birthday Millie!
Mom showed me a lot, specifically the joy that comes from cooking for others. To serve them. To serve Him. To cook comfort foods, like a Sunday roast beef dinner, with veggies from the garden and hot buttered dinner rolls, and a delicious homemade dessert.
Mom's garden was full of zucchini, so when I found this recipe in the pile that she left behind, I knew I needed to bake a cake for Mom today! (That's mom's handwriting from a card she sent me, on this plate, and then a little about her last letter to our family, here. Sweet keepsakes!)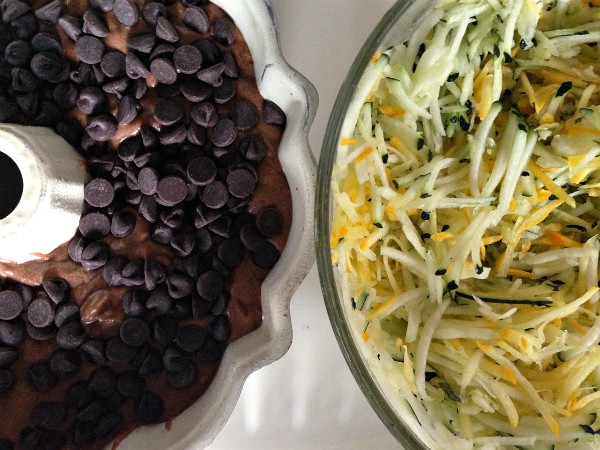 Chocolate Zucchini Cake Recipe
Zucchini adds texture, and chocolate is always so satisfying!
I love to stir the cake batter by hand, because it's nice and lumpy.
Another thing I learned from mom? You can make this cake ahead, and store it for 3-4 days! My mom was always baking cakes, freezing them, and frosting them right before the guests would arrive.
Making the most of our days is rewarding and enjoyable. How we choose to spend our time may not be the same for one person, as it is for another. I personally love to host people in our home. Others may prefer to meet for a meal out, or simply dessert and coffee.
I think my mom would approve of both, and of this cake for dessert today!
Happy Birthday, sweet mama Mildred!
Print Recipe
Chocolate Zucchini Cake Recipe
Ingredients
1/2

cup

1 stick unsalted butter, at room temperature, plus more for the pan

2 1/4

cups

flour

plus more for the pan

1/2

cup

cocoa powder

1

tsp. baking soda

1/2

tsp. salt

1

tsp. ground cinnamon

1 1/2

cups

granulated sugar

2

large eggs

1/2

cup

oil

1

tssp. vanilla extract

1/2

cup

brewed

cooled espresso or strong coffee

2

cups

grated zucchini

from 2 medium zucchini, okay to wash and leave the skin on

1

cup

semisweet chocolate chips

Confectioners' sugar

for dusting (optional)
Instructions
Preheat the oven to 325 degrees. Generously grease the inside of a 10-inch Bundt pan with butter or a 9×13 pan, then coat with a generous amount of flour. Shake out any excess flour in the pan.

Whisk together 2 1/4 cups flour, the cocoa powder, baking soda, salt and cinnamon in a bowl.

Combine the 1/2 cup of butter and the granulated sugar in the bowl of a stand mixer. Beat on low, then medium speed, until well incorporated and creamy. Stop to scrape down the sides of the bowl. Add the eggs one at a time, then the oil and vanilla extract; beat on medium speed until well blended and smooth. Stop to scrape down the sides of the bowl.

With the mixer on low speed, alternate adding the following ingredients, beating until well incorporated after each addition: 1 cup of the flour mixture, then 1/4 cup of the espresso or strong coffee; 1 cup of the flour mixture, then 1/4 cup of the espresso or strong coffee; then the remaining flour mixture.

Stir in the zucchini and chocolate chips. Transfer the batter to the prepared pan. Bake for 50-55 minutes (bundt cake), or 35-40 minutes (9×13 pan), or until a tester inserted into the middle comes out clean.

Cool in the pan for 15 minutes; dust with confectioners' sugar, if desired, and serve warm! (Or, with whipped cream or ice cream.)
More zucchini cake recipes:
Grandma's Zucchini Cake Recipe {Simply Recipes}
Zuucchini Cake Recipe from Ree {The Pioneer Woman at Food Network}
Blueberry Zucchini Cake {I am Baker}