Hawaiian Banana Bread
Hawaiian Banana Bread is a delicious twist on a classic, and this version, which is filled with bananas, coconut, and pineapple, is moist, flavorful, not too sweet, and delicious! It bakes up easily in a loaf pan, and each bite will transport you to the tropics!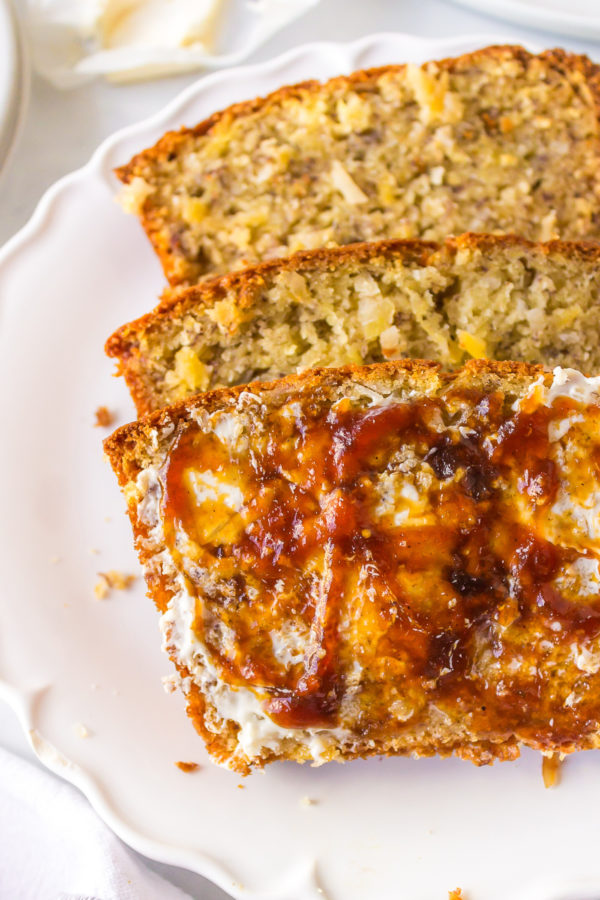 I love banana bread – it's so moist and delicious and not hard to make. I've added a tasty tropical twist to banana bread, and is it ever good! It bakes up light and golden brown and is filled with flavor. It's not too sweet, either, and it is perfect sliced hot out of the oven, served with a cup of tea or coffee, or popped into a lunchbox to enjoy at work or school.
Hawaiian Banana Bread
Pineapple, banana, and coconut team up in this easy banana bread recipe, and the flavors go together perfectly! A bit of cardamom adds a bit of earthy flavor to tone down the sweetness, and the texture from the coconut is perfect in this banana loaf.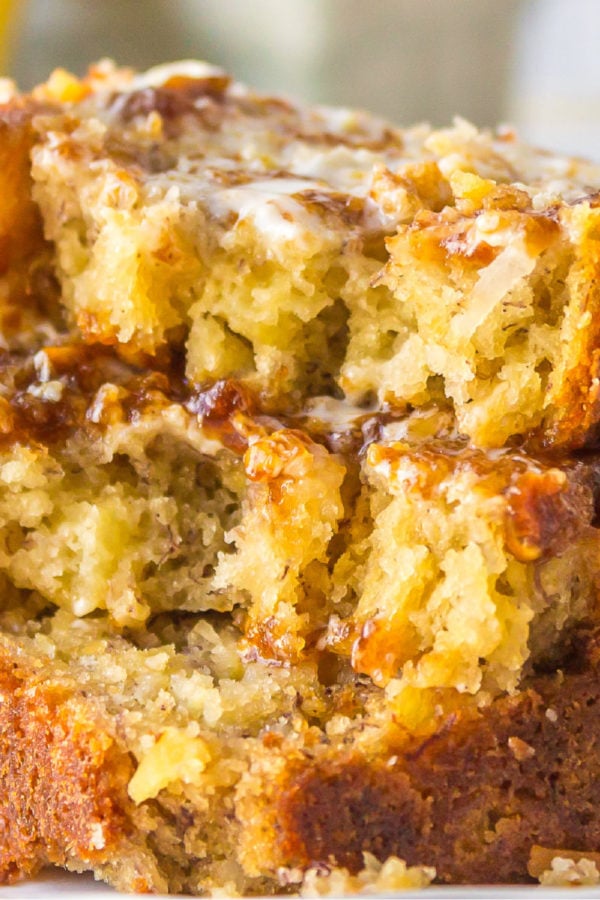 If you're ready to take your baking to the next level or you just want to try something different, then this Hawaiian Banana Bread is for you!

Why I love this recipe
It's easy to make, and you don't need a mixer! A bowl and wooden spoon are all you need.
The tropical flavors really come through, making this a tasty twist on classic banana bread.
This is a great use of overripe bananas!

Gather these ingredients
Sugar – White granulated sugar.
Unsalted butter – Softened.
Eggs
Ripe bananas – You'll need about 3 bananas.
All-purpose flour
Baking powder
Baking soda
Salt
Ground cardamom
Coconut flakes – unsweetened.
Canned crushed pineapple – Well drained.

How to make the best Hawaiian Banana Bread
Preheat your oven to 350-F and spray a 9×5 loaf pan with nonstick cooking spray. Set it aside.
Mix together the sugar and butter in a large mixing bowl until well combined.
Add the eggs, one at a time, mixing in between each addition, then add the mashed bananas and combine. Set this aside.
Whisk the flour, baking powder, baking soda, salt, and cardamom in another bowl until well mixed.
Add the dry ingredients to the wet ingredients and mix with a wooden spoon until well mixed.
Stir in the coconut flakes and drained pineapple, then transfer the mixture to the prepared loaf pan.
Bake the banana bread at 350-F for about 60-70 minutes or until an inserted toothpick comes out clean.
Cool the Hawaiian Banana Bread in the loaf pan for 10 minutes, then transfer it to a wire rack to cool completely.

Tips & substitutions
You can peel and freeze super-ripe bananas for this recipe. All you need to do is thaw them and add them to the recipe!
Overripe bananas work the best in this recipe. Mash heavily brown spotted bananas for the best flavor.
Substitute the coconut flakes for shreds if you prefer larger chunks.
Drain the pineapple really well, or the extra moisture will cause the bread to take longer to cook.
Don't over bake the bread! It's cooked when a toothpick inserted in the middle of the loaf comes out clean or has a few crumbs clinging to it.
This bread will slice more easily if it is fully cooled.

Serving suggestions
You don't need much of anything to serve with this Hawaiian Banana Bread! I love a slice of it warmed up with a bit of butter or cream cheese on top or even a dollop of jam. But you can dress up this loaf. I love adding it to brunch boards, serving it with a bowl of soup for a quick and easy lunch, or pairing it with scones or muffins to take to a friend.

Storage
Store any leftover bread in an airtight container on the fridge for up to a day or in the fridge for 1-2 days. You can also freeze the leftovers. Pack them in a freezer-safe container or plastic bag and freeze them for up to a month.

Check out these awesome loaf recipes while you're here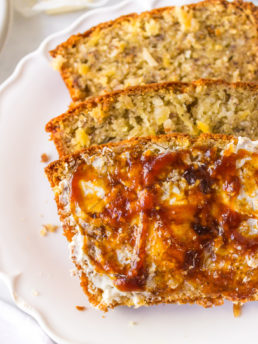 Get the Recipe: Hawaiian Banana Bread
Tropical pineapple and coconut combine with banana to make this Hawaiian Banana Bread the most flavorful on the planet!
Ingredients
1 cup sugar
½ cup unsalted butter, softened
2 eggs
3 mashed ripe bananas
2 cups all purpose flour
1 teaspoon baking powder
½ teaspoon baking soda
½ teaspoon salt
½ teaspoon cardamom
½ cup coconut flakes, unsweetened
½ cup crushed pineapple, drained
Instructions
Preheat the oven to 350 ° F. Prepare a 9x5 loaf pan with cooking spray; set aside.

Using a large mixing bowl, add together the sugar and butter and whisk. Add in the eggs and whisk; then add the bananas and mix until combined.

In a separate mixing bowl, whisk the flour, baking powder, baking soda, salt, and cardamom. Pour the dry ingredients to wet ingredients and mix until combined.

Stir in coconut and drained pineapple.

Pour the mixture into the prepared loaf pan.

Bake the banana bread for 60-70 minutes, or until a toothpick comes out in the middle clean. Do not over-bake!

Allow the bread to cool in the pan for 10 minutes, then transfer to a wire rack to cool completely.
To serve the bread:
Serve banana bread warm. Slice and serve with butter or cream cheese, or your favorite jam (like apple butter).
Calories: 274kcal, Carbohydrates: 42g, Protein: 4g, Fat: 11g, Saturated Fat: 7g, Polyunsaturated Fat: 1g, Monounsaturated Fat: 2g, Trans Fat: 0.3g, Cholesterol: 48mg, Sodium: 192mg, Potassium: 173mg, Fiber: 2g, Sugar: 22g, Vitamin A: 300IU, Vitamin C: 4mg, Calcium: 34mg, Iron: 1mg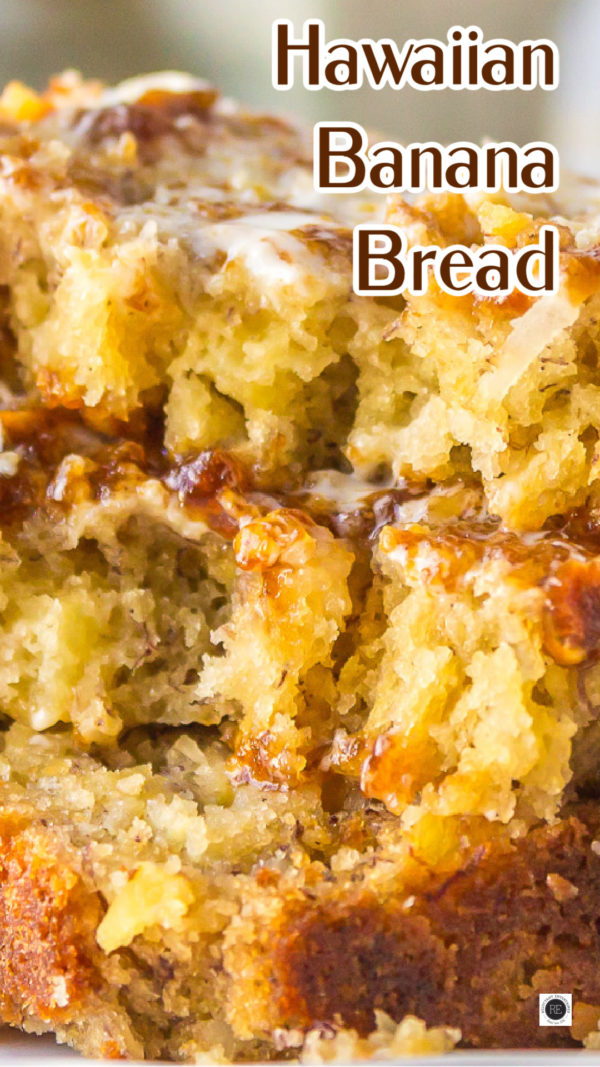 Hello and welcome to my home and table!
I'm Sandy—lover of food, family, cooking, THE BIG BOARD, travel, and bringing people together. Through great recipes and connection around the table, we become better, stronger, and more courageous people. Feasting on Life is real, and every time we do it, we grow a little more. Read more...