Brunch Board Ideas
Serve a Breakfast Board (with these Brunch Board Ideas) for your next gathering, with oats, pancakes, waffles, eggs, and more!
Friends, we love a "build your own" breakfast bar—served on a board. Today we're sharing a roundup of our favorite easy brunch ideas. You can serve them for breakfast, lunch or dinner.
Why we love Brunch Board Ideas
They're casual and fun, and great breakfast ideas for guests.
Everyone serves themselves.
You can use what you have.
Make one dish the "star" (as in waffles, pancakes, a breakfast bread).
Anything can go on a board – and it's neat and tidy!
Ideas how to build a brunch board?
Use foods that your family eats often for breakfast, brunch or dinner. Then think about all the toppings that you can put into small bowls (or right on the board)–so make your own masterpiece.
Build a board small to feed a few, or EPIC to feed a crowd. The beauty is that you can use whatever you want, and it's sure to be enjoyed by all!
Let's get started with our favorite roundup of boards. Grab the link at the bottom for our boards to buy (9 sizes and colors) and ENJOY!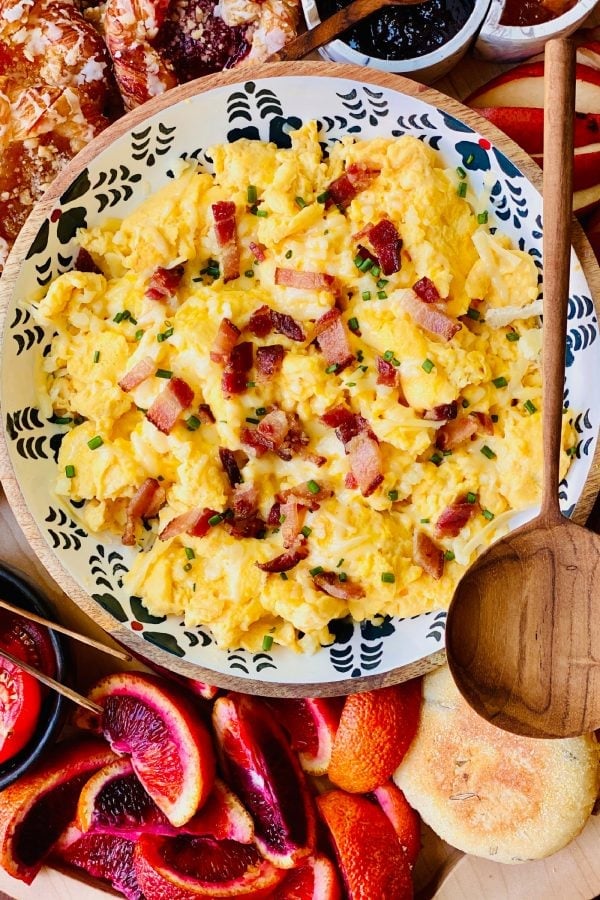 Healthy Breakfast Board
Perfect creamy, scrambled eggs with bacon and chives on a inspiring Scrambled Eggs Brunch Board with pastries and English muffins!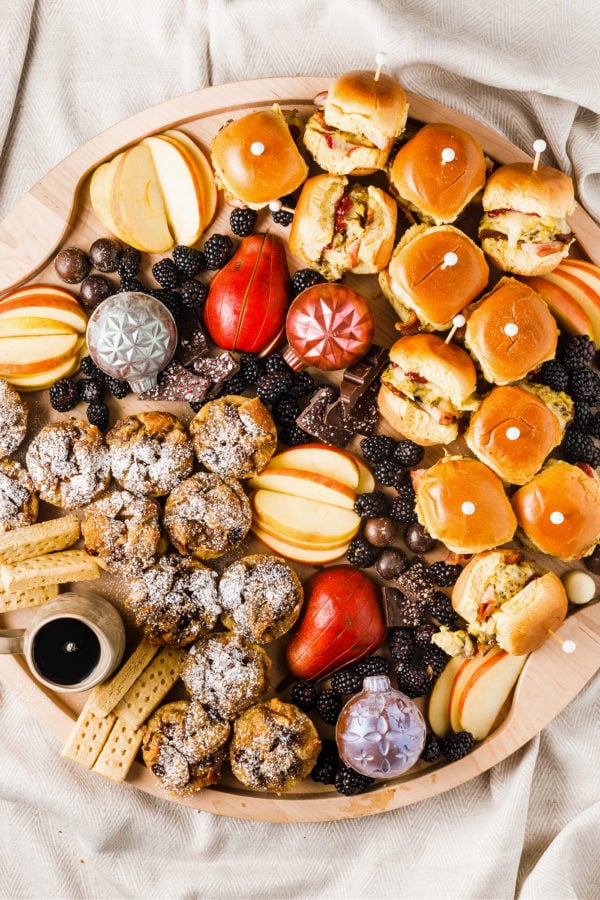 Brioche Brunch Board
For winter hosting, serve a Holiday Brioche Brunch Board with Cranberry French Toast Cups and Monte Cristo Breakfast Sliders!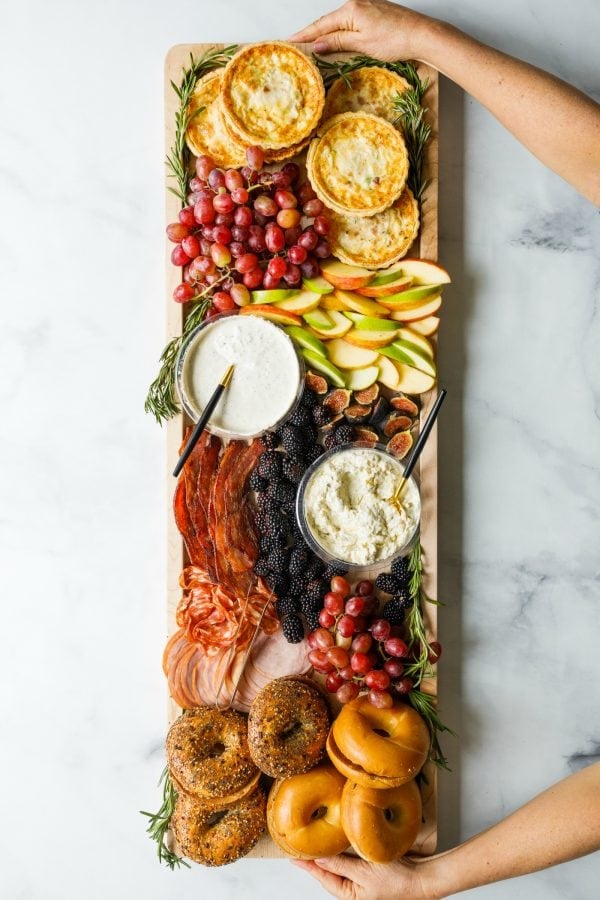 Best Brunch Board (with bagels and quiche)
For a weekend or holiday breakfast, enjoy a Best Brunch Board with creamy dips, bagels, meats, and fruits. Add mini quiches for a full meal.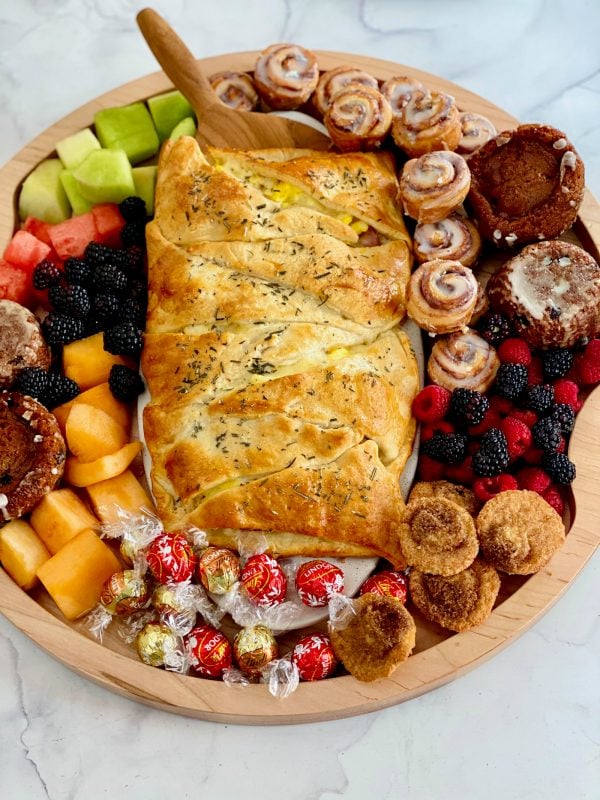 Breakfast Braid Brunch Board
Enjoy this easy Breakfast Braid Brunch Board, with scrambled eggs, ham and cheese, and fresh fruit with tasty sweets (Lindt chocolates).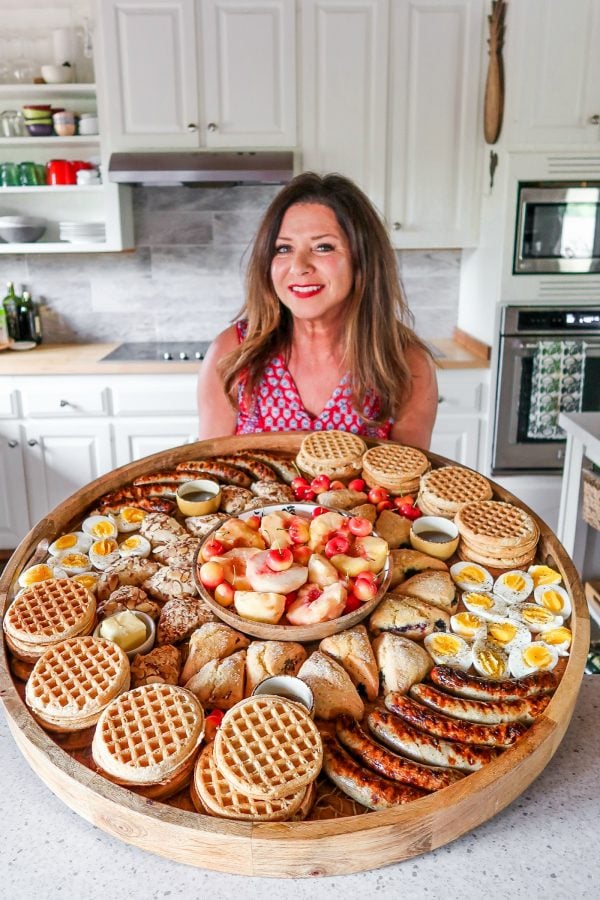 Epic Waffle Board
Epic Summer Waffle Brunch Board, perfect for a weekend breakfast. Building a brunch board is easy, with waffles, fruit, eggs, scones, and meat!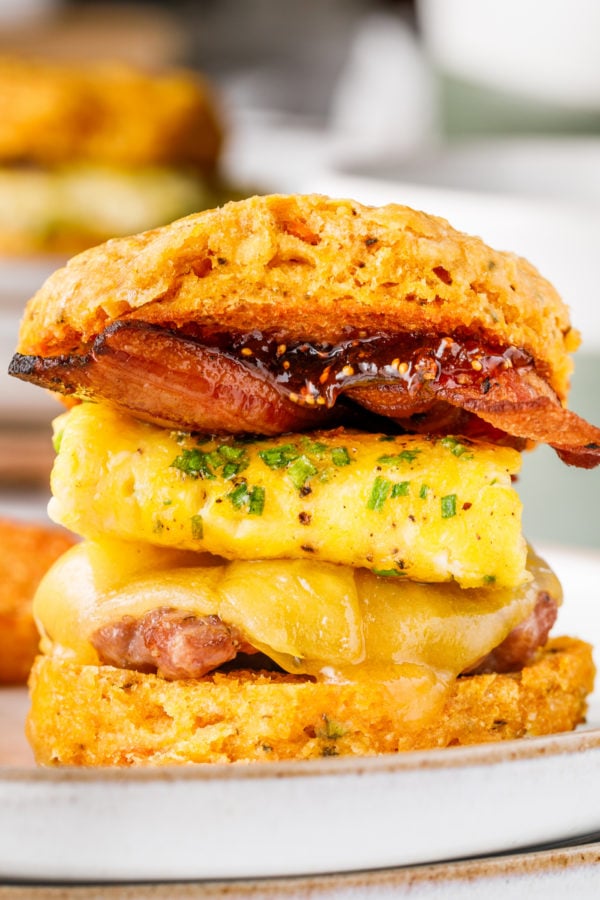 Breakfast Sandwich Biscuit Board
This Breakfast Sandwich Biscuit Board is served with homemade biscuits for a make-your-own-sandwich, with meats, eggs, cheese, and fig spread.
Brioche Breakfast Butter Board
For the butter board trend–this Brioche Breakfast Butter Board is made with St. Pierre's waffles, bread (toast) slices, and two sweet (maple and flake salt) and savory (pancetta and chives) flavored butter recipes.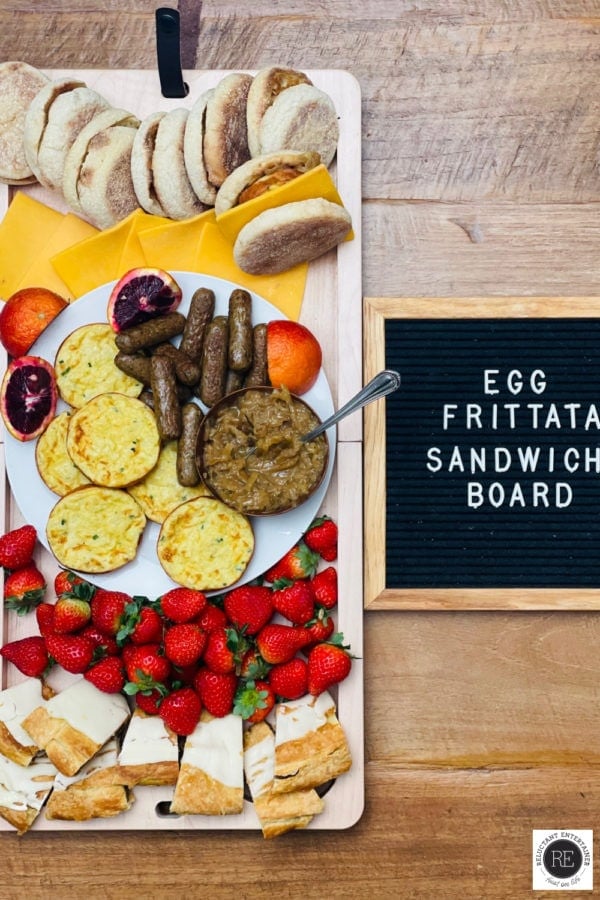 Egg Frittata Sandwich Board
For a fun weekend breakfast, or a picnic brunch, serve an Egg Frittata Sandwich Board. Add English muffins, cheese, meat, and fruit.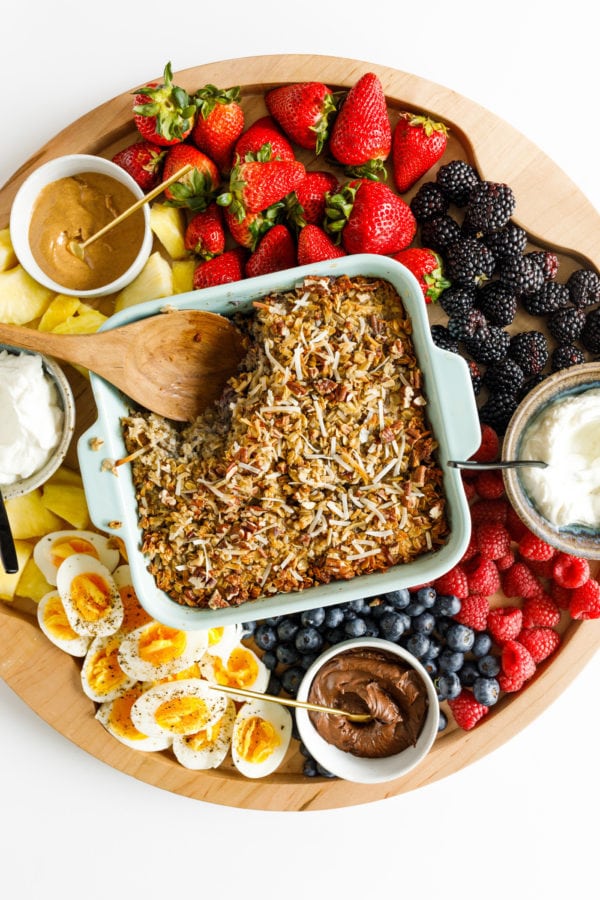 Baked Oatmeal Breakfast Board
Serve a Baked Oatmeal Breakfast Board for Mother's Day or any brunch, with flavors of coconut, honey, pecans, raisins, and blueberries.
Oatmeal Lovers Breakfast Board
Take an ordinary "oatmeal bar" and turn into a beautiful breakfast or brunch spread with a pot of oats: An Oatmeal Lovers Breakfast Board.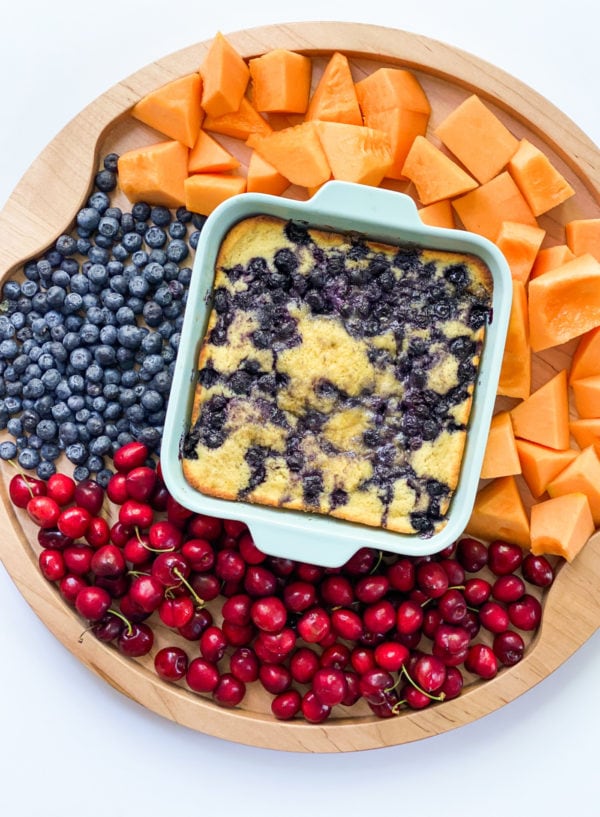 Buttermilk Blueberry Cake Board
Looking for a moist morning cake? Add this Buttermilk Blueberry Cake Board to your morning-treat repertoire, and serve it on The Big Board.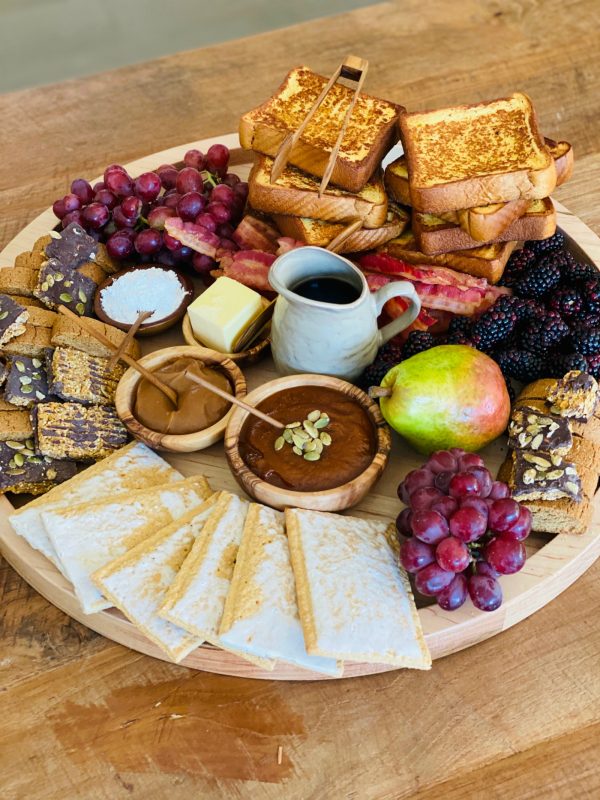 Trader Joe's Brioche French Toast Board
For Fall, serve a Trader Joe's Brioche French Toast Board, a traditional French toast breakfast, with bacon and pumpkin sweet treats!
Fall French Toast Breakfast Board
For fall hosting, serve a Fall French Toast Breakfast Board. Make French toast; assemble bites of fall–fresh fruit, cinnamon rolls, jellies, and syrup!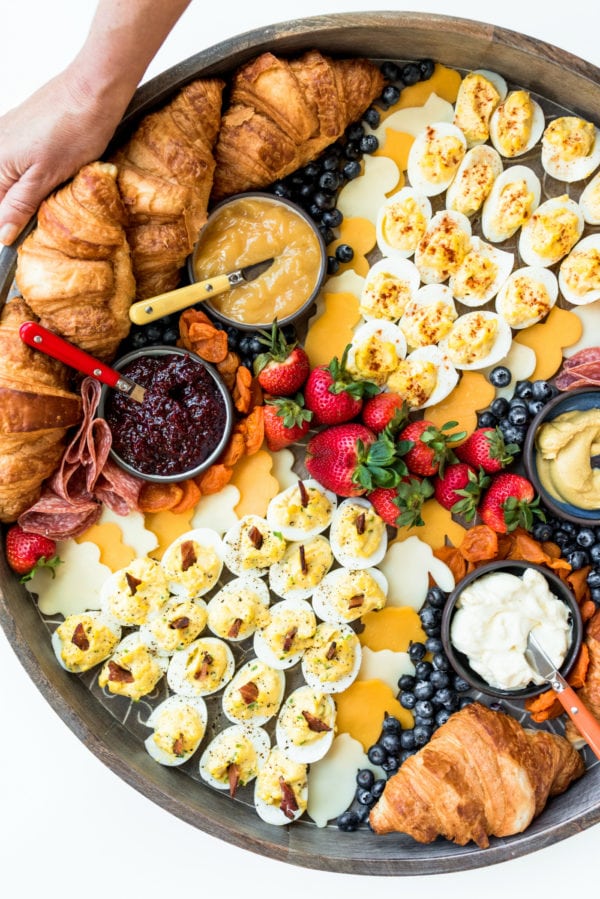 Deviled Egg Crossant Charcuterie Board
For brunch, enjoy a Deviled Egg Croissant Charcuterie Board with eggs, salami, and cheese to make delicious croissant sandwiches!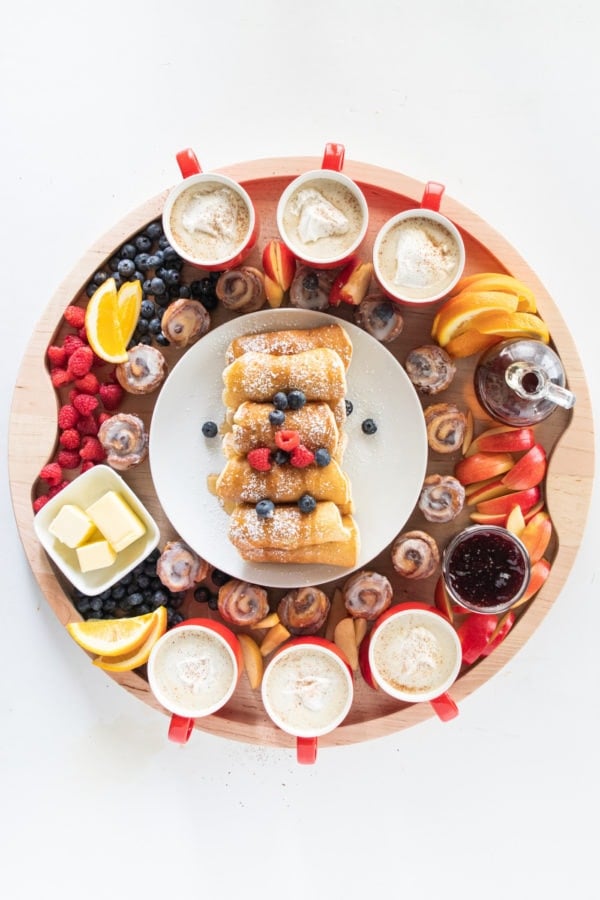 Eggnog Coffee Breakfast Board
Everyone loves a Eggnog Coffee Breakfast Board with indulgent flavors of eggnog, coffee, whipped cream, fruit, and Pigs in a Blanket.
Build a Pancake Board
This easy and delicious "build a pancake board" has all the toppings, and tips for breakfast, brunch, and breakfast for dinner!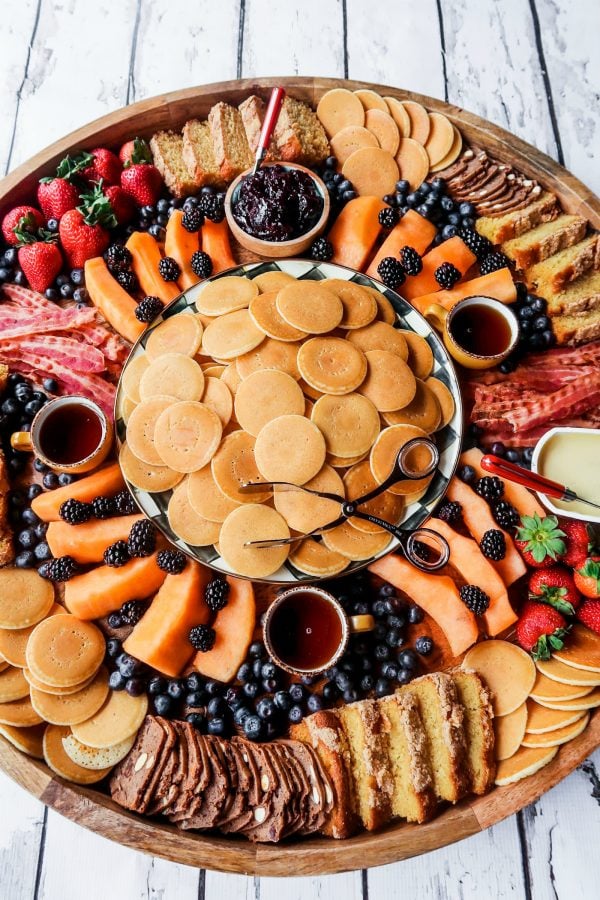 Epic Silver Dollar Pancake Board
Our super popular PANCAKE BOARD! Buy all ingredients for this Epic Silver Dollar Pancake Board at Trader Joe's. Delicious way to host for breakfast, brunch, birthday parties, and holidays!
Morning cofee cakes
We love a good morning cake or coffee cake. Here are a few of our favorite recipes to try!
There's so much inspiration from this roundup of creative ways to serve Breakfast Boards for your next family or friend gathering!
Happy hosting!

Friends, The Big Board® is here! Yes, I've partnered with JK Adams, the premier woodmaking company in Vermont, with my own line of RE boards!
20-inch round, maple
26-inch round, maple
12 x 36-inch maple
12 x 24-inch maple
26-inch ebonized BLACK, cherry + regular cherry
12 x 36-inch ebonized BLACK, cherry + regular cherry
12 x 24 folding travel board
A board with a lip (or raised edged) so the food doesn't fall off
FOOD SAFE
Made in the USA
Undercut handles (a unique design)
Thank you for your support, as we've sold out so many times already!
Order The Big Board® today!
Hello and welcome to my home and table!
I'm Sandy—lover of food, family, cooking, THE BIG BOARD, travel, and bringing people together. Through great recipes and connection around the table, we become better, stronger, and more courageous people. Feasting on Life is real, and every time we do it, we grow a little more. Read more...