Deviled Egg Croissant Charcuterie Board
For brunch, enjoy a Deviled Egg Croissant Charcuterie Board with eggs, salami, and cheese to make delicious croissant sandwiches!
Today I'm sharing a doable, affordable Spring Breakfast Charcuterie Board! Charcuterie boards are a fun creative outlet for gatherings and holidays. Not only are they tasty, but there is something so fun about making a beautiful platter out of food, combining different textures, shapes (hello cookie cutters!), colors and flavors.
This breafast board is extra special because it's all about spring and Easter! And everyone loves a "make your own sandwich" breakafast board.
Deviled Egg Croissant Charcuterie Board
Serve your favorite recipe of creamy deviled eggs, along with cute springy cheese slices! Add fresh fruit, or make a side fruit salad: Fruit Salad with Poppyseed Dressing. Remember there are no rules with boards, except to use what you have, and make them your own.
For hard-cooked eggs, did you know that Costco sells Kirkland Signature Organic Hard-Boiled Eggs (16 count)? How easy and quick does this make this board?? :)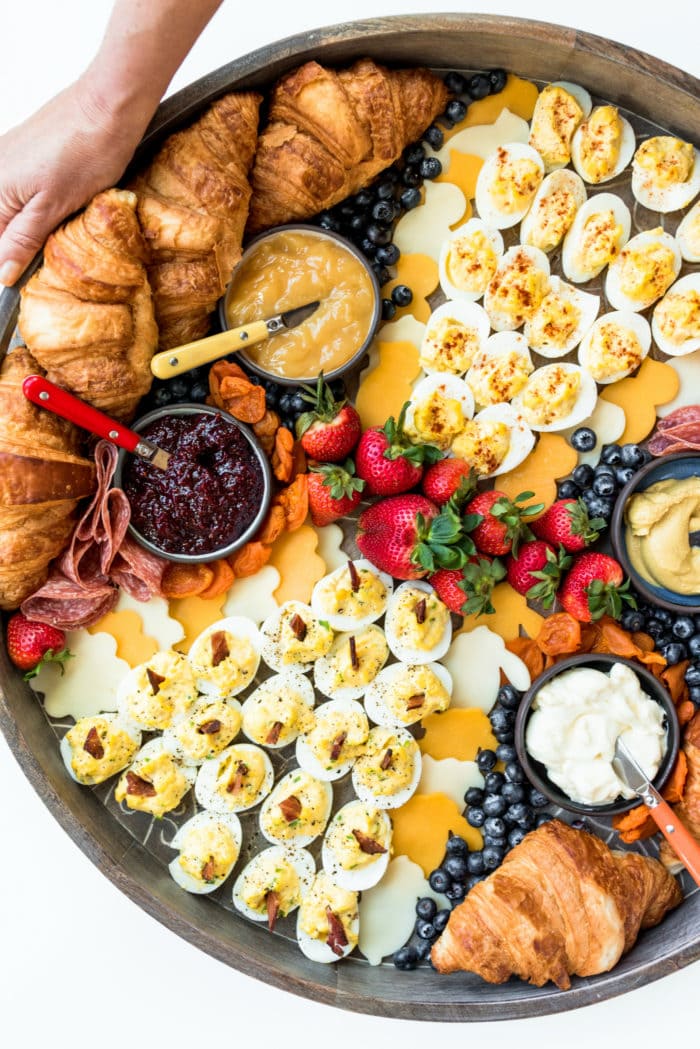 Ingredients for Deviled Egg Croissant Sandwiches
Have you ever had a deviled egg sandwich? Add a slice of cheese and salami – so good!
Make your croissant sandwich savory, or sweet. Are you a mustard lover, or a jam or lemon curd fan?
All you need are these ingredients:
Deviled eggs (here's a great recipe)
Croissants
Sliced white cheese (bunnies)
Sliced yellow cheese (chicks)
Salami slices
Fresh strawberries, blueberries, and dried apricots
Jam, lemon curd, mayo, and Dijon mustard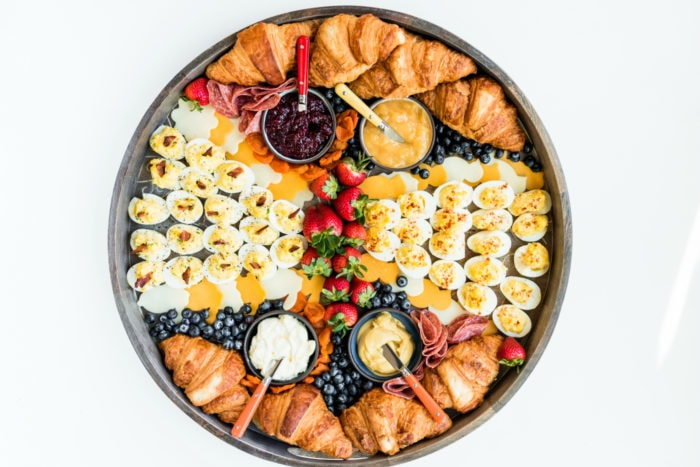 Here are a few other snack board ideas:
Ritz Cracker Easter Snack Board
4 easy bites Deviled Egg Snack Board
Celery and peanut butter Holiday Kid-Friendly Charcuterie Board
EPIC Kid-Friendly Grilled Cheese Charcuterie Board
Lindt Gold Bunny CharCUTErie Board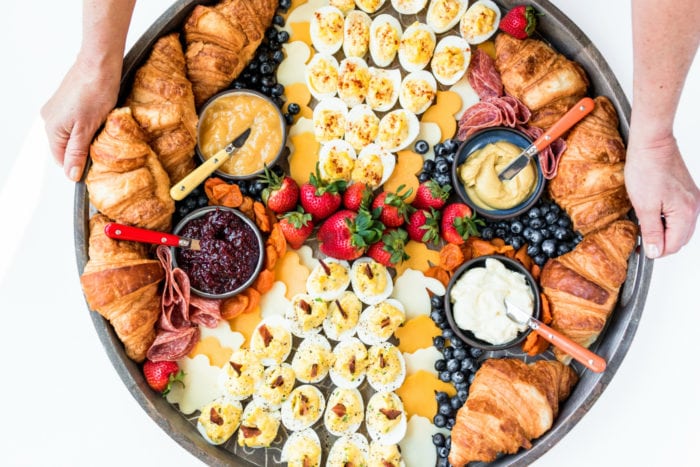 How to use spring-shaped cookie cutters
Grab the bunny and chick and flower spring-shaped cookie cutters and cut out sliced cheese!
Lay the slices of cheese out on a large cutting board or solid surface.
Cut out cheese slices with the cookie cutters. You can pre-cut the cheese and stack the slices until you are ready to use them.
Fan out on the board for a pretty Easter display!
Variations and substitutions:
Snack or dinner baords are great, because everyone serves themselves, and makes the food exactly how they like it!
I love this board, because everyone makes their own croissant sandwiches for breakfast or brunch!
Buy a box of croissants at Costco! That's a great amount for 12. And they are good! Or, if you're up for it, here's a great recipe: How to Make Croissants by my friend, Rebecca!
Swap out the croissants for homemade biscuits, toast, or rolls.
Change up the salami for slices of ham or canadian bacon.
Add more of your favorite toppings.
Warm the croissants before serving (to melt the cheese).
So many great ideas!
Scale the recipe to the number you are feeding
Boards are great for company, but you can always scale to the size of your family.
This board feeds 8. Grab The Big Board links below (this gray board is no longer available, it went out of stock years ago, which is why we came up with our own FOOD SAFE line, with a lip around the outer edge).
Cut in half and serve for 4! Or double the recipe (maybe for Easter next year) for 16!
ENJOY!
More Easter ideas:
Epic Spring Charcuterie Board
Easter Charcuterie Board Appetizer
Spinach Dip Red Cabbage Bowl
Fruit Chocolate Hummus Platter
Epic Easter Entertaining Snack Board
Friends, The Big Board® is here! Yes, I've partnered with JK Adams, the premier woodmaking company in Vermont, with my own line of RE boards!
20-inch round, maple
26-inch round, maple
12 x 36-inch maple
12 x 24-inch maple
NEW 12×24" travel board
26-inch ebonized BLACK, cherry
12 x 36-inch ebonized BLACK, cherry
A board with a lip (or raised edged) so the food doesn't fall off
FOOD SAFE
Made in the USA
Undercut handles (a unique design)
Thank you for your support, as we've sold out so many times already!
Order The Big Board® today!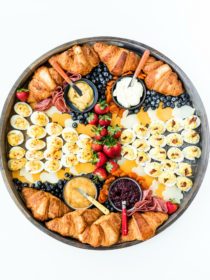 Get the Recipe: Deviled Egg Croissant Charcuterie Board
Make your own sweet or savory deviled egg croissant sandwiches!
Ingredients
18 deviled eggs, here's a great recipe
8 crossaints
Sliced white cheese, bunnies
Sliced yellow cheese, chicks
8 oz salami slices
Fresh strawberries
Fresh blueberries
Dried apricots
½ cup jam
½ lemon curd
½ cup mayo
½ cup Dijon mustard
Instructions
Make your favorite deviled egg recipe.

Using cookie cutters, cut out the slices of cheese.

In small bowls, fill with lemon curd, jelly, mustard, and mayo.

On a large prepared board, lay down the deviled eggs and cheese slices. Place the bowls on the board.

Around the outside of the board lay down the croissant rolls (you can slice in half lengthwise if preferred). Also optional to heat up the croissants before serving.

Fill in open areas with salami flowers (fold the salami pieces in quarters to make a flower), and fresh fruit.

Serve right away and enjoy!
Notes
reposted with updates from April 2020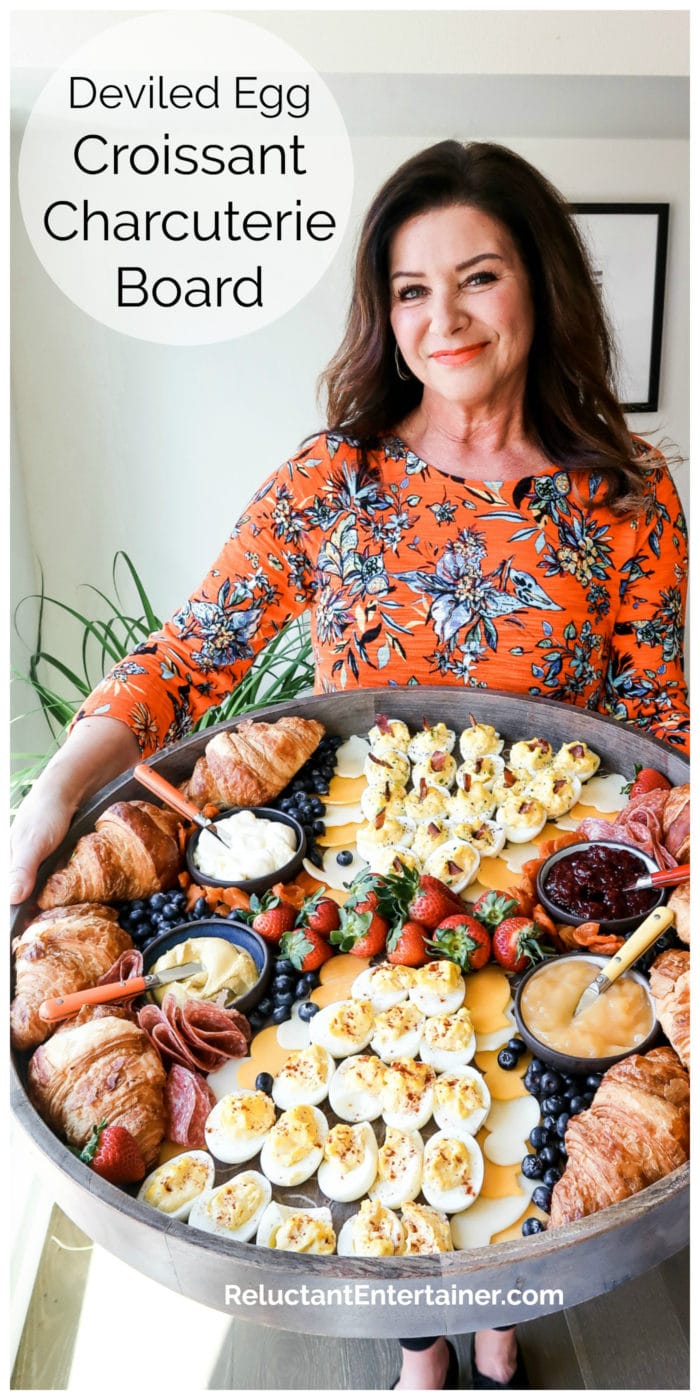 Hello and welcome to my home and table!
I'm Sandy—lover of food, family, cooking, THE BIG BOARD, travel, and bringing people together. Through great recipes and connection around the table, we become better, stronger, and more courageous people. Feasting on Life is real, and every time we do it, we grow a little more. Read more...