Easter Egg Charcuterie Board
Put together an Easter Egg Charcuterie Board with Lindt GOLD BUNNY figures and hard cooked Easter eggs for the ultimate snack board!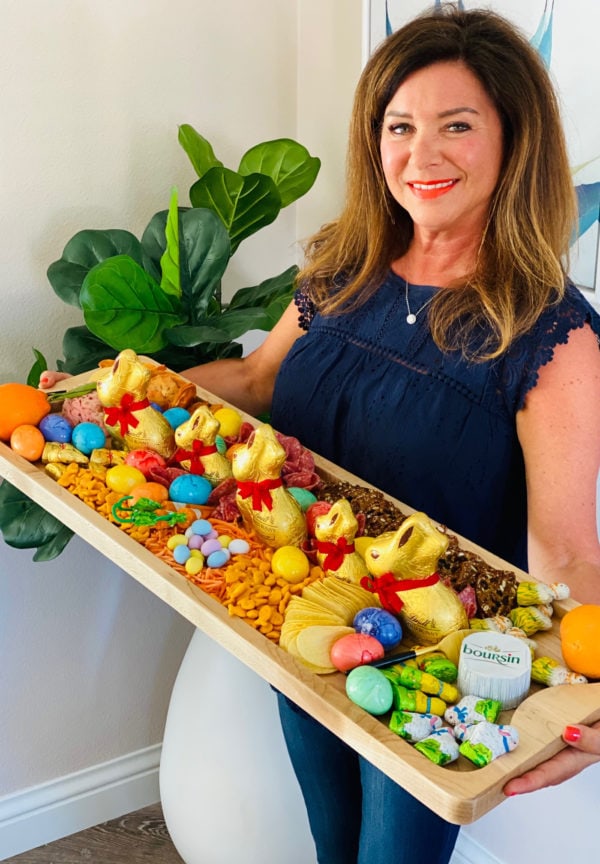 Friends, right before we left California (we were there visiting for the month of March), we had a fun time creating this Easter Egg Charcuterie Board with Lindt Chocolate Bunnies! Check out The Big Boards to purchase, if you are interested.
Easter Egg Charcuterie Board
This board is fun for kids, grandkids, neighbor kids, or any kind of Easter entertaining. We made it on the 12 x 36-inch board (my favorite size), and it turned out fabulous!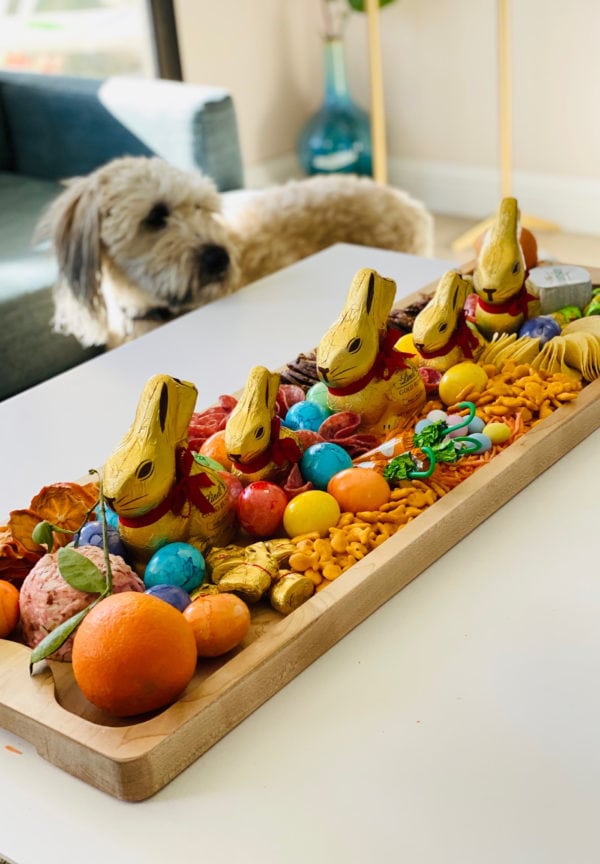 Ingredients for Easter Egg Charcuterie Board:
Colored Easter eggs (color them yourself or you can buy them colored now!)
Salami
Kaukauna Rose White Cheddar Cheese Ball
Boursin cheese
Lesley Stowe Raincrisp Crackers
Goldfish crackers
Lindt Chocolate Bunnies
Chocolate carrots
More Easter recipes
You might also want to make this Orange Scone Bread, my Puff Pastry Cardamom Orange Twists (so easy to make), these ____ eggs, my Monte Cristo Breakfast Casserole, and Ina Gartin's Potato-Fennel Gratin Recipe. For dessert? Orange Creamsicle Freezer Dessert, or new on the blog last week: No Bake Meyer Lemon Strawberry Bars. Don't forget the Easy Marmalade Ham Glaze for your ham this year.
I love all the vibrant colors of Easter, and the newborn baby chicks, bunnies, and sheep.
Speaking of sheep, we loved where we stayed in Palm Springs at PGA West. The big horn sheep became our friends, as they came off the mountain to graze on the green grass and tender flowers.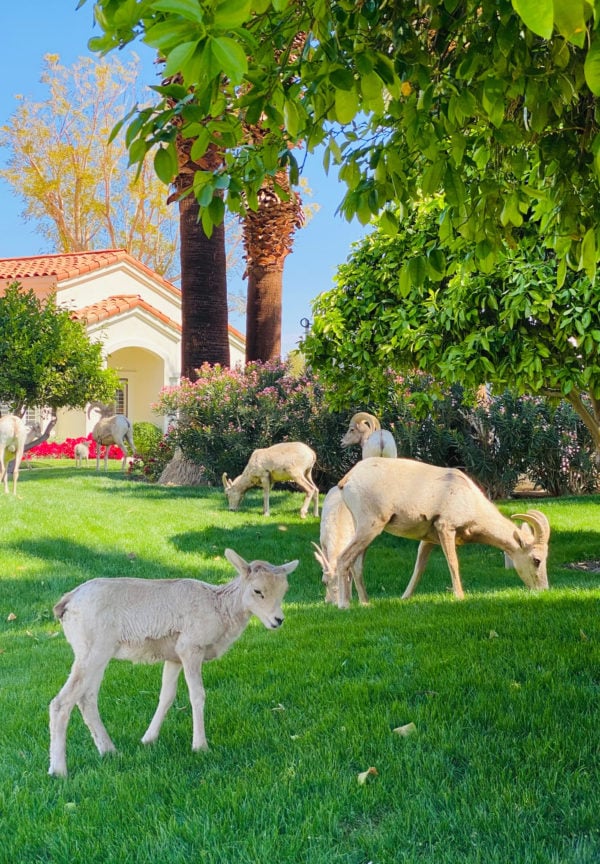 I was able to see the newborns, and watched them for weeks, as they followed the herd around with their mamas.
I love this time of year!
Happy Easter weekend!
What do you do with leftover hard cooked eggs?
Make this cute charcuterie board
Friends, The Big Board is here! Yes, I've partnered with JK Adams, the premier woodmaking company in Vermont, with my own line of RE boards!
20-inch
26-inch
12 x 36-inch
23-inch Lazy Susan
A board with a lip (or raised edged) so the food doesn't fall off
FOOD SAFE
Made in the USA
Undercut handles (a unique design)
Thank you for your support, as we've sold out so many times already!
Order The Big Board today!
Get the Recipe: Easter Egg Charcuterie Board
Made on the 12 x 36-inch BIG BOARD
Ingredients
2 dozen colored Easter eggs, color them yourself or you can buy them colored
5 Lindt GOLD BUNNY figures
1 pkg Lindt Mini Hardshell Eggs
Lindt mini hollow figures & carrots, bunnies, sheep, chicks
6 oz salami slices, folded in quarters
10 oz Kaukauna Rose White Cheddar Cheese Ball
5.2 oz Boursin cheese
1 cup shredded carrots, for chocolate eggs nest or matchstick carrots?
1 pkg Lesley Stowe Raincrisp Crackers
1 small box Pringles Potato Chips
2 cups Goldfish crackers
1 pkg dried persimmons
2 oranges with stems, for garnish
Instructions
On a large board, lay down the large chocolate bunny figures first. Around the outside, place the hard-cooked eggs.

Place the cheese on either end and fan out the crackers.

Arrange remaining food items on the board and serve!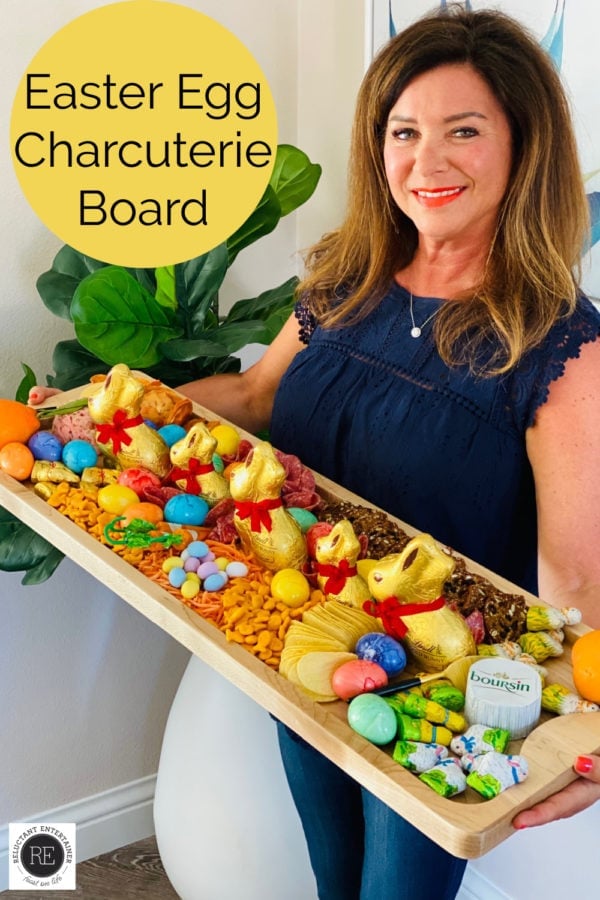 Hello and welcome to my home and table!
I'm Sandy—lover of food, family, cooking, THE BIG BOARD, travel, and bringing people together. Through great recipes and connection around the table, we become better, stronger, and more courageous people. Feasting on Life is real, and every time we do it, we grow a little more. Read more...