Fruit Salad with Poppyseed Dressing
Fruit Salad with Poppyseed Dressing is a fresh fruit salad delicious served for a spring or summer brunch, lunch, potluck, picnic, or dinner party!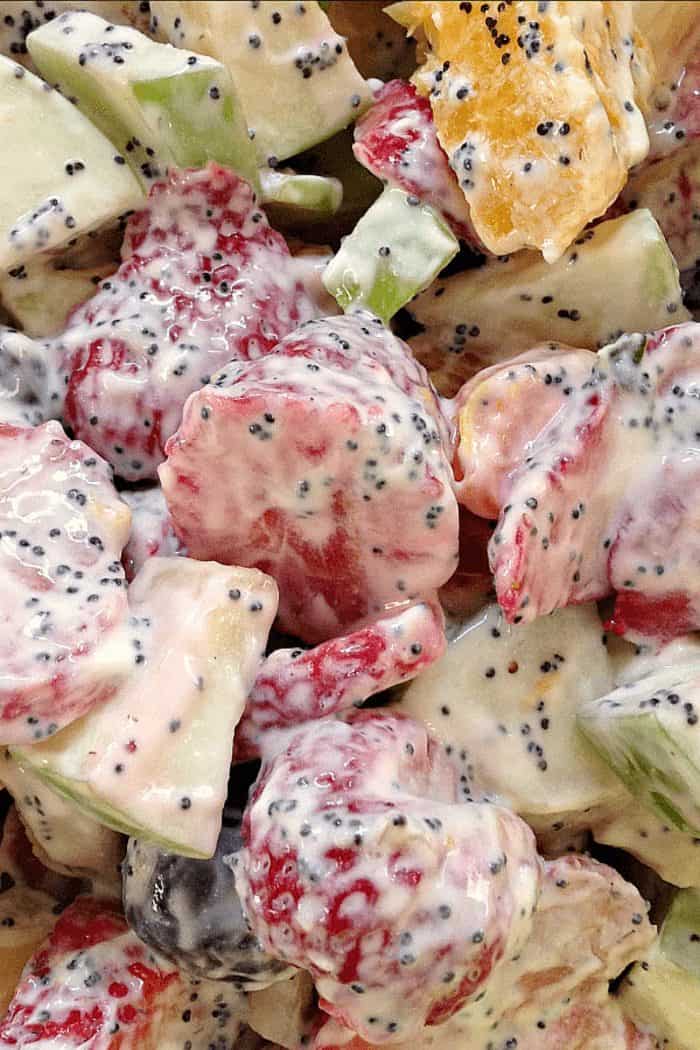 Friends, perfect for spring and Easter hosting, enjoy this very simple Fruit Salad with Poppyseed Dressing today! If you really want to get fancy, try this Grilled Fruit Vegetable Charcuterie Board for a large gathering!
What fruit can go together in a bowl?
Fresh fruits of the season, like apples, apricots, bananas, cantaloupe, figs, guavas, grapes, honeydew, and ripe kiwi fruit. Don't forget strawberries (any berries), mangoes, melons, nectarines, papayas, peaches, pears, oranges, and pineapple. I love to use Granny Smith apples because you get a little tartness with the sweetness.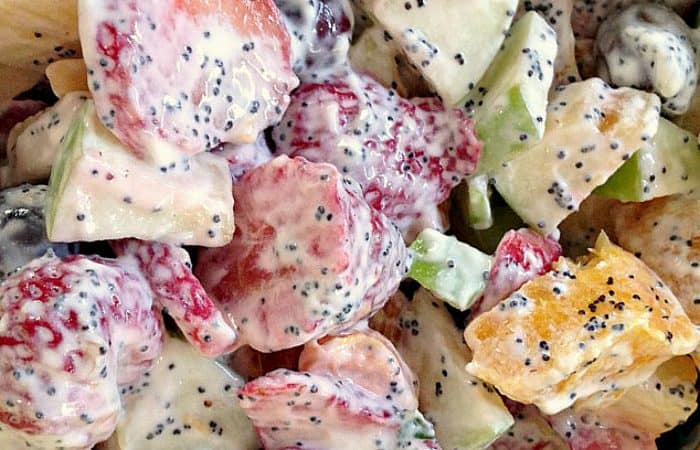 How do you keep fruit salad fresh?
What do you add to a fruit salad to keep the fruit from turning brown? Citric Acid!
It's easy, just drizzle over the fruit (before adding the dressing) a little lime or lemon juice!
Fresh Fruit Salad Poppyseed Dressing
Since this is the week of Easter, and strawberries are in all the stores, this Fresh Fruit Salad and Poppyseed Dressing is a natural fit for our Easter menu!
Everyone loves fruit salad, and when there's a sweet dressing on top – even better! When I grew up, we always had fruit salad, but usually mom doused it quite thickly with real whipped cream. Mm-m-m, I can taste it now!
How to cut and preserve fresh peonies
As the weather warms up in central Oregon, I must say I miss our beautiful peonies from southern Oregon. For 10 years the warm sunshine encouraged our peonies to spring forth with joy – with so many beautiful colors! In fact, if you're looking for how to cut and preserve fresh peonies for entertaining, you can read about it on an older post I wrote.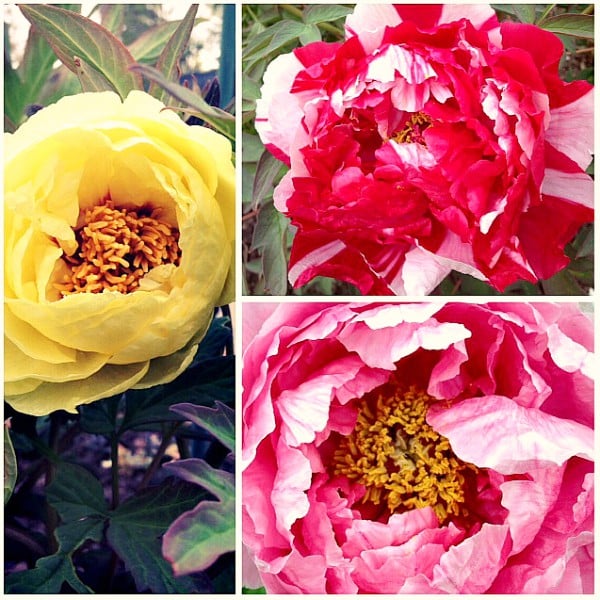 The beauty of peonies just does something to my spirit, they are so stunning in style and color. It's more than happiness–they're like symbols of rebirth, the essence of this Easter weekend ahead.
Easter 1965, Medford, Oregon
Because I love this picture with my sisters so much, I'm sharing it again. It reminds me of growing up, and how special Easter Sunday dinner was to our family! We always got new dresses, patent leather shoes, whtie socks, and purses.
We always had Easter baskets filled with jelly beans and chocolate eggs. Mom and Dad always made Easter special for us girls.

Friends, be blessed this next week with the celebration of the first new blooms of nature, with lots of delicious spring and Easter dishes gracing your table!
That, along with love and happiness and gratitude for the celebration and reason of this season!
Print Recipe
Fruit Salad with Poppyseed Dressing
You can replace the sour cream with yogurt – yummy!
Ingredients
1/4

cup

sour cream

3

Tablespoons

maple syrup

2

teaspoons

lemon or orange zest

1

Tablespoons

fresh lemon or orange juice

1

teaspoon

poppy seeds

4-6

cups

prepared fresh fruit

such as oranges, apples, grapes, strawberries, cut in bite sized pieces
Instructions
Prepare the dressing by placing sour cream, maple syrup, zest, lemon juice, and poppy seeds in a bowl and stirring together.

Pour on prepared fruit and gently mix. Serve.
Notes
Originally posted April 2014.
More fruit salad recipes: Fruity Rice Krispies Kebabs and Epic Spring Charcuterie Board (with mini fruit kebabs).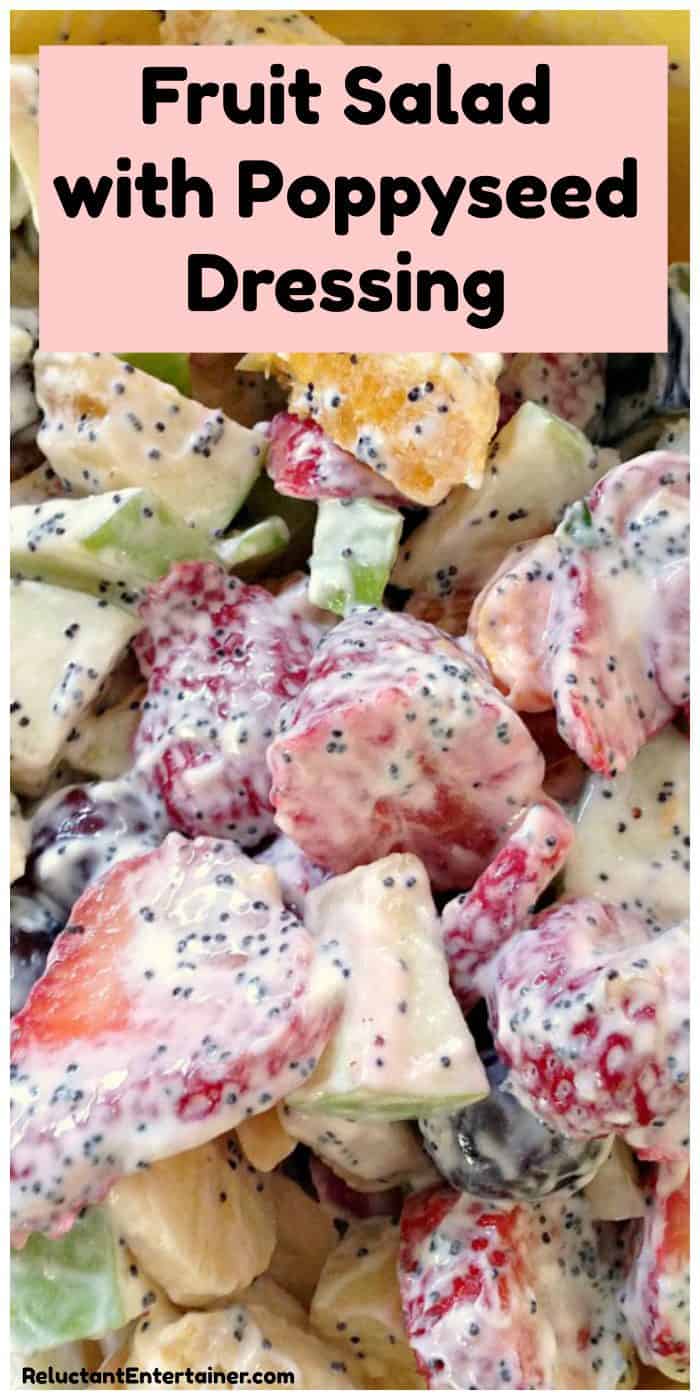 Originally posted April 2014.