Kid-Friendly Grilled Cheese Charcuterie Board
EPIC Kid-Friendly Grilled Cheese Charcuterie Board for any sports party, birthday party, or kid gathering. Filled board with everything kids love to eat!
Friends, I'm seeing all over social media where kids are heading back to school already. Say what? It seems like yesterday for me, buying school supplies and hustling to get schedules organized, thinking about food and healthy meals, car pools for sports, and piano and violin lessons.
Kid-friendly cheese board
Just in time for back-to-school, or fall birthday parties, your kids will love this Kid-Friendly Grilled Cheese Charcuterie Board! (Or, kids also love this Salami Caprese Charcuterie Board.)
In no time, arrange the delicious treats on a tray. Don't forget the cured meats and cheeses and crackers. And always Ranch Dressing for dipping!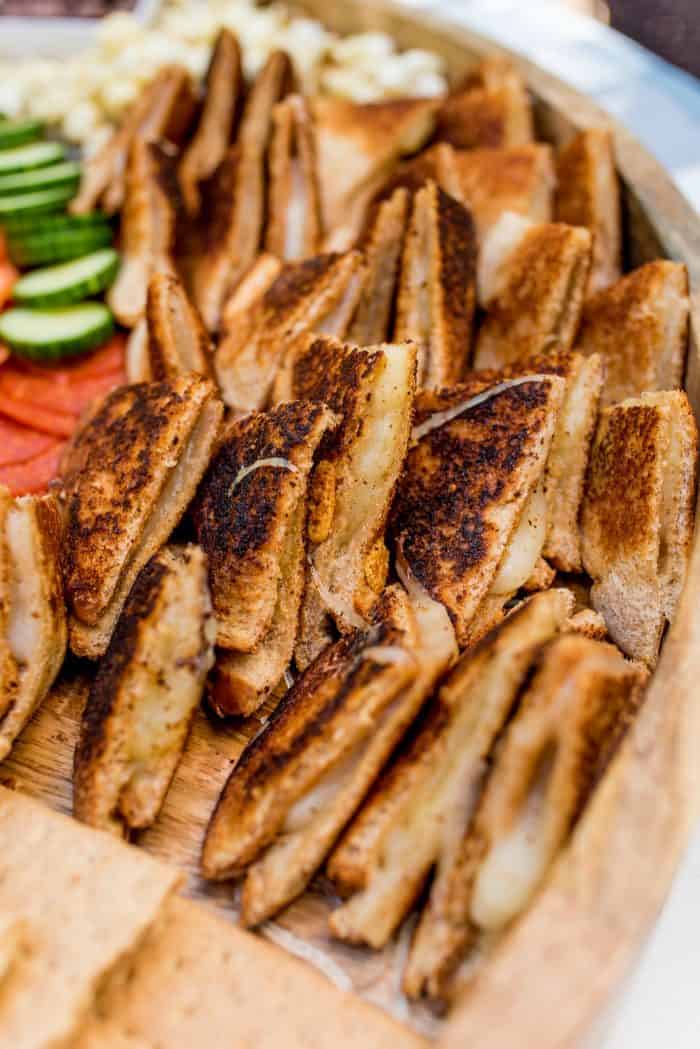 Then there's gooey-ooey grilled cheese sandwiches, slathered in butter and grilled to perfection. Cut into triangle quarters.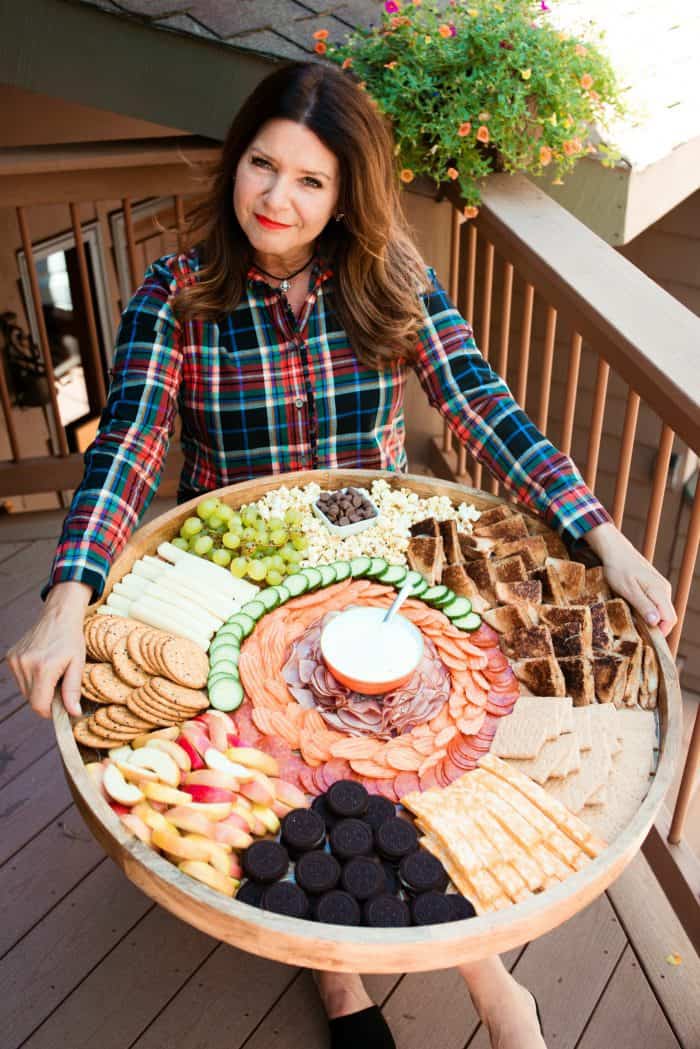 Charcuterie Board
Okay, the cat is out of the bag. My kids are no longer little, and in fact, they are all in their 20's now! And they love charcuterie boards!
How fun is this recent picture of our family?
We spent an evening on Hosmer Lake a few weeks ago, and my daughter brought her camera. We had the most glorious evening, sunset, and picnic with our puppy, Alder.
Don't worry, Haggis was home holding down the fort. He doesn't love adventures like this anymore. Remember he's 14 now! But still pretty feisty and cute.
Kid-Friendly Grilled Cheese Charcuterie Board
Big kids or little kids, we still love grilled cheese.
We had fun munching on this board, but I really wanted to give you inspiration for a party, maybe before your kids go back to school, or a Friday night dinner for the family, or an autumn birthday party or even a soccer party!
Fun? Yes!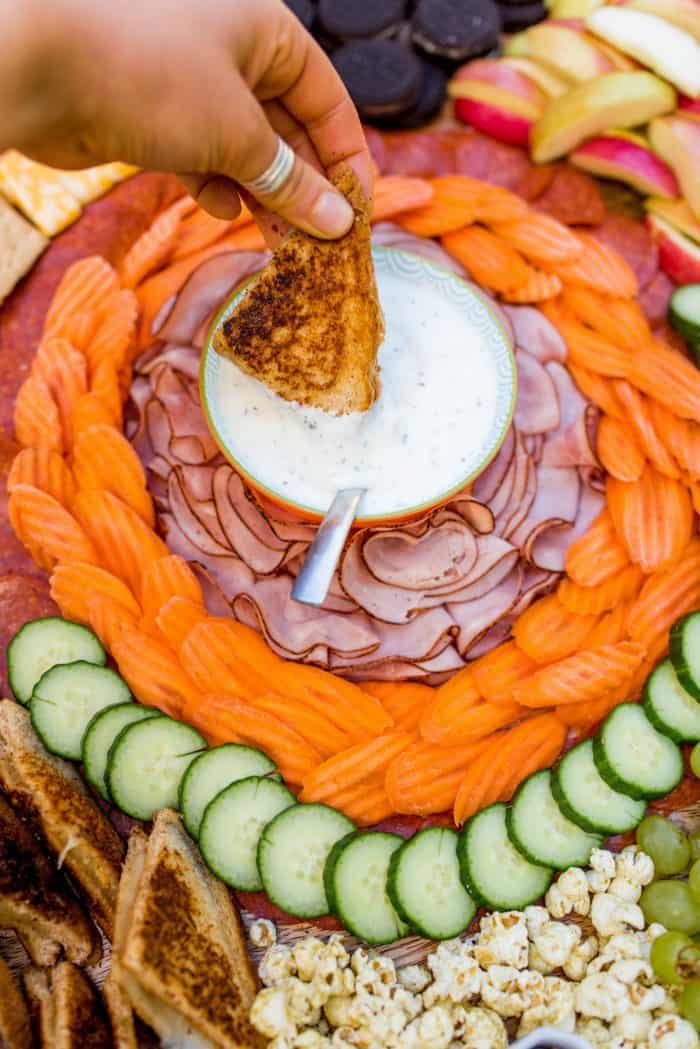 How to make an epic charcuterie board
You take your giant board. (If not food-friendly, layer with parchment paper:) You can also season your board with mineral oil and beeswax, if it's not food-safe. Research this yourself and decide what method is best for you.
28-inch round board
We bought this giant board (28-inches in diameter with a 2-inch lip) at Pier 1 last fall here in Bend, Oregon. It's solid wood and SUPER heavy (just warning you). Even thought it's very beautiful, you need a strong core to carry this around!
Here's an 18-inch wine barrel wood board or a 24-inch hammered large round tray or a 26-inch stainless steel serving platter that you may also like! Check out the weight on these boards.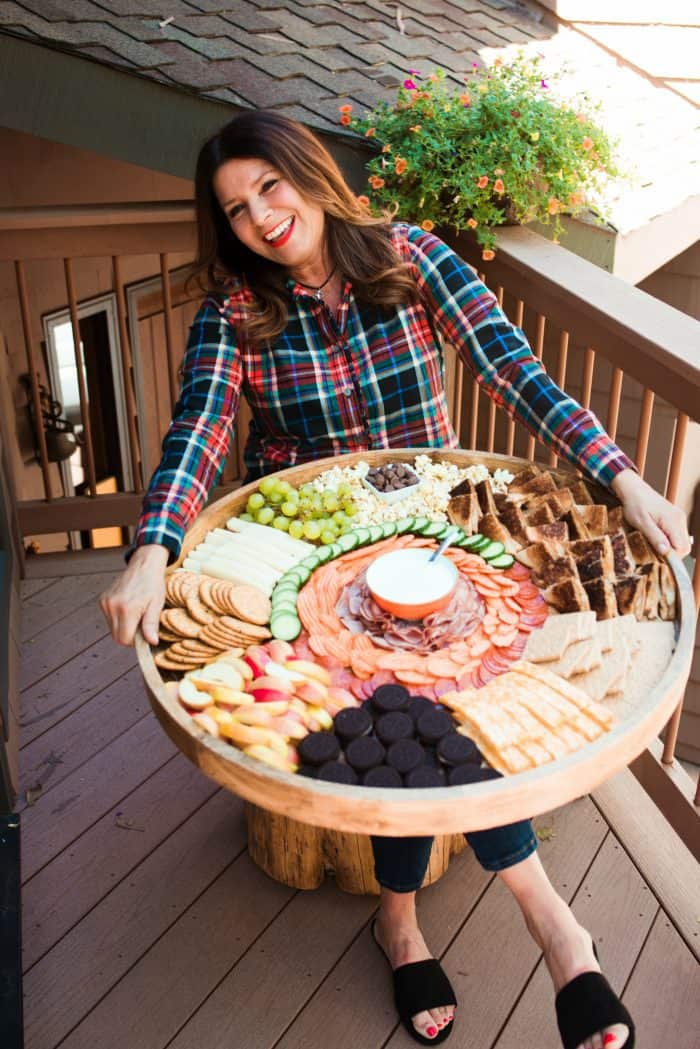 How to season a charcuterie board
If a wood board says it "not food safe," you can lightly sand it down with sand paper, and rub down with beeswax and mineral oil.
We used this butcher block and cutting board oil conditioner after we lightly sanded the board down.
Or, lay down parchment paper! Easy peasy!
Oh, and don't forget the COOKIES and Graham Crackers! We love Trader Joe's Jo Jos!
Happy back-to-school, Friends!
Print Recipe
Kid-Friendly Grilled Cheese Charcuterie Board
Ingredients
1

loaf bread

Favorite cheese

Butter

Ham

sliced thinly

Pepperoni

sliced thinly

Ranch dressing

Grapes

Apple slices

Carrot slices

Cucumber slices

Cheese Sticks

Oreo or Jo Jo Cookies

Graham Crackers

Popcorn

with chocolate chips
Instructions
Make grilled cheese sandwiches and cut into quarters (triangles).

On a giant board, place the Ranch dressing in a bowl in the center of the board. Surround with thinly sliced ham, then carrot pieces, then pepperoni and cucumber slices.

Next arrange the cheese sticks, grapes, popcorn (optional to add chocolate chips), grilled cheese, graham crackers, cookies, and apple slices.

Serve!
More kid-friendly boards: