Gochujang Chicken
With flavor through and through, this amazing dish blends the best of Korean gochujang and Asian flavors to create a meal that's tender, delicious, and layered with fabulous flavors. For the best results and the juiciest, most flavorful chicken, marinate the chicken overnight – you won't regret it! So good and so easy, take a culinary trip to Asia without leaving home and make this amazing Gochujang Chicken tonight!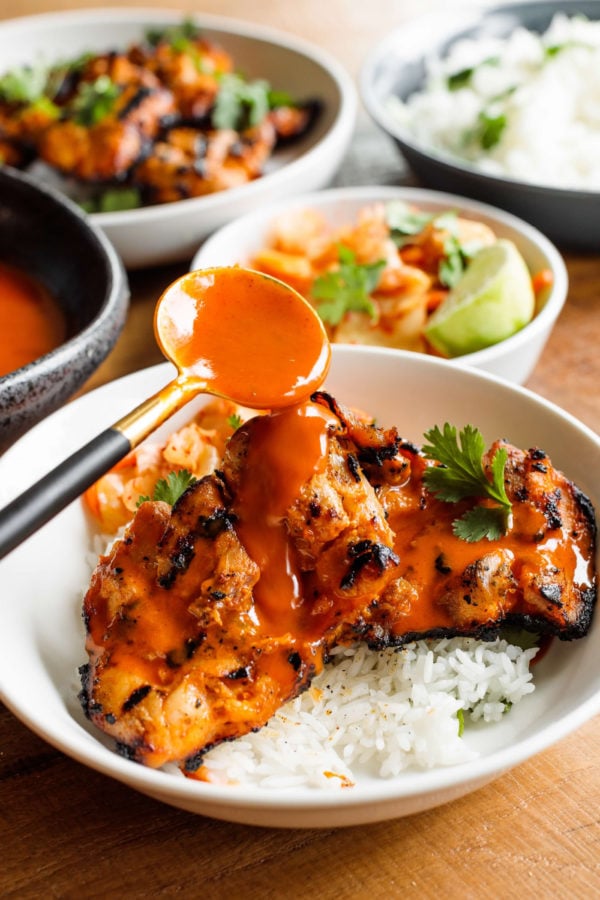 This is one of those deceptively easy recipes, and everyone will ask for seconds. Most of the work is done with store-bought gochujang, and when you add a few other common ingredients you really elevate and intensify the flavor of this Gochujang Chicken recipe!
Gochujang Chicken
The key to this dish is marinating it overnight or for up to 48 hours. You won't believe how the flavor sinks into the chicken making each bite amazing!
I love to finish this dish on the grill. The smoky grill flavor adds a bit of extra specialness to the dish, and don't be afraid of a bit of char. It's all flavor! But you can also make this dish in the oven. No matter how you cook it, everyone will love it!
What is gochujang?
Gochujang is a Korean fermented chili paste that's a staple in Korean cuisine. It's made from red chili peppers, glutinous rice, fermented soybeans, and salt. The paste is both spicy and sweet and has a complex flavor profile. Gochujang is not only rich in flavor but also has a thick, sticky consistency that makes it ideal for blending into sauces or spreading on meats. It's a versatile ingredient that can elevate the taste of both traditional Korean dishes and fusion recipes. You can find gochujang in the Asian food aisle of most grocery stores.

Gather these ingredients
Chicken thighs – You'll need 1.5-2 pounds of boneless, skinless chicken thighs.
Coconut milk – 8-ounce can of whole-fat coconut milk.
Gochujang sauce – Store-bought.
Garlic – Fresh cloves.
Honey
Lime zest – From 3 fresh limes.
Salt
Cilantro – Optional garnish
Gochujang-coconut lime sauce – Optional, but it's delish on the side!

How to make Gochujang Chicken
Season both sides of the chicken thighs with a pinch of salt and then transfer them to a large zipper-top bag or non-reactive bowl.
Combine the coconut milk, gochujang, honey, garlic, lime zest and salt in a blender and blend until smooth.
Transfer the gochujang sauce to a small saucepan and heat the sauce over medium heat for 3-5 minutes. You want the honey and coconut milk to dissolve and for the sauce to be smooth and a solid color.
Remove the sauce from the heat and allow it to cool in the fridge.
Toss the cooled sauce with the chicken in the zipper-top bag or bowl until the chicken is well coated.
Marinate overnight in the fridge or for about 24 hours. 48 hours is even better for the very best flavor.
Heat your grill to medium and rub the cleaned grates with an oiled cloth to help prevent sticking.
While the grill is preheating, remove the chicken from the marinade and scrape the excess liquid off. Lay the thighs out on a cookie sheet to allow them to come to room temperature for about 30 minutes. Don't leave them out longer than this.
Cook the chicken on the grill for 3-4 minutes per side or until fully cooked to an internal temperature of 165-F.
Rest the chicken for 5 minutes and serve! See my serving suggestions below.
Alternate cooking methods:
Baking: Preheat your oven to 350-F and bake the thighs for about 25-30 minutes or until fully cooked.
Broil: Preheat your broiler to high and broil the chicken on a wire rack for 3-4 minutes per side or until fully cooked with an internal temperature of 165-F.

Tips & substitutions
The longer you marinade the chicken, the more flavor it'll have. For the best results, marinate it in the sauce in the fridge for 48 hours.
Discard the marinade. You can't reuse the marinade after the chicken is removed from it and cooked. Don't mix the uncooked marinade with the cooked chicken.
You want a bit of char on this chicken – it'll add texture and flavor!
You can use bone-in chicken thighs but they'll take longer to cook.
Always cook chicken to an internal temperature of 165-F on a digital thermometer.

Serving suggestions
This dish is really flavorful and really delicious. I love serving it with a side of jasmine rice and my favorite Gochujang-Coconut Lime Sauce. Other complementary side dishes include this amazing Mango-Cucumber Slaw or this exotic Forbidden Black Rice Salad. Don't forget to add the kimchi and cilantro for an authentic Korean meal!
Storage
Store any leftover chicken in an airtight container in the fridge for 3-4 days. I love serving the leftovers chopped up and on a salad, in a sandwich, or just on a plate with my favorite sides.

Check out these awesome chicken recipes while you're here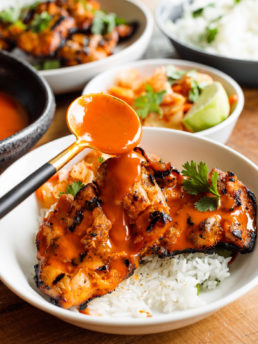 Get the Recipe: Gochujang Chicken
Spice up dinner with Gochujang Chicken! This dish blends sweet and spicy flavors in a meal you won't forget and you can grill it or bake it!
Ingredients
2 lbs chicken thighs, boneless, skinless, rinsed and patted dry
8 oz whole fat coconut milk
⅓ c gochujang
6 cloves garlic, grated
3 heaping tbsp honey
zest of 3 limes
1 ½ tsp of salt plus more for seasoning chicken
cilantro to garnish
jasmine rice for serving
coconut chili lime sauce, or other chili sauce
Instructions
Lay chicken thighs in a single layer. Season each thigh with a few pinches of kosher salt, then transfer to a large zip top bag.

In a blender, combine coconut milk, gochujang, honey, garlic, lime zest, and salt. Blend until smooth, then transfer to a small sauce pan. Over medium heat, heat the sauce for about 3-5 minutes, just until the honey dissolves, the coconut milk fat smooths, and the marinade is homogeneous. Remove from the heat, transfer to a bowl, and place in the refrigerator to allow it to come to room temperature.

Once cooled, pour the marinade onto the chicken and toss to coat.

Marinade for at least for 24 hours overnight in the refrigerator. I do recommend 48 hours of marinading for the best flavor.
GRILL THE CHICKEN:
Prior to grilling, remove the thighs from the marinade, scraping excess liquid off, and lay flat onto a baking sheet for about 30 minutes to allow them to come closer to room temperature (don't leave them out longer than this).

Heat grill to medium high. Using a brush, scrape the grates, then, with an oil soaked rag, rub the grates. Spray the chicken with neutral oil, then place on the grill, cooking each side for 3-4 minutes until fully cooked and deliciously (lightly) charred.
BROIL THE CHICKEN:
Alternatively, you can broil the chicken on a wire rack for 3-4 minutes each side.
BAKE THE CHICKEN:
In an oven preheated to 350, boneless chicken thighs should bake for 25-30 minutes. Bone-in chicken thighs will need to bake for 45-50 minutes.

When chicken is done, allow it to rest for 5 minutes or so.

Serve hot with jasmine rice, kimchi, cilantro, and gochujang coconut lime sauce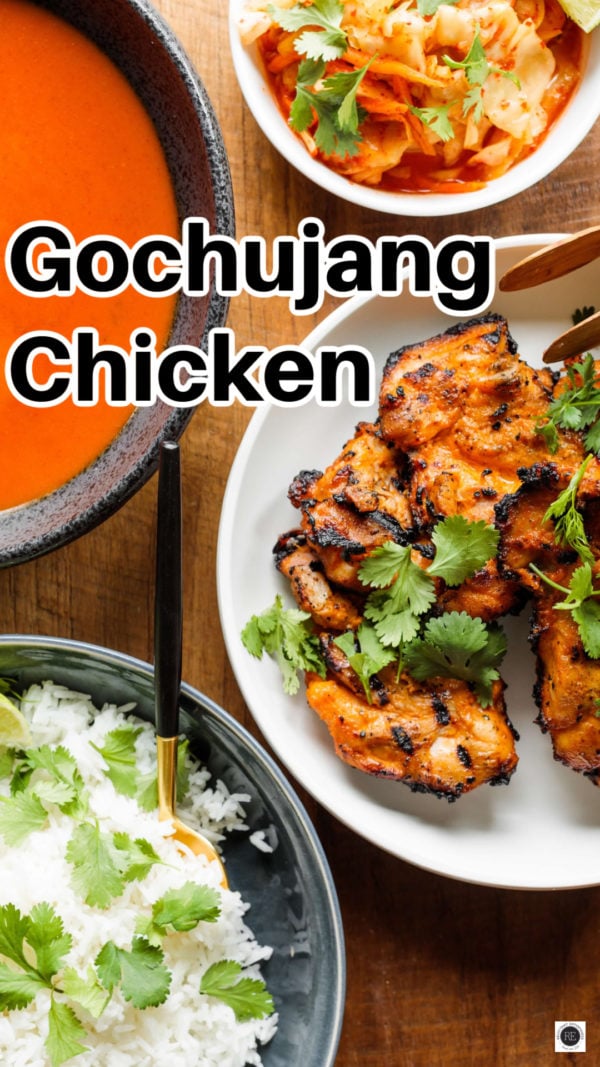 Hello and welcome to my home and table!
I'm Sandy—lover of food, family, cooking, THE BIG BOARD, travel, and bringing people together. Through great recipes and connection around the table, we become better, stronger, and more courageous people. Feasting on Life is real, and every time we do it, we grow a little more. Read more...