Chocolate Zucchini Muffins Recipe
Chocolate Zucchini Muffins Recipe is a perfect snack or dessert that is moist, made with leftover garden zucchini and chocolate chips. Watch the video!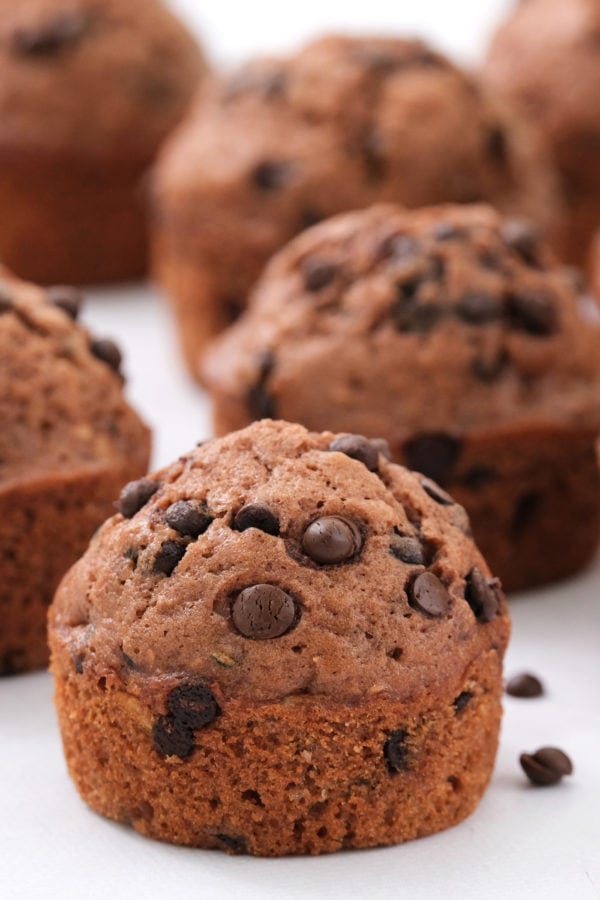 Moist Chocolate Zucchini Muffins are rich, delicious and loaded with flavor and twice the chocolate. Enjoy them for breakfast all week long.
Chocolate Zucchini Muffins Recipe
These chocolate zucchini muffins are a great way to use up all that garden zucchini! Chocolatey, delicious muffins that everyone will love–especially if you love a fluffy muffin.
They are a perfect snack or dessert for school lunches, sharing with kids' teachers, or bringing to a family in need.
Ingredients for Chocolate Zucchini Muffins
We used gluten free flour and Bobs' Redmill gluten-free oats!
Flour + sugar
Chopped walnuts, optional
Quick oats
Baking powder + salt + cinnamon
Cocoa
Eggs
Shredded zucchini
Canola oil
Chocolate chips
Make and freeze the muffins
Like this Chocolate Zucchini Muffins Recipe–you can make and freeze!
Pull from the freezer another time, for a quick dessert to share with others!
Or, if you love chocolate muffins, try these Double Chocolate Banana Muffins or these Banana Chocolate Chip Muffins.
A random act of kindness is good (paying it forward in the coffee line), but in real life interaction is even better.
How about loving one person at a time–a neighbor, a family, a person in need.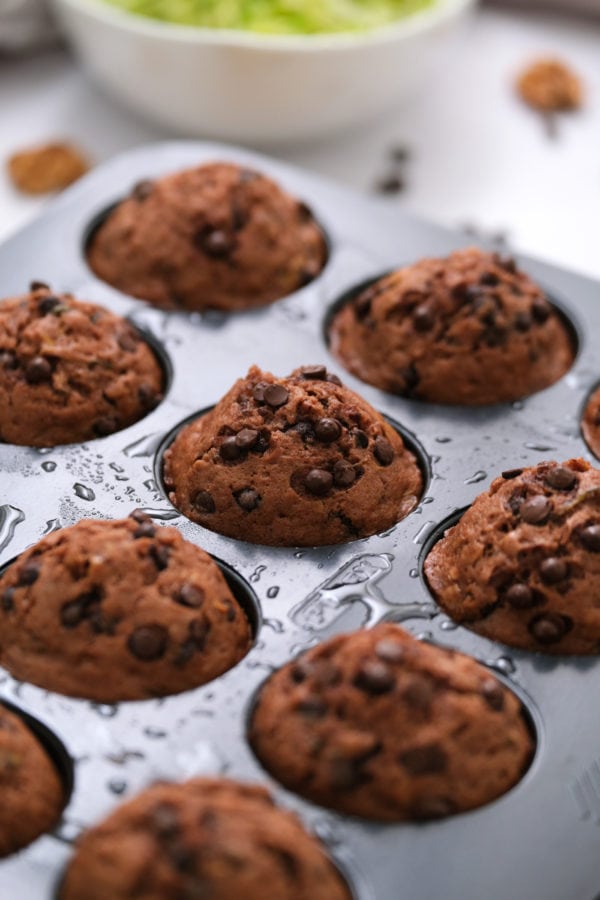 Chocolate Muffins Baking Tips
Muffins are the perfect food item to bring or share with others (and yummy for back to school)!
Don't forget to squeeze the water out of the zucchini when you make these.
Add your favorite nuts. (We love walnuts, but I didn't include nuts in this recipe because I wasn't sure of dietary needs.) I also used gluten-free oats and flour!
Bake and serve! Oh, and frost if you want (mm-m-m … maple frosting)!
More muffin recipes:
Black Forest Chocolate Chunk Muffins [Country Cleaver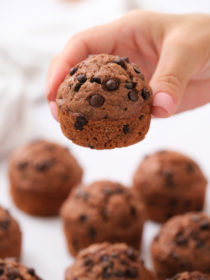 Get the Recipe: Chocolate Zucchini Muffins Recipe
Makes about 24 muffins
Ingredients
2 ½ cup all-purpose flour, I used gluten-free
1 ½ cup sugar
½ cup chopped walnuts, optional
½ cup quick oats, I used Bobs' Redmill gluten-free
1 Tbsp. baking powder
1 tsp. salt
1 tsp. cinnamon
½ cup cocoa
4 eggs
1 medium zucchini, finely shredded (approx. 2 cups)
¾ cup canola oil
1 ½ cups chocolate chips, or 2 cups if you like
Instructions
Grease 24 muffin cups. Preheat oven to 375 degrees.

Mix first 8 ingredients in a large bowl.

In a separate bowl, beat eggs slightly with a fork. Stir in (squeezed) zucchini and oil. Add the chocolate chips. Pour in the dry ingredients and mix until moistened. (Batter will be thick and lumpy).

Divide evenly between your muffin cups. Bake 16-18 minutes.
Notes
reposted from SEPT 2017
SaveSave
SaveSave
SaveSaveSaveSave
SaveSaveSaveSave
SaveSave
SaveSave
SaveSave
SaveSave
Hello and welcome to my home and table!
I'm Sandy—lover of food, family, cooking, THE BIG BOARD, travel, and bringing people together. Through great recipes and connection around the table, we become better, stronger, and more courageous people. Feasting on Life is real, and every time we do it, we grow a little more. Read more...