Bloody Mary Tomatoes 4th of July Appetizer
One thing that's great about making appetizers is that most of the time, they can be really easy to make, but also tasty at the same time!
Here's an easy way to take an ordinary cherry tomato, and turn it into a bite of pure deliciousness!
I've written about Trader Joe's Corn Chili salsa many times on my blog, but here's a fun recipe to make for the 4th of July.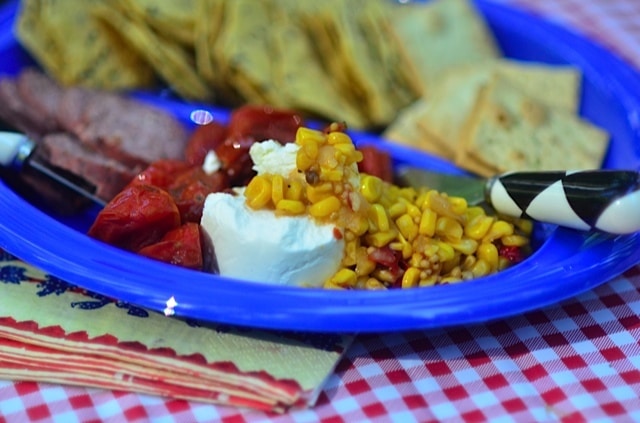 You can put it out on a big platter, or you can make individual bites, with just one tomato!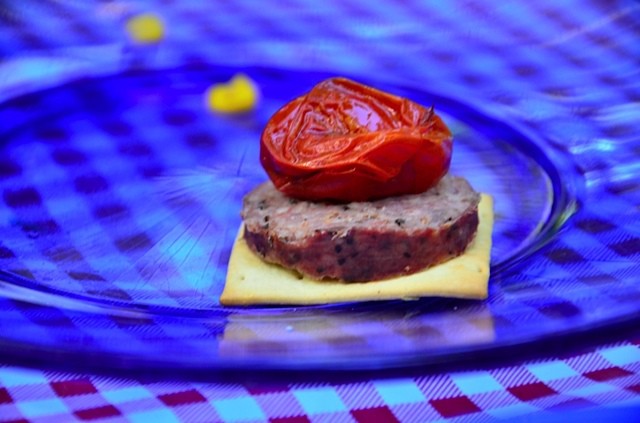 – Goat Cheese
– Trader Joe's Corn Chili salsa
– Bloody Mary Roasted Tomatoes
– Crackers or chips
– Salami
They are tasty little bites of goodness.
What's your favorite way to roast a tomato?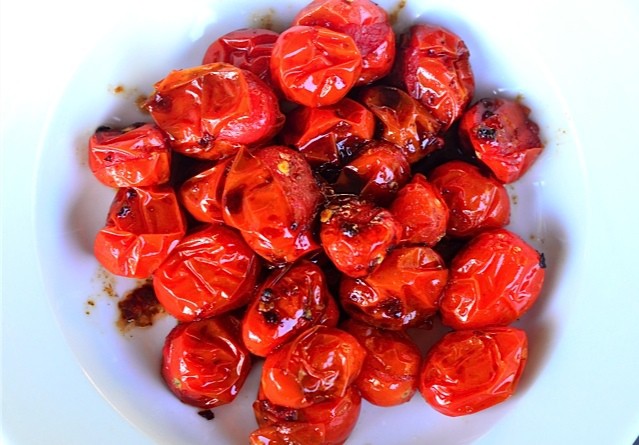 [print_this]
Recipe: Bloody Mary Roasted Tomatoes
Summary: Recipe from Rachael Ray May 2012 Magazine
Ingredients
2 cups grape tomatoes
2 Tbsp. EVOO
2 tsp. worcestershire sauce
1/2 tsp. celery salt
Hot sauce, such as Tabasco, for seasoning
Instructions
Preheat the oven to 425. In a medium cast-iron skillet, toss the tomatoes with the EVOO, worcestershire and celery salt.
Bake until the tomatoes pop and split, about 20-25 minutes.
Transfer to a bowl with the pan juices and let cool, about 25 minutes.
Season the tomatoes with a dash or two of the hot sauce. Using a potato masher, coarsely smash half of the tomatoes; leave the rest whole.
Preparation time: 5 minute(s)
Cooking time: 25 minute(s)
Number of servings (yield): 4

[/print_this]