Breakfast Easy Bagel Board
A delicious Breakfast Easy Bagel Board with scrambled eggs, bagels, dip, meats, and cheese to make bagel sandwiches.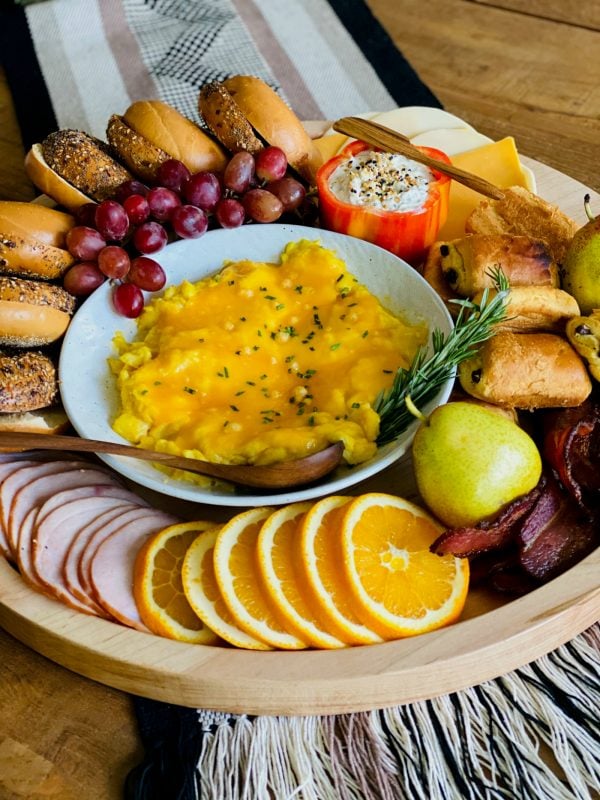 Friends, I love this week between Christmas and the new year. It's relaxing, and special, as a couple of our kids are home, and it's fun to create simple meals.
Easy Bagel Board
Here's a Easy Bagel Board to make for the family! Or, if you're looking for a little bigger breakfast, try this Holiday Best Brunch Board.
And rosemary is the herb of friendship!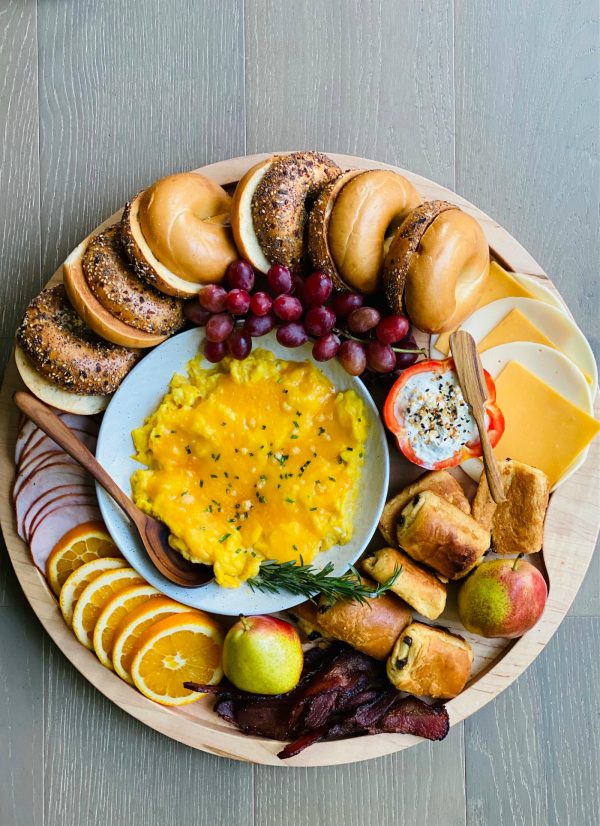 Holiday breakfasts
We've found that breakfast is really special during the holidays. When you normally would be grabbing a bite in the morning, then you're on the run, sitting down together is well worth it. I saw this on Instagram, and it rings true for how we spent 2020 this year (and Christmas).
presence > presents
This Easy Bagel Board was made on the 20-inch board.
All you need are these ingredients:
Bagels
Cheese slices (harvarti and cheddar)
Bacon, Candian bacon or ham
Chocolate mini rolls (croissants)
Red pepper (scooped out for dip)'
La Terra Fina "Everything But the Bagel" Dip and Spread
Orange, pears, grapes
Rosemary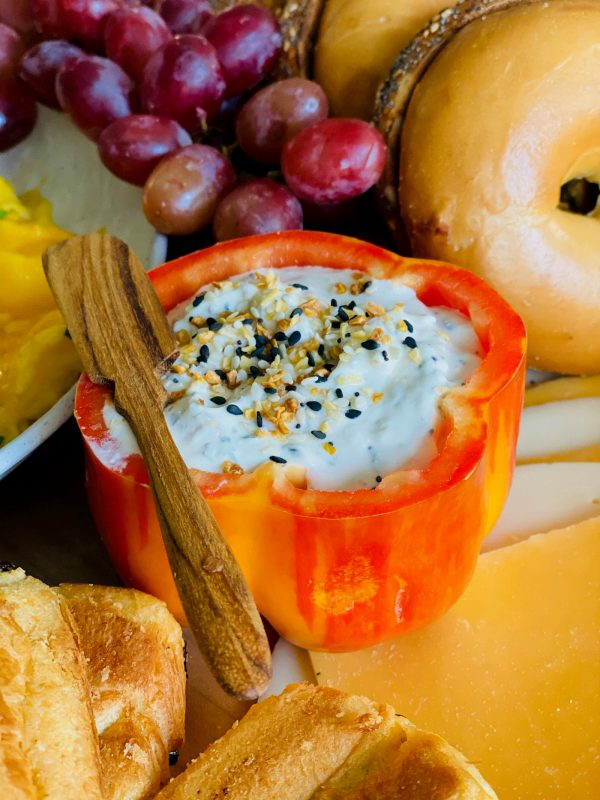 Cut the top cut off of a bell pepper for the dip!
How to make easy scrambled eggs
We love not-over-cooked-eggs, so my special trick is to first place the eggs in a blender. Add a little bit of water and blend. Add to a buttered pan, salt, and cook on LOW until a little under-cooked. Turn off the burner and remove the pan. Add cheese, black pepper, and fresh chives.
Cover with a lid and set aside. The eggs will continue to cook!
The Big Board for holidays
Recently I've received a lot of emails and notes from all of you who have purchased The Big Board. I just heard from Darcy, about how her husband made the appetizer for Christmas Eve, because she was busy cooking dinner. The stories are inspiring.
Boards really do bring a specialness to a family meal. Especially now, when gathering looks different for all of us, why not take the extra time to make it different, or unique?
Thank you all for your love and support this year, with my new board venture.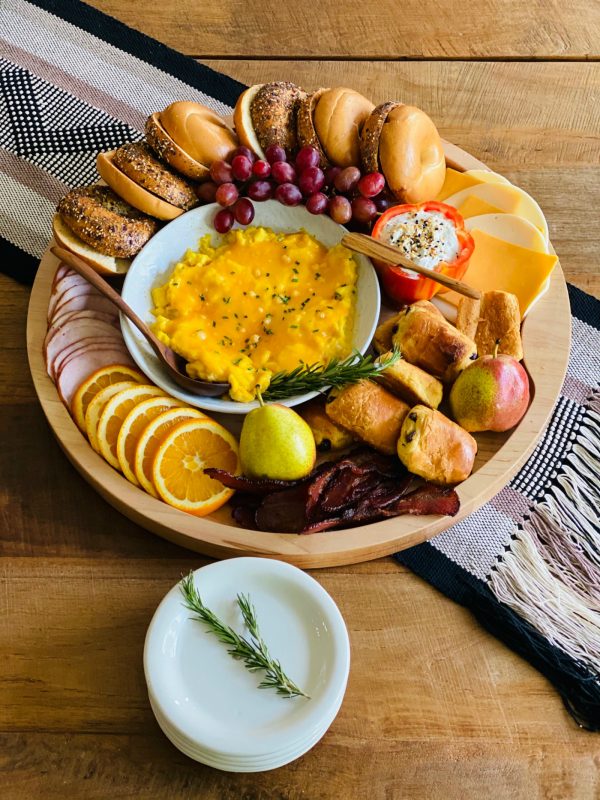 My friend, Cyndi (House of Hyacinth) and the wonderful people at JK Adams also can't thank you enough, and we are thrilled to be a part of this time in history.
Breakfast, lunch, dinner … appetizers, snacks, and dessert … ON A BOARD!
Friends, The Big Board is here! Yes, I've partnered with JK Adams, the premier woodmaking company in Vermont, with my own line of RE boards!
20-inch
26-inch
A board with a lip (or raised edged) so the food doesn't fall off
FOOD SAFE
Made in the USA
Undercut handles (a unique design)
Thank you for your support, as we've sold out so many times already!
Order The Big Board today!
Get the Recipe: Easy Bagel Board
Made on the 20-inch board.
Ingredients
12 eggs
3 oz cheddar cheese
Chives, for garnish
6 bagels, variety is good, toasted
6 slices cheese Havarti and cheddar, each
6 slices cooked bacon
6 pieces chocolate mini rolls, croissants
12 slices Candian bacon or ham
1/2 red pepper, scooped out for dip
1 container La Terra Fina "Everything But the Bagel" Dip and Spread
1 orange, sliced
2 pears, whole (garnish, or slice)
1 bunch red grapes
Rosemary for garnish
Instructions
Cook the scrambled eggs according to your preference. [I like to add the eggs to a blender and blend with a tiny bit of water, then cook on LOW; salt and pepper.] Add cheese and garnish with chives; cover.

Place a hot pad or trivet on the board where the eggs will sit. Start building the board around that plate with layered fruit, toasted bagels, and croissants.

Cut the top off of a bell pepper and fill with the dip.

Add the cheese, and 2 pears for garnish (you can leave whole, or slice), and garnish with fresh rosemary. Add the eggs last and serve!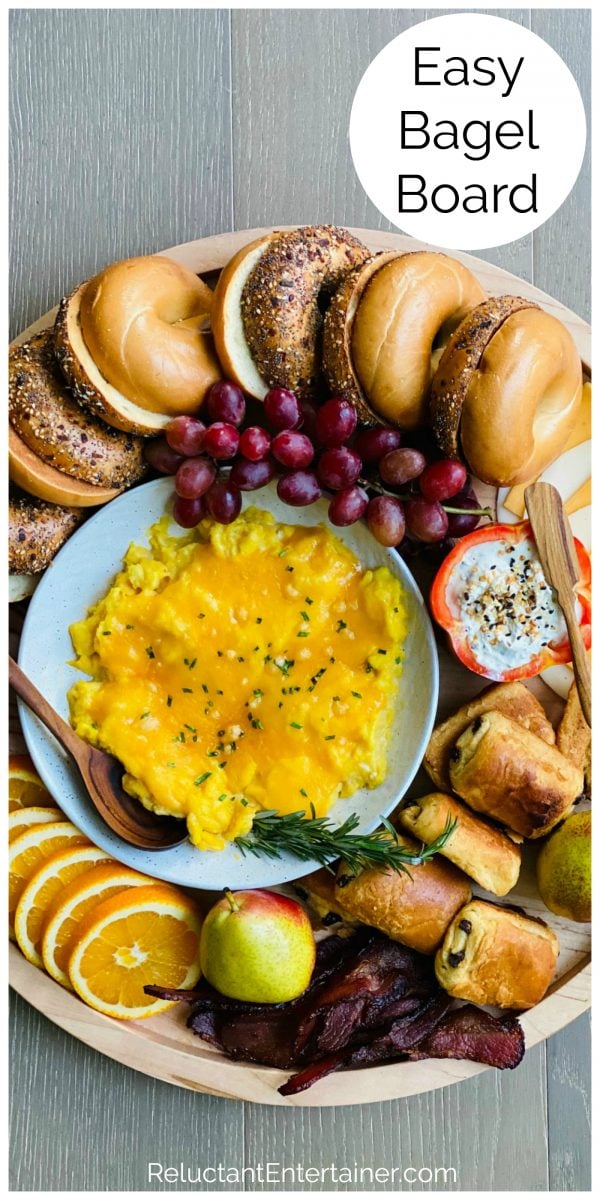 Hello and welcome to my home and table!
I'm Sandy—lover of food, family, cooking, THE BIG BOARD, travel, and bringing people together. Through great recipes and connection around the table, we become better, stronger, and more courageous people. Feasting on Life is real, and every time we do it, we grow a little more. Read more...