Great Northern Bean Ham Soup Recipe
Enjoy Great Northern Bean Ham Soup Recipe for an easy weeknight meal or traditional soup night gathering. Delicious made with leftover ham, garnished with a dab of sour cream.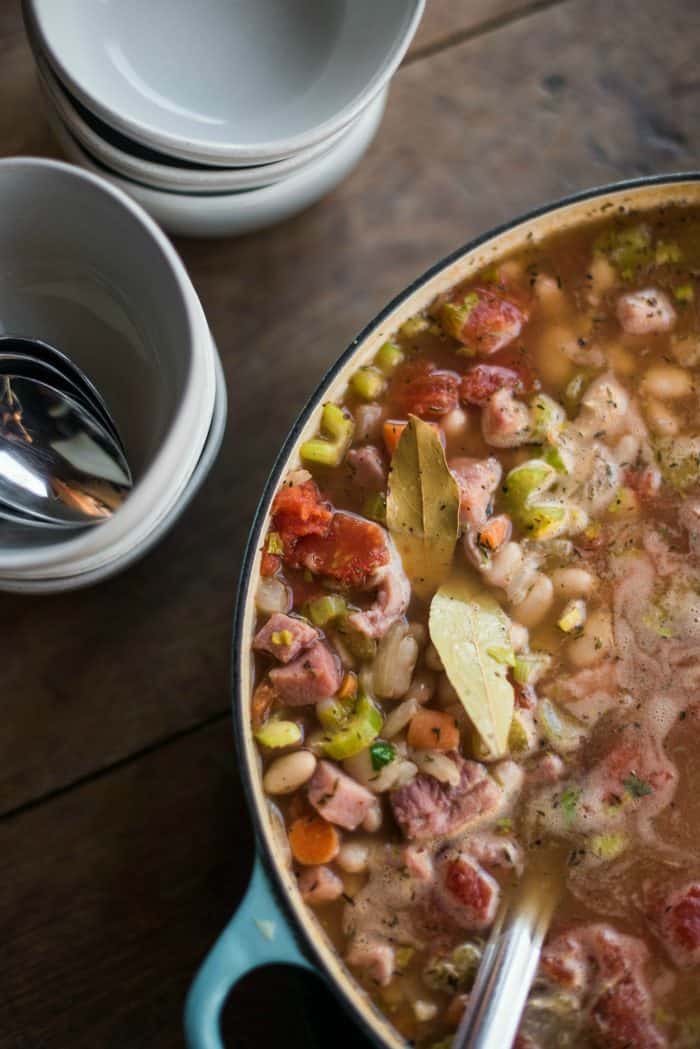 When I think about my Grandma Friesen, I think about a big pot of her red German beans with bacon (and brown sugar) simmering on the stove. My mom made a different version of beans, with white beans and ham. Today I'm sharing my shortened version: Great Northern Bean Ham Soup Recipe.
But first, my grandma lived in a tiny house before tiny houses were a thing. Her apartment had very little furniture, and was always immaculate and clean. Yes, Grandma lived simply, but not without hospitality, good food, and a whole lot of love. I'm sure if someone would ask Grandma today, how are you,? her answer would not be like most of us: I'm so busy.Instead, it would be something about the day that was beautiful, or relating to God and His blessings.
Like many folks in her generation, she lived through hard times – she lost her mother when she was 18, then later 2 of her own children in early adulthood, plus my Grandpa George, and lots of siblings and loved ones.
Grandma had virtues that I continue to strive for in my life, as an example of inspiration.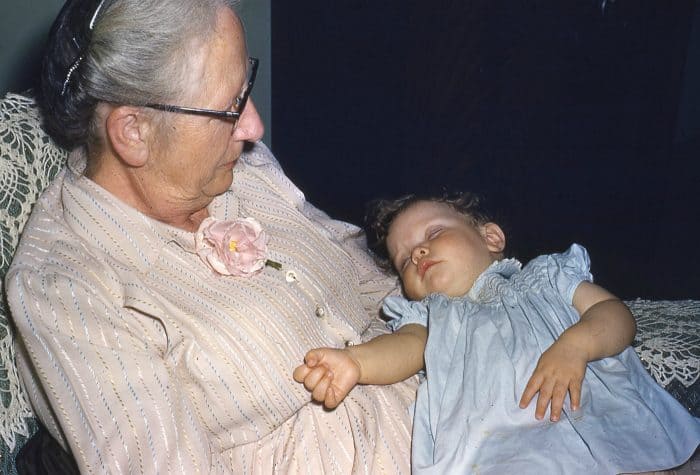 My Grandma's​ hands were rarely idle. You could say she was a nervous person; hands always in motion ironing, cleaning, cooking, rocking her newborn grandbabies (above, Gma with my sister Linda) and playing her piano.
Her piano that sits in my living room today. Grandma would be so proud to hear how musical her great-grandkids are. Grandma would be tickling the keys with Gospel music, while Grandpa would sing and tap his foot next to her.
Every movement of Grandma's life spoke of faith and love, patience and endurance, strength and hard work, grace and giving.
So in her kitchen (my Dad took this shot of her cooking bacon – YAY bacon!), Grandma's hospitality was not to impress, but it was full of extravagant love (and tasty Mennonite recipes). She was either whipping up a pot of beans, fried chicken, homemade tapioca pudding, or a delicious upside down cake.
Later in life, in my 20's, I had the pleasure of picking Grandma up once a week and driving her to appointments, the bank, and the grocery store. It was our special time together. She always wanted to know how I was, wanting to know the details of my life.
I remember having a selfish 20-year-old attitude of … I have to go get Grandma today, but then I'd come away so refreshed and happy, because my Grandma made me happy and was so sweet. I then had a grateful heart that I chiseled time out of my not-so-busy schedule to spend part of the day with her.
If I can be even a fraction of what my Grandma Friesen was, I will be grateful. What a gem of a woman to look up to!
Great Northern Bean Ham Soup Recipe
My Grandma's recipe, she would cook the beans all day long, but this Great Northern Bean Ham Soup Recipe is super easy using a few cans of Great Northern Beans!
It's delicious made with leftover ham (or ham hock)–a pure comfort, winter dish – for sure!
ENJOY!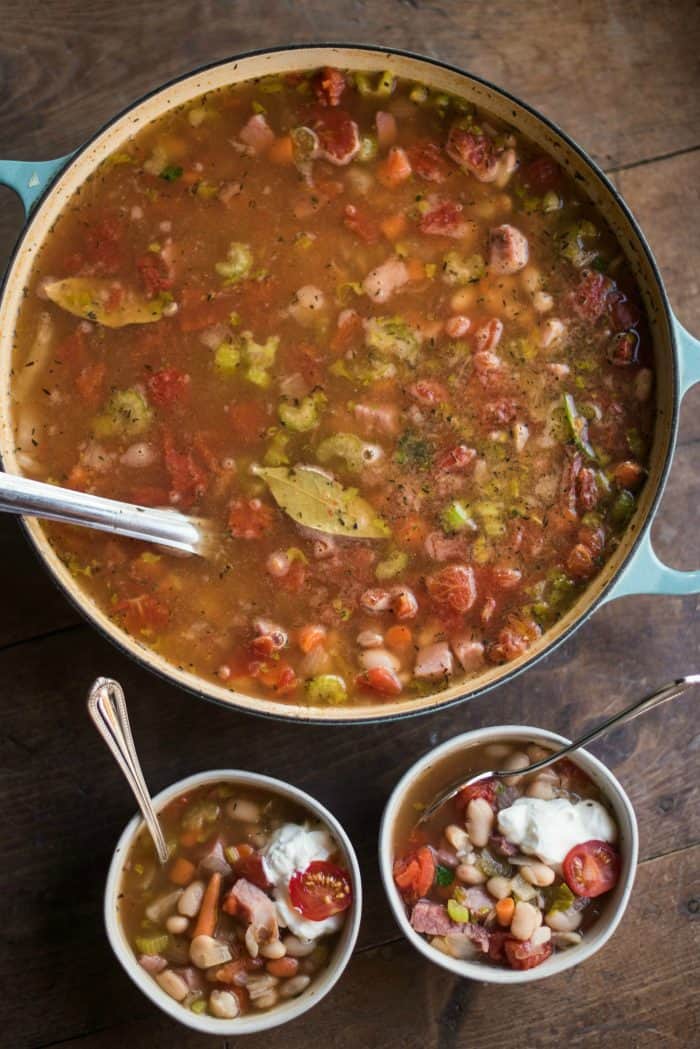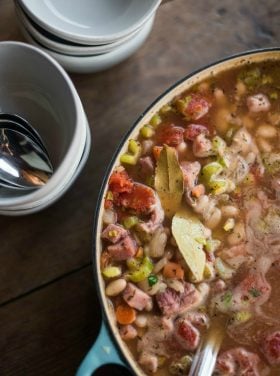 Print Recipe
Great Northern Bean Ham Soup Recipe
Ingredients
1

tsp.

minced garlic

1

medium onion

diced

2

ribs green celery

diced

2

large carrots

peeled and sliced

2

dried bay leaf

1

tsp.

thyme

whole, crushed

6-8

cups

vegetable broth or chicken broth

2

cans

15 ounceBush's Great Northern Beans, drained

2

cups

cubed cooked ham

1

can

14 ounce diced tomatoes

Salt and pepper to taste
Instructions
In large pot, place garlic, onion, celery, carrot sand seasonings. Add enough broth to cover the vegetables (start with 6 cups and add more as needed). Cover and simmer until vegetables are tender, about 30 minutes.

Add Great Northern Beans, cooked ham, tomatoes and salt to taste. Check seasoning flavor and add more thyme, black pepper or salt, if needed.

Simmer uncovered for 15 minutes; serve.

Garnish with sour cream and fresh tomatoes (optional).
More ham recipes: Red Lentil Ham Carrot Soup [one of my bestie friend Julie's favorite on my blog], Hand Ham Leek Pies [RE], Ham and Corn Chowder [Spend with Pennies], Ham and Swiss Monkey Bread Recipe [Lemons for LuLu].